Though Lando Norris' hopes for a first F1 victory in the Russian GP evaporated during the late rain shower, the McLaren man will at least keep his seventh-place finish, having received only a reprimand after a post-race investigation.
The first-time poleman led the majority of the Sochi race before he picked the wrong strategy for a late-race downpour.
Norris stuck on his slick tyres while Lewis Hamilton, his main rival for victory, switched to the intermediates.
With three laps remaining, the rain intensified, and Norris skated off the circuit, allowing Hamilton to ease through into the race lead.
When Norris finally made it to the end of the lap, he lost control of his car while entering the pitlane and ran over the white line at the pit entry.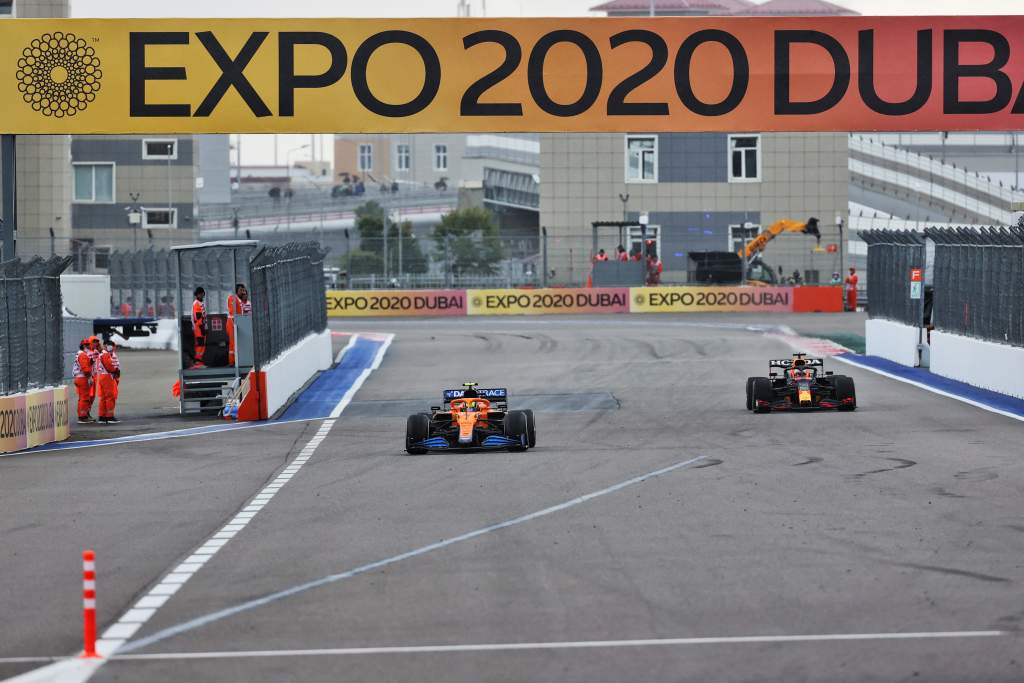 He eventually claimed seventh ahead of the Alfa Romeo of Kimi Raikkonen, but was summoned to the stewards after the race, for a "failure to follow Race Director's Event Notes Item 20, pit entry".
Having heard from Norris and his team representatives, the stewards ruled that the circumstances around his breach did not qualify as force majeure.
But they took into account Norris's relatively high speed through Turn 17, adjacent to the pit entry, on the previous lap "without loss of control" – and determined Norris had slowed "considerably" for the pitlane entry next time round as conditions deteriorated. He had also "approximately halved" his normal pit entry speed but still lost control.
"Although obviously the driver chose to remain out on the track on hard compound slick tyres when others chose to change to intermediates, and therefore sought to gain an advantage in retaining his race position, we do not consider that the crossing of the painted area was intentional or predictable in the circumstances," the stewards said.
The reprimand is Norris' first for the season, with three required to trigger a 10-place grid penalty.