Lando Norris says McLaren simply did not expect the rain to intensify so dramatically at the end of the Russian Grand Prix, after his decision to stay out on slicks cost him a likely first Formula 1 victory.
Having overcome early leader Carlos Sainz, polesitter Norris was fending off Lewis Hamilton's Mercedes for the race lead going into the Sochi race's closing stages.
Initially, the rain was light enough that Norris was able to continue on slicks even as lap times slowed by over 10s, and he was among the last to persist with that tactic even as the majority behind him – including Hamilton – came in for intermediates.
Norris still looked like he was set for victory at that point, but almost immediately the rain increased to an extent that was impossible to handle on slicks.
He spun as Hamilton caught him, and finished seventh after finally pitting for intermediates. That result may yet be under threat as he is being investigated for crossing the pit entry line after an error while trying to come in.
"I quite easily had the pace when it was dry, and even when it started to go to the damper stage, to keep him behind," said Norris of his battle with Hamilton.
"Obviously it came to the point where we had to decide to box or not to box.
"At the times when it was tricky and we were going off track here and there, the slick tyre was still the tyre to be on.
"Of course it was like 10s a lap off, but the intermediate's not going to be 10s quicker, that was 10s to a proper dry lap time. So even if Lewis was 3s or 5s quicker or something, I still would have managed to hold on to the win.
"I decided to stay out because the team said it was only meant to be drizzling like that and that's as hard as the rain was going to get.
"For whatever reason, we didn't know or see or anticipate that it was not just going to be a drizzle, it was going to be a lot of rain. And that's where we went wrong at the end of the day."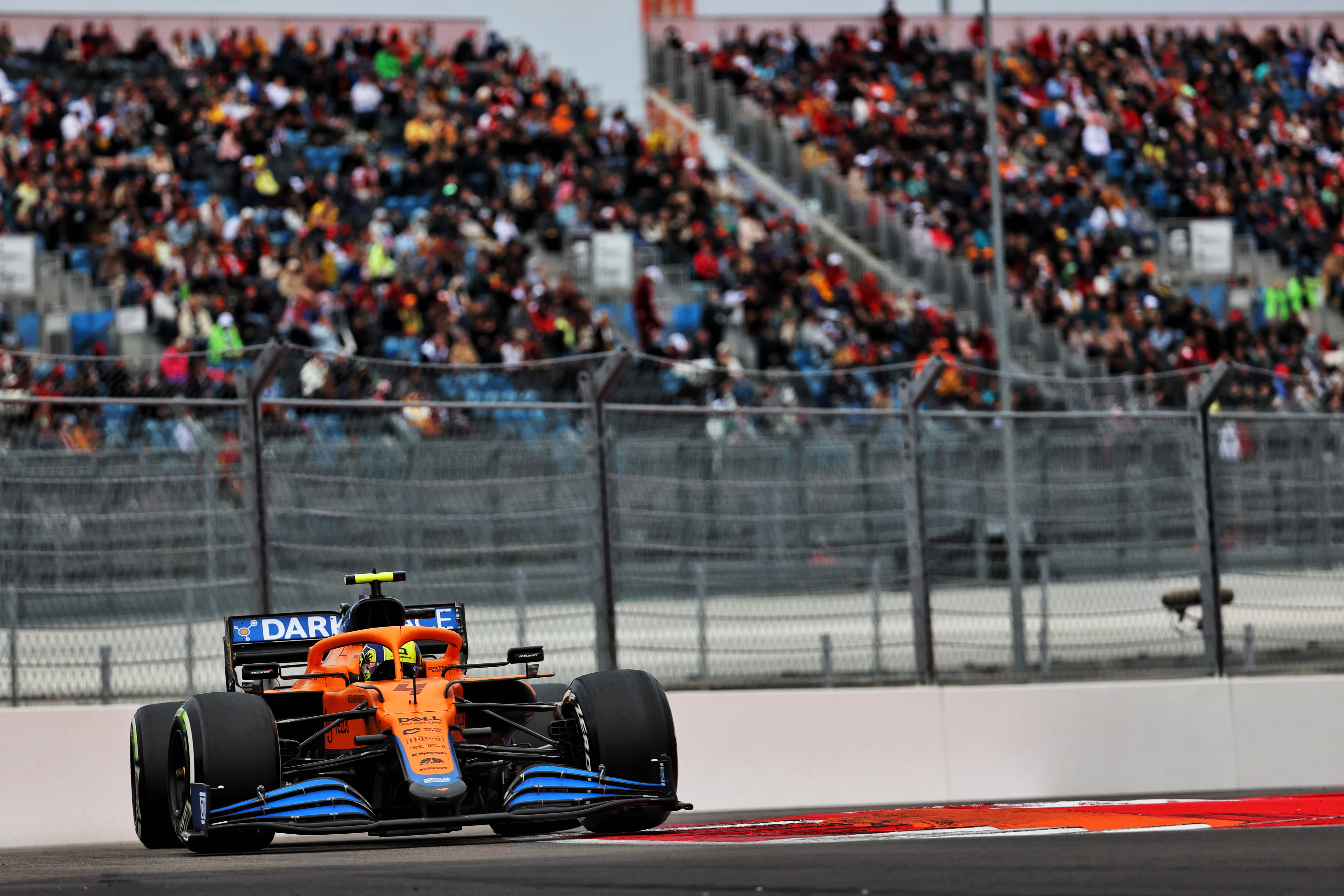 Asked by The Race if he really needed a firmer instruction from McLaren to pit rather than being left to assess track conditions from the cockpit, Norris replied: "Yes, because from one lap to the other the whole thing changed, the game changed completely.
"That final lap when I boxed the slick tyre was still the tyre to be on. On that lap they asked 'do you want to go onto the inter?' And from the lap I just did, I didn't, because the slick was easily the correct tyre.
"Of course now that's the wrong decision. But this is my feeling I had.
"I didn't know there was going to be a lot, lot more rain. And there's no way of me knowing unless they tell me there's going to be a lot more rain, which they didn't."
In a separate interview with Sky, Norris suggested that prior to the lap Hamilton pitted on, "for the middle sector the intermediate would have been quicker, but in sector one and sector three the slick was by far the tyre to be on".
Gambling on an early move to slick tyres had been key to Norris grabbing pole in the wet-dry qualifying session on Saturday.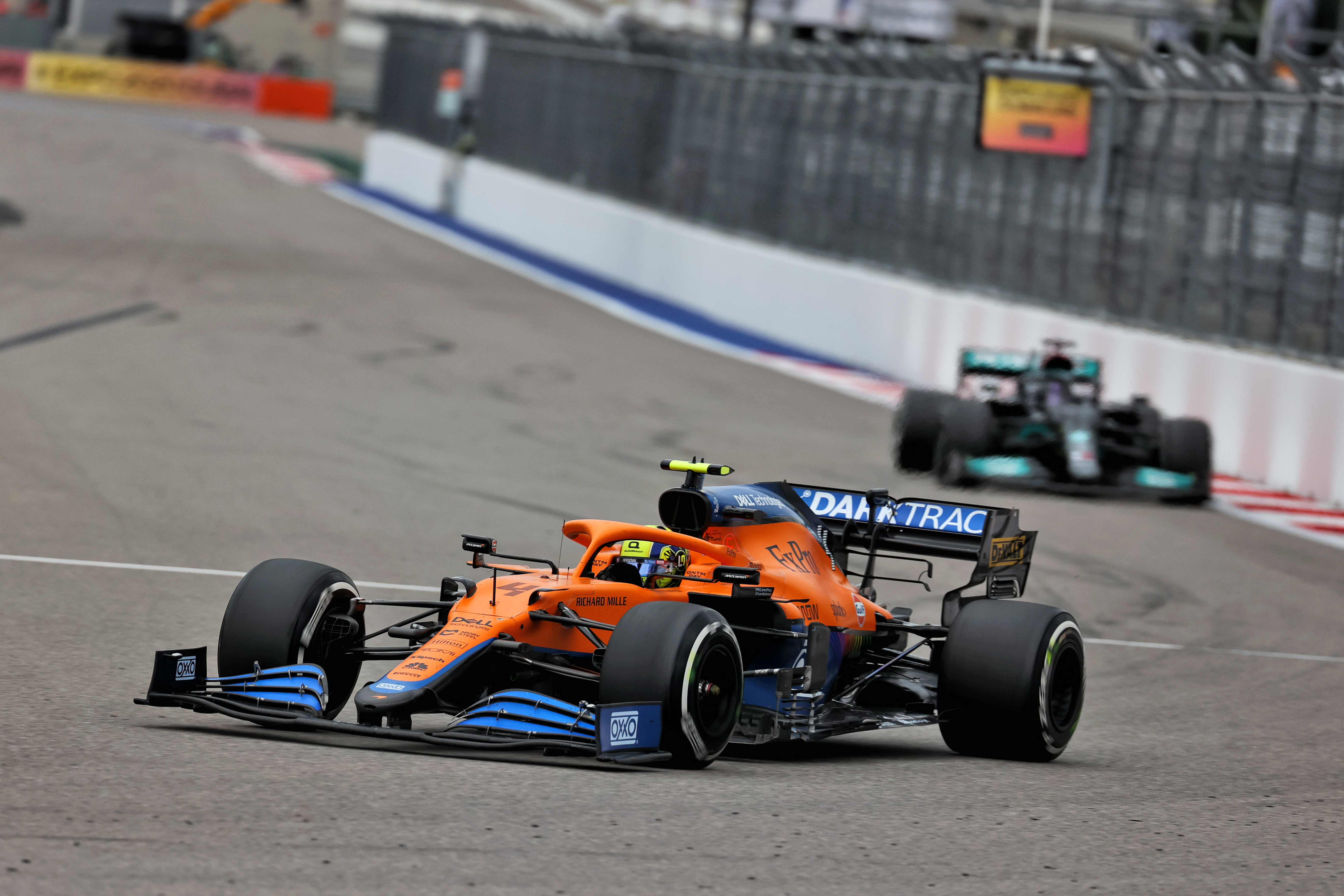 He admitted the race was the opposite situation but that ultimately it came down to McLaren not having adequate weather information.
"It wasn't a gambling situation. It was dry and it was raining in a couple of corners, and the slick tyre was the correct one to be on," he emphasised.
"There was no gamble with that. We were on the best tyre. But it rained a lot more than I got told, or that they knew, and if they knew it they didn't tell me to box.
"This is something we'll talk through. We did what we thought was best at the time and I can't fault them for that and I've got to stand by their decision and my decision. And we'll review and try to do better next time."
Though Norris felt Hamilton – who had been coming back through the field after falling to sixth on lap one – had largely caught him only because he was saving fuel in the final stint, he said McLaren was still "miles behind" Mercedes and Red Bull in normal circumstances.
And he added that the final result was a disappointment of a kind he had never felt in his career before.
"It's not because I crashed or I did something stupid. It's difficult because we could have achieved the best result in Formula 1 and I could have been a race winner," he said.
"And I finished in seventh place in the end. It's a loss and a heartbreak kind of feeling, rather than I messed up and I just did something stupid."