Right up to the last corner of Max Verstappen's qualifying lap, this was looking like pole, the Dutchman already a couple of tenths up on provisional pole sitter Lewis Hamilton. And if Verstappen had managed to do that, he may well have been looking at a straightforward victory tomorrow and a championship lead which would have looked pretty formidable heading into the Abu Dhabi finale. Regardless of whether Hamilton wins there.
In the Saudi dusk – at around the same time the race will start tomorrow – Verstappen's Red Bull was switching the tyres on way faster than Hamilton's Mercedes. Without the wall-banging accident, that would surely have only further cemented Verstappen's race prospects.
But that's not how it played out. Just slightly too late, too hard on the brake pedal into Turn 27, sliding wide of the apex but refusing – absolutely refusing – to accept the lap was spoilt despite the emergency situation, Verstappen got back on the gas, backing his car control to keep it all moving forwards. Out on the dust where the lock-up had taken him, the car was never going to accept that, the back end twitched out of line and hard into the wall. The Red Bull, which just a second earlier had looked set to be the glorious pole-setter, coasted to a forlorn halt with its right-rear wheel at a drunken angle.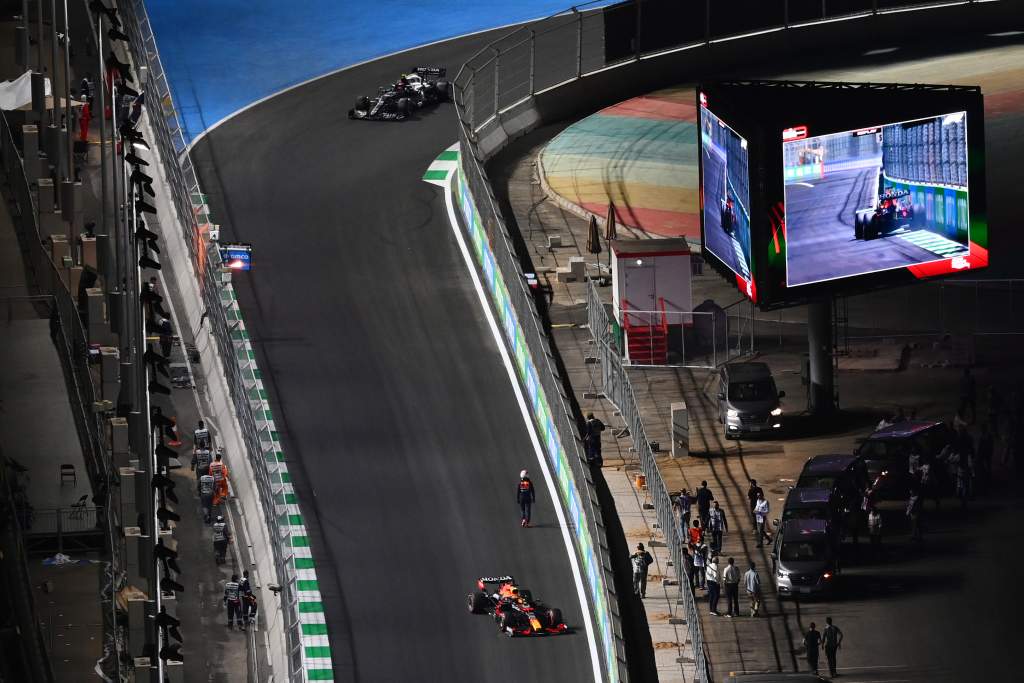 So now Verstappen's hopes of victory in the race rest upon whether fate has broken his new gearbox. If it has not and he retains his third-place starting slot, then it's still game on – because of the aforementioned initial grip advantage he looks likely to have and the Red Bull's great underlying pace, so much better here than in Qatar and Brazil.
But if the gearbox does need to be changed and Max has to start P8, that front row Mercedes lock-out makes a Hamilton victory looked nailed on. In which case we'd be heading to Abu Dhabi with them as close as makes no difference level on points.
Verstappen's collision with the wall was yet another swing of fortune in this incredible contest. Hamilton's Friday pace suggested the impetus Mercedes had taken at Brazil and Qatar was still very much there, Red Bull turned it around today and appeared to have regained the upper hand – only for Verstappen to make perhaps his first serious error of the season. Swing, swing and back again.
So despite Mercedes locking out the front row, its pace just wasn't there today. It all seemed to centre on the tyres. "I don't know what happened," said Hamilton. "It was a different track, it had shifted. Don't know if it was the wind, but we just couldn't get the tyre temps. We were having to do hard, quick out-laps. The Bulls were definitely faster today. I don't know if we lost performance or they gained. But it was one of the most intense sessions for a while."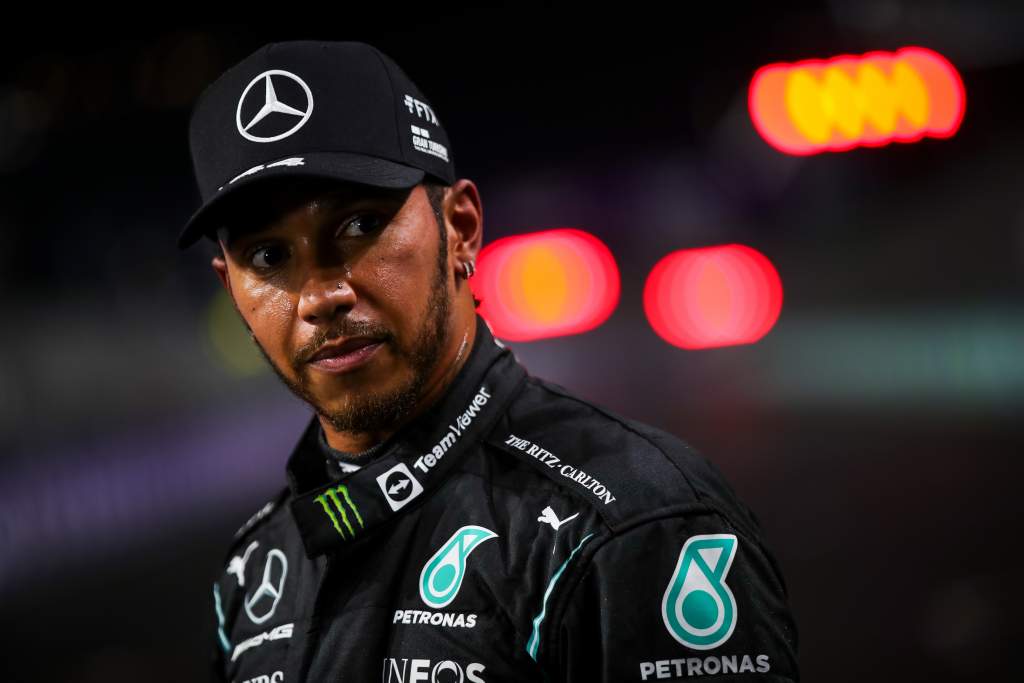 Despite the high speeds of this place, the tyres are getting a very easy time. The tarmac is super-smooth, the lateral loads are not great, so there is relatively little energy going into them. Which made them tricky to bring up to temperature in a balanced way. Drivers up and down the pitlane were complaining that each corner of the car was switching on at a different time, especially on the softs. The C4 compound was just a little too soft for the high-speed bends in that it would move around on the tread, giving an unnerving feeling, the driver never quite sure if the car was beginning to slide or just moving on its rubber. Not a nice feeling at 180mph, with the walls so close. The medium and the hard felt much nicer, but the soft was ultimately just a little quicker over the lap so had to be used in Q3.
On Friday the Red Bull wasn't quite so sharp in the last sector, but right from the moment FP3 began it was much better. It had always been able to get a fast lap out of the softs on the first lap better than the Mercedes, but now that difference was starker. In FP3 Hamilton on a set of hards could even get to within 0.2s of Verstappen soft-tyred time, but he just couldn't translate that potential when switching to the softs. Putting their best mini sectors together Hamilton would've been comfortably ahead, but it was impossible to do that with the Merc as the tyres reached their temperatures at such randomly different times, whereas it was much simpler for the Red Bull.
In Q1 Hamilton slid straight on at Turn 1 on his first flyer, backed off and only at the third consecutive lap did he get to within 0.2s of the time Verstappen had been able to reel off quite comfortably. In Q2 Hamilton needed four consecutive laps on his mediums to go fastest right at the end of the session. Verstappen on the same tyres had set his time right at the start of that session and had needed just one lap to do it.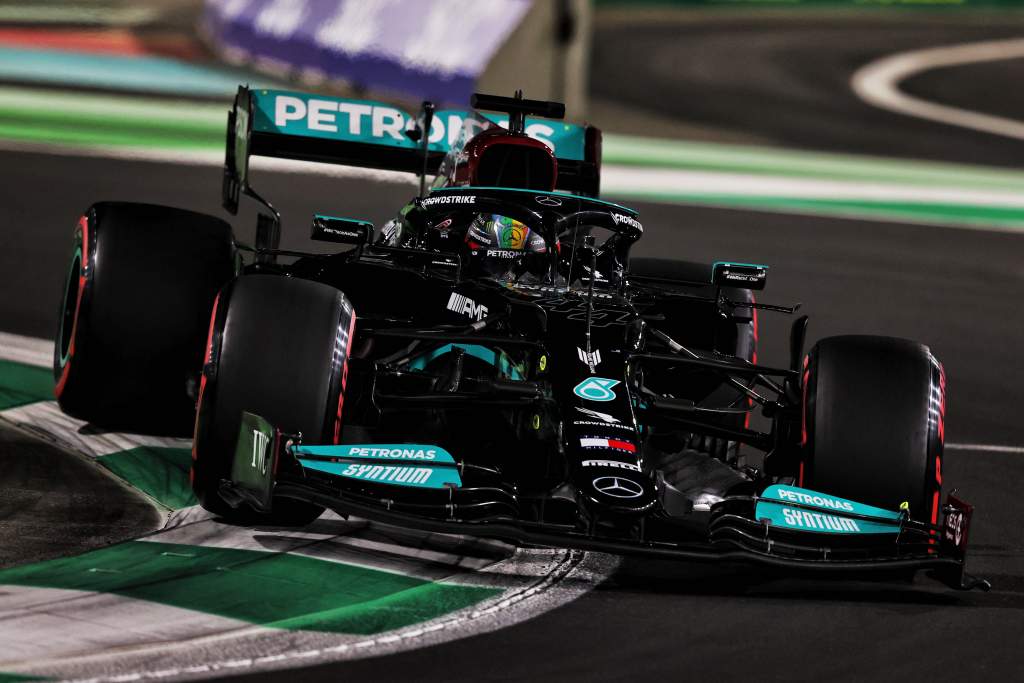 The Mercs were doing ever-faster outlaps, desperately trying to get that first-lap temperature. On their Q3 out laps, back on the softs, they were setting Sector 2 times only a couple of seconds slower than they would on their flyers! Yet still it wasn't enough. Hamilton had a monster of a tank-slapper through the sixth-gear Turn 8 and needed to make full use of the run-off there. The tyres were just not ready to accept that load. Verstappen at this point was 0.3s clear of the Mercs, fast straight out the box, with just the final runs to come.
It was here we saw the contrasting in-car attitudes of Hamilton and Verstappen to their situations. "We were off, but I was off, too," said Hamilton. "I was behind Valtteri after the first runs. So I just had to consolidate my thoughts and how I approached each corner. It was a knife edge. All or nothing but knowing where you do attack and where you don't."
His best lap shaded Verstappen's first Q3 run by 0.1s and wouldn't subsequently be matched by Bottas. But here was Verstappen, last of the front runners and just loving the car, the situation, of pushing to the limit between the walls.
A tenth faster than Hamilton in sector 1, another tenth in the middle sector, setting purple mini sectors in sector 3, this was looking a sure-fire pole. "It was a good lap," he said, "three tenths faster on my delta. I came to the last corner and thought there might be a bit to gain. I knew Lewis was tenth and a half ahead [of my first Q3 time]. I approached it like I always do in qualifying but I just locked up and I have to see now if I actually braked later or not. From my feeling I didn't. It's really disappointing because it was a really good lap up until then, I was really enjoying it and then not to finish is extremely disappointing especially now in this fight."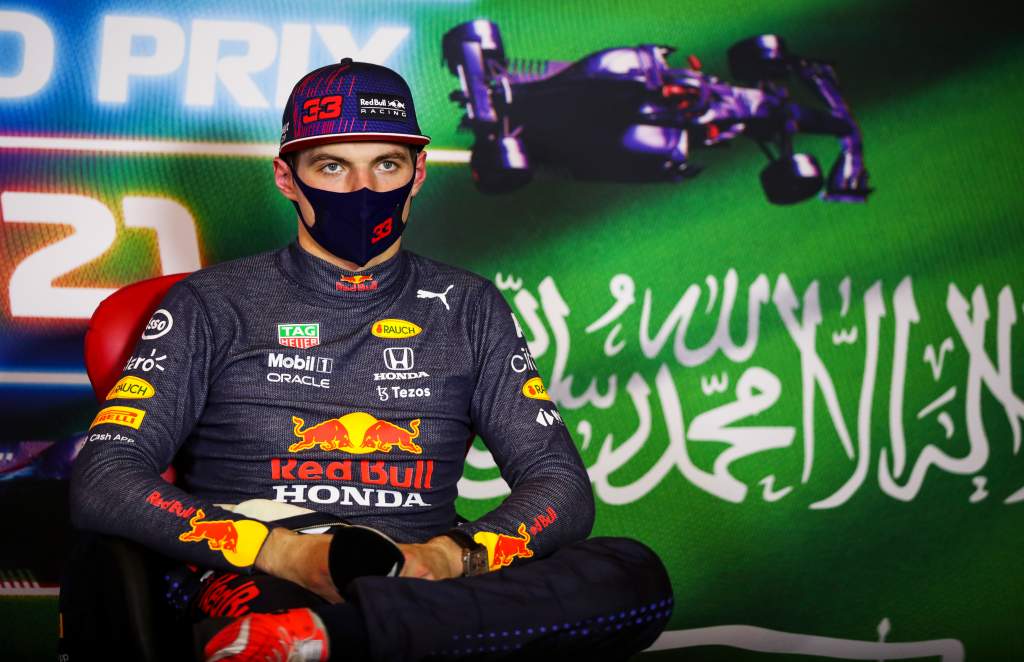 All may not be lost. Although he'll be crossing his fingers about the gearbox, he's optimistic. "Of course you want to be starting first but I'm still going for the win. The car's pace gives me hope. In Qatar we were 4.5 tenths off and in that situation you know the race will be really tough. But here I think we have a good shot at it."
Was it the evening breeze which will turn out to have been the significant factor of this weekend, the thing which switched off the Merc's tyres? Or will it be Verstappen's revelling in the joy of pushing to the limit on this rollercoaster track, tempted into going for just that little bit more…