It was another Max Verstappen Red Bull victory – but not a dominant one like the last two.
The Spanish Grand Prix was a win inherited from Charles Leclerc's power unit failure when the Ferrari was leading by over 12s.
Prior to that, Verstappen had spun in his chase and taken a trip through the Turn 4 gravel. At that moment Leclerc's victory seemed secure. The Red Bulls were left trying to find a way by George Russell's much-improved Mercedes as Leclerc pulled away.
Prior to either the Ferrari power unit failure or the Verstappen spin, it was looking an extremely closely-matched contest between the red car and the blue and it would be difficult to call how it might have played out in the extreme tyre-melting heat of a Spanish heatwave.
Because that's what the contest would have hung on – what the whole competitive picture of the weekend hung on. Barcelona is almost unique in how delicate the balance is between the limitation being the front or rear axle. It's a circuit where you can set your car up for either end to be the limiting factor whereas at most tracks it's one or the other.
But in this unseasonal heatwave, with an ambient temperature of 36-deg C, well in excess of forecast, that set-up became something of a guessing game and the tyre limitation could swing from one end of the car to the other with just the smallest of changes.
On the medium tyre expected to be favoured, Ferrari was half-a-second off Red Bull's pace in the long runs of Friday and was slower than the upgraded, reduced-porpoising Mercedes too. It required a major rethink and the simulator team at Maranello got very busy on Friday night.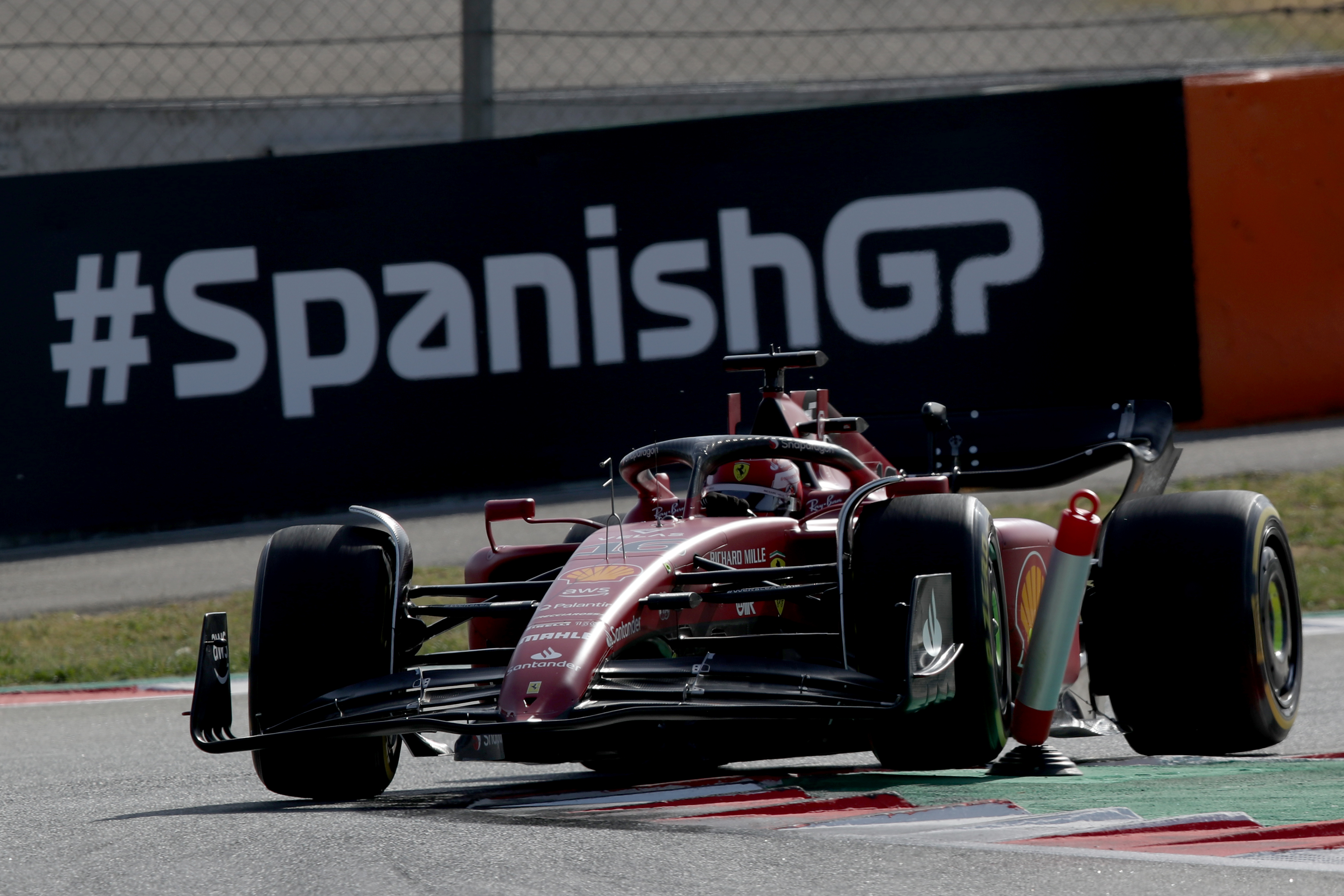 First of all, did it need to be the medium tyre? Was the C3 soft really out of the question? Carlos Sainz had tried it for the long runs of Friday – as had Sergio Perez at Red Bull – and it was better than expected.
In these temperatures the difference between the soft and medium was small – because both were heat-saturated and could only be driven to the false limit of the over-temperature surface.
So for FP3 on Saturday, Ferrari had both drivers do an additional long run each – on the soft tyre and with a set-up which placed more load on the front of the car.
Sainz struggled with it – it made the car he's already wary of even more nervy in the gusty conditions, especially through the fast Turn 9 of Campsa.
Leclerc, by contrast, got a great run from it. He was a bit busier at the wheel, but he didn't mind the slightly tail-happy balance that came as the price of protecting the front tyres. It was with the car like this that he spun on his first (very fast) Q3 run and set pole on his second. Though he was helped in that achievement by Verstappen's faulty DRS which led him to abandon his final lap. Verstappen's DRS glitch would come to figure on race day too.
From the start, Leclerc had only sunshine ahead of him with Verstappen in his mirrors but never within DRS reach. Leclerc's soft tyres degraded in the heat, just like everyone's – but he was able to run long, coming in on lap 21, about eight laps later than the Red Bulls and George Russell, and rejoin without losing the lead. Once Verstappen had taken his trip through the Turn 4 gravel on lap nine, the contest for the win seemed over, with Leclerc fully in control.
That Saturday soft-tyred practice run of Leclerc seemed to convince everyone else too. For when the tyre blankets came off on the grid only one car wasn't on the softs – Lewis Hamilton's sixth-fastest medium-tyred Mercedes. The thinking was, as the last of the fast cars on the grid, he'd be under no undercut threat from behind, so could run long and optimise his strategy.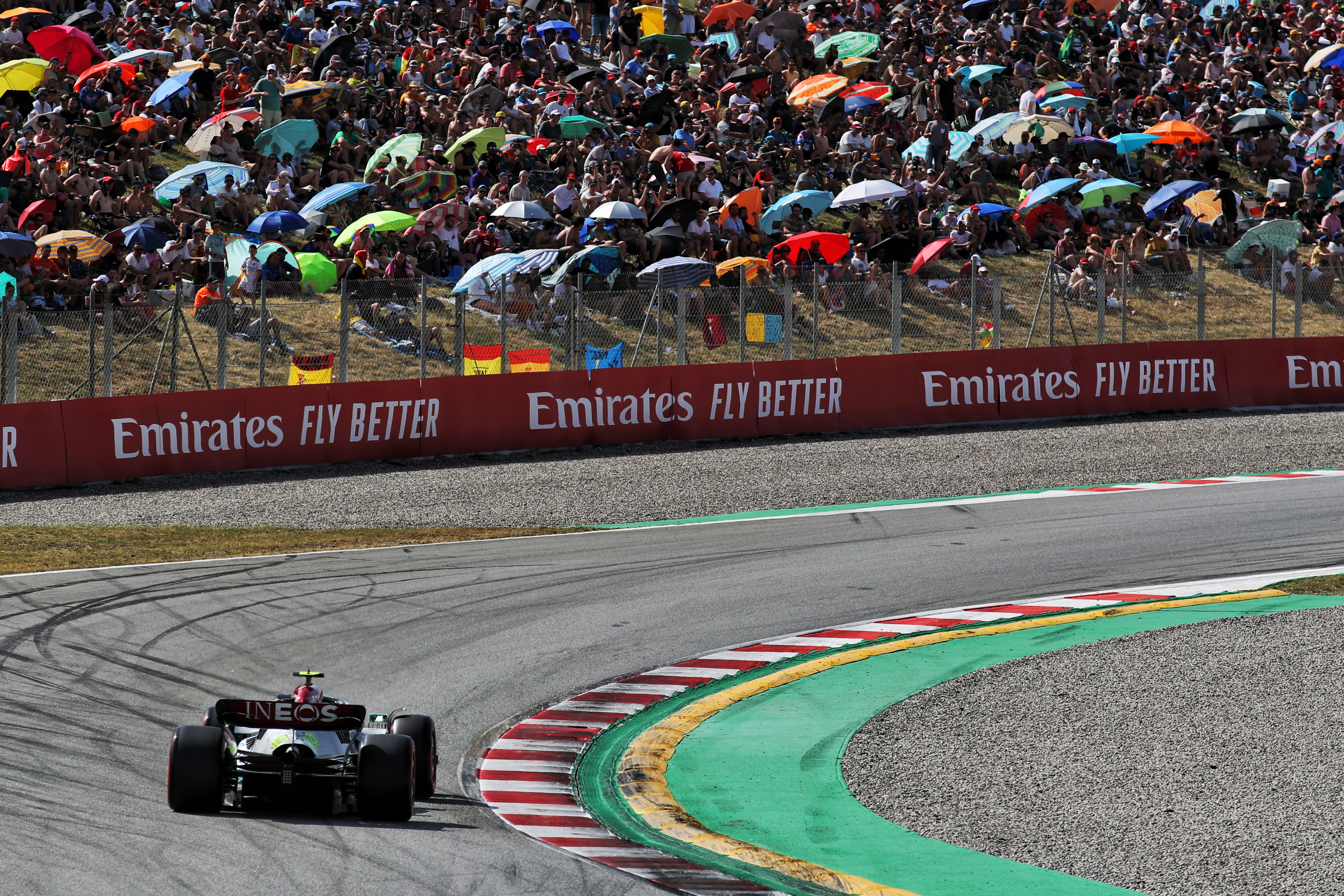 Hamilton was another to have opted to put more load on the front into Saturday. It didn't really work for him in qualifying – where Russell's more secure-looking set-up helped him to fourth-fastest time, 0.139s faster than Hamilton.
But the payback came on race day – when Hamilton had around 0.5s per lap advantage over Russell. Unfortunately for him, he'd lost around 45s of race time with his lap one, Turn 4 incident with Kevin Magnussen's Haas, necessitating a slow lap back to the pits on a punctured tyre.
Hamilton was all for giving up at this point. Yet he delivered a fifth place finish – a recovery which crescendo-ed with passing Valtteri Bottas' Alfa Romeo around the outside of Turn 3 and Sainz's damaged Ferrari under DRS a lap later.
This would have been fourth had Hamilton not needed to severely back off for the last couple of laps because of a coolant loss, allowing Sainz the place back. Without the 45s first lap loss, his pace and tyre deg numbers suggest Mercedes would have needed to have moved Russell aside for Hamilton to attack Perez.
Without the incident, he had the pace for second place. Not a threat to Verstappen – and in the straight running of the race well behind Leclerc too. But racing the second Red Bull and soundly beating the second Ferrari represents a very big leap for Mercedes. It now feels it has a real racing car, one which responds to set-up changes and which no longer needs to be set up conservatively to avoid chronic porpoising. The team is on its way way, so it believes.
But if Russell didn't ultimately have Hamilton's raw race day pace, he had fantastic fighting spirit and racing nous. He put himself ahead of the faster car of Perez at Turn 2, lap one, rubbing wheels to do so – and thereby gave himself a real chance. Were it not for that, Perez would have been gone.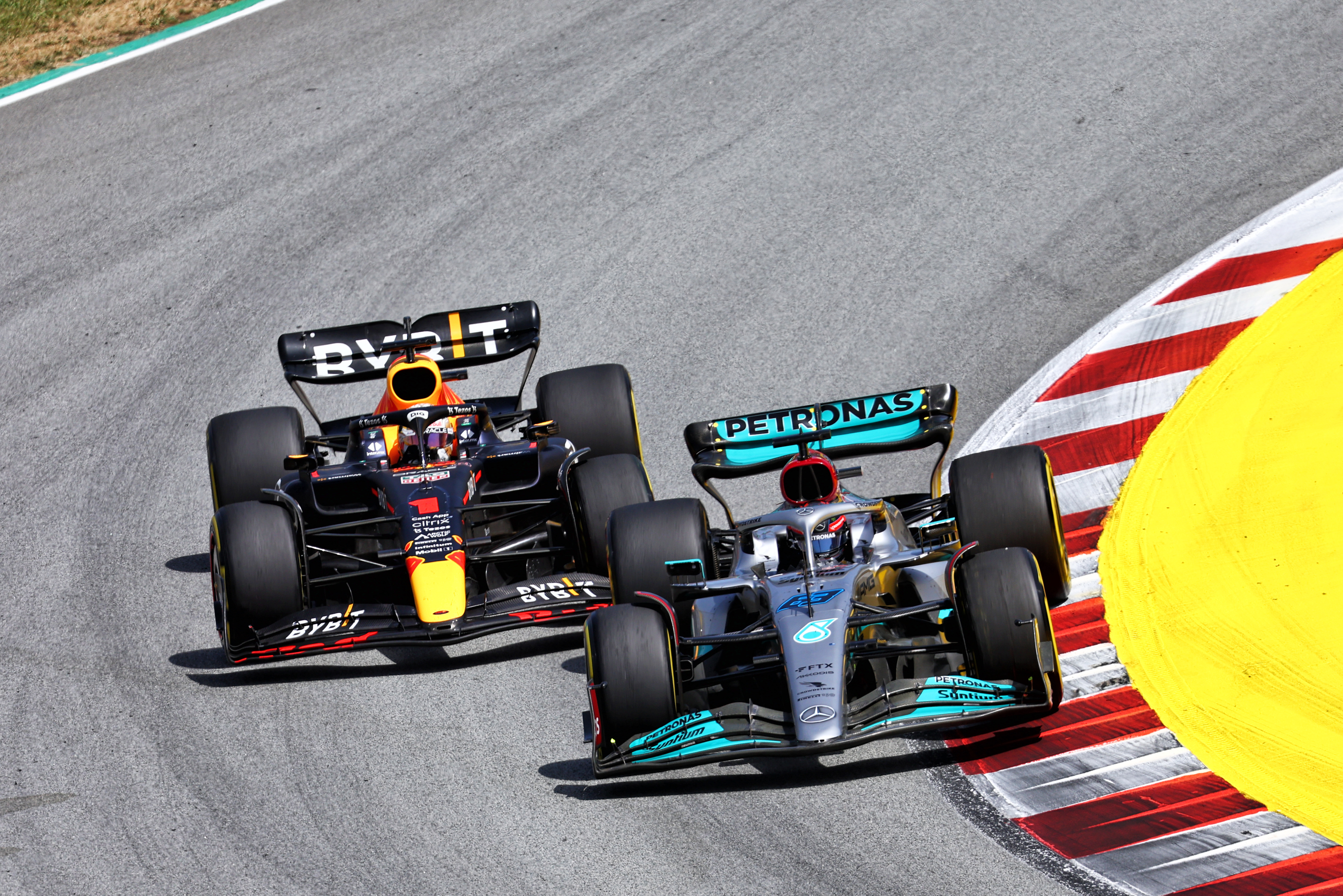 Later, there was the great wheel-to-wheel racing with the recovering Verstappen from Turn 1 all the way to Turn 4, this just the highlight of a multiple-lap dice between them, with Verstappen continuously thwarted by his faulty DRS and becoming ever-angrier.
Perez had allowed Max past under team instruction on lap 11 (and would do again later when their strategies diverged), being told he was on a two-stop, with Max on a three.
But Verstappen – without a functioning DRS – wasn't going to pass the determined Russell given the Mercedes' strong end-of-straight speed. At which point Perez began requesting to be allowed back through, confident he could pass Russell. Permission denied.
Just a lap after Leclerc's Ferrari had suddenly expired when over 12s in the lead – the rest just squabbling in his dust – Red Bull switched Verstappen to that three-stop, bringing him in early for his second stop on lap 28.
New rubber and clear air gave him all he needed to properly express his speed advantage. His pass on the old-tyred Alfa Romeo of Bottas around the outside of Turn 12 was quite noteworthy.
At this point Russell was leading the race, with Perez now coming forward to attack. Russell repelled him too – for a time. But Checo's DRS was working just fine and eventually he grinded his way by into Turn 1 on the 31st lap.
But the fresh soft-tyred Verstappen was catching them both very fast, so high was the tyre deg. Perez pulled away from Russell by around 1s per lap, but Verstappen was catching at around 2.5s per lap. He was just on the point of lining him up for a pass when Mercedes brought Russell in for his second stop on lap 36 for a fresh set of mediums.
With the Red Bulls now running 1-2, Perez made his second stop in response to Russell and remained comfortably ahead of the Mercedes.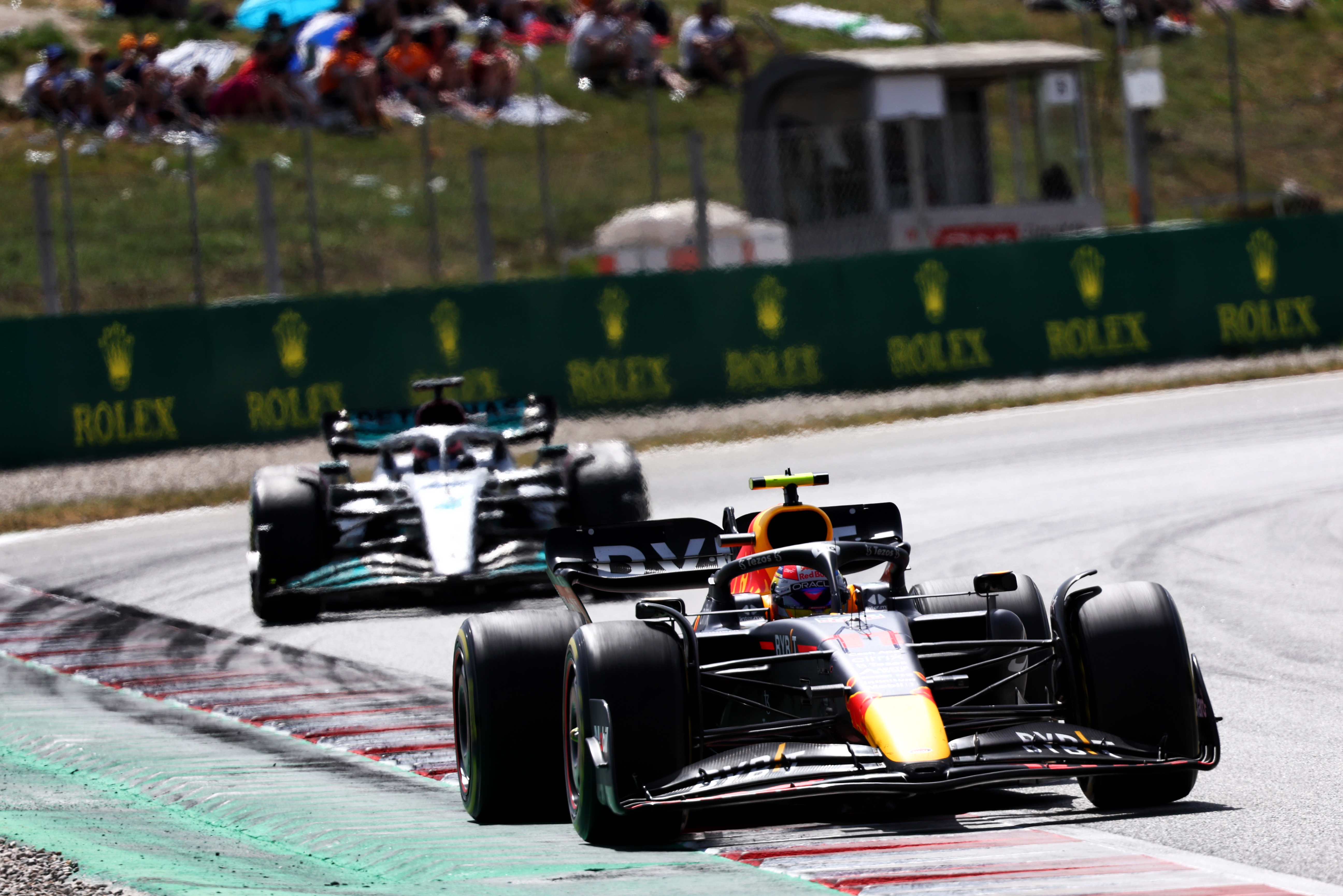 Verstappen pitted from the lead for his third stop a few laps later, coming out behind Perez but being allowed through.
Checo accepted it in the interests of the team but felt it unfair and Verstappen was afterwards generous in his gratitude. There was no one close enough to prevent them playing these games.
Sainz is going through a very tough time and retaking fourth place from the limping Hamilton at the end – there was almost no coolant left in the Mercedes power unit – at least gave his vocal grandstand fans something to cheer.
Sainz making a third stop – a damaged diffuser from his off meant he was sliding around and quickly killing the tyres – allowed Russell the luxury of doing the same. This in turn allowed Perez to pit for a set of softs 13 laps from the end, with the task of relieving the fastest lap point from Hamilton – which he did.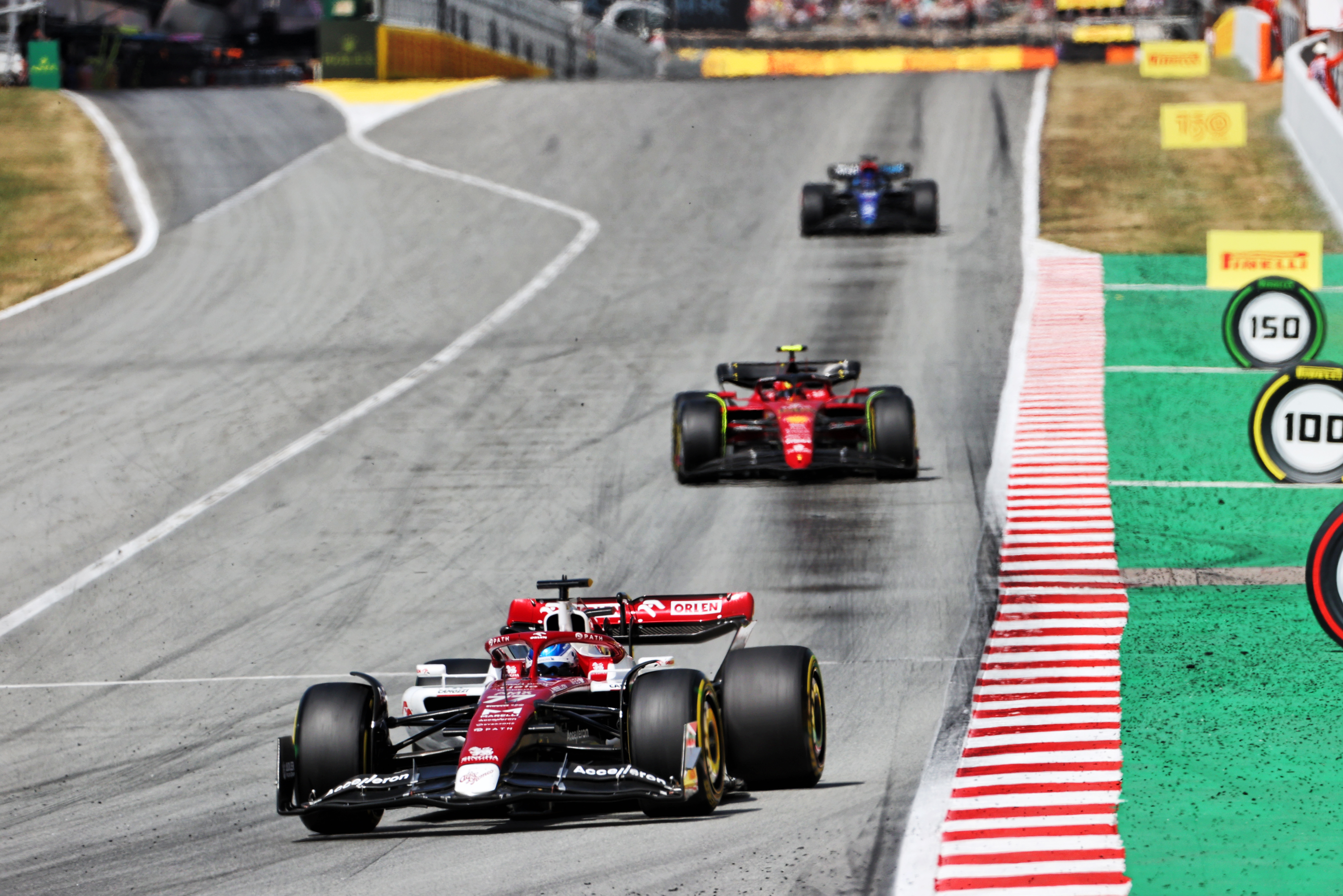 Bottas may have been able to have held off Hamilton with a better strategy, Alfa Romeo pitting him earlier than necessary and staying on a two-stop. He was always best of the rest, though and to be disappointed with sixth underlines Alfa Romeo's recent progress.
Esteban Ocon put another strong race together for Alpine to take seventh ahead of a tonsillitis-ridden Lando Norris who thoroughly eclipsed Daniel Ricciardo after being allowed past under instruction from the McLaren pits. Daniel finished four places and half-a-minute behind his unwell team-mate.
Fernando Alonso converted last on the grid to ninth and Yuki Tsunoda took the final point, outpacing AlphaTauri team-mate Pierre Gasly throughout the weekend. The revised Aston Martin's similarity to the Red Bull didn't extend to its pace on its debut, with Sebastian Vettel and Lance Stroll 11th and 15th respectively.
Verstappen leads this year's championship for the first time, Ferrari can at least take solace that it was well on the way to victory before the engine died. But perhaps the most significant news is that Mercedes looks on the way back – and is sure there's lot more to come.