Charles Leclerc admits he "just didn't do a good enough job" in the closing minutes of British Grand Prix qualifying, as his late spin also compromised Formula 1 title rival Max Verstappen.
Leclerc looped his Ferrari F1-75 around coming through Chapel on his final push lap, and was left unable to respond as his team-mate Carlos Sainz crossed the start-finish line up ahead to claim pole position.
Settling for third place, Leclerc said in the post-qualifying interview on the grid that the spin meant he simply wasn't deserving of pole.
"I knew it was the lap where I had to put everything together as I didn't as a driver so I didn't deserve to be on pole," he admitted.
He offered a similar sentiment in the subsequent press conference.
"I actually felt very good," Leclerc said of his Ferrari in the wet. "Unfortunately I did a mistake in that last lap in Q3, where I knew it was the lap that I had to put together, and I just didn't do a good enough job. I lost it in Turn… 14, I think it was, there was quite a lot of standing water, and I lost it there.
"Apart from that, I think the car was quite competitive in those conditions, which is important to see, because obviously – I keep repeating it every time we drive in those conditions this year, but the last two years weren't easy [for Ferrari] in those conditions, so it's good to see that we've kind of found a bit of consistency in rainy conditions."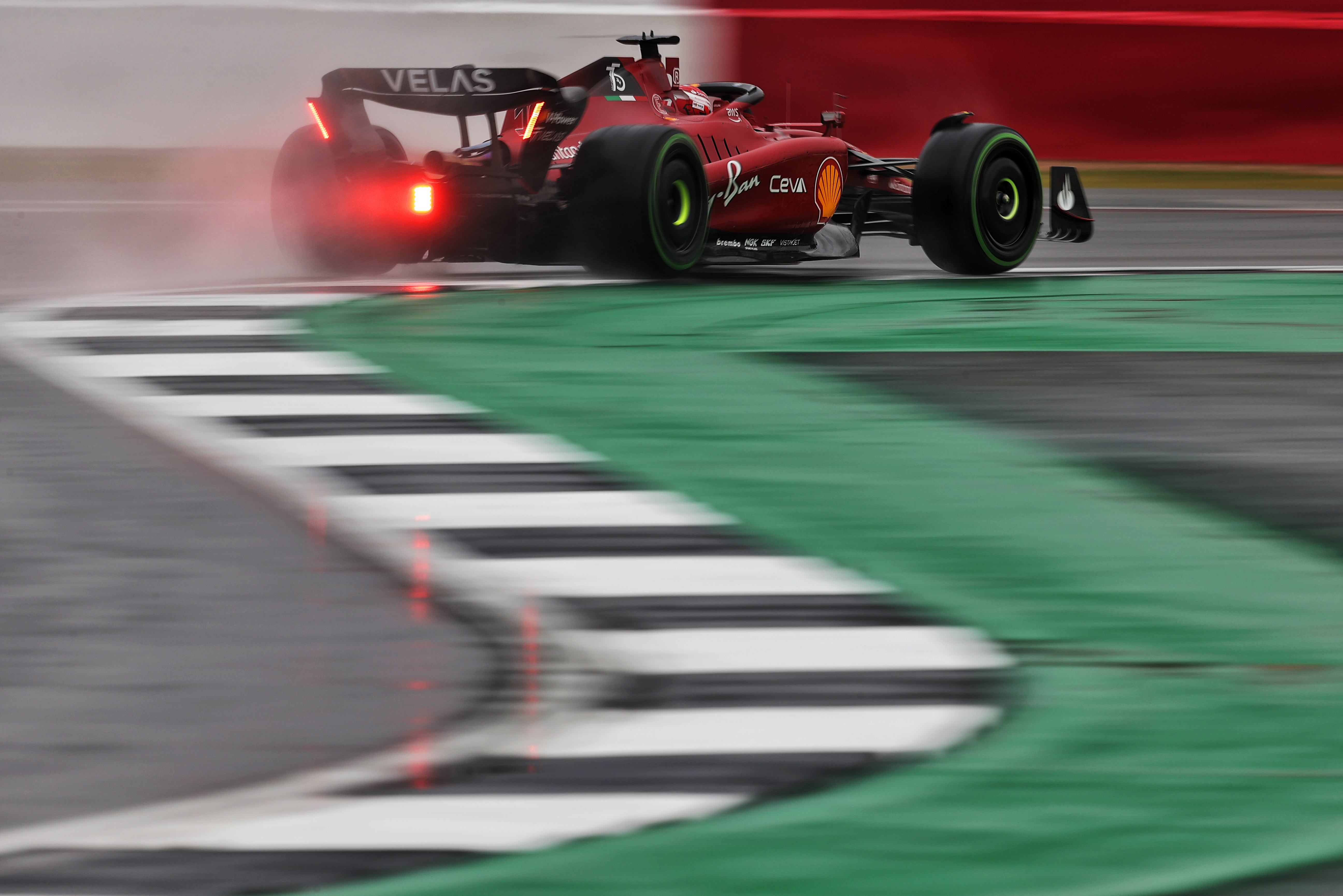 Though Leclerc did a 360-degree spin and was swiftly facing the right way, the spin was enough to trigger yellow flags – and those proved enough to force Verstappen to apparently ease up.
Verstappen had been up on Sainz through the first two sectors, but – with the third sector commencing through Chapel, the impact of the yellow flag was seemingly felt there, and he came across the line with a lap a tenth and a half slower.
Asked about where he'd lost the laptime after looking imperious through most of qualifying, Verstappen said "I had a yellow flag" and then turned to glare in the direction of Leclerc, chuckling.
"I lifted not to have any issues [with the stewards]," he added.
"Max lifted for the yellow and he gave up about three or four tenths for it," Red Bull team boss Christian Horner told Sky Sports F1.
"But, look, congratulations to Carlos, he's always been a demon in the wet, when he was a junior for us he was always very strong in these kinds of conditions.
"So, congrats to him, just pleased to be on front row, and Checo [Perez] up there on the second row as well."