Charles Leclerc admitted he was "very disappointed in myself" for only managing eighth place in qualifying for Formula 1's Mexican Grand Prix, while his Ferrari team-mate Carlos Sainz was surprised to be sixth.
Sainz and Leclerc were beaten to fifth place behind the Mercedes and Red Bull duos by the AlphaTauri of Pierre Gasly, and were split by the McLaren of Daniel Ricciardo.
Eighth place for Leclerc brought out the self-critical approach that we've often seen from the two-time grand prix winner since he arrived in Formula 1 in 2018.
"I'm very disappointed in myself," he told The Race. "The potential was there, I don't know if I could have reached Pierre, he did a great lap with the slipstream [from his team-mate Yuki Tsunoda], but there was definitely the potential to be very close to him.
"My mistakes combined with the Red Bull [Sergio Perez] that made it very difficult for me in the last sector, but yeah, the main person to blame today for the eighth place is myself."
Perez was making his way back to the pits at the end of Q3 after his final lap was compromised by a run-in with the AlphaTauri of Tsunoda.
Leclerc didn't catch Perez before the Mexican dived into the pits, but would have likely received some minor dirty air disturbance through the stadium section.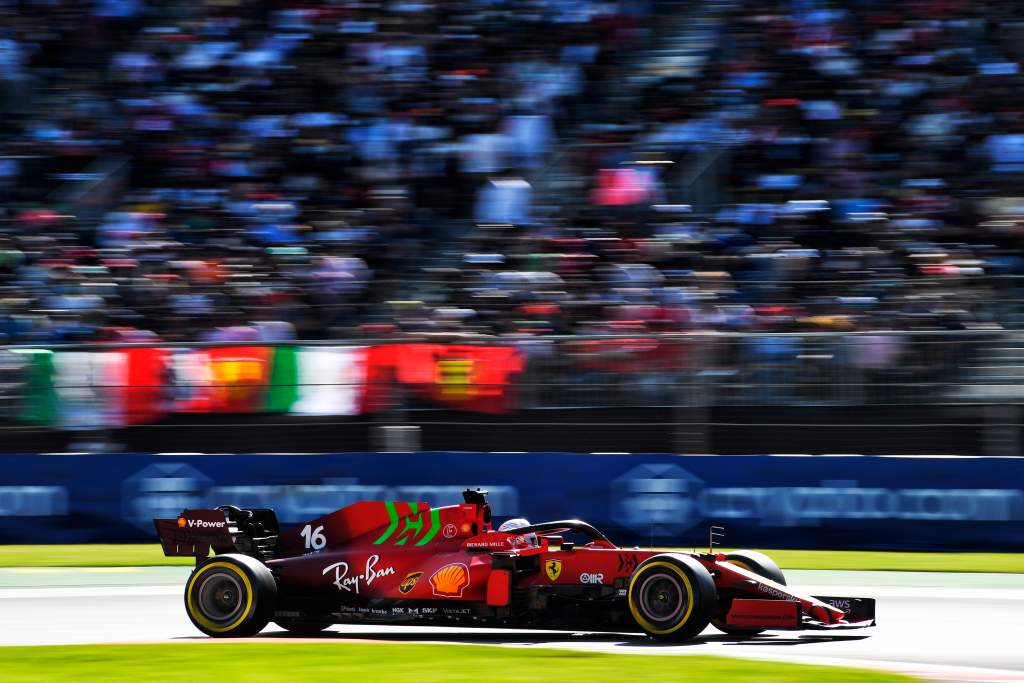 Leclerc admitted he was "really struggling" throughout all three practice sessions and although he "felt extremely happy" in the opening two qualifying segments, he made mistakes when it mattered on his Q3 run.
Asked if he'd made set-up changes between practice and qualifying, he replied: "I didn't. But I knew the potential was there in FP3, I kept trying things with [different racing] lines and the way I was driving.
"It was quite clear in my head what I had to do for quali, which I did but then [made a mistake]."
His team-mate Sainz was delighted to claim sixth place on the grid in what he described as "the worst session of the weekend".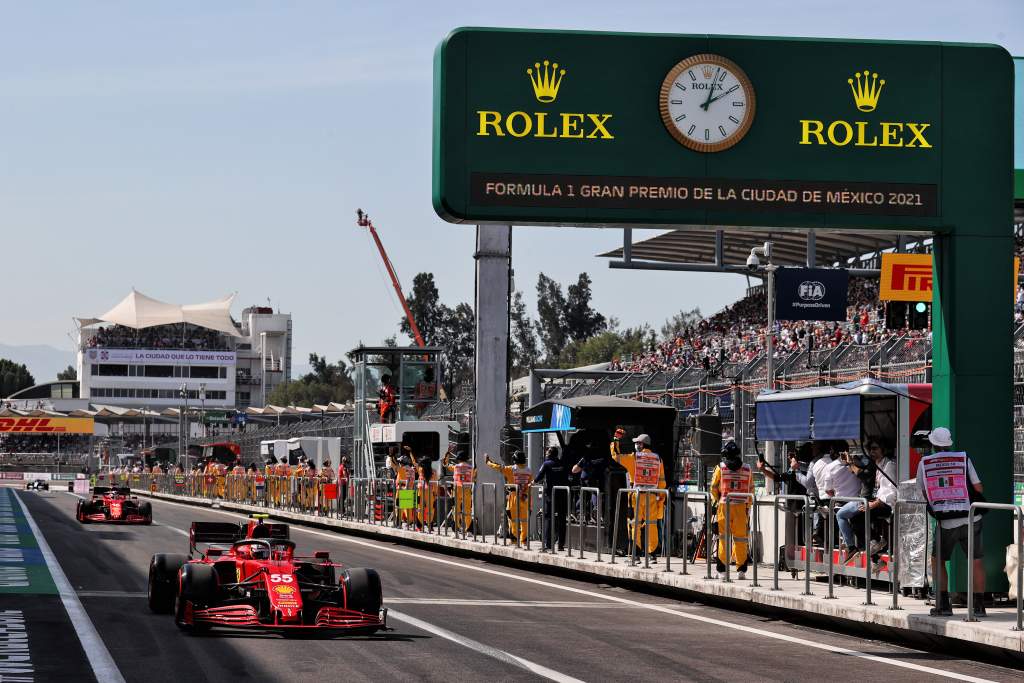 Sainz's qualifying looked like it might come to an early end when his Ferrari lost power when Sainz exited the pits as the session resumed after Lance Stroll's crash red-flagged Q1.
But Sainz was able to return power to his Ferrari after following the team's instructions on settings changes and although lost tyre temperature left him needing a strong final run, he got through into Q2 and would later grab sixth place in Q3.
"We've been struggling a bit getting out of the garage this weekend, [when we're] too long stationary," Sainz explained.
"We've been having this issue but didn't expect it to last that long.
"My tyres cooled down a lot in that process, to do a lap like this at the end of Q1 was very stressful. Also Q2 was stressful, eventful, probably one of my complicated qualifying sessions.
"Then we got into a rhythm, did a decent lap in Q3, even that lap felt like I was two or three tenths away from the potential of the car. A bit surprised to see myself in P6.
"I felt like, when I went across the line, I was going to be P9 or P10. But it was P6, that was a bit of a relief."
In contrast to Leclerc's practice struggles, Sainz said he was "flying" in final practice before his rhythm was knocked by his qualifying dramas.
Sainz was happy to beat Ricciardo, who was assisted by a tow from his penalty-hit team-mate Lando Norris, as Ferrari looks to overturn its three and a half point deficit to McLaren in their fight for third in the constructors' championship.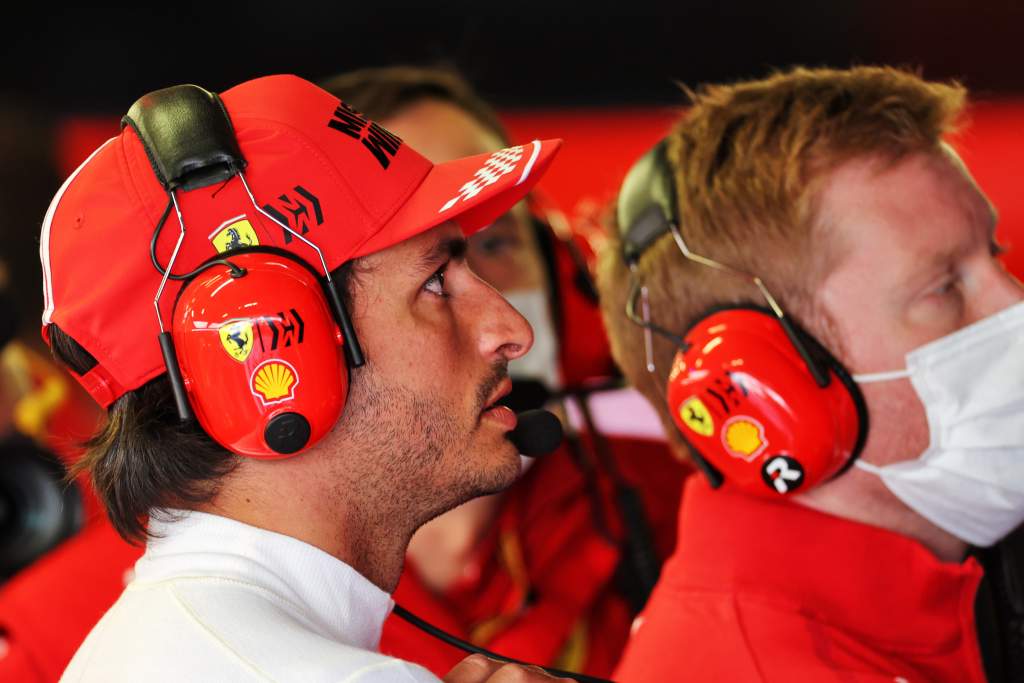 "Qualifying was the worst session of the weekend and we still managed to beat the McLaren, and be two or three tenths away from the AlphaTauri and they were playing with the tows," Sainz added.
"So I think if we get the feeling back with the car, and tomorrow get into a good rhythm in the race, all of a sudden the race pace can come back and we can do something with strategy."