Max Verstappen started the Miami Grand Prix only ninth, with Red Bull team-mate and championship rival Sergio Perez on pole and fresh from a double win in Azerbaijan.
And yet Verstappen was second by lap 15 of 57 and went on to beat Perez to victory in pretty routine fashion.
Is the little hint of a genuine title fight that flickered after Baku already over, or was it never real anyway? Was Miami the clearest indication yet that Verstappen's going to just win as he pleases this season?
Here are our writers' takes on the implications of Verstappen's latest charge-from-behind victory.
IT'S NOT EASY, VERSTAPPEN'S JUST MAKING IT LOOK THAT WAY
Edd Straw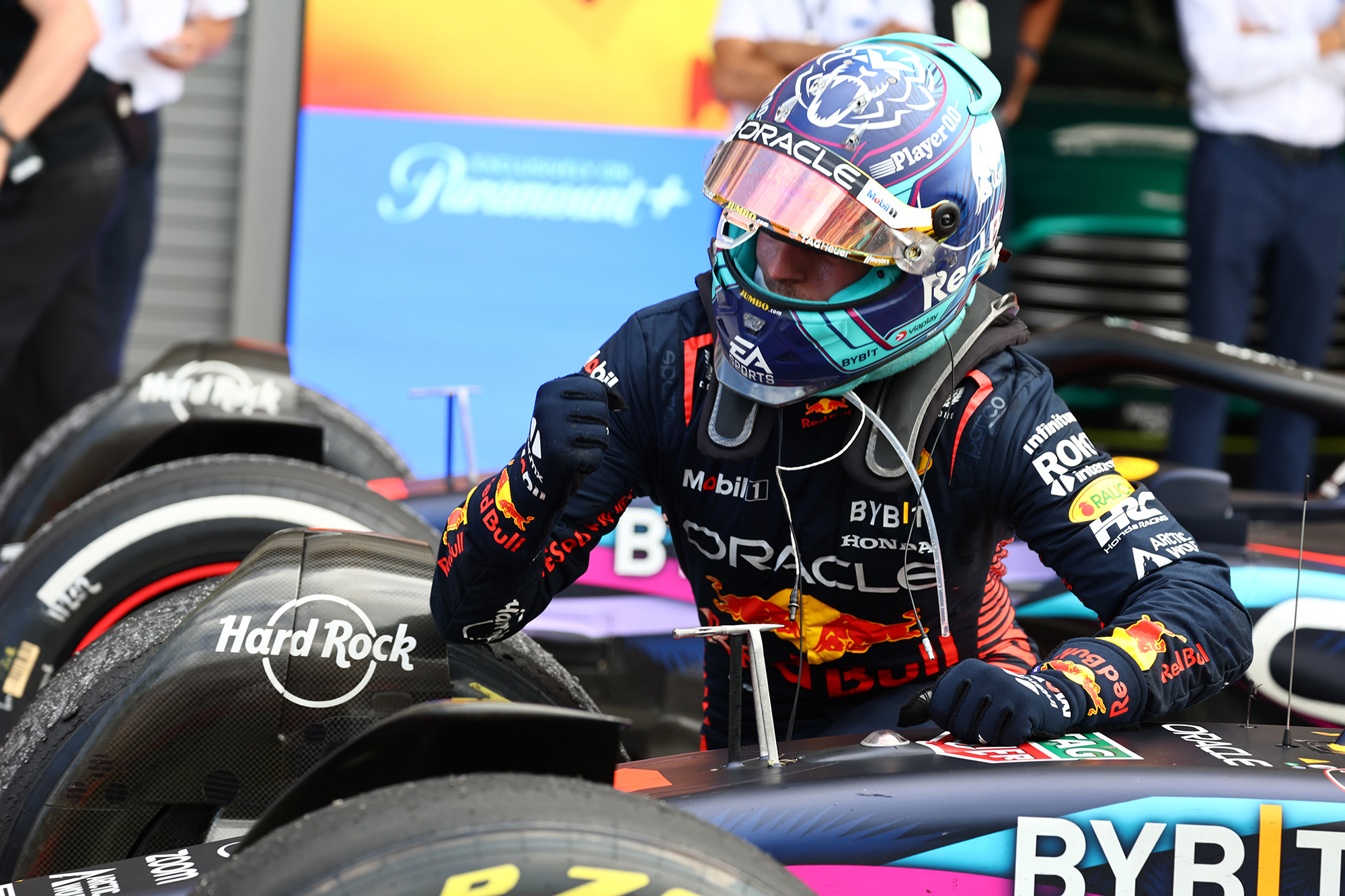 To say it's too easy is a little unfair on Verstappen. Yes, the combination of the best car and Verstappen is irresistible, but you cannot discount his contribution to making it seem so straightforward.
He got up to second place quickly and efficiently, never taking big risks but also avoiding getting bogged down for longer than he needed to. It would have been very easy to lose another four or five seconds in this phase, which would have made his route to victory more taxing.
He also defied Red Bull's expectations with his pace in the second half of his hard-tyre stint. That was thanks to a combination of the fact his underlying pace in Miami was stronger than Perez's and his excellence in managing the tyres.
Verstappen's road to victory looked easy, certainly. But he made it so through his relentless push for excellence and virtuosity behind the wheel.
Great drivers have a habit of making the brilliant look mundane and just because it would be a bigger challenge if he had stronger opposition from Mercedes, Ferrari and Aston Martin doesn't mean it's being handed to him on a plate.
The only benchmark was Perez and, aside from the first run in Q3 when Verstappen made a mistake, the fact is that Verstappen had a decisive advantage over him all weekend. That underlines his contribution.
HE ACTUALLY HAD TO WORK HARDER THAN EXPECTED
Glenn Freeman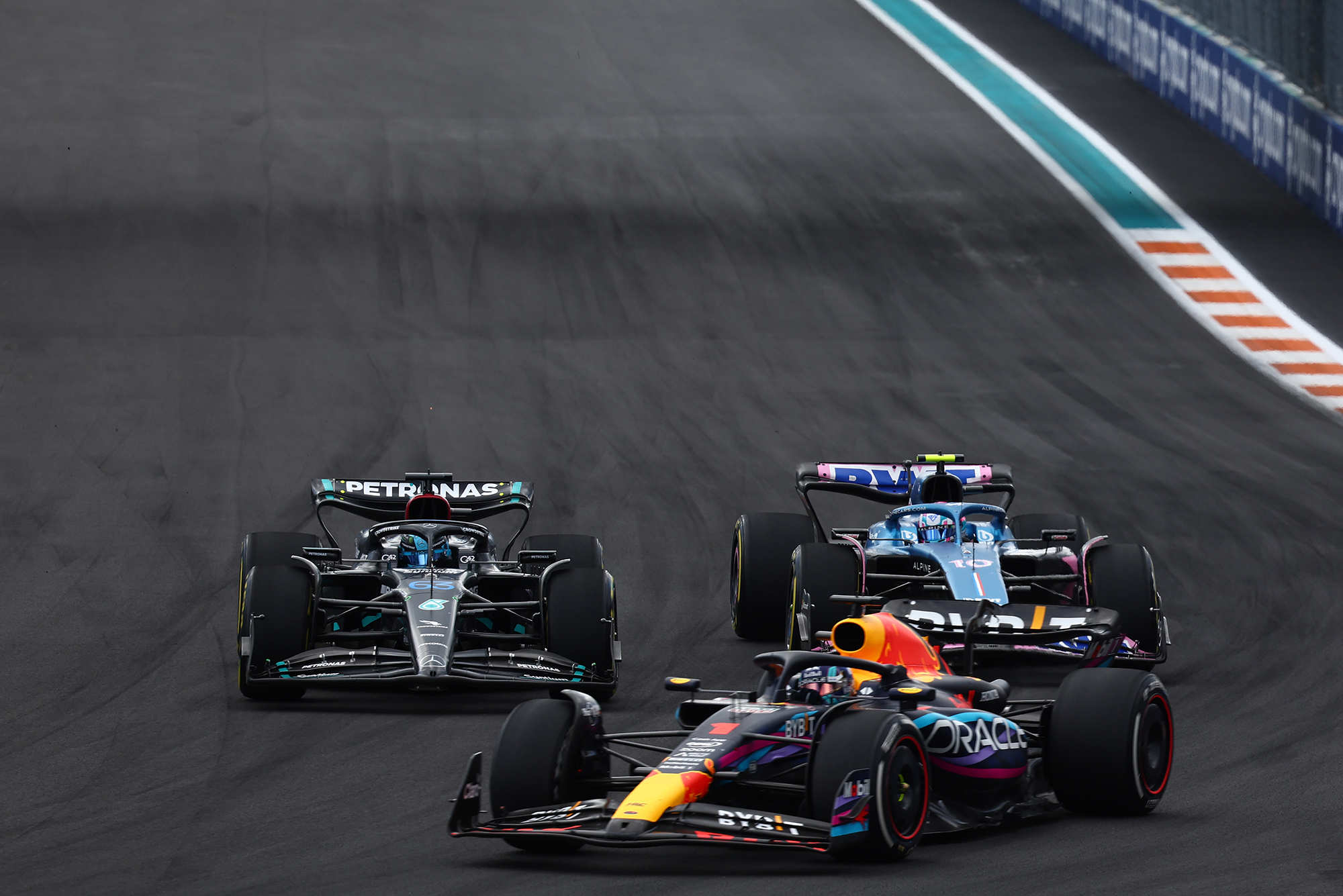 It says a lot about how dominant Verstappen is that his rise through the field to second place behind Perez in the opening laps actually took longer than I expected.
That was mainly down to him losing a little ground in the first part of the opening lap. But with the car advantage he has, he could afford to be cautious in the pack and wait for things to settle down before he picked everybody off.
It sounded like there was some discussion in the cool-down room after the race between Verstappen and Fernando Alonso that included a reference to Alonso's prediction the previous evening about when Verstappen would catch the Aston Martin. Did I hear lap 25 mentioned by one of them? Whoever came up with that number was being far too cautious.
Still, it was fun to see some overtakes – even straightforward ones – rather than the two Red Bulls just driving away at the front from lap one.
PEREZ'S WEAK WEEKENDS MEAN HE'S JUST NOT A TITLE THREAT
Scott Mitchell-Malm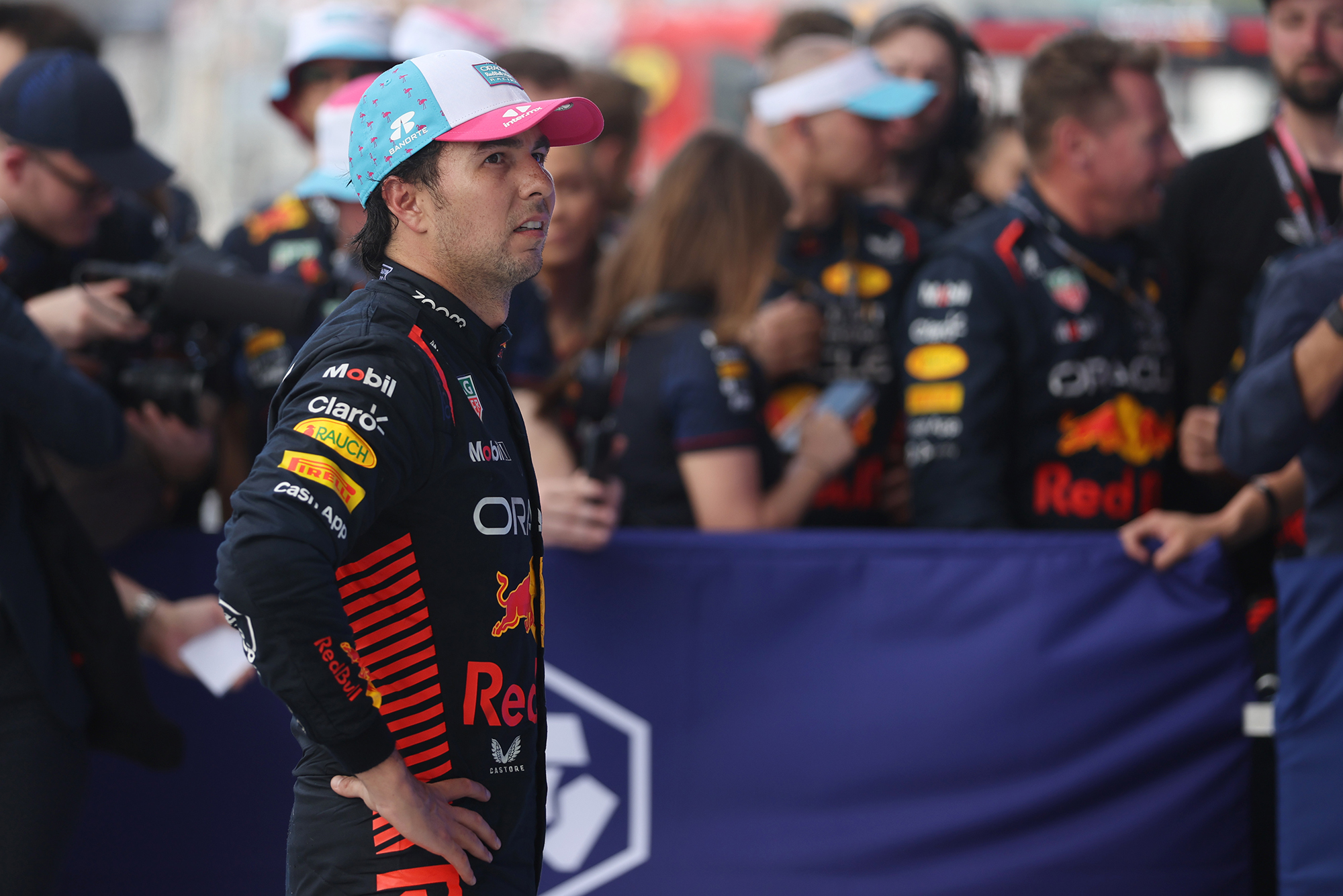 In the end it was a pretty decent attempt at a defence from Perez but unfortunately he was undone by his own lack of pace.
In that car and with eight cars between them on the grid there's not really an excuse for Perez to be caught and passed, not if he has designs on fighting for the title and considering himself a threat to Verstappen on the majority of weekends.
Perez just wasn't quick enough and hasn't looked it all weekend. The events of qualifying just set him up for a fall. Verstappen's absolutely perfect opening stint only made it feel more inevitable – he lost next to no time getting through the pack on the hards and everything worked serenely for him.
Perez's peaks – Jeddah, Baku – really aren't the problem. Failing to win a race from pole when Verstappen starts ninth is the kind of performance deficit that will wipe out his championship hopes.
VERSTAPPEN'S NAILED PEREZ'S OLD SECRET WEAPON
Ben Anderson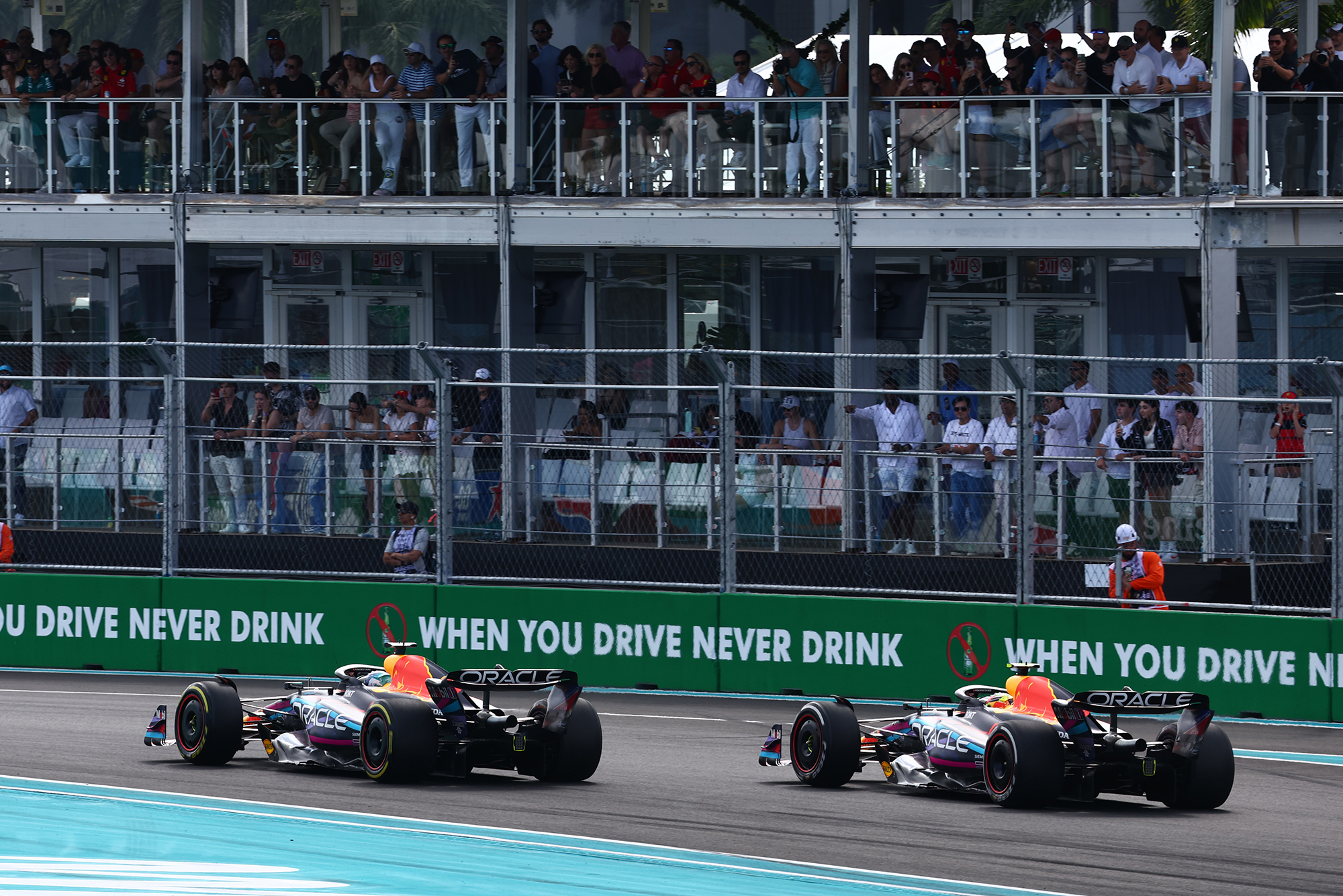 Perez has a hard-won reputation for being F1's 'tyre whisperer' – someone who, throughout the Pirelli era, has been one of the best at managing the delicate rubber and knowing how to extract maximum efficiency from it during long, hard, one-stop races.
But the Miami GP showcased how his 2023 title rival and Red Bull team-mate Verstappen is actually superior in this regard, despite Perez's pre-event confidence (buoyed by that brilliant Baku win) that he's begun to 'crack the code' of Red Bull's F1 cars.
Perez was quick to highlight how difficult it was to make the medium tyre work properly at the start of the Miami GP – when the rain-washed track lacked grip and the cars were all fat with fuel. His pace in the first stint was limited by graining of the front-right tyre – the most heavily loaded on this circuit – which meant he couldn't pull away from the pack and assume proper control of the race while Verstappen recovered from throwing pole position away on Saturday.
Perez's struggles certainly helped Verstappen limit the damage from starting ninth, keeping him within five seconds or so of Perez through the first stint. But the real damage was done after Perez pitted to get off those troublesome mediums.
Running on much fresher hard tyres to the ones Verstappen began the race on, Perez should then have been cutting into Verstappen's advantage and sitting comfortably within his pit window before Verstappen needed to make his own mandatory stop.
But Verstappen was able to lap so quickly and efficiently on his used rubber that by the time he emerged from his own pitstop (on medium tyres that were obviously much better suited to a grippier circuit and a car now much lighter on fuel) that he was right on Perez's tail instead of many seconds behind. Verstappen's inevitable victory was then simply a matter of time. No need to chase down a substantial deficit and burn the medium tyres in so doing.
This is a big part of what sets the truly elite F1 drivers apart from the rest in Pirelli-era F1 – that ability to somehow manipulate the car so efficiently when track conditions are difficult, and the tyres aren't working properly, that your opponents can find no answer even when they should theoretically have the edge on you.
Lewis Hamilton often did it to Valtteri Bottas when they were Mercedes team-mates – and in Miami, Verstappen showed Perez a glimpse of what it means to be a true F1 'tyre whisperer'.
THE RACE WASN'T THE SCARY BIT
Matt Beer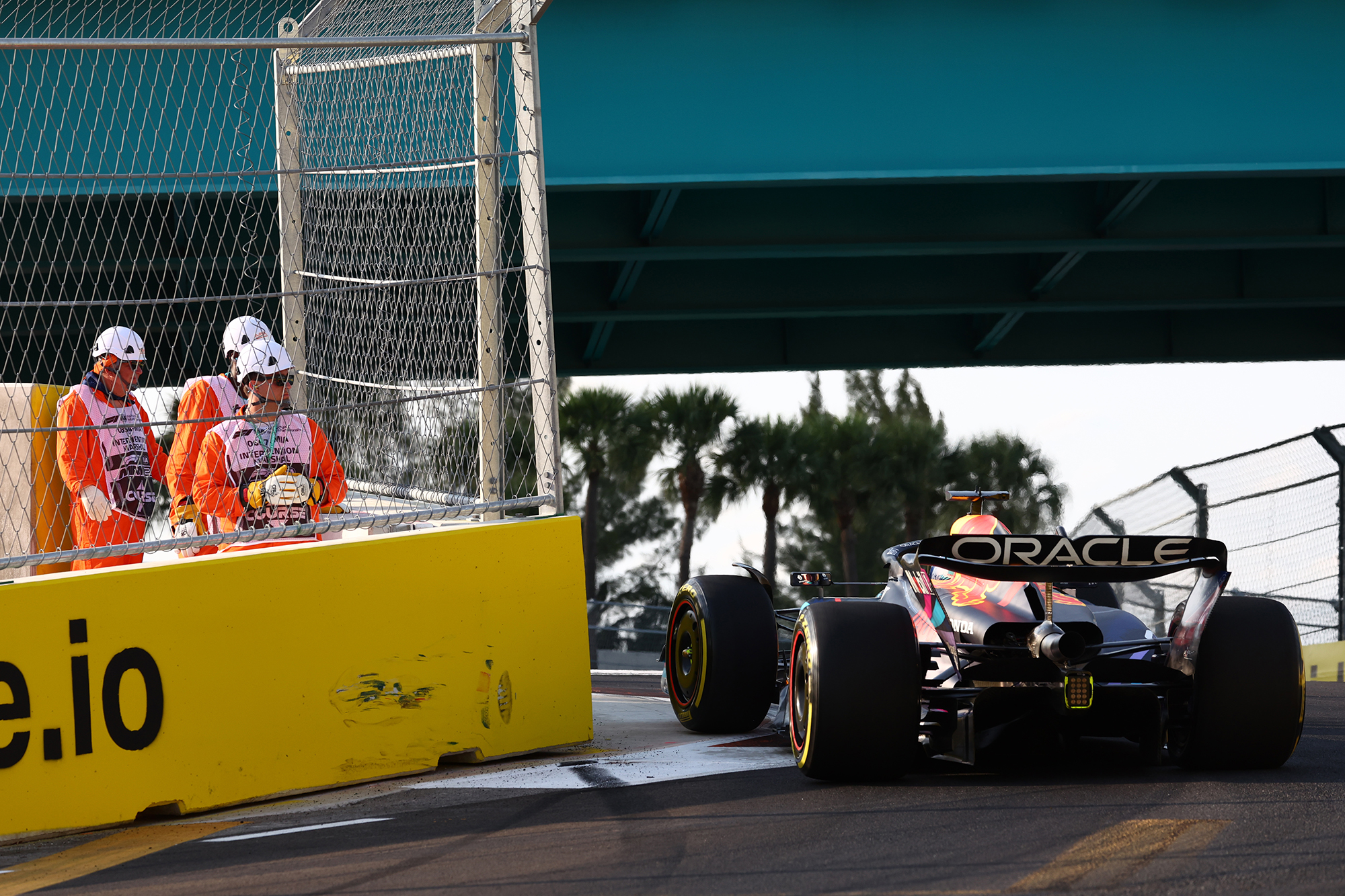 Ninth to first in the race wasn't exactly uncharted territory for Verstappen – 15th to second in Jeddah and 14th to first at Spa last year showed what was coming.
It was the ease with which Verstappen was leaving everyone else standing in the sessions that counted prior to his Q3 non-event that made his margin over the rest of the field – including Perez – look somewhat ridiculous. It felt in practice like every time anyone got near Verstappen, he'd just pop back out and smash them all by half a second again. And it wasn't even Perez getting closest most of the time.
That speed plus the knowledge that Red Bull has an advantage that lets it overtake with ease meant the grid position was pretty much an irrelevance.
The other thing that showed how little Verstappen's having to exert himself to win this title was his response to only being ninth on the grid. He spoke of being upset with himself and frustrated after qualifying, but his tone and expression weren't that upset or frustrated. This was a minor inconvenience level of annoyance, and being ninth on the grid with your championship threat on pole really ought to be more than that.