Starting from ninth in the Miami Grand Prix didn't present any particular problem for Max Verstappen, even with the other Red Bull of Sergio Perez on pole.
Tip-toeing between early lap patience, attacking virtuosity and an offset tyre strategy to Perez, he was only 3.7s behind by the time he'd used the Red Bull's big DRS advantage to reach second 15 laps in.
From there he wasn't going to lose because, unlike in Baku, he seemed to have a handy pace advantage over Checo this weekend.
Ordinarily, even that advantage – rooted in Verstappen's way of getting the car through the fast sweeps of the first sector (where he'd made the error that spoilt his qualifying) – wouldn't have been enough to offset the eight-place grid penalty his Saturday error had brought.
But his choice of starting on the hard, made with the logic of needing to go long to get through the traffic, turned out to be golden. Because Perez's medium on a first stint fuel load was more delicate than Red Bull expected – and the hard was not only faster than forecast but virtually indestructible.
So Verstappen had put himself on a strategy that was not only good for the practicalities of track positioning but was actually great from a pure performance perspective too.
Using his hard tyres to run 25 laps longer on the first stint, Verstappen's speed once Perez had pitted was formidable, aided by the tyre picture having changed significantly overnight in his favour. Pre-race, a medium/hard combination looked the fastest way to complete the distance. But actually, the cooler temperatures and overnight rain favoured Verstappen's choice of hard/medium.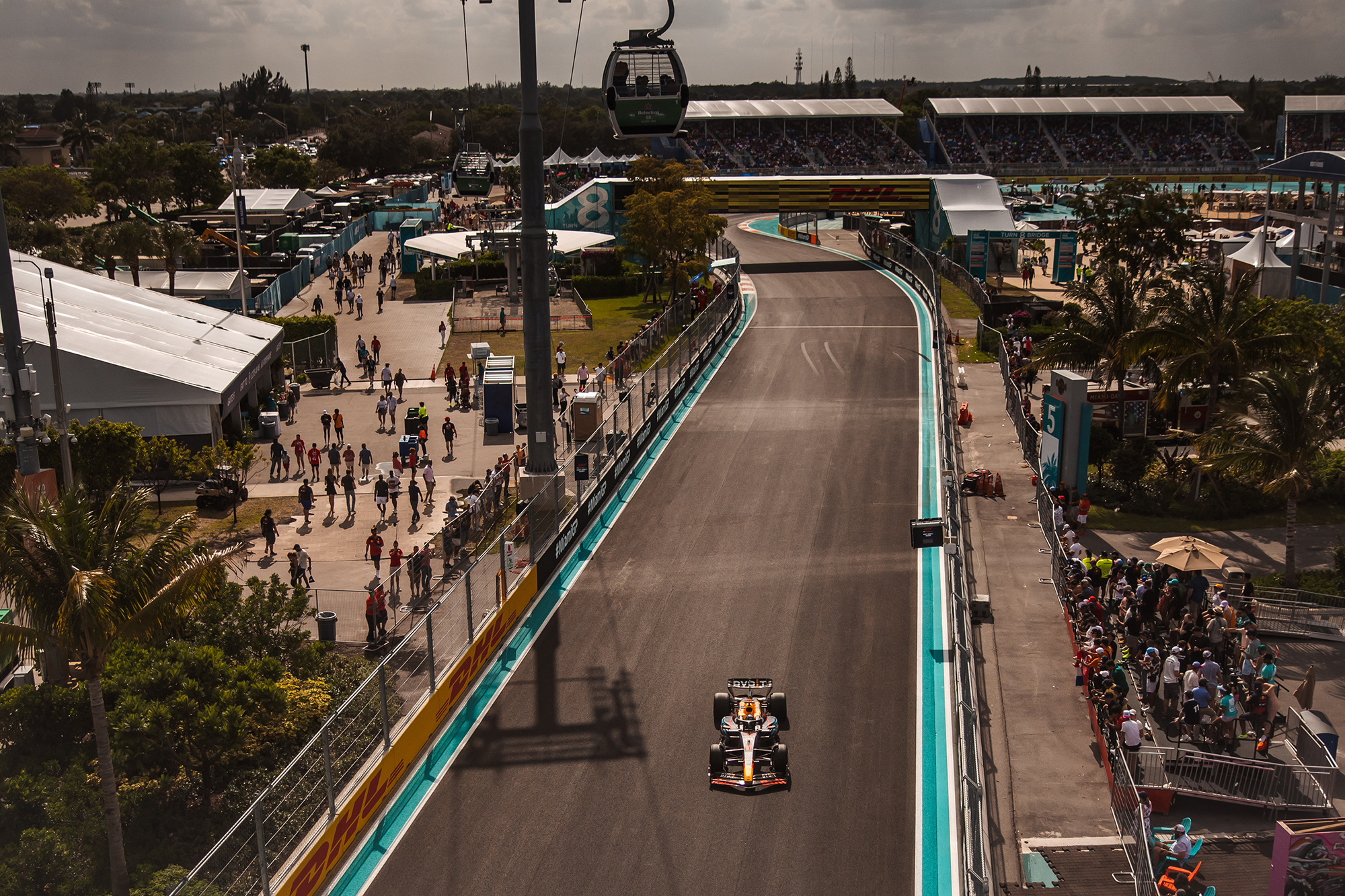 "When we made the calculations," said Pirelli's Mario Isola after the race, "the degradation of the hard, fuel-corrected, worked out at 0.003s over a stint!"
What Pirelli also saw after it crunched its numbers was that a new hard was no more than a couple of tenths slower than a new medium over a lap. The expectation had been around 0.5s. So it took only a handful of laps of zero deg before the hard was actually the faster tyre.
Perez did 64% of the distance on that faster tyre, Verstappen 79%. That was enough to offset the time Verstappen lost in getting through the traffic for the first 14 laps. Not only that, but by the time Verstappen switched to the medium it was not as prone to graining up its front right because the car was by then around 80kg lighter than when Perez had used it.
"The medium initially was really poor," said Perez, "worse than expected. And that really compromised our pace…
"Very early on I saw that it was very fragile, so I had to protect the tyre quite a lot just to make lap 15 or so. It was really hard to lean on that tyre. Basically, the whole right hand side was really difficult. And yeah, I could see that Max was closing up on the and from that point on, I knew that the race was looking difficult."
Because of the way the hard tyre just wasn't degrading here, even as he switched to it Perez was going very little quicker than Verstappen despite his tyres being 15 laps newer. Verstappen couldn't quite pull out the 20s required to pit without losing the lead to Perez, but it was close enough that when he rejoined with 12 laps to go he was within DRS range almost immediately.
From there his victory was a mere formality on the initially-faster medium tyres and the with helping hand of DRS. They went wheel-to-wheel for two corners, close enough to get the crowd cheering but not with any real likelihood of contact. That was just the ceremonial handing over: the victory had looked nailed-on for Verstappen for the previous 20-odd laps.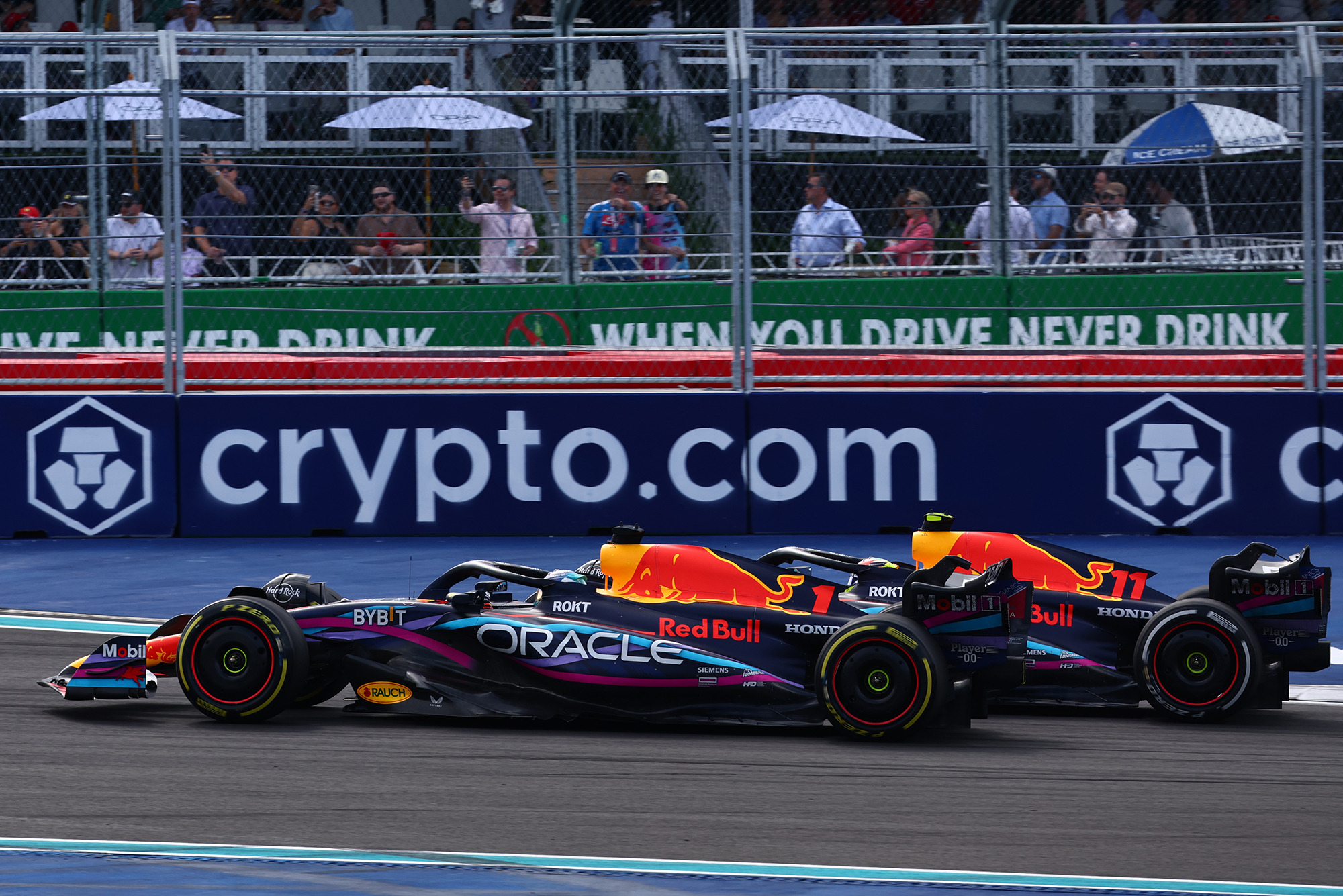 It had been aided also by how quickly Verstappen had made up ground in the first few laps, passing cars as soon as he encountered them, sometimes even gaining on Perez while making the passes. The Red Bull's big DRS advantage was extra-valuable in that regard. The double pass on Charles Leclerc and Kevin Magnussen was a particularly impressive testimony to how mighty its DRS is.
"I think what won Max the race was his pace between laps 20 and 45," said an admiring Christian Horner. It was indeed impressive but the strong performances of the other hard tyre-starters in the race – Lewis Hamilton, the Alpines and Lance Stroll, all of whom ran long with very little degradation – suggests the strategy aided him.
But such was his speed around here he could probably have won using either strategy. Switch the starting positions and strategies around, does Perez take it from Verstappen? Probably not.
"I don't know how different it would looked, the race, for Max, if he was on the on the same strategy as myself," said Checo, "but he was clearly the fastest car out there. I have to understand what went wrong today."
Fernando Alonso's run to yet another third place was threatened only around the time of the first pitstop window when Ferrari brought Carlos Sainz in as early as lap 18 of 57 to undercut him (and to defend against the undercut attempt of George Russell on the previous lap).
Aston Martin had seen it coming and there was intense discussion about whether it should anticipate it, but Alonso's pace and the way he was looking after that delicate medium convinced the team to stay out long.
Sainz had pushed hard on the out-lap, trying to ensure he made the undercut and that seemed to damage the tyres. For he had no pace in the second stint. Alonso stopped six laps later, exited just behind and almost immediately overtook on track to regain his position, a pitlane speeding penalty for Sainz not even relevant to his defeat in the podium battle.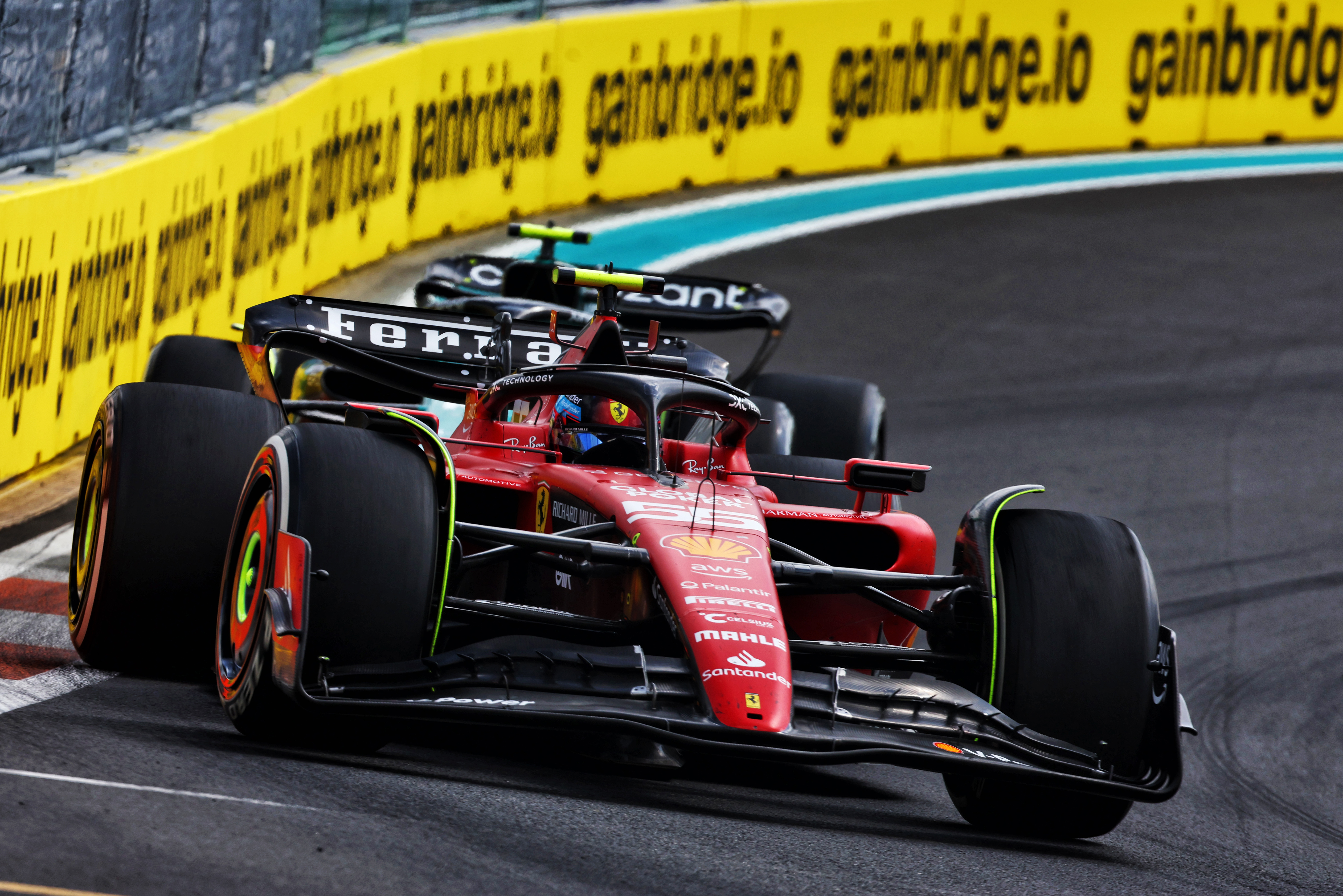 Sainz's pace dive-bombed and he was passed also by Russell's Mercedes. Carlos had lost an average of just over 0.3s per lap to the lead during his medium-tyred first stint, but around 0.8s per lap in his second, hard-tyred, stint. Even with its new floor, the Ferrari was an edgy, oversteery handful which ate its tyres and was highly sensitive to the very gusty conditions.
The Mercedes was a stubborn mule of a car in qualifying, uncompliant over the kerbs, unresponsive into the slow corners and around 0.5s slower than the Ferrari. But in the race it had a much better way with the tyres and Russell's drive to fourth was a good one.
Hamilton was stuck in a DRS train in a lowly 13th place for much of the first stint but once he'd broken his way through, his hard tyres were still in great shape and he ran until lap 37. Once onto the medium, he was still quick and his move on the struggling Ferrari of Leclerc into Turn 11 was particularly ballsy. Only the delay in the DRS train meant he wasn't quite a threat to Sainz's fifth place at the end. His weekend had been defined by the traffic on his out-lap which prevented him preparing his tyres for his final Q2 run.
The Alpines and Magnussen's Haas sunk down to their natural level in the race, with Pierre Gasly in eighth not so far behind the troubled Leclerc and ahead of team-mate Esteban Ocon and the Haas.
"Yesterday I said to myself minimum P2," said Verstappen, now 14 points clear after the victory and accompanying fastest lap, "because I think that is where we should finish anyway with the car we have.
"But it's always difficult to know what's going to happen. If you have a terrible lap one, you make it even harder for yourself, right? But luckily it didn't work out too bad."
No, not too shabby.