Russian Grand Prix qualifying marked yet another time this season that George Russell stole the show in a Williams, but his path to an impressive third place on the grid risked being compromised by the pace of team-mate Nicholas Latifi.
Russell spent the closing stages of Q1 on the cusp of elimination and was the driver on the bubble at the chequered flag, although a last-gasp improvement made his progression into the second segment seem more comfortable.
But had his lap gone awry, he would've been at serious risk of an early exit – though the improving Kimi Raikkonen (Alfa Romeo) and Mick Schumacher (Haas) ultimately came up short of matching even Russell's penultimate lap.
Russell's Q1 situation was made to seem more precarious by the fact team-mate Latifi ran for most of the wet-weather session and proved rapid, setting a time with seven minutes to go that Russell was not able to match even at the chequered flag.
This was despite the fact Latifi was assured of starting at the back, having had his power unit replaced overnight.
"He was extremely good in in Q1," Williams' head of vehicle performance Dave Robson said of Latifi.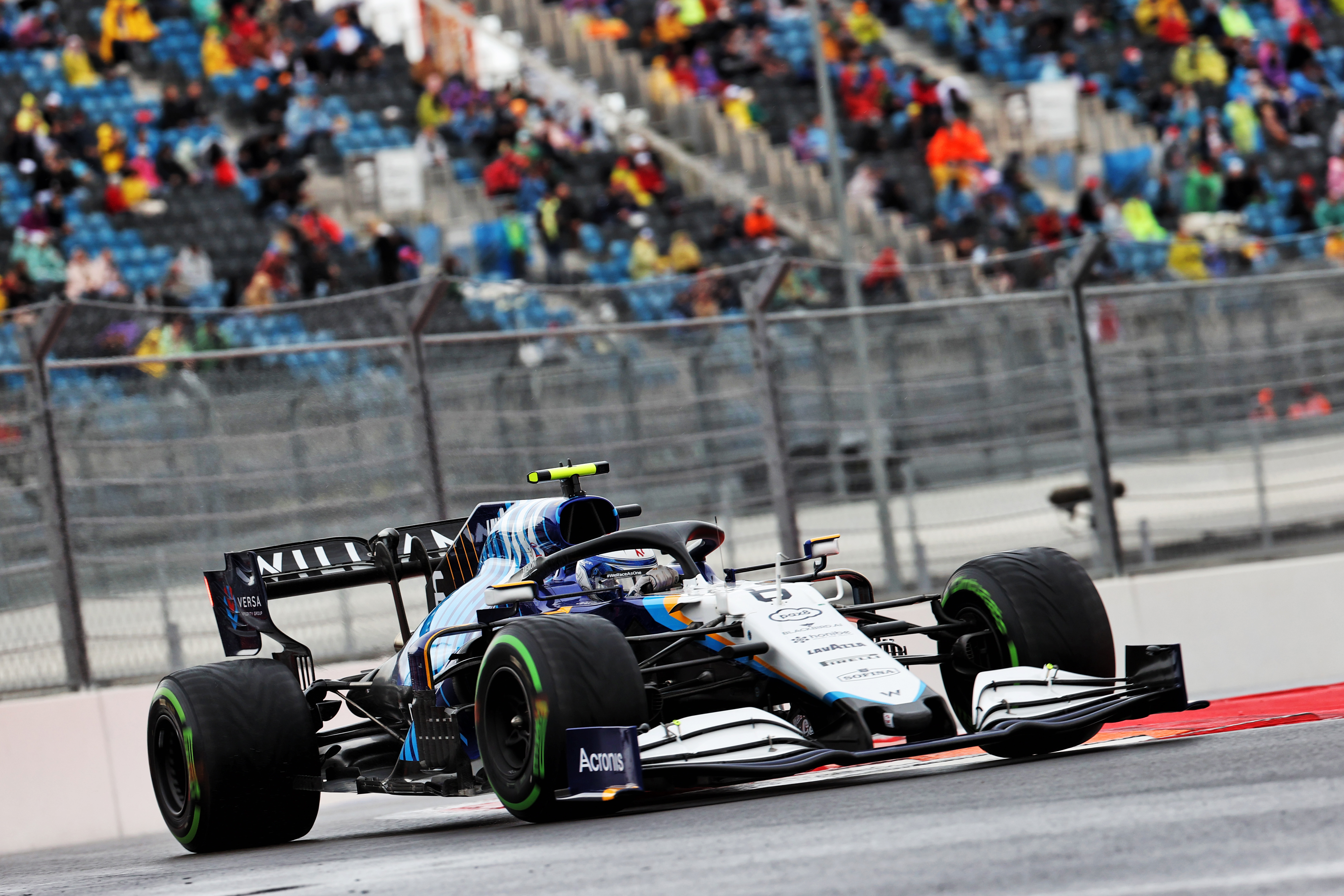 "He was pleasantly surprised by how good the car felt straight out of the garage in Q1 and his pace was exceptional. And given what we're talking about with George struggling in Q1, we could have looked a bit foolish if Nicholas had knocked George out and then taken a back of the grid penalty. But fortunately, that didn't happen."
Robson, who explained Russell's somewhat shaky Q1 as a consequence of him getting stuck behind the two Haas cars early on, said Williams opted to give Latifi some timed laps in the first segment "as it gains him valuable experience in these conditions and increased the pressure on our rivals".
And when asked by The Race about the plan for Q1 running, Latifi himself confirmed that hindering Alfa Romeo – Williams' main rival in the F1 constructors' championship this year – was part of the motivation.
"It was never a plan to drive in Q2, if we made it through," said Latifi. "But Q1 we did have a plan to go out – obviously, if we do a good job in Q1, and potentially – well, the goal was to make the Alfas not progress into Q2, which we managed to do, just by being quick.
"So that was the goal, we achieved that and… yeah, when I see what the pace was, yeah, it's just frustrating [to have to start from the back]."
Williams has 22 points to Alfa Romeo's three in the constructors' championship, even though their respective cars have appeared pretty evenly matched over the course of the season.
Latifi was not the only driver entering qualifying with a back-of-the-grid penalty hanging over him, as the same was true for Red Bull's Max Verstappen and Ferrari's Charles Leclerc.
But while Verstappen decided against setting a laptime and was therefore among the five drivers out in Q1, Leclerc did progress to Q2 – where, like Latifi, he did not post a time.
"I actually wanted to get out to just get some information on those conditions that we don't have very often – and I think we are also not so consistent in those conditions with our performance so it was good to just get out and get some information," Leclerc explained.