It was the sort of rain-randomised situation Mercedes would have been dreading as the final moments of Russian Grand Prix Q3 ticked down just as the track conditions were approaching the intermediates/slicks crossover.
Inters laps completed, did the Mercedes stay out and try again on inters after another prep lap, gambling that the track would remain on the inters side of the border? Or come in for slicks, risking the others improving on the inters while their slicks didn't come up to temperature in time? What to do?
By having got Valtteri Bottas and Lewis Hamilton on track first, Mercedes was in the invidious position of being first to have to make the call.
Lando Norris – having gone out five cars after Bottas – had already gone faster than Bottas on his inters lap to split the Mercedes. Suggesting the track was still getting faster for inters. But to the extent of slick territory?
The complication was that the soft could take two or three laps to reach full working temperature and until it got there could be three or four seconds off the pace – even if the track was theoretically dry enough for them…
So as Bottas and Hamilton made their follow-up slow laps (to recharge the battery for another attack lap or to form an in-lap for a change to slicks), the decision had to be made.
Williams – with nothing to lose, George Russell having already over-achieved just by making Q3 and having no fresh inters left anyway – gambled even before Mercedes took that decision. It didn't even bother completing Russell's inters lap, but brought him straight in at the end of it to maximise his chances of getting a set of slicks up to temperature.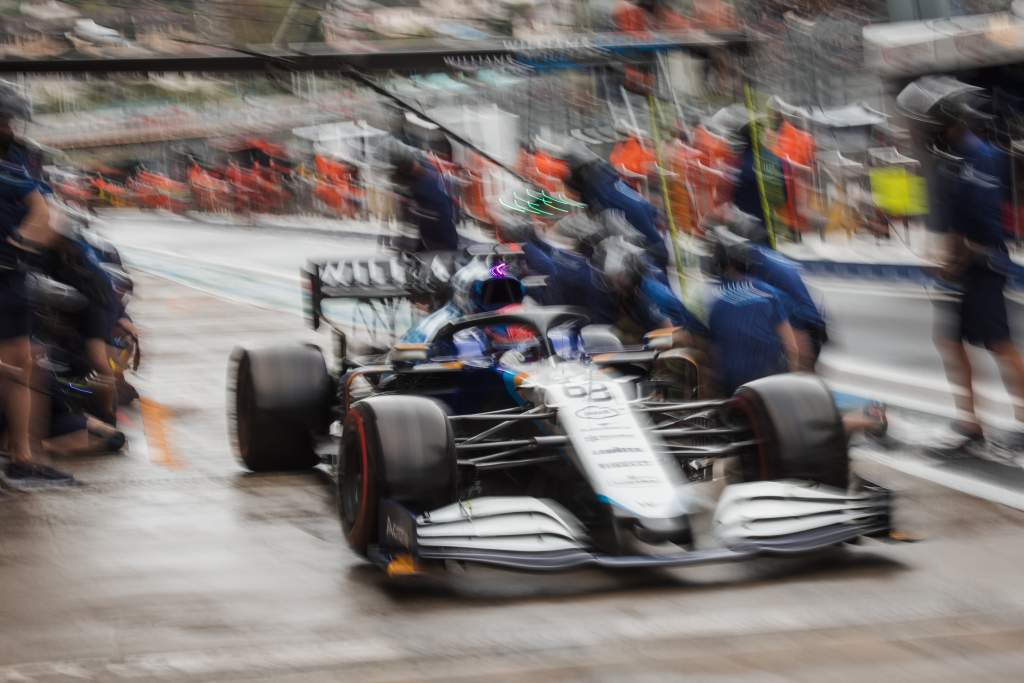 Mercedes wasn't in the mood to be brave and decided inters – so kept Bottas and Hamilton out there as they completed their slow laps. Everyone behind them, with an inters time on the board, came in.
That was when Mercedes lost the front row, by denying itself enough time to get two slick-tyred laps in (the Hamilton pitlane accident just further ensured it). Hamilton and Bottas then both aborted flying laps that had them going faster than their first laps, but not as fast as hot slicks would allow.
The track was drying just fast enough that a second flying lap on slicks would get them up to temperature. Mercedes, Red Bull (which covered Mercedes with Sergio Perez) and Alpine (with Esteban Ocon) had denied themselves that opportunity – in hindsight.
With Mercedes out of the picture, pole was potentially up for grabs… It was then just about the quality of the individual laps and where you happened to be on track relative to the flag falling on a rapidly improving surface.
Russell (who was very active in making that early call) and Williams had given themselves the luxury of three flying laps and so weren't quite as vulnerable to the tyre temperature problem and, in addition to that, were last past the flag. It was perfect preparation that was only partly luck and a lot very smart, nothing to lose, calls.
Of the others, Lance Stroll was first in – and therefore first past the flag to begin his second flying lap. That and traffic in the final sector took him out of contention. Carlos Sainz was next, then the McLarens of Daniel Ricciardo and Norris before finally Fernando Alonso.
That looked set to give Alonso a great shot but neither he nor Ricciardo really found the sweet spot with the tyres. Which made it a showdown: Sainz/Norris/Russell. Ferrari/McLaren/Williams.
Looking at them in track running order, here's how the final laps of this trio shaped up.
Sainz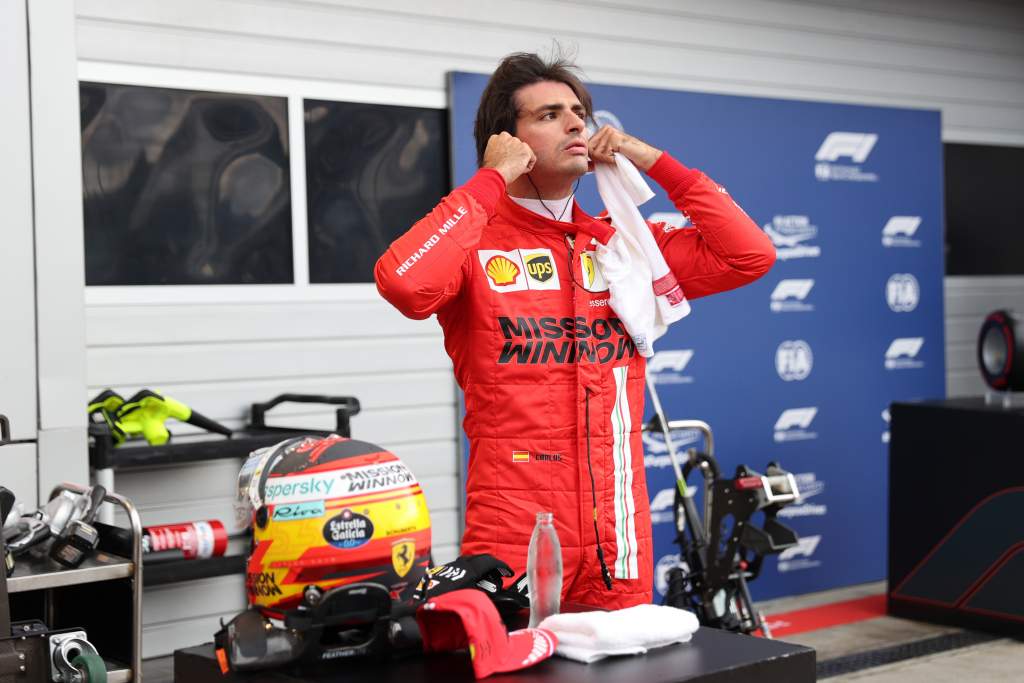 Sainz had not liked the feel of the Ferrari on inters.
"Yeah it felt more like Spa rather than Imola. We were not finding a great feeling with the inters.
"For that reason I couldn't wait for the track to dry up. As soon as there was half a chance of putting the slicks on I was going to be the first one or one of the first to switch."
With Hamilton's inters time of 1m44.05s still the target, Sainz's first flying lap on the slicks was nowhere near, the car visibly on a knife edge on turn-in and wheelspinning wildly on exit for much of the lap.
This was in reality just the second tyre-warming lap ready for that last gasp flyer. He could feel how much the track was improving and knew, therefore, that his track positioning was probably going to work against him, that those able to pit later were going to find more grip.
The Ferrari, like Norris's McLaren, was set up with plenty of downforce. The Williams can't carry as much. Consequently all weekend Russell much quicker than either through sector 1 which is dominated by that long, long drag down the pit straight to Turn 2.
Even with some nice control of the wheelspin onto the straight, Sainz was 6km/h slower past the start/finish line than Russell would be. But a chunk of that time was visibly reclaimed into Turn 2 where Sainz was later on the brakes and able to be much more positive in how he showed the car the apex. This would be a theme repeated through Turns 4, 7 and 8.
Through the long parabola of Turn 3 there are two valid approaches – the longer, but faster wide line or the shorter but slower tight inside line, where an apex is taken. Sainz prefers to stay out wide for the momentum. Late and positive into Turn 4, then – like everyone – cautious through 5 where there was still quite a lot of standing water.
A snap of oversteer onto the back straight out of Turn 10 wasn't ideal. He was 6km/h down on the Williams through the eighth gear speed trap just before the kink which leads into the braking zone of Turn 13. But he hung onto the speed impressively late there, the Ferrari clearly giving him plenty of confidence on the brakes.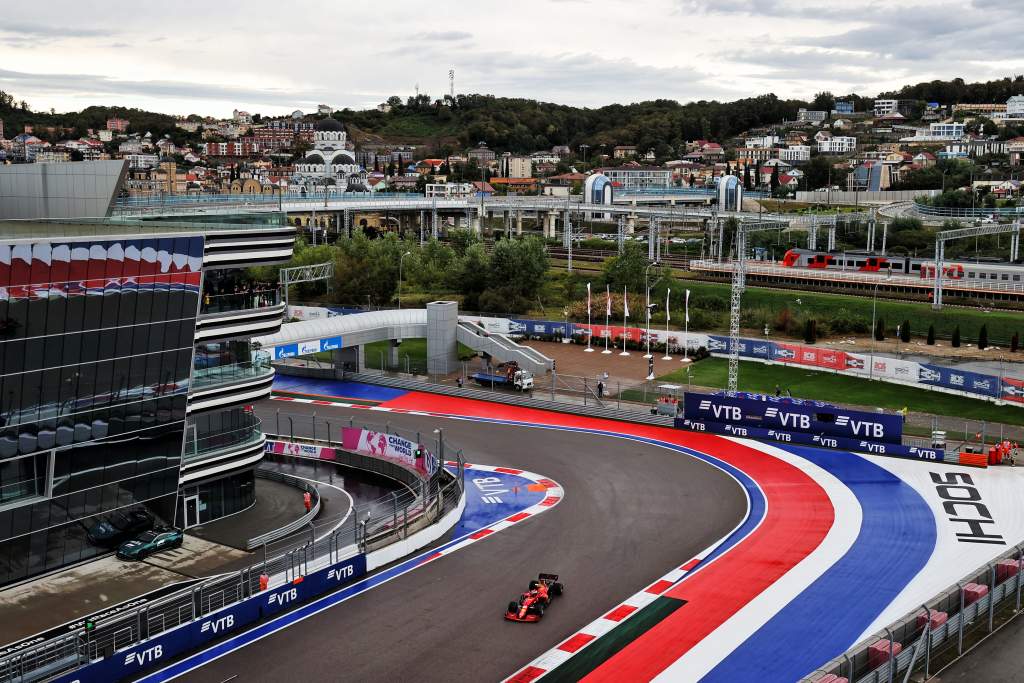 In the final sector the Ferrari's tyres are clearly suffering from the accumulated stress of the lap. It's reluctant to turn in to Turn 15 and awkward in the little transition between 15-16, looking clumsy and uncooperative.
But Sainz kept the momentum going through the last couple of right-angled turns to cross the line on provisional pole, over 1s faster than Hamilton's earlier inters time. But with Norris and Russell still to complete their laps.
He reckoned it, "A good lap." It was indeed.
Norris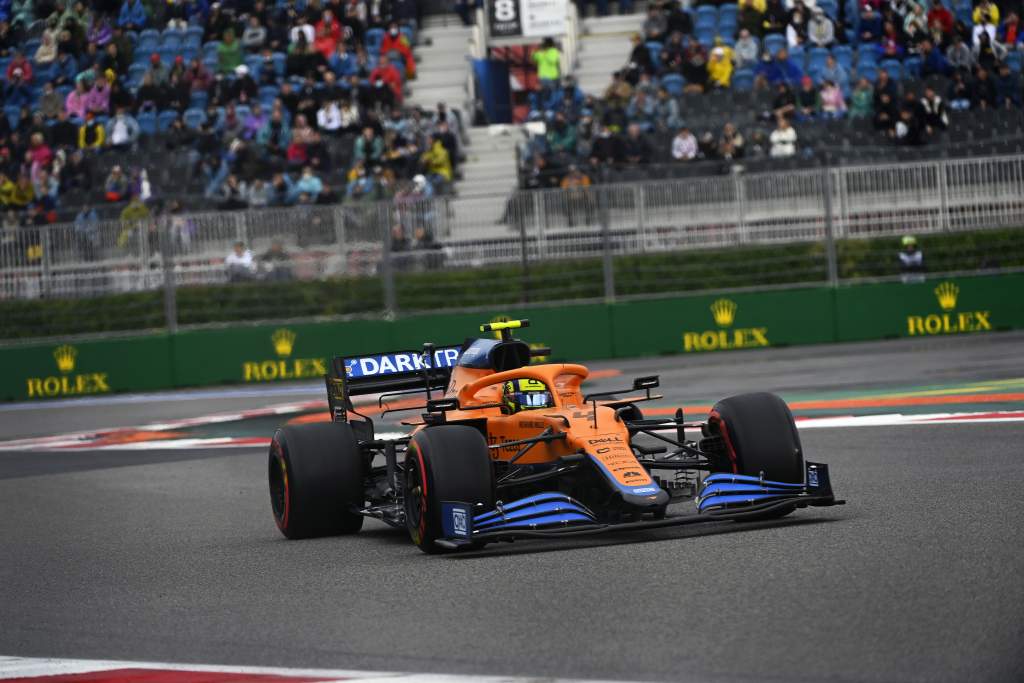 The work-up to this one had been a little stressed as Norris and his engineer tried to work out the optimum approach, with Norris preoccupied by how quick Russell had gone on his first slick lap, a lap earlier. "How far off was he? Give me an answer!" Norris demanded.
For Will Joseph it was a case of prioritising the information he was giving to his driver. Russell had backed off at the end of his first lap so his lap time wasn't representative and there were more important pieces of information to impart to Lando regarding brake settings and temperatures, tyre temps etc.
Norris was eager to know because this first lap, he just wasn't feeling it; the car was edgy and difficult as the tyres still weren't quite there.
Joseph calmed the situation down, pointing out they still had plenty of time to flag fall and that they should, "Back off. Warm up the tyres and start again."
The final lap began with an oversteer snap onto the pit straight, partly explaining why he was over 2km/h down even on Sainz across the start/finish, but he'd be travelling faster than the Ferrari as he crossed the timing beam just before the Turn 2 braking zone.
The McLaren was similarly responsive to the Ferrari into the slow turns, but notably Norris was using less steering angle than Sainz for the same effect, probably through a trait of the respective cars more than driving style. Through the parabola of Turn 3 Norris wasn't quite as wide as Sainz but still made no attempt at making an apex.
His sector one time was virtually identical to that of Sainz, but over 0.2s adrift of what Russell would do in the low-drag Williams.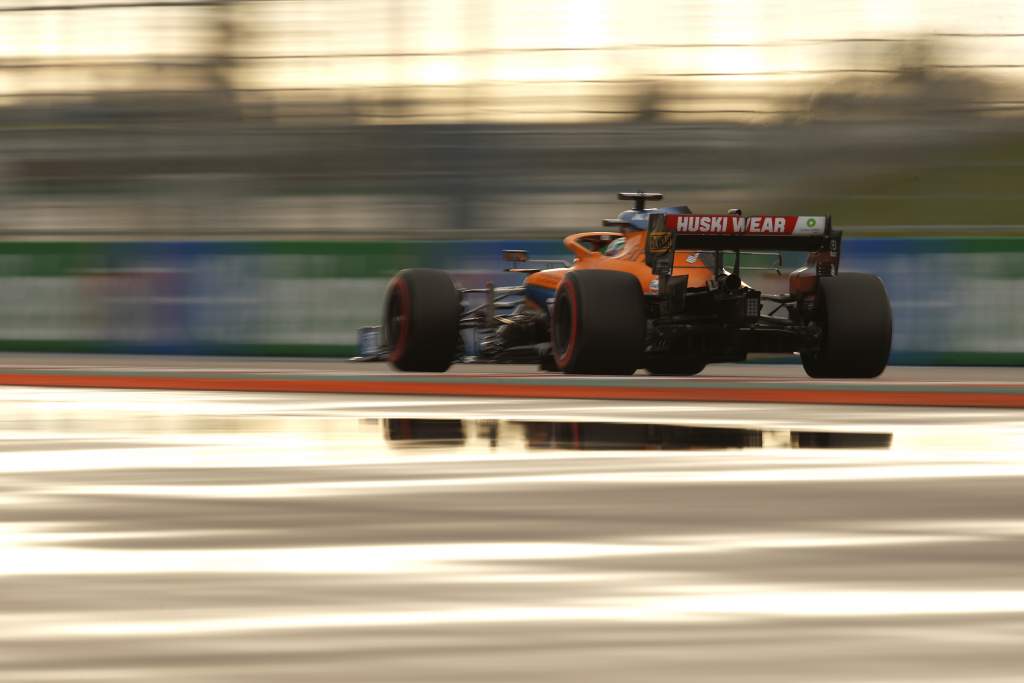 Into the middle sector, he took lots of kerb through Turn 7 and everything looked very precise and unflustered. He was into eighth gear earlier down the back straight than Sainz had been able to do though their speeds past the trap at the end of it were virtually identical (at 17th and 18th overall, with Russell seventh).
But the downforce that limited their maximum speeds paid back with lap time in this sector, with Norris quickest of the trio at 34.6s, 0.1s quicker than Sainz and 0.2s quicker than Russell.
But it was into the final sector that Norris took the big chunks of time out of both rivals. He was every bit as late on the power as Sainz into the braking zone of Turn 13 but followed it up with a much better run through the sequence of 90-degree corners which follow.
It looked for all the world like the McLaren's tyres were in better shape as Norris was able to be quite adventurous with his power applications and even the small snap out of Turn 16 didn't lose him much momentum. Harder on the brakes into the last two turns, he seemed to be enjoying balancing the car on the power on exit.
It was a lovely, typically adaptive Norris lap, smooth and precise when the tyres were at their peak, a little more flamboyant when they were beginning to surrender and keeping the momentum that way. That and a drier track gave him provisional pole over half-a-second clear of Sainz.
"Is that it?" demanded Norris as he crossed the line, clearly wanting to know where he'd qualified. "Hang on," laughed Joseph, who was waiting for Russell to complete his lap a few seconds behind.
Norris has waited almost three years for his first pole. He could afford to wait a few seconds longer.
Russell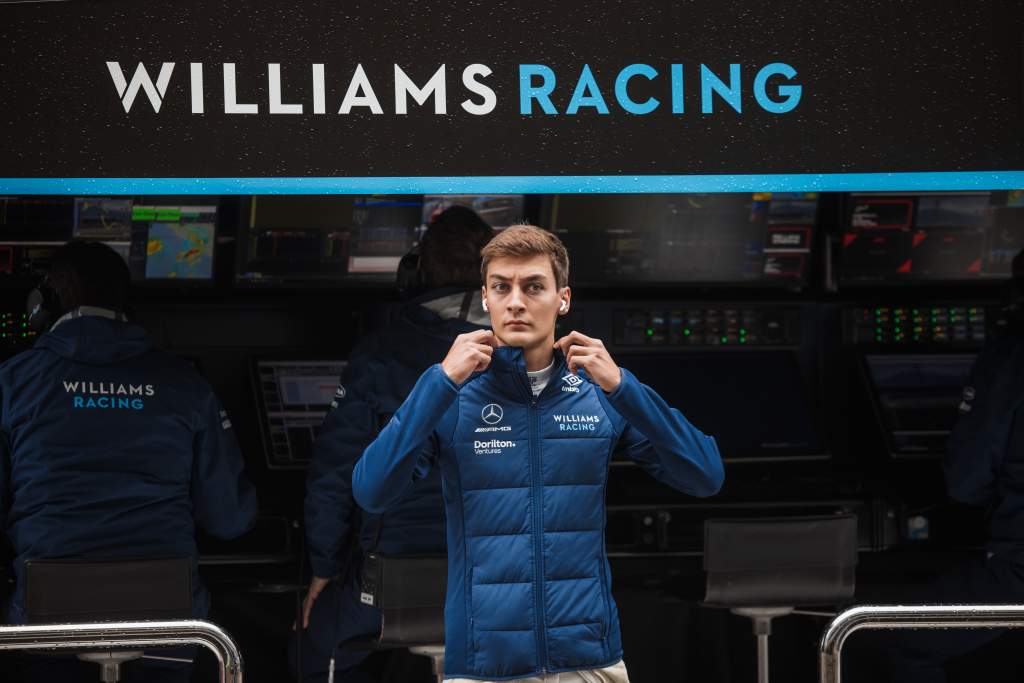 This was the Russell-Williams combination at their striking, opportunistic, cunning best. A re-run of Silverstone and Spa. In the dry the car is, realistically, the thick end of 1s per lap slower than a McLaren around Sochi, maybe 0.7s adrift of a Ferrari.
But with Russell building all the pieces of the lap together through the practices and delivering the way he does, that's often enough to get it into Q2. Mix in a bit of weather randomness and there's opportunity for more.
He had to use up his last set of inters to get into Q3. Had the track stayed wet enough to demand inters, he'd likely have been last in Q3. Ideally, he needed the track to dry just enough so that he didn't need his used inters but could get onto a nice set of C5 slicks instead.
That of course is exactly what happened – and Russell committed to it instantly. Even on his inters-shod out-lap in Q3 he was telling the team he was coming in for slicks. There was absolutely no reason not to. The situation couldn't have been more perfectly aligned to his situation.
Would the advantage of an extra lap to warm the tyres – and a slightly better slot on track – be worth that thick-end of 1s the car naturally trails the McLaren and Ferrari by? Maybe.
The first flying lap was similarly gripless to those of Sainz and Norris. His engineer told him to back off at the end of it and do a cool-off lap, ready for a full attack third lap.
The cool-off term was a little confusing in these situations because of course the whole idea is to get the tyres warm enough. So George pressed on into the second lap where he was still not challenging the earlier Hamilton inters time, and having sketchy moments along the way. "OK, turn off [energy deployment] HPP," he was told at the end of sector 2. "Use this as your prep lap."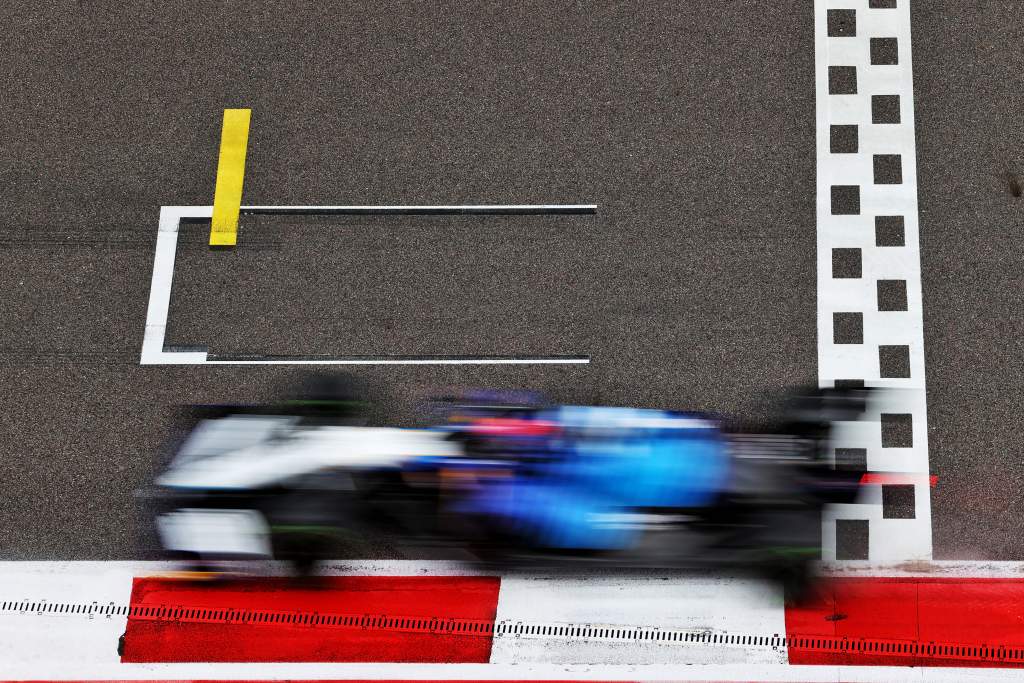 So a few corners later he began his third flyer, battery charged, tyres and brakes now nicely warmed. Good traction onto the pit straight, the Williams flew down there way faster than the identically-powered McLaren.
But he was earlier on the brakes and into Turn 2 the contrast between it and the other two was laid bare as Russell edged the car in with little nibbles of the steering, its front grip visibly down on that of the McLaren and Ferrari. He preferred the tighter, shorter line through Turn 3, on an apex about two metres to the left of where Norris and Sainz had been.
Through Turns 4, 7 and 8 it's the same story as Turn 2: Russell coaxing the car in rather than demanding it go where he points it.
He compromises the entry of Turn 10, so as to straighten it earlier on exit, giving him great traction out of there.
After devouring that back straight, he is within half-a-tenth of Norris over the lap with all still to play for. But that final sector consists almost exclusively the sort of tight corners the car is so visibly struggling with. He just doesn't have the front end to attack them in the same way Norris did even if he's similarly dramatic with the power oversteer on the exits.
That's where the Williams was punished, 0.7s slower through there even than the Ferrari and over 1s off the McLaren.
And that releases Joseph into letting Lando know he's just secured his first pole position. And McLaren's first for a very long time.
The final numbers tell the story.
1. Norris (McLaren) 1m41.993s
2. Sainz (Ferrari) 1m42.510s
3. Russell (Williams) 1m42.983s
The Williams was ultimately around as far off the McLaren as in the dry. The Ferrari was somewhere in between and further compromised by a slightly more slippery track. But in delivering those laps, all three teams and drivers had outshone some very big names.