McLaren's four-race charge from "nowhere to scoring a podium" is the most remarkable change in form and fortune in the 2022 Formula 1 season so far.
Lando Norris finished third at Imola after a race spent as 'best of the rest' behind the Red Bulls and Charles Leclerc's Ferrari, a result he did not think he would be celebrating at all this season.
"I'm surprised I guess to be here, but it feels amazing," he said in the post-race press conference for the top three finishers.
"From where we were what – three weeks ago, four weeks ago, a month? – in Bahrain to be on a podium…I genuinely didn't think we would be on the podium all year after Bahrain.
"So, it's quite a shock."
It is barely a month on from McLaren's backmarker exploits in the season opener, where the hangover from an awful pre-season test left the team a long way even from points contention.
Yet McLaren has made progress in each event since – the first points in Saudi Arabia, the jump to lead the midfield pack in Australia, then qualifying third in a rain-hit session at Imola.
Circumstances came together to facilitate the podium in the grand prix, chiefly Leclerc's spin, but this was as merited a non-Ferrari/Red Bull podium as they come in 2022 – at least for now – and McLaren believes it is a sign of something real, rather than simply fortune.
Team principal Andreas Seidl described it as "a confirmation now that Melbourne was not just a one-off, but actually the MCL36 is a good car and a solid foundation for all the further developments that are in the pipeline".
Nothing dramatic has changed on the MCL36 since Bahrain in terms of physical components, although there have been some minor upgrades – rear flow conditioners in Australia and a circuit-specific development for the beam wing at Imola.
One of the big steps seems to be the car is now better understood.
Though it has been repeated plenty since Bahrain, it is impossible to overstate the significance of the brake duct problems that blighted McLaren's final test and left it unprepared for the season opener with vastly less track time than its main opposition and with limited set-up optimisation work.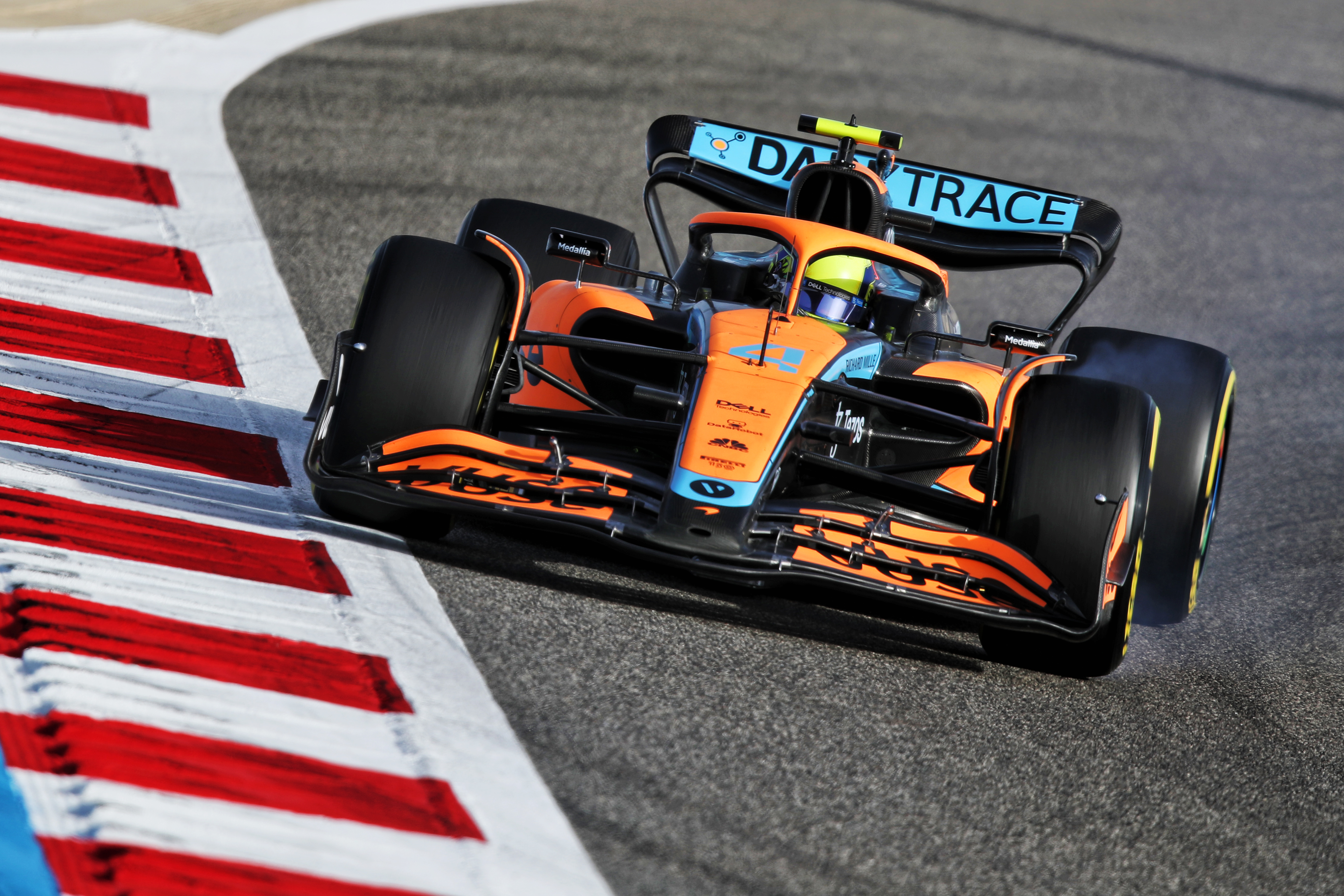 "Obviously Bahrain was a shock for us and a big disappointment and painful because of the performance we have shown there and the result," Seidl said.
"And it was the first race of the season with a completely new car where it was impossible to judge how the real pecking order is.
"Of course, we knew that we had a lot of issues going into this first race with the second test. But at the same time, it was impossible to judge how much was the result affected by that.
"It was just important to stay calm, protect the team and give everyone the chance to just keep getting on with their job.
"And trust that we have everything within the team in order to come back stronger.
"It was just important that we used the next two race weekends in order to catch up in terms of everything we have lost with the issues we had in the test in Bahrain.
"And then I guess we saw the true potential of what this car has in addition with also some smaller upgrades that we brought over the last couple of weekends."
That, aligned with Mercedes having to recover from a difficult qualifying in Italy, is what put McLaren in such a strong position at the Emilia Romagna Grand Prix.
Norris and Daniel Ricciardo progressed to Q3 in the dry then qualified third and sixth in the wet final session on Friday, despite Norris crashing.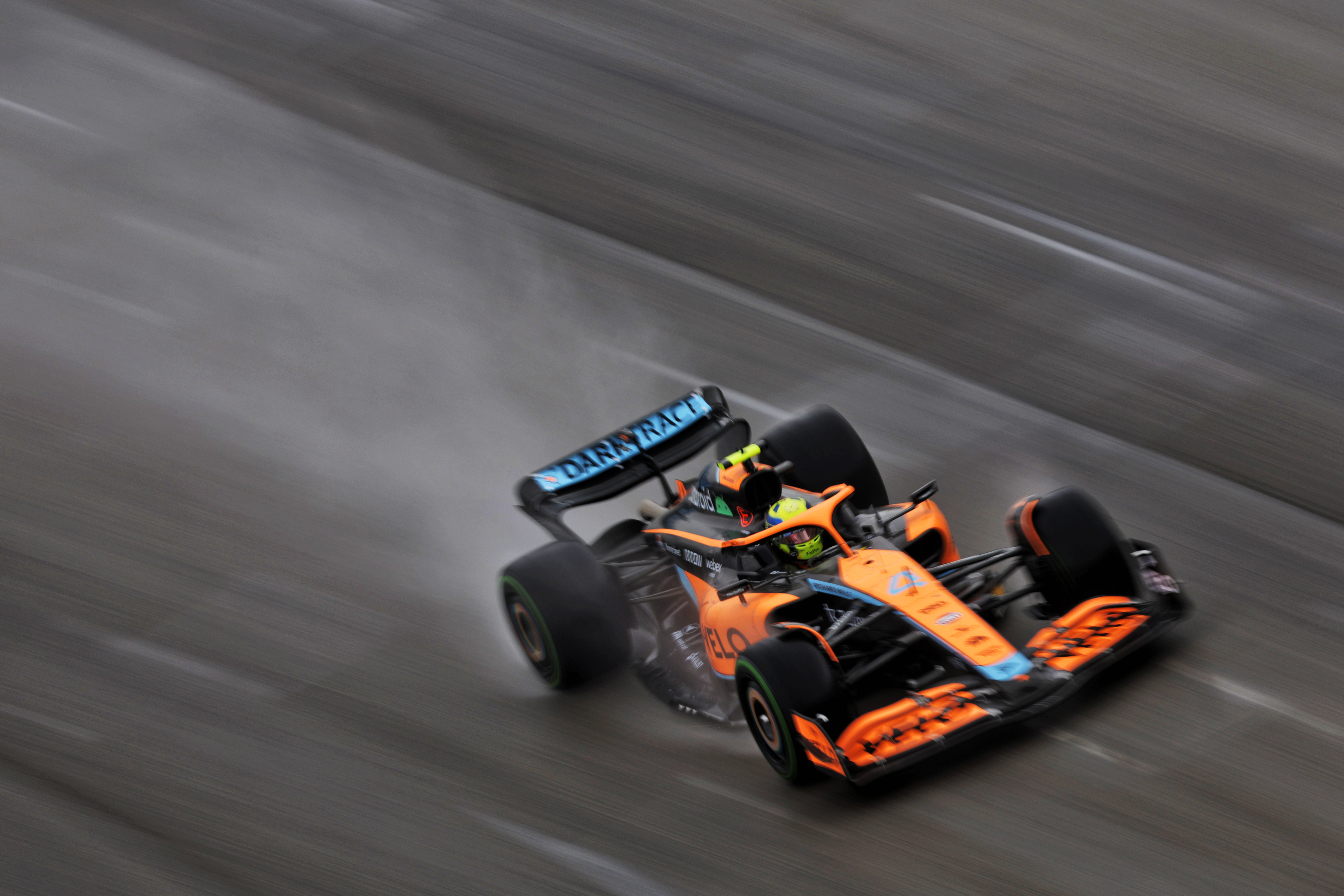 In Saturday's dry sprint race they were fifth and sixth, Norris only overhauled by the recovering Red Bull and Ferrari of Sergio Perez and Carlos Sainz respectively – this despite limited FP2 running in the morning for Norris because of a brake problem and Ricciardo not driving at all while an issue was investigated.
Sunday's grand prix started in wet conditions but everybody switched from intermediates to slicks before the halfway stage – but Norris was managing a comfortable advantage over the Mercedes of George Russell in both phases of the race.
"It was great to see under all conditions really this weekend that we were competitive and that we have been in the end the third fastest team this weekend," said Seidl.
"Of course, scoring a podium in the current situation means that two other cars need to have an issue at the moment from the Red Bulls and Ferraris because they are simply a big step ahead in terms of performance, but at the same time, it's not just about performance it's about putting the race weekend together as well, which we did this weekend."
Norris jumped both Ferraris at the start and ran ahead of Leclerc for a couple of laps before unsurprisingly yielding to the championship leader. But after that, he rarely had to look in his mirrors.
It was not a completely fault-free drive, though the only mistake of note was running slightly wide out of the Villeneuve chicane towards the end of his stint on intermediates. That required a big lift as he dipped the left side of his car over the aggressive exit kerb, but fortunately there was no nasty consequence.
Otherwise, in a high-stress race, Norris and McLaren got everything right.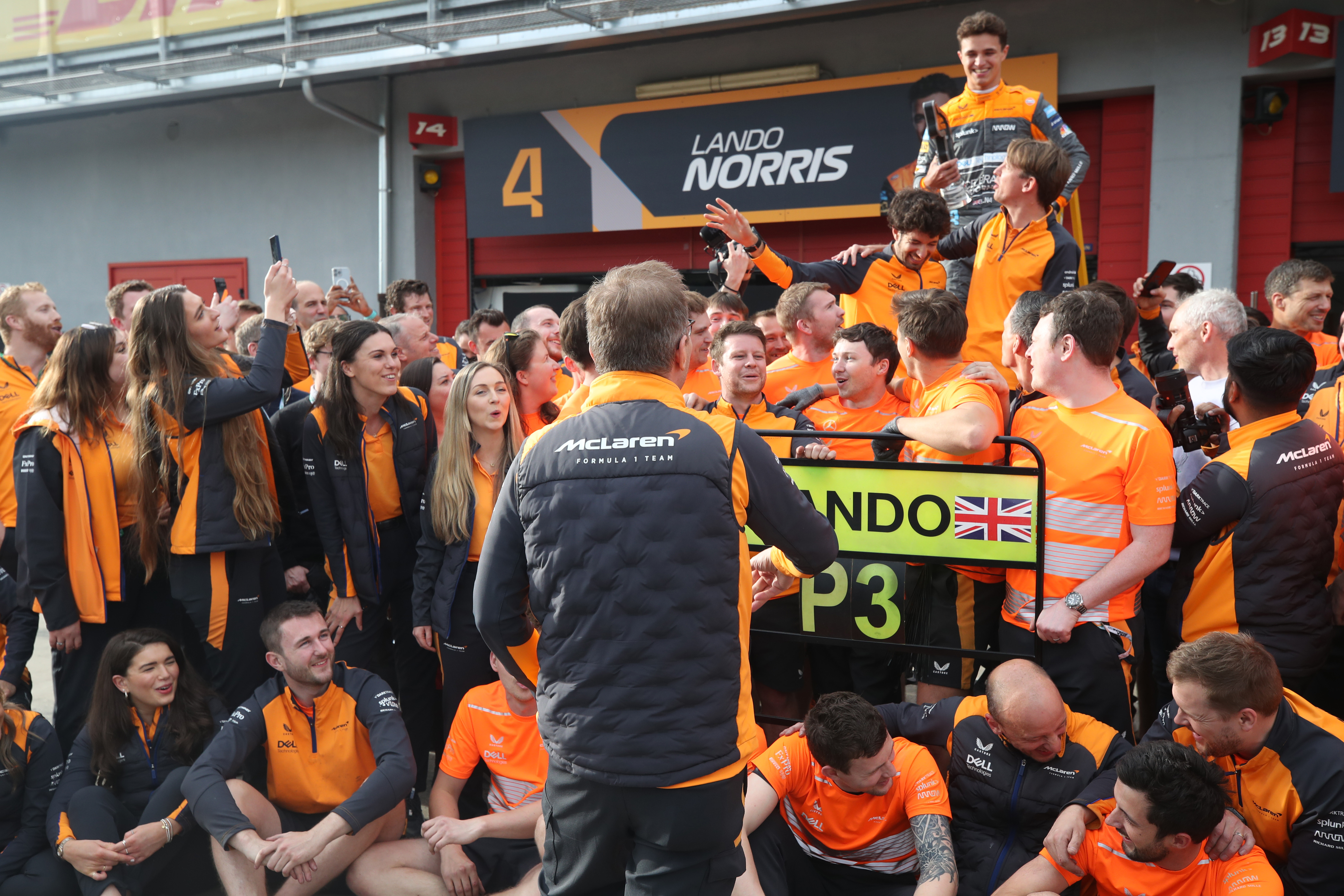 "Choosing when to go onto the mediums, you put one wheel slightly wide or tight or whatever and you lock-up, you're in a gravel, you're out," said Norris.
"So, every lap in these conditions, it's hard to describe to the viewer but inside, you have to push so much, you have to manage the tyres, but then your line has to be perfect and if you put yourself a little bit wide or you hit a kerb wrong, you're spinning and you're in the wall or something.
"It's just stressful, every lap like this. It feels like such a long race as well – makes it even more rewarding when you cross the line at the end."
The most impressive part of Norris's drive was how comfortable he looked in between the lead battle and the rest of the top 10, headed by Russell's recovering Mercedes.
When Russell cleared Kevin Magnussen in the first stint he was less than four seconds behind Norris. But that was as close as he got, with Norris especially impressive once they had switched to slicks.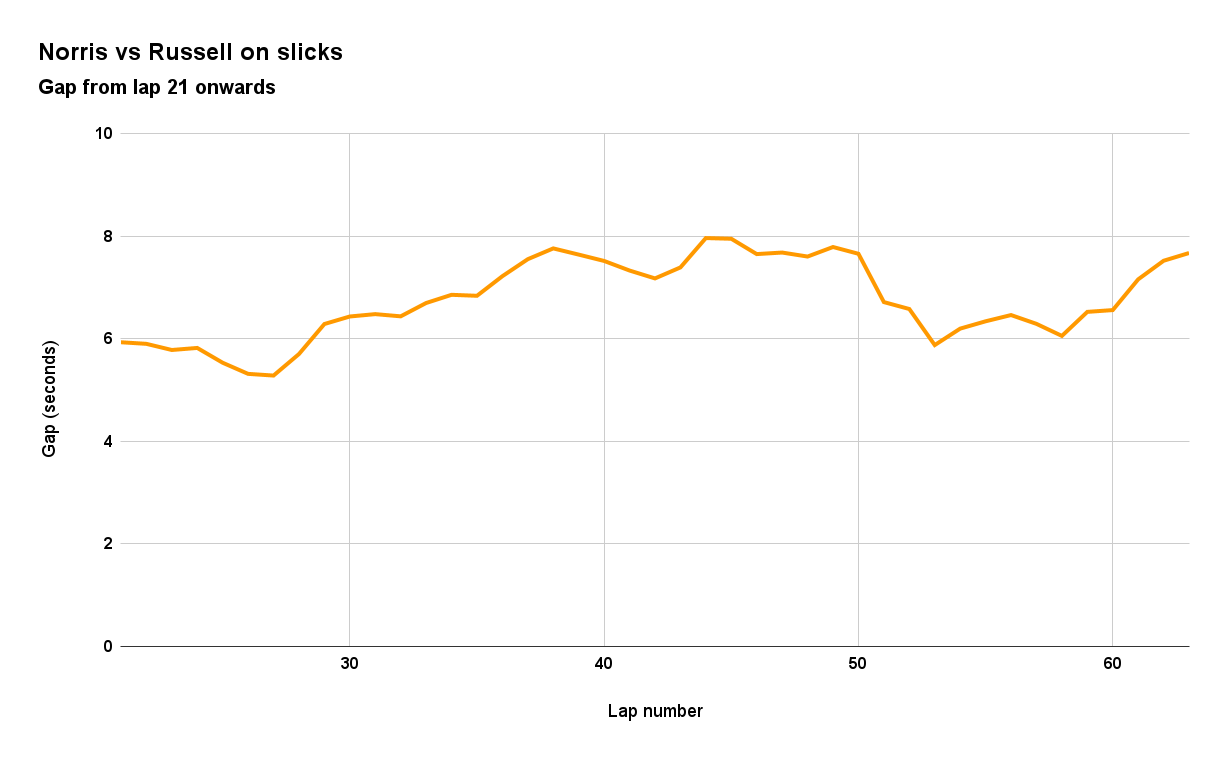 Norris extended the gap on inters and managed it at around 6.5 seconds, give or take a few tenths, for the rest of the grand prix.
While there is a caveat that Russell didn't get a front flap change he needed at his sole pitstop, which Mercedes reckoned cost a few tenths per lap, it should also be noted that Norris was put on tyre management mode very early on. So, we might not even have seen the true pace of the McLaren either.
There was a very brief blip with around 12 laps to go, when Leclerc made a pitstop for softs and had to repass Norris. Even though that was done quite quickly and with limited disruption, it did seem to blur Norris's focus slightly, especially as he was still trying to manage the delicate situation with the front right tyre.
His consistency slipped, Russell took a few tenths out of the gap for a little while, and Norris was even urged to "get back in the rhythm" by his race engineer.
But these are ultimately hyper-critical observations of moments that did not change the result, one that stands as a major reward for McLaren's reaction to how badly its season started.