There's not much in Formula 1 that's quite as tantalising as the prospect of a mixed-up grand prix grid.
But can any of the underdogs who overachieved in Russian Grand Prix qualifying actually stay in front of Lewis Hamilton's Mercedes in the race and make it back-to-back surprise victors after Daniel Ricciardo and McLaren's Italian GP win?
We assessed their chances:
Lando Norris – McLaren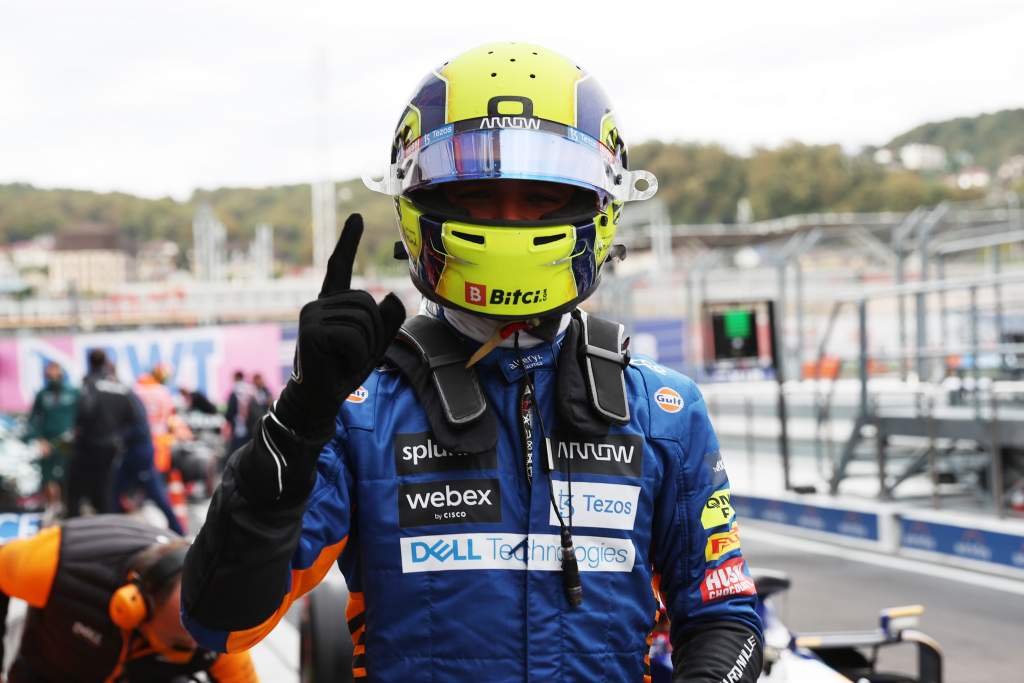 A McLaren has started from the front row of the grid twice before in 2021. In Austria it finished third. In Italy it won.
Norris's Sunday prospects are probably closer to the former at best.
Starting ahead gives him a chance of winning but McLaren is targeting a podium as a more realistic target.
McLaren knows if the race is straightforward and held in dry conditions, Hamilton should win. Norris felt that if it was "a completely dry qualifying it was guaranteed Mercedes would be a decent chunk ahead of us".
Team boss Andreas Seidl went even further, saying Mercedes had been in a "different league" on Friday.
The real performance of the McLaren at Sochi and the circumstances of the weekend mean the MCL35M isn't the threat to Mercedes it was at Monza.
But it looks a more competitive prospect than at the Red Bull Ring and the three of the four faster cars are starting much further back as well – Valtteri Bottas is eighth, Sergio Perez ninth, and Max Verstappen 19th.
"It was clear Mercedes was definitely quicker, and also Max," said Seidl. "But with the Red Bulls starting further behind there is a chance to stay ahead.
"And with the Mercedes car we simply have to see how that goes. We should be in a strong position to fight for a podium." – Scott Mitchell
Carlos Sainz – Ferrari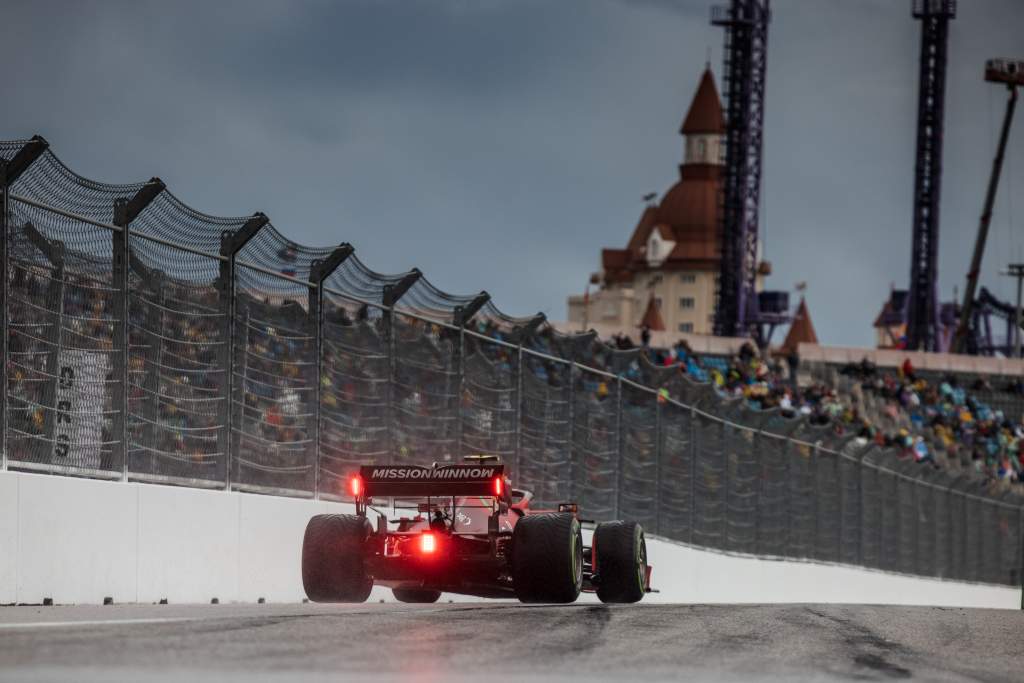 Carlos Sainz missed out on his first F1 pole position, but does start from the front row for the first time.
This means he can at least aspire to try to get into the lead at the start and fight for victory from there. However, there's a big but coming.
The main problem for Sainz is that not only is he in a car that won't be the quickest in dry conditions, but he's the only driver in the top five on the grid not powered by a Mercedes engine.
The Ferrari power unit has improved this year, but it is still giving away performance to Mercedes, and Honda for that matter, so he could struggle on the long drag to Turn 2 on lap one and beyond.
"We're just going to go for it and if I can get in the lead it would be very nice," said Sainz of his strategy.
"And if you are a bit more rational, you see I am surrounded by Mercedes engines, the long run into Turn 2, I'm starting on the dirty side, there are many factors going against me.
"But I'm going to try and get a good start and, if not, get into a good tow and see if someone can draft me into Turn 2 because if not it's going to be a long one. I'm going to brake late, that's for sure."
Even if Sainz does get the lead at the start, which is almost certain to be a prerequisite of having any chance of winning, it's going to be very difficult even to keep Norris and George Russell behind, let alone anyone driving a works Mercedes. – Edd Straw
George Russell – Williams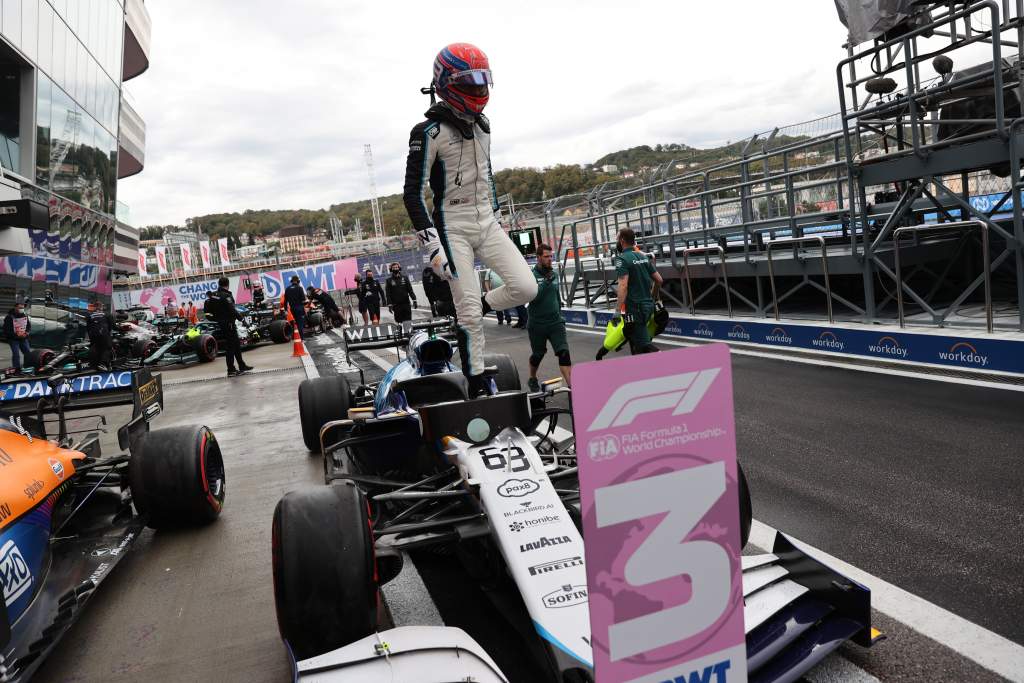 This case is probably the easiest one of the bunch – though Toto Wolff has tipped Russell to lead after the start, due to a grid position that's particularly advantageous at Sochi, it's really hard to come up with a scenario in which he leads all the 53 laps that follow.
It'd have to be wet, surely, to even entertain something like that. The FW43B clearly likes the wet conditions – Nicholas Latifi's Q1 efforts further proved that – and obviously the uncertainty factor ramps up.
In the dry, well… how would you even imagine something like a Russell-Williams playing out?
"Yesterday our high-fuel pace was one of our best of the year," Russell said after qualifying, referring to Williams' performance in the dry Friday practice sessions.
"It's still a long way behind these guys [Norris's McLaren and Sainz's Ferrari] and the Mercedes who will be starting behind us.
"We will have a battle on our hands but we are pretty slippery on the straights, we have some nice straight-line speed, so we've got to go for the podium again – nothing to lose."
Even taking aside the fact Russell would need to overcome his propensity for difficult opening laps, this is a massively bold target, and you'd have to think something monumentally strange would need to happen for that to come true.
But the good news is, I think a Russell win in the dry is only marginally more unlikely than a Russell podium in the dry – so he may as well aim for the stars. – Valentin Khorounzhiy
Max Verstappen – Red Bull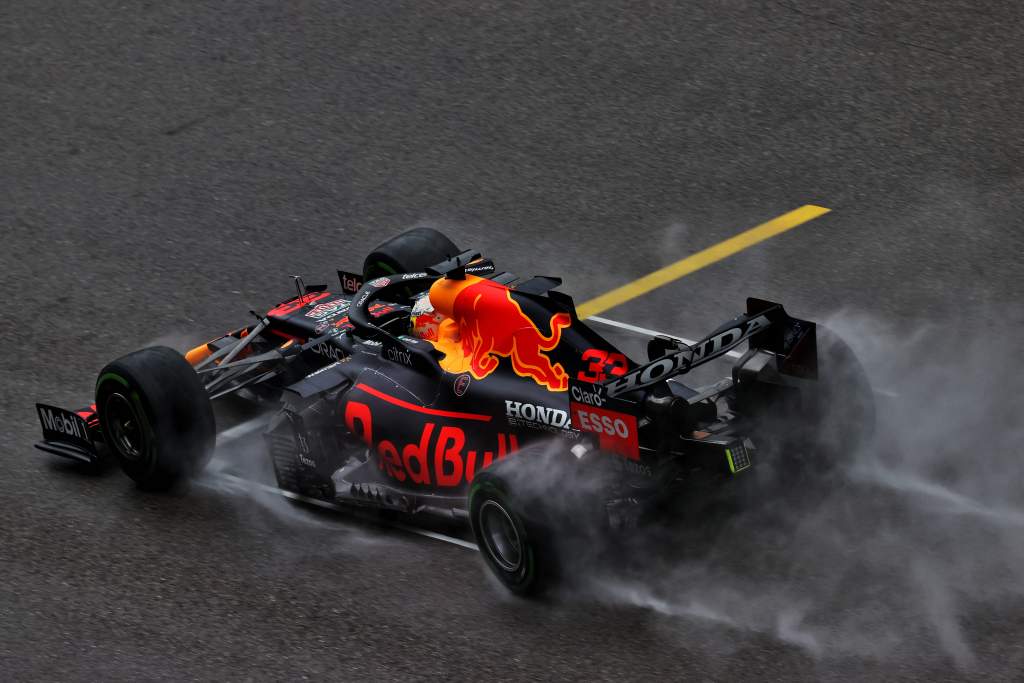 While a burn from the stern to win is unlikely, you can never rule out the combination of Max Verstappen and a seriously quick Red Bull – who are only considered an underdog pairing here because they start at the back.
There's no lack of incentive given the mixed-up grid at the front potentially ensuring that he loses less ground to his key rivals – in particular, Mercedes driver Hamilton – early on.
"I don't know," said Verstappen of what's possible in the race. "It all depends on the first lap and the things that happen during the race.
"Of course, I try to score points but I need a bit of help with things going, let's say, a bit wrong in the front."
Verstappen is right that his potential to emerge as a victory contender will be defined by a combination of the state of play at the end of the first lap and the events of the race.
Given overtaking isn't too difficult on the long drag to Turn 2, he should be able to make gains on the opening lap and then pick off the less competitive cars with relative ease early in the first stint.
After all, those without a serious chance of beating Verstappen gain more by minimising the time loss battling with him than wasting time mounting a futile defence. To take a recent example, Valtteri Bottas broke into the top 10 on the 13th lap at Monza two weeks ago starting from the back.
Given the frontrunners have free choice of starting tyre, there's no advantage to be gained for Verstappen there. But depending on how the first lap goes, he could put himself in a position to capitalise on a well-timed safety car period – although the best way to play the race will depend on some variables outside of his control.
Realistically, a win is unlikely – but keep a close eye on Verstappen on the first lap to redefine what might be possible for him in the race. – ES
Fernando Alonso – Alpine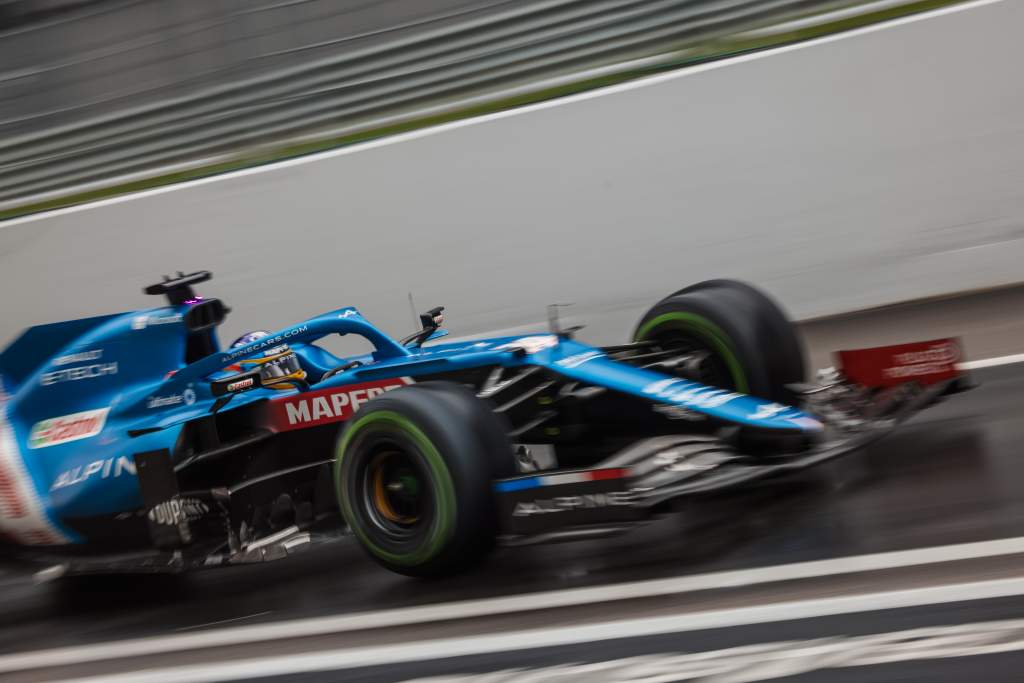 Alonso might seem like a bizarre addition to this list seeing as he 'only' qualified sixth so has to get himself ahead of Hamilton before he can consider victory – and it wasn't like Alpine was hinting at a huge form surprise on Friday.
That Alonso felt more than sixth was possible had he not slid on a white line is probably true but also really irrelevant for his win chances in a dry race.
What might be relevant is that F1's king of racecraft and first-lap heroics is starting higher up an F1 grid than he has since the 2017 Brazilian GP and there's potential for the first lap to go absolutely mad given the line-up on the front rows and the now-or-never urgency they'll all feel on the long run to the first braking zone.
It's not impossible to imagine Alonso's Alpine emerging from that first complex in front as mayhem erupts around him. And Alonso would be very, very, very hard to shift from a race lead if he found himself in one. – Matt Beer