Suzuki is ramping up its efforts to find a new team manager for 2022, still seeking to fill the hole left by former boss Davide Brivio's sudden departure for the Alpine F1 team shortly after winning last year's championship with Joan Mir – amid increasing speculation that its prime target may be none other than Brivio himself only one year into his four-wheeled adventure.
Mir's title defence has been rather muted this year, with the 24-year-old so far failing to win a race and finishing on the podium only five times in 15 races as he's failed to take the fight to either Fabio Quartararo or Pecco Bagnaia.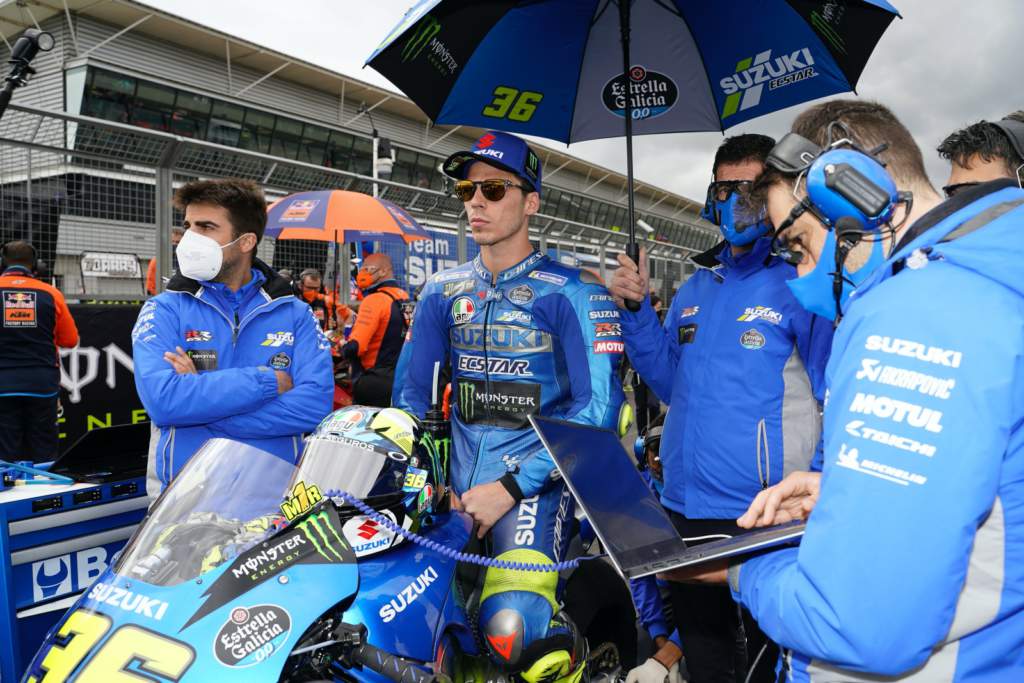 And according to The Race's sources within Suzuki, the team believes that a large part of that has come from Brivio's absence, thanks to a somewhat stalled development path that has seen the team fall behind its rivals technically.
Perhaps best highlighted by the late-arriving ride height adjustment device, which materialised months after its rivals' versions and which the team have admitted is "years" off the level of the likes of Ducati and Aprilia, it's something that Mir hasn't skirted away from talking about to the media in recent months.
"I think that we need someone like Davide," he admitted ahead of this weekend's Emilia Romagna Grand Prix at Misano. "I think that the Japanese staff saw it, and they are trying to do everything to fix this situation. It was not easy to manage the situation when such a person on the team like Davide was left, because nobody expected it, so it was difficult to manage that situation for the Japanese.
"It's important now that they realise that we need that person, and I know that they are working hard, trying to find one person. It's difficult stuff because this person is always a really important person on the team, so it's a difficult situation, but well, I think they are doing everything that they can."
This predicament has already created rumours Brivio is now Suzuki's priority target to become the next team boss, stepping back into the seat he previously occupied and which was never filled following his departure.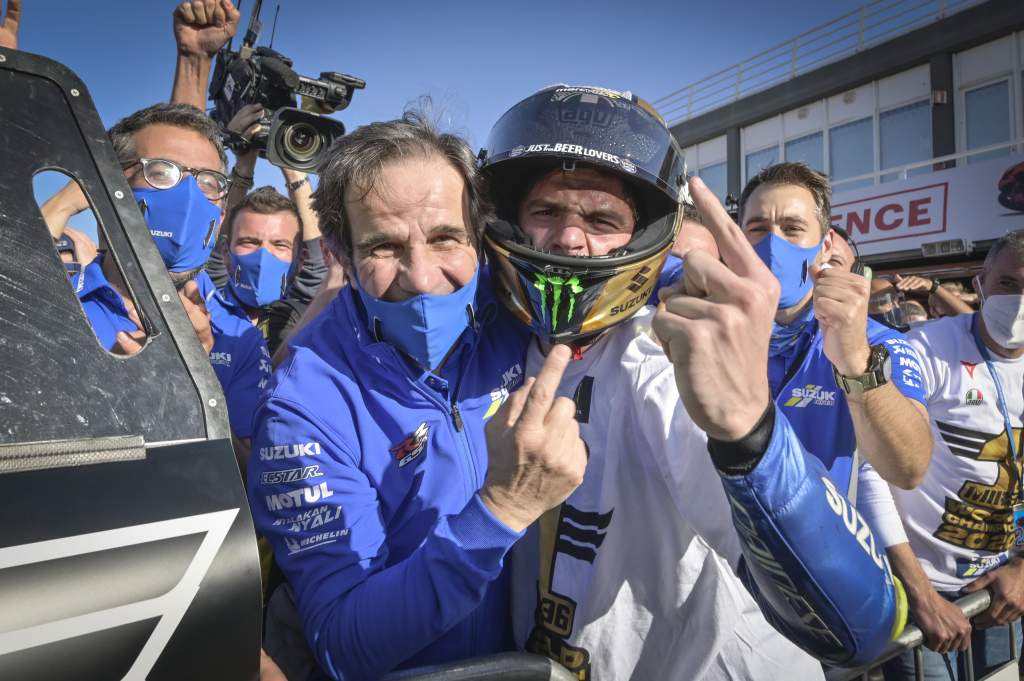 "About the rumours, yeah, I've also heard the rumours," Mir admitted. "For me it's not a problem if Davide comes back. He did a great job with me in the past, and for sure I would be happy.
"But yeah, rumours are only rumours, so let's see."
And indeed, it appears a potential return is still very much at the rumour stage, according to The Race's sources at Suzuki. It seems like while Brivio would be welcomed back to the team should the opportunity present itself, but there haven't yet been any news within the squad that suggests it's close to a done deal.
In the F1 paddock, The Race understands that the Alpine is not aware of any plan for Brivio to leave, and he is attending this weekend's United States Grand Prix in his current role. However, the team has seen the media reports suggesting he might be seeking a return to MotoGP.
Reaching an accommodation for Brivio to move on, should he wish to do so, is likely to be straightforward given he has not made the anticipated impact despite proving to be a well-liked character.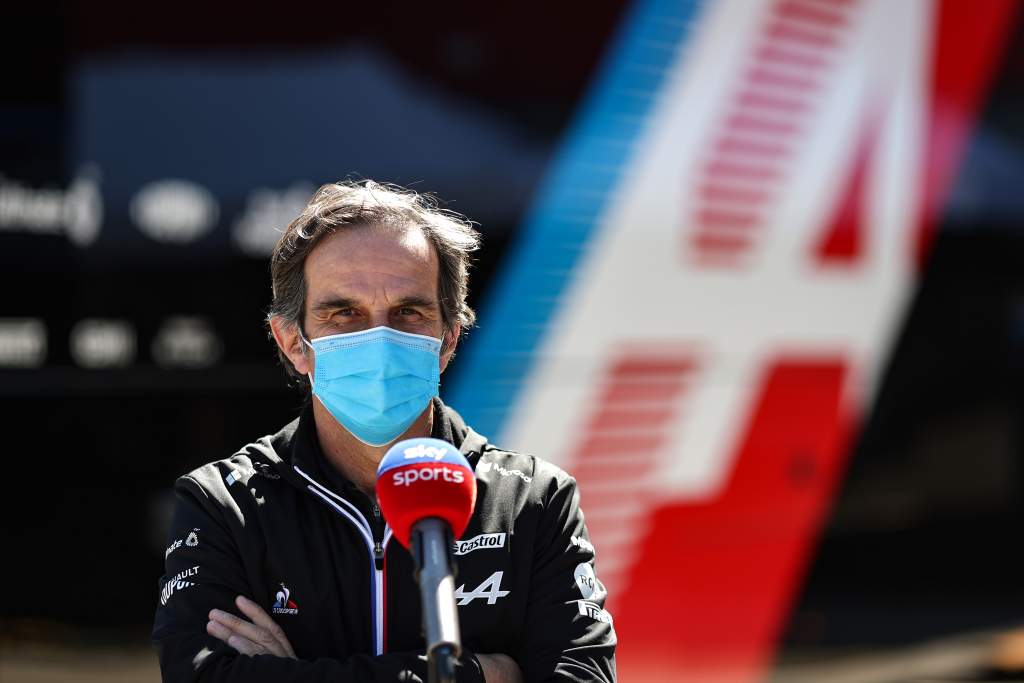 Brivio joined Alpine ahead of this season in the new role of racing director. This was as part of a structure that effectively split the traditional team principal role between Brivio and executive director Marcin Budkowski under Alpine CEO Laurent Rossi – who replaced the outgoing Cyril Abiteboul last winter.
Despite Brivio's outstanding reputation in MotoGP, leading Suzuki to championship success in 2020, his integration with the Alpine F1 team has not gone as hoped. This has made him a peripheral figure in the team, with Budkowski effectively taking a broader role than originally planned as a result.
These struggles also explain Brivio's apparent desire to return to the more familiar surroundings of MotoGP. Not that this should be taken to impune his qualities, which are considerable given his track record in MotoGP – instead, the inference is that transferring skills between the ostensibly similar, but practically very different, worlds of MotoGP and F1 is more difficult than Alpine anticipated.
Speaking at the start of the season, Brivio explained his role in detail, as well has comparing his experience of what he described as the "much smaller" Suzuki team where he could be across everything. He also stressed that his role with Alpine was less hands-on than it had been at Suzuki.
"To be honest, what I effectively was doing was much more," Brivio says when asked by The Race how the responsibilities at Alpine compared to his Suzuki MotoGP role.
"Being in a bigger organisation there are many functions, many roles where there are offices of people – like human resources, the legal office taking care of the contracts, or marketing department, communication, everything.
"In Suzuki the organisation was smaller. And basically, I was going through all these sectors.
"Here [Alpine] they are very well-organised, each individual sector. And so, there is more responsibility to participate in all the operations to be less operative [directly involved] compared to before. Before I was also operative rather than being responsible.
"Here you can count on plenty of very good operational staff, the offices are organised.
"In terms of responsibility I am a part of the management with Laurent, with Marcin. We have the responsibility to run the operation. The point will be to make plans for the future, to decide where we want to go, splitting into different functions and different roles."