FIM stewards issued a race ban in remarkable circumstances during the World Superbike weekend at Most, sanctioning the reigning champion of WSBK's primary feeder series World Supersport for faking an injury.
Swiss rider Dominique Aegerter, who leads the points in both World Supersport and MotoGP's electric feeder series MotoE, was caught up in a multi-bike crash at the start of the first World SSP race at Czech venue Most.
Starting fourth, the 31-year-old – who had won the preceding nine races on the trot – tried to make a sharp entry into the Turn 1 right-hander and was among four riders to arrive at approximately the same turn-in point, the others being Raffaele De Rosa, sometime KTM protege Can Oncu and Yari Montella.
The resulting contact sent Aegerter, De Rosa and Montella to the ground, while also collecting Federico Caricasulo and Andy Verdoia on the outside. Oncu was on the inside of the initial collision and would later serve a ride-through penalty for his role in it.
The race was not halted as Aegerter got up and then slumped to the ground after the crash.
Receiving assistance at the scene, he was taken to the medical centre with a suspected concussion – but while he was passed fit to contest the second race the following day, he was then banned from taking part, the FIM stewards ruling that he "acted in an unsporting manner by simulating a medical situation in order to delay the recovery process and thus force a stoppage of the race by red flag".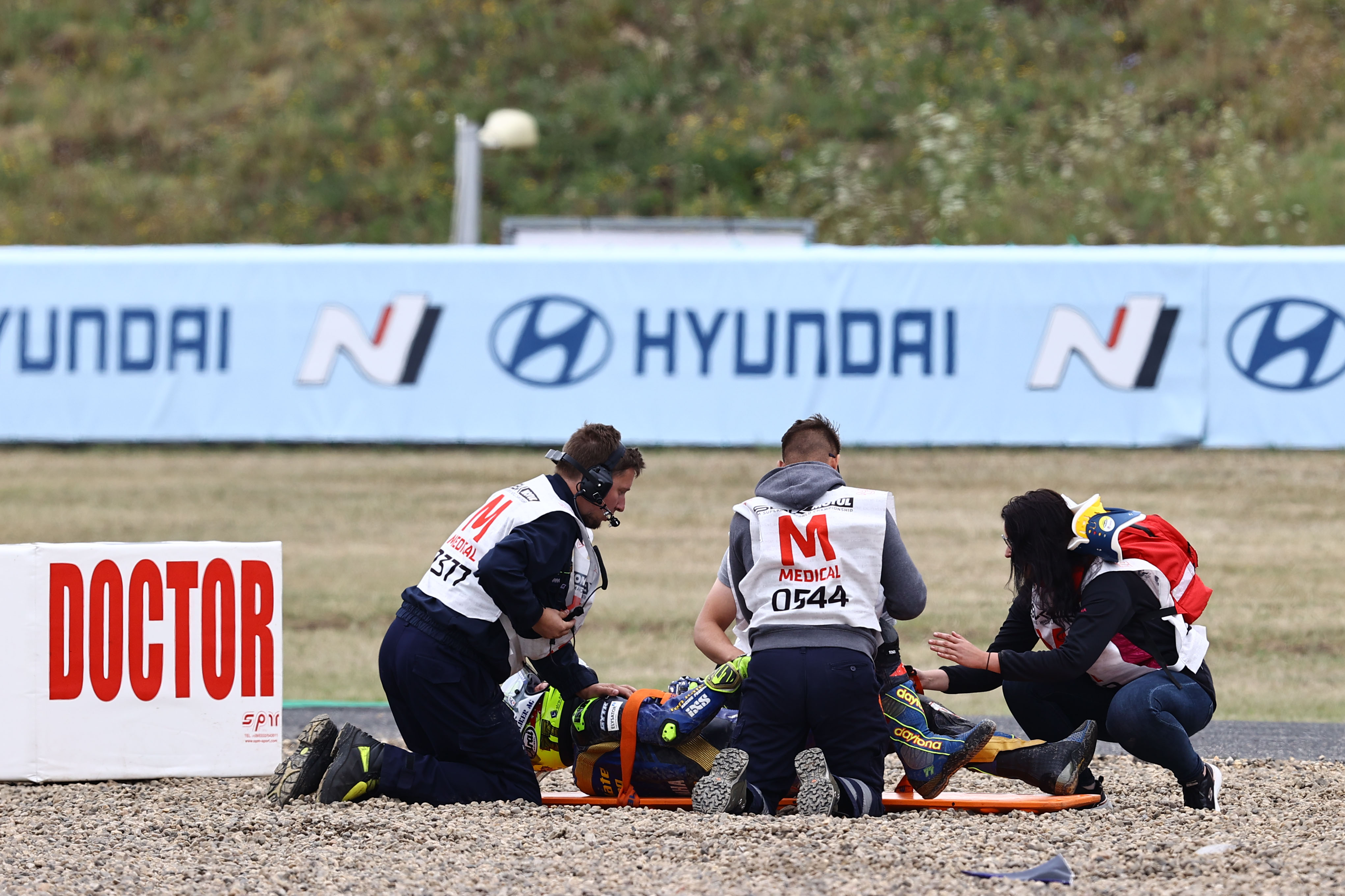 The presumed intention of such an act will have been to bring about a restart and give Aegerter a second shot at the race, though that would have been doomed anyway given the suspected concussion left him initially declared unfit.
The stewards claimed Aegerter acknowledged what he had done, and a post-weekend statement from his Ten Kate team – a former long-time WSBK partner of Honda's that now fields Yamahas in WSSP – included an apology from the Swiss rider.
"First of all, I am sorry about the whole situation that arose after the incident in Race 1," Aegerter said.
"As it was a very hectic situation, I did not act correctly and made mistakes. There was a lot of pressure, adrenaline and emotions. I never wanted to put other people in danger: I want to apologise for that."
---
Who is Dominique Aegerter?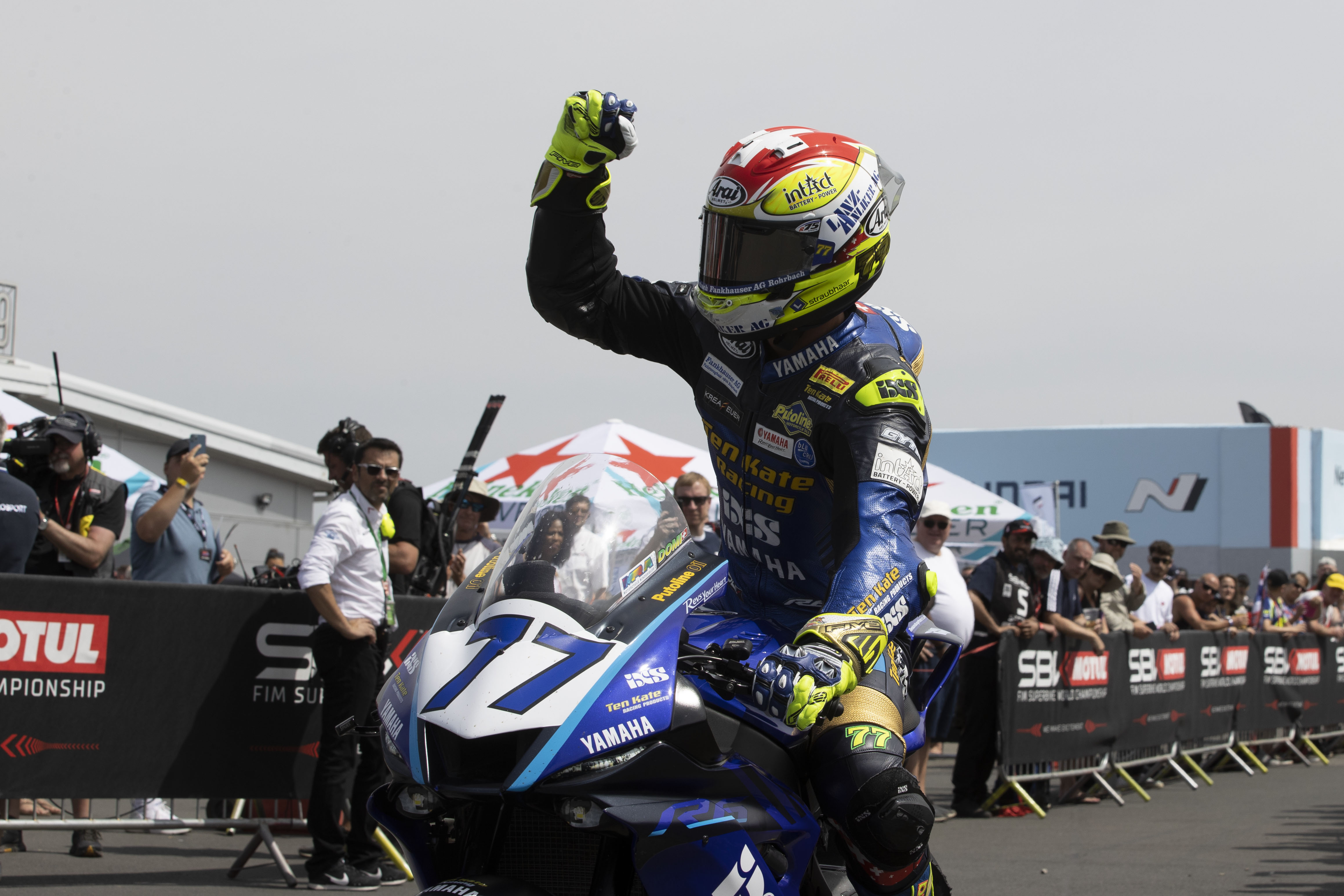 Perhaps best-known to long-time MotoGP viewers as a veteran of 168 starts in the Moto2 class – the fourth-most of anyone – Aegerter was fifth in the series in both 2013 and 2014, but could never quite replicate that level of results for the rest of his intermediate-class tenure.
He joined the MotoE class in its second-ever season in 2020, finishing third, before mounting a serious title challenge the following year. In fact, for a few moments he was the series' champion, courtesy of a win in the final race after a late coming together with Jordi Torres – only for the series to penalise him and hand sometime MotoGP stand-in Torres a second successive crown instead.
In World Supersport that year, however, Aegerter did get to keep his title, marking his first season in that paddock with 10 wins and a final winning margin of nearly 100 points.
Despite his Most transgression, he remains in a strong position this year to pull off the double that just eluded him in 2021. In MotoE, he leads the standings by 31.5 points over Eric Granado with six races to spare, while his WSSP lead at the halfway point of the season is 14 points over fellow former Moto2 standout Lorenzo Baldassarri.