Aragon Grand Prix race winner Pecco Bagnaia says that there's a real chance to close the gap to his 2021 MotoGP championship rival Fabio Quartararo at Misano this weekend, given his strong record at the circuit – and Quartararo's struggles in the wet conditions on Friday.
It's no secret that Quartararo isn't the most comfortable of racers in the rain, and that's something that day one at the Italian circuit highlighted, by seeing him finish the day's wet FP2 session in a distant 18th place, a second and a half off second-placed Bagnaia.
And, with a mixed forecast predicted for the remaining days at Misano (and with heavy showers already disrupting both of today's sessions), it could well be a golden opportunity for Bagnaia.
However, while the last-time-out winner knows that there's an opportunity to pull off something special this weekend, he's also insistent that should he manage to close down Quartararo's points lead, it won't be entirely because of atmospheric conditions but rather because of what he perceives as a home advantage at a track he is intimately familiar with.
A member of the VR46 Academy, based only 15 minutes from Misano in Valentino Rossi's native Tavullia, he and his fellow Academy riders train frequently at the circuit – and Bagnaia says that knowing it as well as he does in all conditions is a bonus for him.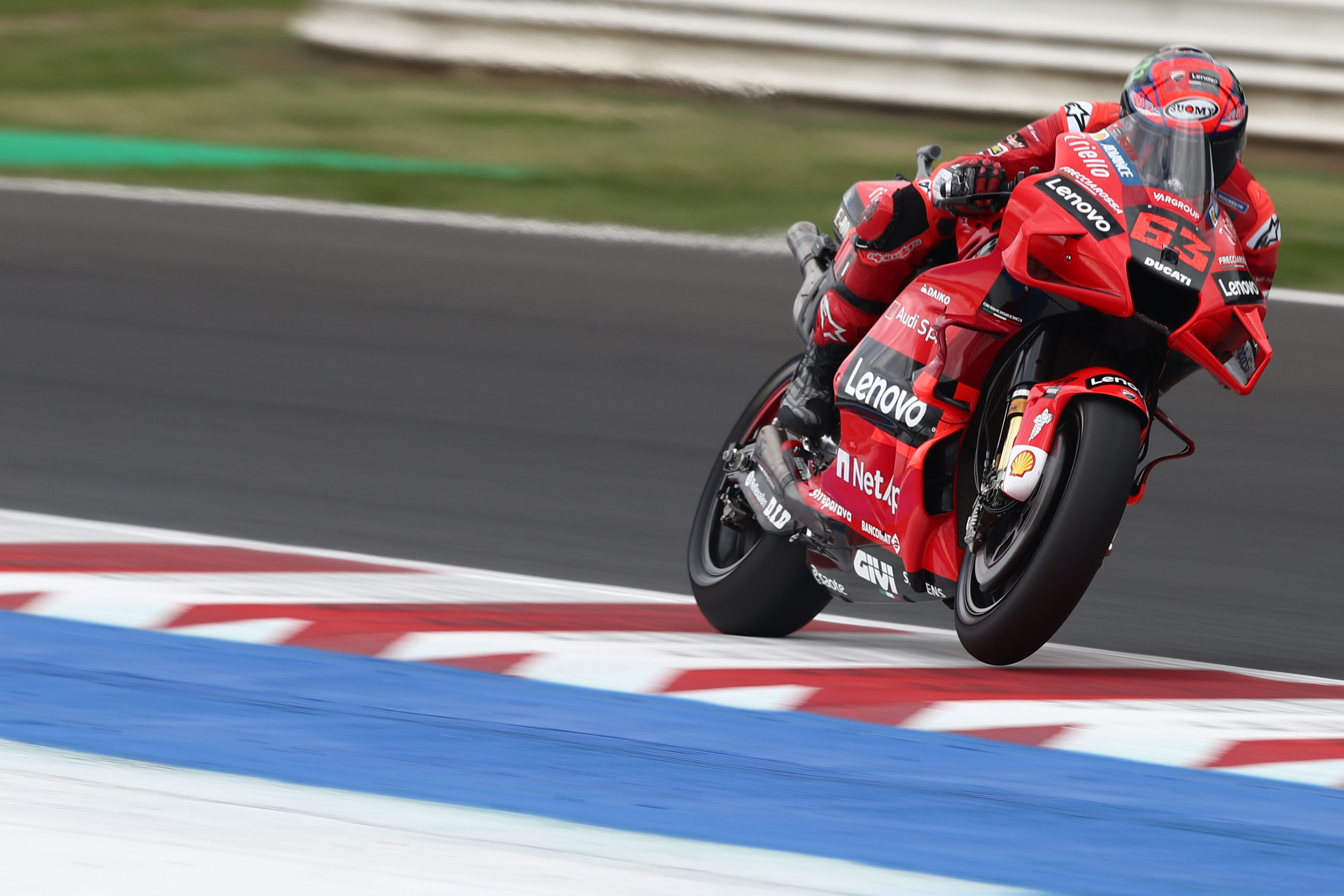 "I don't know," he laughed off when asked about his advantage by The Race. "For sure Fabio will be fighting with us on Sunday and also tomorrow. He's leading the championship and for sure when a rider is leading they are always ready to be competitive. I'm sure that on Sunday he'll be at the front.
"We have a great opportunity, but because this track is one of my favourites. I know it very well, everything about it, and I'm ready in dry and in the wet. For sure in the wet, we have a bigger possibility to close the gap, but it's also more easy to make a mistake, so let's see."
However, while Bagnaia might see an opportunity to strike should the conditions be less than optimal come Sunday's race, his fellow title-chaser Joan Mir isn't quite as ready to break into the rain dance.
Like Quartararo less confident in wet conditions, the Suzuki rider says he's hoping it remains dry, believing that that will give him a better chance of hunting down the Frenchman than if the unpredictability factor of a wet race emerges.
"For my part, I prefer dry always," admitted the reigning world champion, "because the bike is more predictable in dry conditions and we can have the chance to win. In the wet, I think to win is difficult, because first I have to be on the podium in a wet race. There are a lot of riders who can be there in the mix.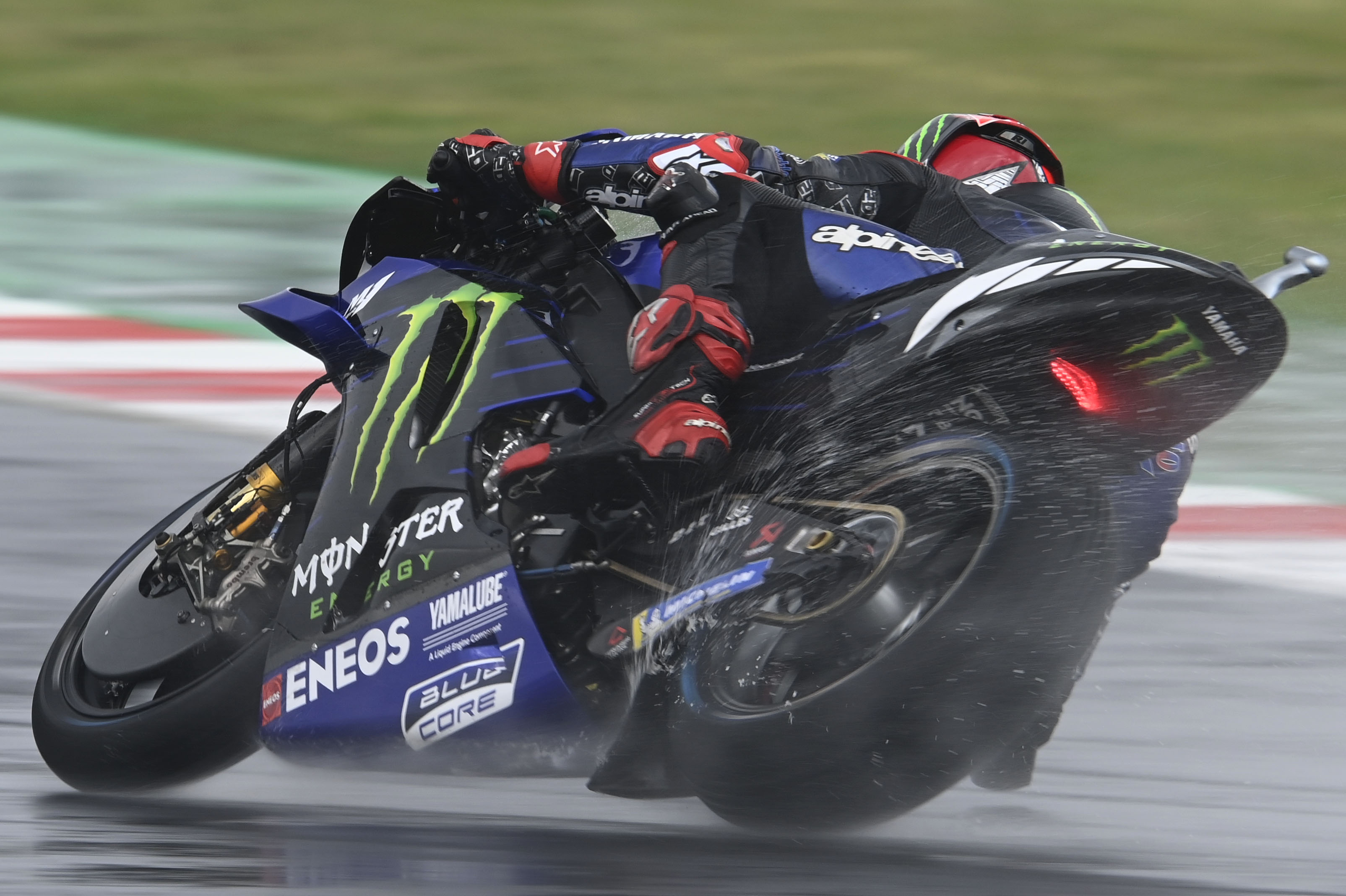 "It's true that for the championship more things can happen if it is wet, but honestly I don't care about that. I prefer it to be dry, to try and make a good result on Sunday, and to give my 100% and forget about Fabio. I'll just try to make my job."
Something that will be music to the ears of Bagnaia, in particular, was Quartararo's comments on Friday afternoon as the factory Yamaha rider admitted that he continues to struggle to find a setting that gives him what he wants from his bike.
Well off the pace throughout both 2020 and 2021 so far every time it has rained, he's been lucky to so far avoid significant damage to his championship hopes – but admitted that unless things improve on Sunday, he might be set to concede yet more points to Bagnaia.
"We tried a different setting in the afternoon and it was a little better," explained Quartararo, "but it's a shame that we missed our last lap. I improved my lap time without even setting one of my fastest sectors, so we have a bit of margin. We've improved a little bit and it was better, although I'm still not feeling comfortable on the bike.
"We've made a small step forward with the front because my feeling is better, but I have zero feeling on the fast corners. It's tough. Let's see what we can do, but right now we're struggling quite a lot."