Once upon a time, there was nothing at all wrong with being a career 125cc rider – and many people took advantage of that in the high point of tobacco money. But, with the advent of the new Moto3 class, that all changed, with a mandatory age limit of 28 being introduced to encourage riders to move up through the classes.
But, almost 10 years on since the introduction of the class and the move from two-stroke to four, there's an argument to be made that it's a fundamental flaw in MotoGP's rulebook, one that's hampering the careers of some class specialists while benefiting no one.
In the days of the two-strokes, being a smaller bike specialist wasn't just a plan B – for some riders, it was a perfectly valid career path and one in which they could easily make their fortunes.
That's because it's a simple fact that not everyone is suited to 1000cc, 300bhp motorbikes, People are built in all sizes, and some simply won't have the physicality needed to manhandle a Ducati Desmosedici or a Honda NSR500, meaning their options have traditionally been obvious – try, and fail, or remain where you are and earn good money as a smaller class specialist.
Angel Nieto, for example, remains one of Spain's great motorcycling heroes, and was in many ways the precursor of the Iberian dominance of the championship we've seen in recent years. Yet the 90-time Grand Prix winner never even started a 500cc race, instead, concentrating mainly on 50cc, 80cc, 125cc and occasionally 250cc bikes to win an impressive 13 titles.
The same applies to one of his great rivals, Jorge Martinez Aspar, himself a four-time world champion despite also never sitting on anything bigger than a 250cc bike.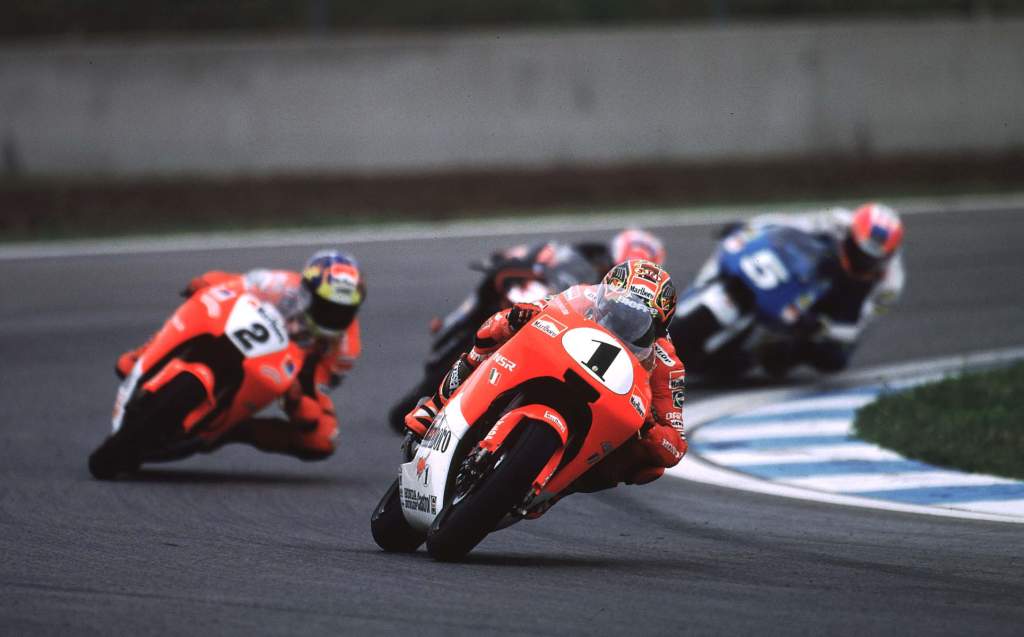 More recently, Max Biaggi (above in 250cc) and Loris Capirossi were the perfect example of riders who tried and failed to evolve into big bike riders, in large part due to their physical stature. Sharing seven championships between them in 125cc and 250cc, they both ended up in MotoGP – and both never managed to come close to winning another title.
In fact, of the twenty-odd riders in MotoGP's Hall of Fame, ten of them have never won premier class titles, with names like Dani Pedrosa, Kork Ballington, Marco Simoncelli, Jim Redman and Jarno Saarinen joining Martinez and Nieto as among those who were champions in their own right yet who didn't achieve the same success in the premier class.
That's in part due to a perhaps unique quirk of Grand Prix motorcycle racing. Unlike other classes, where there are very obvious feeder routes to the top level, MotoGP's current selection of three classes each retain theoretically equal status as world titles.
Sure, there will always be more attention paid to MotoGP thanks to its status as the biggest, fastest, and most spectacular, but that doesn't detract from the fact that Moto2 and Moto3 are also world titles – and it's why the Moto3 age cap is something of an oddity given that it's perhaps the only rule in the book that creates a significant distinction in the sporting code between the three.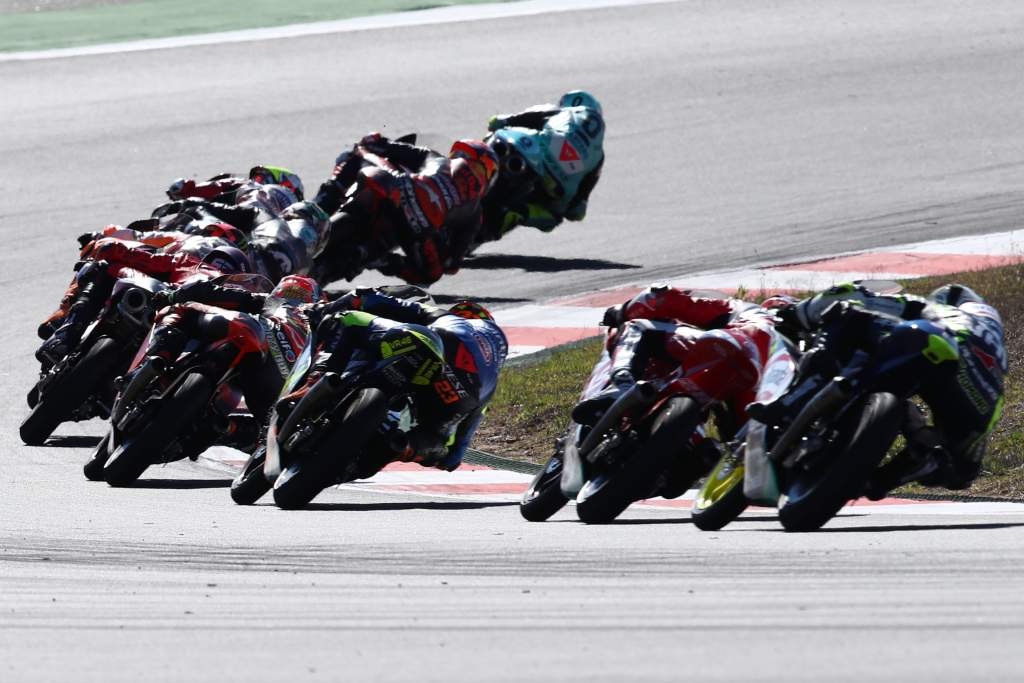 Why is that? Well, the rule was originally introduced to prevent veteran riders hogging up seats in the class and ensure that the top talent was able to still rise up. Funnily enough, that was never particularly an issue in the days of 125cc, mind you, when the most able still found their way onto 500cc machinery – and it's pretty obvious these days that there's ample opportunity to move up.
What the rule has in fact done, however, is create a logjam not in Moto3 but in Moto2, where a whole series of veteran riders have retained seats for some time now. There are plenty of Moto3 riders who are both deserving of a middleweight bike and whose skill set would fit that class (with its focus on individual speed) rather than the knife fight that is a normal Moto3 race.
In fact, if there's a problem that really needs addressing, it's probably the sheer number of riders buying their way into Moto2 (below) seats for 2022 in particular, after two years of financial struggles caused by the pandemic. Always an element, of course, it seems particularly out of control right now with some riders reportedly paying upwards of €750,000 for a seat.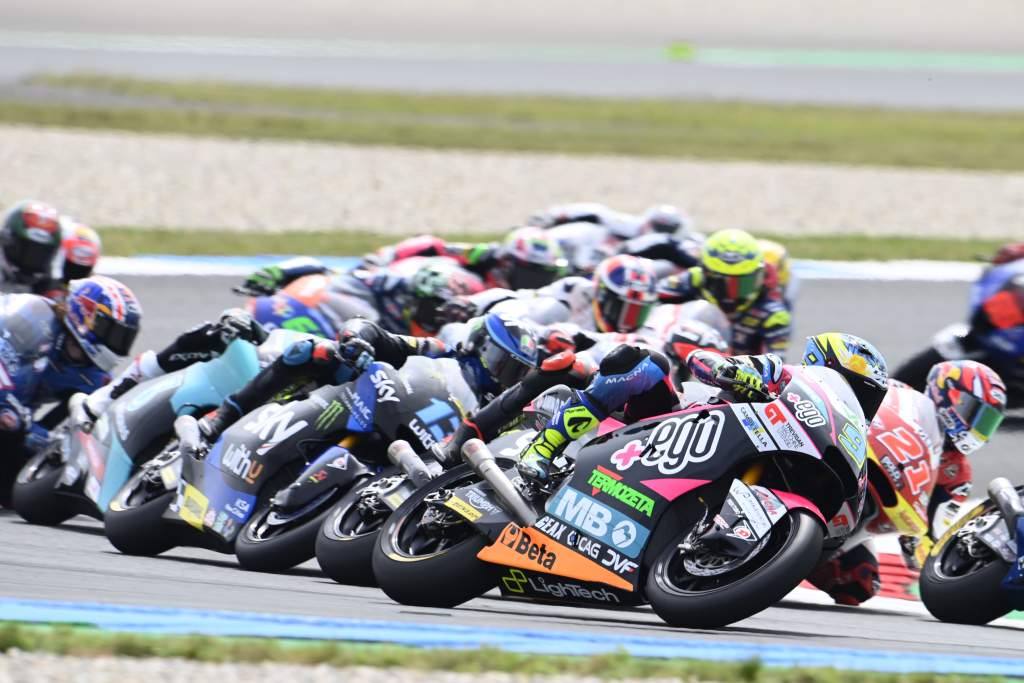 On the flip side, at a time when Moto3 is incredibly under fire for dangerous riding, careless moves and general stupidity from many of the grid, it's easy to see how the retention of a few of the class' more mature racers could help to improve the situation.
Most of the criticism from within the pack itself this year has been led by Andrea Migno, backed up by other veterans like Niccolo Antonelli and John McPhee. Yet Antonelli is gone, moved to Moto2 for 2022, McPhee has one last chance to secure a ride there before being cut off by the age limit, and Migno, now almost 26 years old, is coming to the end of his own time too.
Moto3's age limit is a rule that punishes only a few riders every season – but when it does punish them, it does so spectacularly, in many cases ending careers completely. Yet while the intentions for introducing it were good, it's not serving that purpose anymore, meaning there's only one obvious solution: the time is up for one of the series' oddest rules.