Andrea Dovizioso has described the 2021 MotoGP campaign of the series' newest champion Fabio Quartararo as "something crazy".
Dovizioso joined Quartararo in the Yamaha camp when he made his return to competition with Petronas Yamaha, Quartararo's former team, last month and got to observe him and his performance closer.
And the MotoGP veteran, himself a three-time runner-up in the series, was effusive in his praise of his newly-crowned factory Yamaha counterpart.
"About Fabio, I'm really happy about him, I think he deserved it – but apart of that, I think he did something crazy this year," Dovizioso said.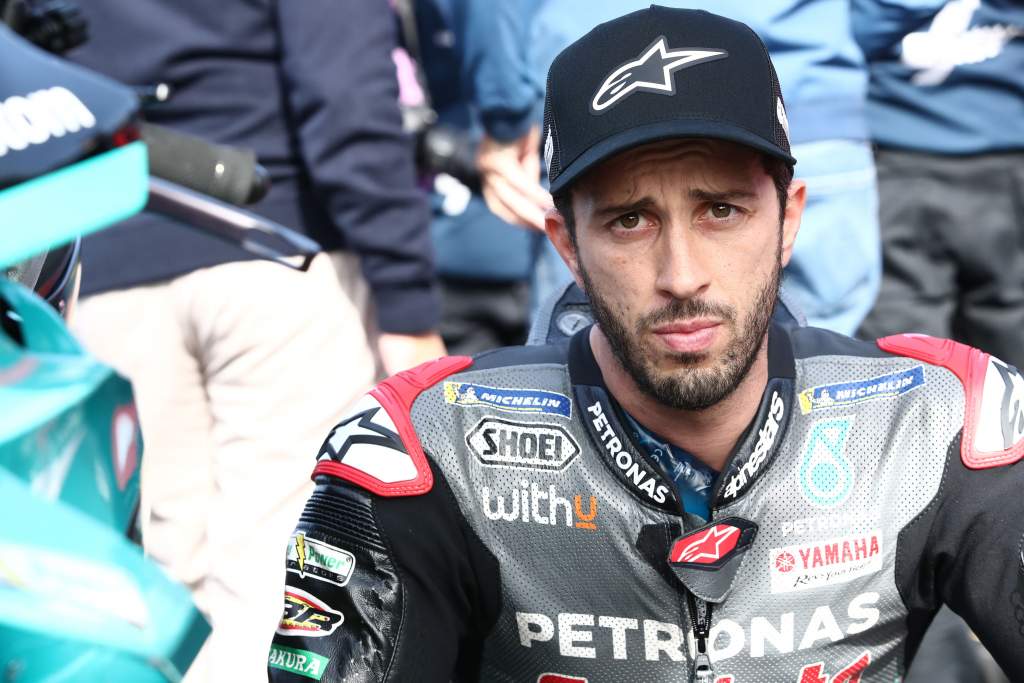 "Because, like always – and I have the experience to say that – every time you watch the bike from the outside it's impossible to see the negative points of the bike. And he's so good at using the good things of the bike, but he's so good at not showing the bad points of the bike.
"And to be that consistent like him, during this season, every race, is something crazy, something special."
Champions are frequently praised and singled out for the consistency of their performance, and Quartararo's 2021 results ensured he would be no different.
The Frenchman has finished every race this season so far, with only Luca Marini boasting a similar record, and has only once fallen out of the top eight – this being in Jerez, due to the debilitating arm pump that struck while he was leading the race.
Quartararo's propensity for staying on the bike is par for the course for a Yamaha rider, with former team-mate Maverick Vinales having likewise proven very adept at getting the M1 to the chequered flag.
Yet where Quartararo stood out in 2021 is with his ability to get the Yamaha bike – one previously famed for needing a very particular set of circumstances to be at its best – to work in a wider window of conditions.
"I mean of course this year Fabio and Pecco [Bagnaia, Quartararo's main title rival] were on another level," six-time MotoGP champion Marc Marquez told MotoGP.com's After The Flag show.
"But Fabio was much more consistent. In terms of speed, Pecco also was very fast in some racetracks, but Fabio was more consistent, and the way to suffer [on below-average weekends], he was able to suffer in a better way."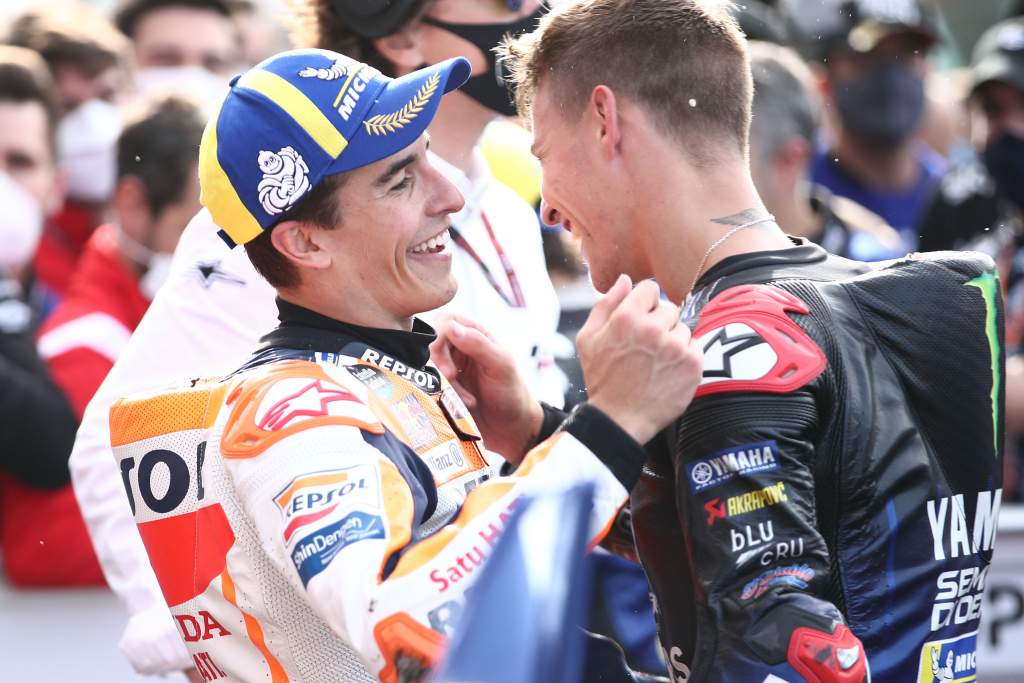 Asked to draw on what he'd seen in the data given that they were now Yamaha stablemates, Dovizioso went into more detail.
"He was able to be consistent because he's doing that kind of riding style everywhere, every time he's on track," Dovizioso said of Quartararo.
"He's able to use that way to ride everywhere. It's not about, if you found that [specific level of] grip in that track you can be fast – he was fast in every condition, in every temperature, in every track, in the same way.
"He brakes very late, but it's easy to brake late – it's difficult to brake late and turn the bike like him. And he's doing it easily.
"If you check his every run in practice, he's doing five-six laps, and he's doing always the same pace and not a lot of mistakes.
"That is what he did, and it helps him to improve practice by practice, and be able to start always in the first two rows more or less, and be able to be consistent in every situation."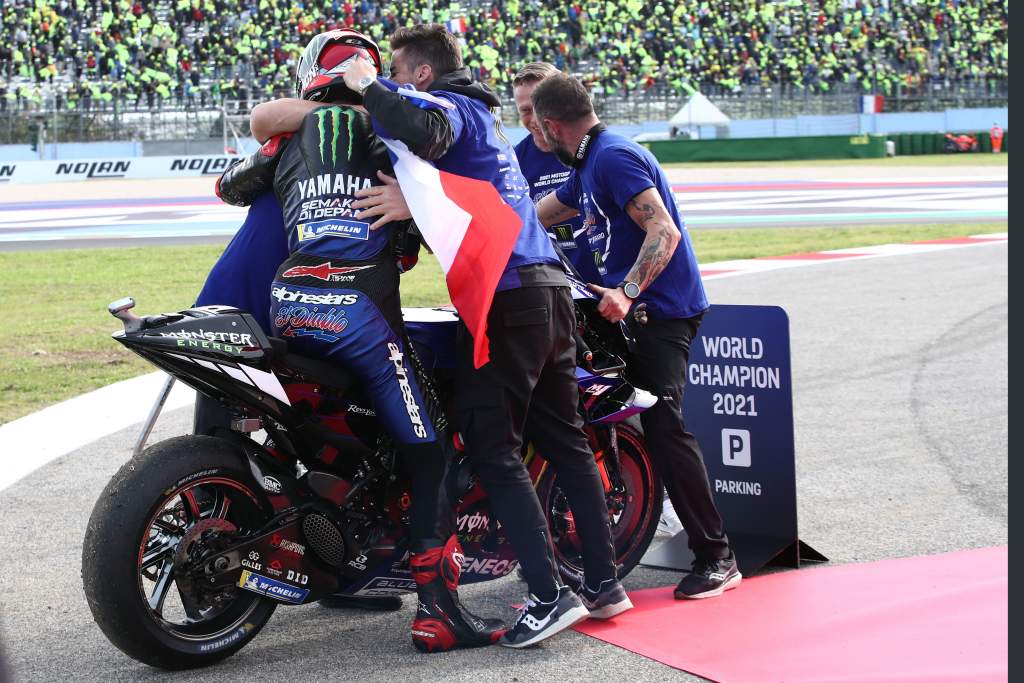 "Every situation" is a slight hyperbole, something Dovizioso himself is well-aware of given he now has first-hand experience of the Yamaha bike's obvious shortcomings in mixed conditions that Quartararo has struggled to overcome – as evidenced by his usual pace in practice on a damp track and him qualifying a career-worst 15th last weekend at Misano due to his reluctance to risk it on the wet patches.
Yet while Quartararo has been fortunate to not encounter such conditions too frequently on Sundays, he did surprisingly drag the M1 onto the podium in the wet in his home race at Le Mans.
And when it came to conventional dry races, whatever the track temperature, save for an unusual slump to eighth from the front row at Aragon the Frenchman has been in podium contention each and every time – while, again, crucially managing to keep the bike on the road.