Last season Aragon was one of Ducati's weakest venues on the MotoGP calendar.
Yet a year on from a pair of disastrous weekends there, works Ducati pair Pecco Bagnaia and Jack Miller have qualified first and second for the 2021 event.
Then at Pramac Ducati, Bagnaia failed to finish both races of last year's Aragon double-header, with Miller salvaging a ninth in race one before joining his team-mate on the non-scorers list with a first-lap exit at the second outing a week later.
The 2020 works Ducati line-up fared little better – Andrea Dovizioso scoring only seventh and 13th in the two races while Danilo Petrucci was 15th and 10th.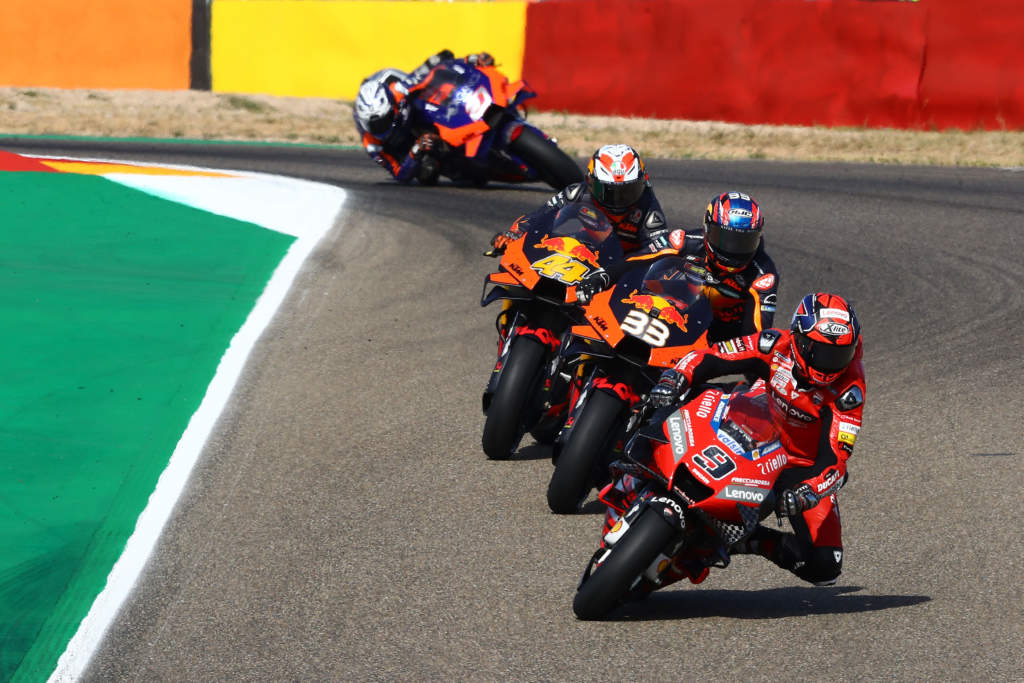 Yet this year, Bagnaia and Miller will start tomorrow's race among the clear favourites, with only championship leader Fabio Quartararo and eight-time world champion Marc Marquez matching the pair on race pace.
The Ducati riders believe that extra time to learn and understand their factory Ducati machines has been the key factor in this dramatic reversal of fortunes.
The Ducati Desmosedici that has remained largely unchanged in the past year thanks in part to restrictions introduced to limit costs in the face of the coronavirus pandemic.
Asked by The Race where the improvement had come from, Bagnaia replied: "One year more with the same bike.
Ducati have worked a lot with this bike, and for me everything's better with this bike.
Last year, when I was trying to push I crashed straight away, and it was very difficult to make something. I was the slowest Ducati, for sure.
"This weekend, what I feel is that I can do everything with the bike. If I want to push more on the braking, I can, and the grip is enough to have great acceleration.
"In this moment, I haven't touched anything with the setting. The bike is the same as it was in FP1, the same as Silverstone, and everything is working very well."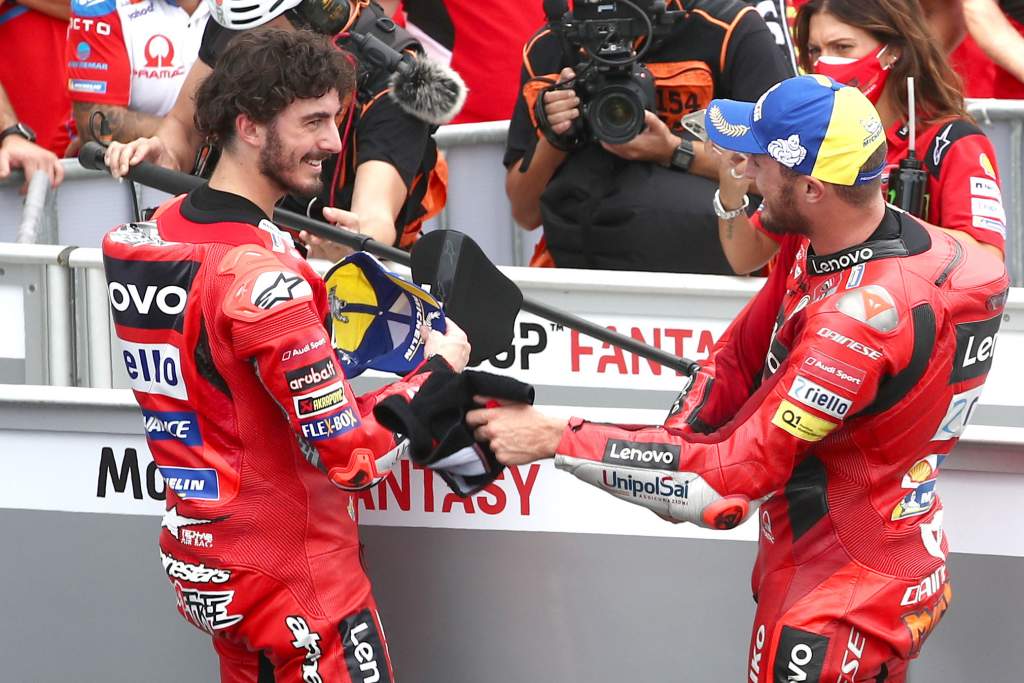 Bagnaia's more experienced team-mate Miller elaborated slightly on the theory that time has been the biggest help, arguing that it's not simply more time with the bike that has aided their development but specifically more time with Michelin's new construction of rear tyre.
Introduced at the start of last season, it caused extensive problems for Ducati in the early part of last season by adding more rear grip and taking away Ducati riders' ability to use the rear brake to turn the bike.
It was eventually cracked not by the factory line-up of Dovizioso and Petrucci but by then-Pramac Racing riders Miller and Bagnaia.
Miller says that it's a development of that learning process that is aiding them now.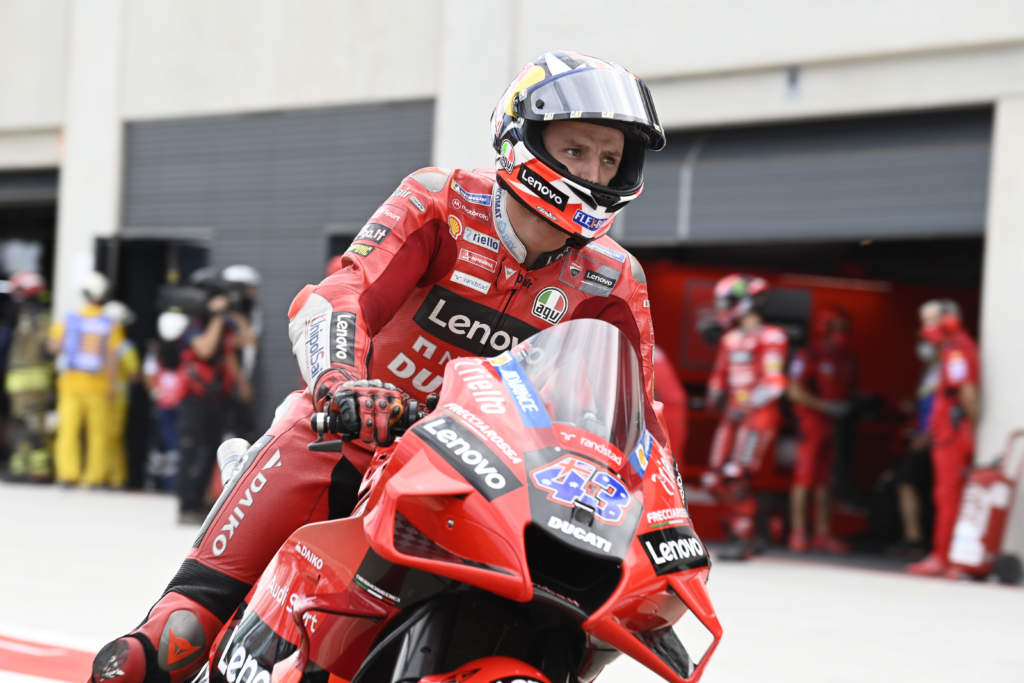 "I've played around with the settings this weekend – but simply to make the mechanics earn their money," Miller joked.
"But the bike is working good, and we've made improvements with the turning, and the way the bike is reacting.
"Another year with this construction of tyre, understanding how to make that work, because last year in places like Brno and here we really struggled. This year, having the experience that we have and what we learned from last year really helped."
That learning process has been greatly aided by the strength of Ducati's rider line-up too.
It's currently the only manufacturer to field six machines on the grid and is set to expand that to eight in 2022 as Gresini becomes a Ducati-backed team.
Miller is adamant that this size is a key weapon in Ducati's arsenal.
"We've always got someone who is more or less there or thereabouts," he explained when asked by The Race how the large Ducati line-up factored in.
"Whether it was [Johann] Zarco last year or [Jorge] Martin, Pecco and myself or even [Enea] Bestia[nini] and Luca [Marini], we have a great group of guys.
"We can understand what they're doing differently in terms of riding style and set-up, and I think that that's the main thing, along with understanding how our bike works with that tyre."
And while Bagnaia understandably refused to be drawn too much on whether tomorrow presents his best chance yet for a win after crashes from the lead at Misano last year and Mugello this season, he did admit that there's every chance that he should be able to fight at the front when the lights go out.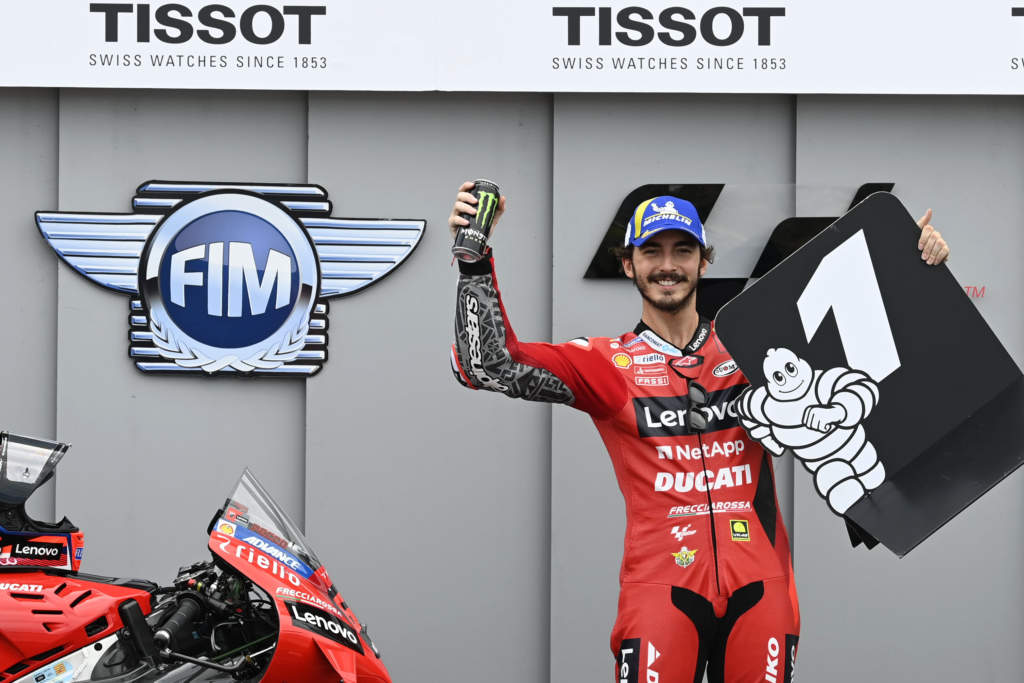 "Tomorrow I'll start, I'll try to set my pace, and I'll see what happens after 17 or 18 laps," he said.
"Then I think that things will change in the last part of the race, because everything depends on the rear tyre consumption.
"We are strong in that moment, so let's see if I will be strong enough to take a victory."