An "ugly" French Grand Prix crash at Le Mans was ultimately a lucky escape for the riders involved.
A fall for Luca Marini triggered a collision with Alex Marquez coming out of the Dunlop chicane, with both riders left on the racing surface in the moments to follow and fortunate not to be caught up with any more bikes passing through the scene at speed.
Marquez was unhurt, while Marini went to the medical centre to check for a finger injury but was passed fit.
"At the end, the incident was quite aggressive, quite hard, no? But finally everything went fine. Just I have pain in the thumbs. Because when I got hit in the handlebar, I felt like stretching pain, and when I hit the ground with the hands, it was a big impact. Maybe I will make another check at home – but fortunately we now have three weeks for rest."
The incident came in what was suddenly the battle for third, after Maverick Vinales and Pecco Bagnaia crashed out while fighting for that position on the opening lap.
As Marini's VR46 Ducati team-mate Marco Bezzecchi threatened a lunge into the Dunlop chicane, Marini arrived quite fast into the corner but then had a very sharp change of direction to tip in for its second part.
He tucked the front coming through that Turn 4 right-hander and, though Bezzecchi was able to avoid collecting him, Marquez was not.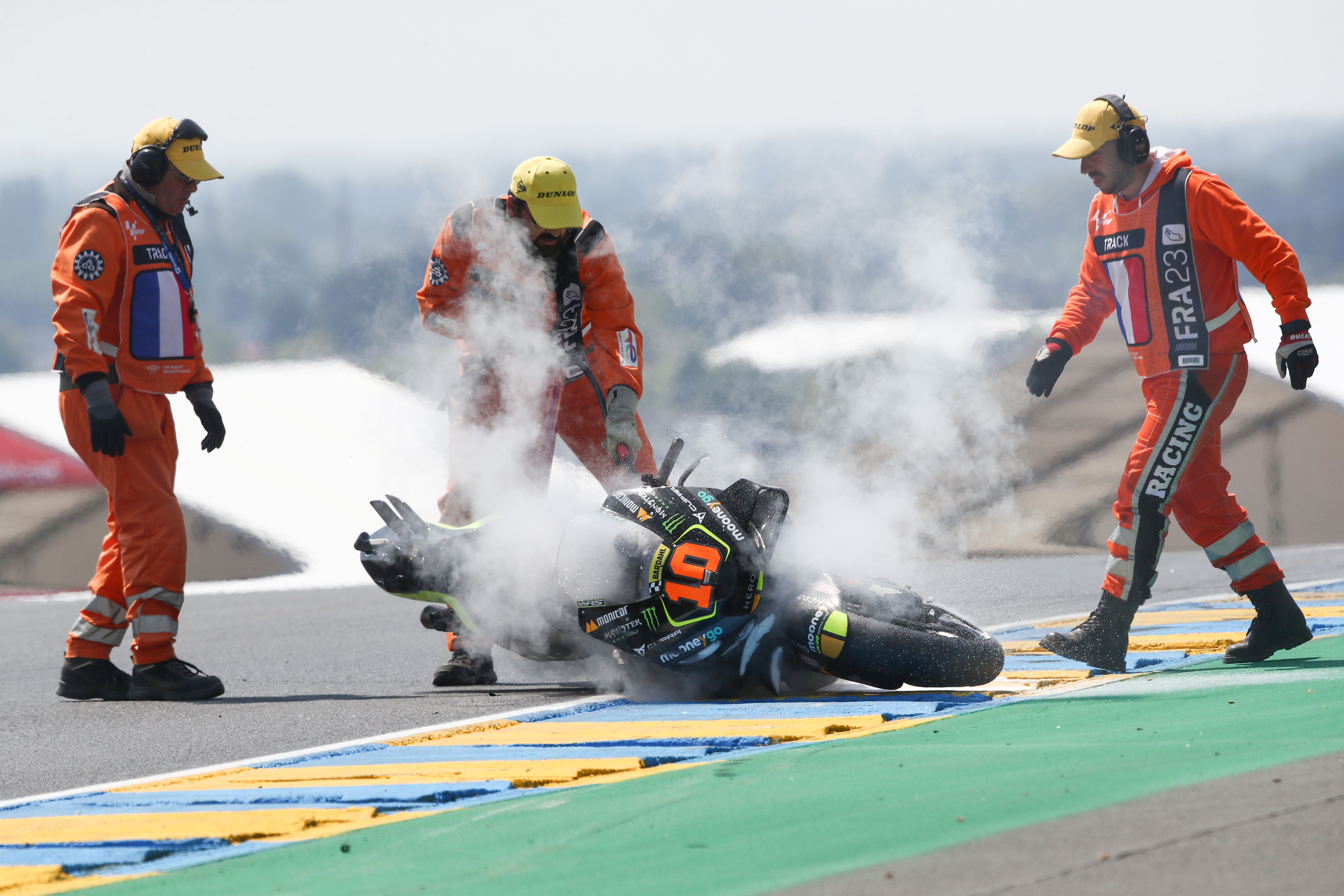 "I was strong in sector one, I tried to pass in the braking of Turn 3, but he resisted," said Bezzecchi – the eventual winner of the race – in MotoGP.com's After the Flag show.
"And then in the change of direction I think he cut a little bit too much on the inside kerb and he lost the front. Fortunately… I saw that he was going a lot to the inside [at Turn 4], so I was just trying to cross him in the next corner, I was not thinking about the crash.
"But fortunately I was just in the right place to avoid him. It's a shame to see this because the crash was ugly to see. When I saw the replay… I hope Luca is OK, and also Alex of course. Fortunately I was able to avoid him and not make a disaster."
Marini corroborated Bezzecchi's view that he had overshot it in how close he hugged the Turn 4 kerb.
"Then I was able to stand up the bike – I made one of my best saves of my life. I was happy in that moment, because I was starting to accelerate. Then Marquez hit me in the back.
"I think it was really difficult for him to avoid the impact. He was trying to gain position, to not lose time. It was difficult. For me it was just a racing incident."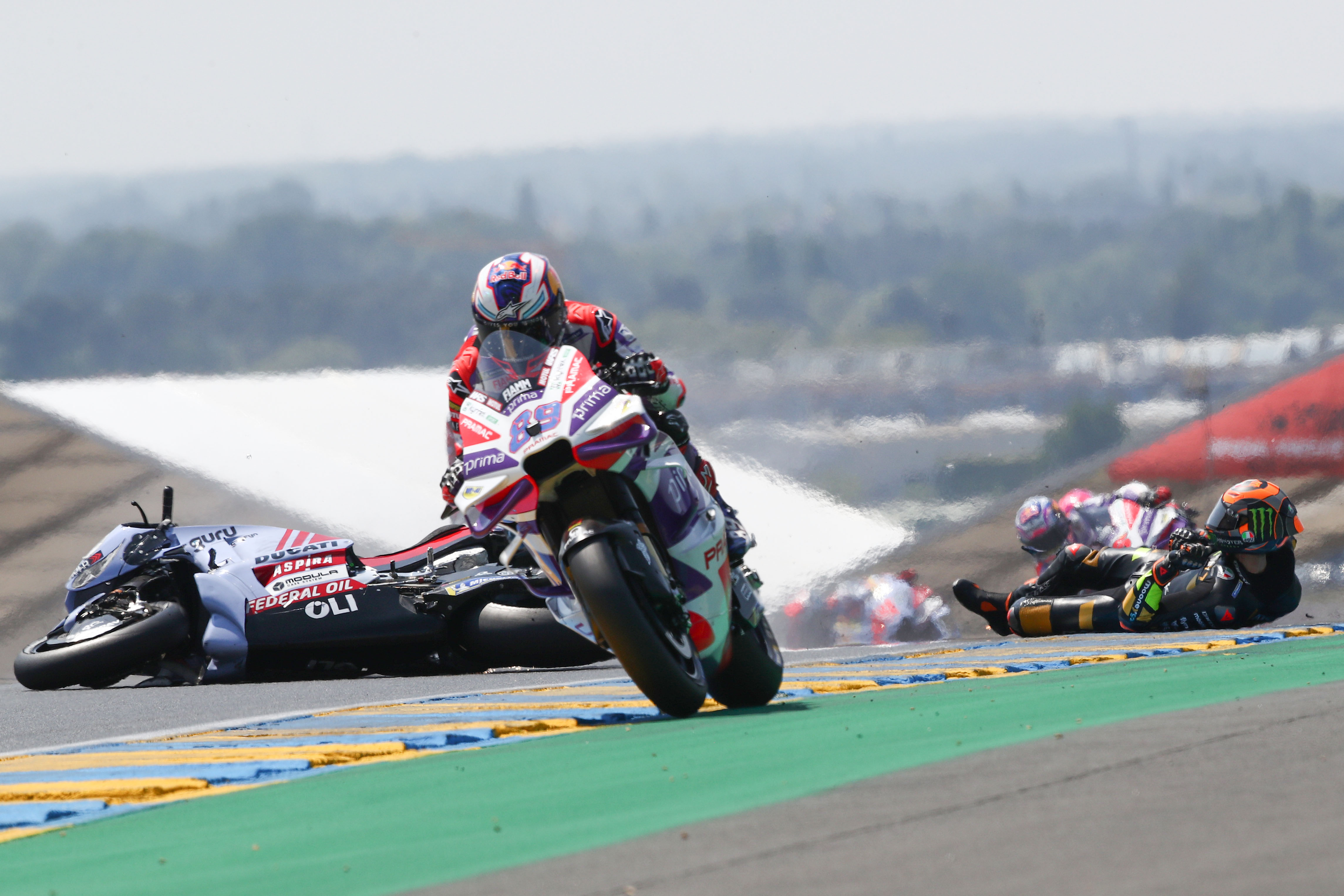 Marquez acknowledged that the incident had been "scary" and said he was tucked too close behind Bezzecchi to see that Marini was crashing just up ahead.
The scariest part was yet to follow for the Gresini rider, however, as he suddenly found himself virtually in the middle of the track on the exit of the Dunlop chicane, with bikes bearing down at him at speed.
Eventual fourth-place finisher Augusto Fernandez went by perilously close to Marquez on the inside of the track, and – without even being able to properly get up on his feet, and without the momentum of the accident having abated – Marquez found himself desperately scuttling away on all fours as the likes of Johann Zarco, Aleix Espargaro, Fabio Di Giannantonio and Fabio Quartararo whizzed by.
"Yeah, I mean, I was trying to move and to go, but I was sliding and it was difficult to go there. I was like a cat, trying to have somewhere to go. But everybody was so good at avoiding me. Thanks to all the riders."
The accident could've been worse still in another way, too, with Jorge Martin having run close enough to be nearly collected by Marini's bike being bounced towards him on the outside of the corner.
Martin felt he may have even brushed Marini going past, and told After the Flag he was lucky to stay on the bike. Eventually going on to finish second, he estimated the incident cost him around 1-1.5s and may have been the difference between a victory bid and settling for runner-up.