The big Iker Lecuona/Miguel Oliveira incident that cut Sunday's MotoGP race at Portimao short was not the only time an intra-KTM collision caused a crash during the event.
Lecuona's team-mate Danilo Petrucci exited the race on Turn 4 on the opening lap, with neither the world-feed TV shots nor the helicopter camera feed making it immediately obvious what had caused him to crash out.
But speaking to the media after the race, Petrucci – who had been wiped out by Joan Mir early on in the previous race at Misano – said that he believed his KTM stablemate Brad Binder was the culprit this time.
"I posted on Instagram [Stories] a short video – on the helicopter you just see another KTM, I think it was Brad that touched me and [he caused me to have] tuck the front, and nothing, it's just the second time in two races and the fourth time this year that another rider took me out of the race. And nothing to say," said Petrucci.
"Unfortunately, for two weekends our starting position was not bad, I did also a good start, this morning was a good warm-up with the soft front, I was really confident.
"I was really enjoying this weekend, maybe one of the best of this year, because we improved by I think almost a second on the time of [the first Portimao event in] April, and I was faster than what I did with Ducati last year. But nothing. Definitely not my lucky year."
The available footage does ultimately make it pretty clear that Petrucci rightly identified Binder, who had looked to pass him on the inside of the sweeping Turn 4 right-hander, with Petrucci caught out and the contact causing him to crash.
Petrucci questioned Binder's logic for trying to get past there, stating that Turn 4 was not an obvious overtaking opportunity and that "it made no sense to go in[side], especially at the first lap" given the corner is very wide.
Binder, for his part, was oblivious that he'd played a part in Petrucci crashing until being informed by crew chief Sergio Verbena – who currently works with the Italian at Tech3 but was at Binder's side at the works KTM team last year.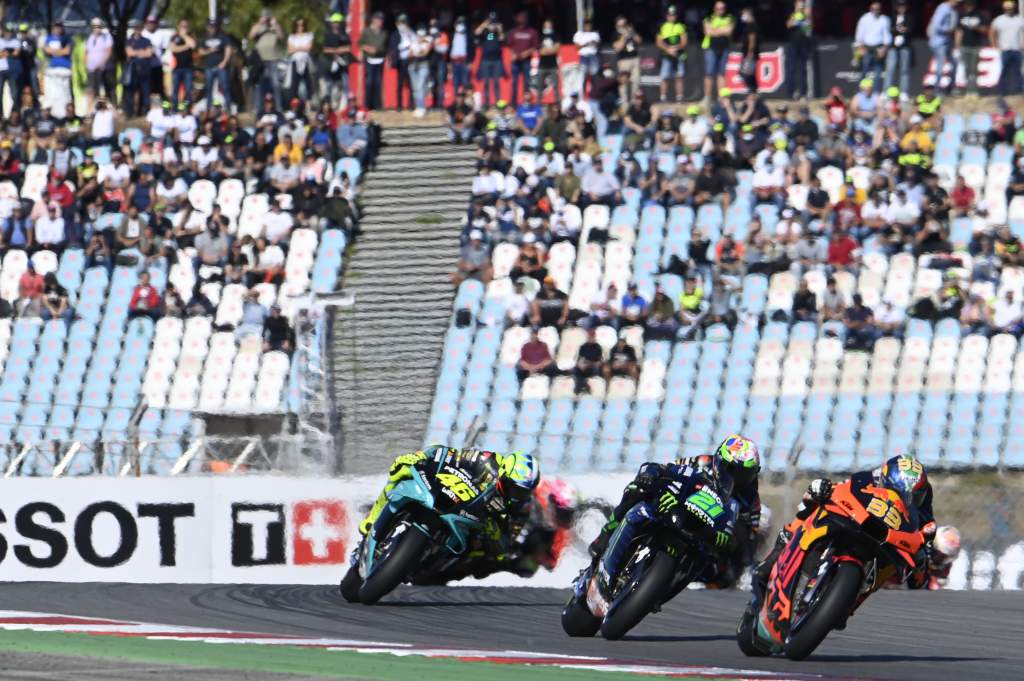 "I only actually found out now, it sounds like we had a coming together in Turn 4. I honestly had no idea," an apologetic Binder said.
"And I saw my old crew chief, who is Danilo's crew chief this year, and he said that he crashed because of me.
"Unfortunately, honestly, I really had no idea that I'd wiped him out. I felt a tiny contact in Turn 4 but I really had no clue what actually happened.
"I'm really sorry for Petrucci for the situation and for him ending up on the floor. That definitely wasn't my intention at all, I honestly had no clue.
"So, yeah, really unfortunate, and it is what it is, it was a tiny little contact, I was on the inside and I didn't see who it was and what happened.
"And then I saw a little video now and it kind of all [clicked], I understood what happened."