KTM MotoGP rider Miguel Oliveira has gone to hospital for a "regular medical inspection" in the aftermath of his crash with Iker Lecuona in the closing stages of the Portimao race.
Tech3 KTM rider Lecuona tucked the front when trying to overtake Oliveira down the inside of the Turn 13 hairpin, and collected the home hero, Oliveira briefly getting trapped between the two bikes in the course of the accident.
The race was red-flagged soon after and cut short, as Oliveira was stretchered off the site of the crash – although the Portuguese rider was soon off the stretcher and on his feet, with Lecuona having come over to apologise and make sure his KTM stablemate was OK.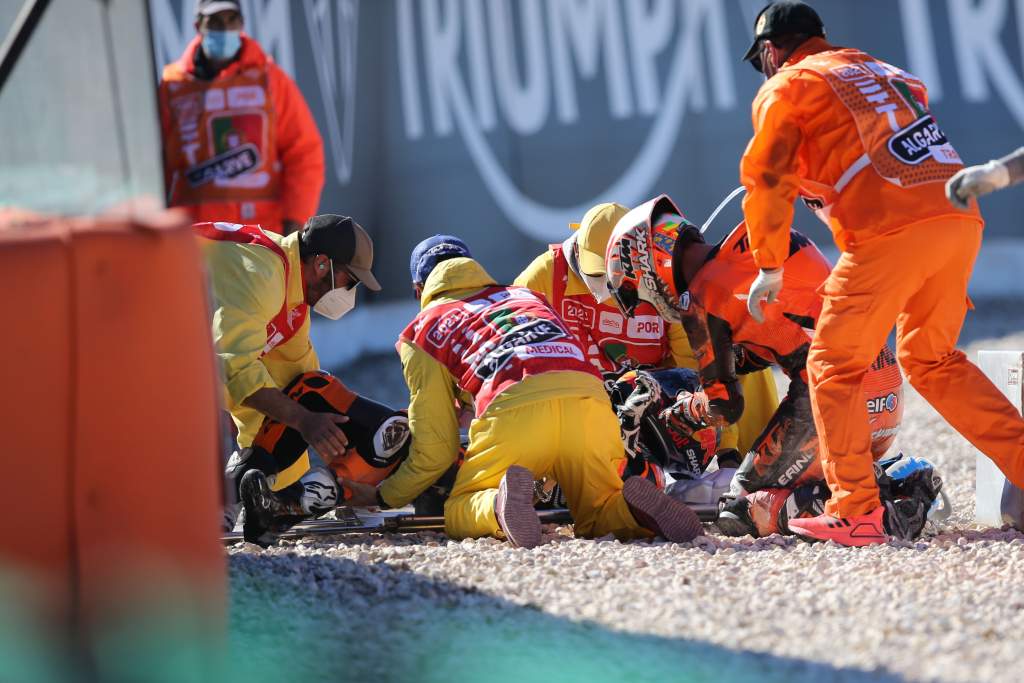 However, though Oliveira looked to have escaped any serious injury, he has still required a visit to the hospital – which KTM confirmed as it called off his media debriefs.
KTM described the purpose of the visit as a "regular medical inspection".
Lecuona, who has already faced the media, explained the incident as follows: "When I tried to overtake him, in a small bump I lost the front, I couldn't save it, and I crashed and my bike hit him.
"I was with Miguel until the last moment [of him receiving treatment], I spoke with him, I said sorry.
"We don't have any problem, he told me 'don't worry'.
"I was with him, I watched him walk, everything was fine, just the crash – I think he's fine. After I want to go [see him] if he's fine, if he's good."
It was a dispiriting conclusion to what had been a standout weekend by Lecuona, who was visibly suffering from a cold during his media debrief – explaining that it was a lingering illness and that he tended to feel "a bit more s**t" at the end of the day.
But while his race had already somewhat unravelled at that point through a series of errors under braking, Lecuona did point out that Turn 13 had proven a reliable place for overtaking for him during the race – and that he'd passed Oliveira the very same way a couple of laps prior, only to drop back behind the Portuguese.
"Two laps before I overtook Miguel before in the same point, I overtook four more riders in the same point – it's one point where I felt strong, and when you feel strong in one point you try to overtake in the same point," said Lecuona when asked by The Race whether he felt he'd made an error.
"But maybe it's true that with a lot of laps, with a lot of mistakes on the front, maybe it's not the best moment – but I did the same as the laps before. I cannot tell you I braked 10 metres later, because it's not true.
"But for sure it's my fault."