While most of the weekend's MotoGP attention was focused on the retirement of Valentino Rossi, Sunday's Valencian Grand Prix also saw two other riders bow out of the premier class, with Tech3 KTM's duo of Danilo Petrucci and Iker Lecuona competing in their final MotoGP races, at least for now.
And while fanfare (and TV camera attention) was focused on Rossi, that doesn't mean it was any less an emotional day for the pair, with paddock favourite and two-time winner Petrucci in particular going to be conspicuous by his absence and sadly missed when the championship resumes in 2022.
With Petrucci beloved by the people he's worked with due to his character and his emotions, that meant that Sunday was a particularly heavy day for the 31-year-old, who admitted after the race that much of the day had been spent on the verge of tears.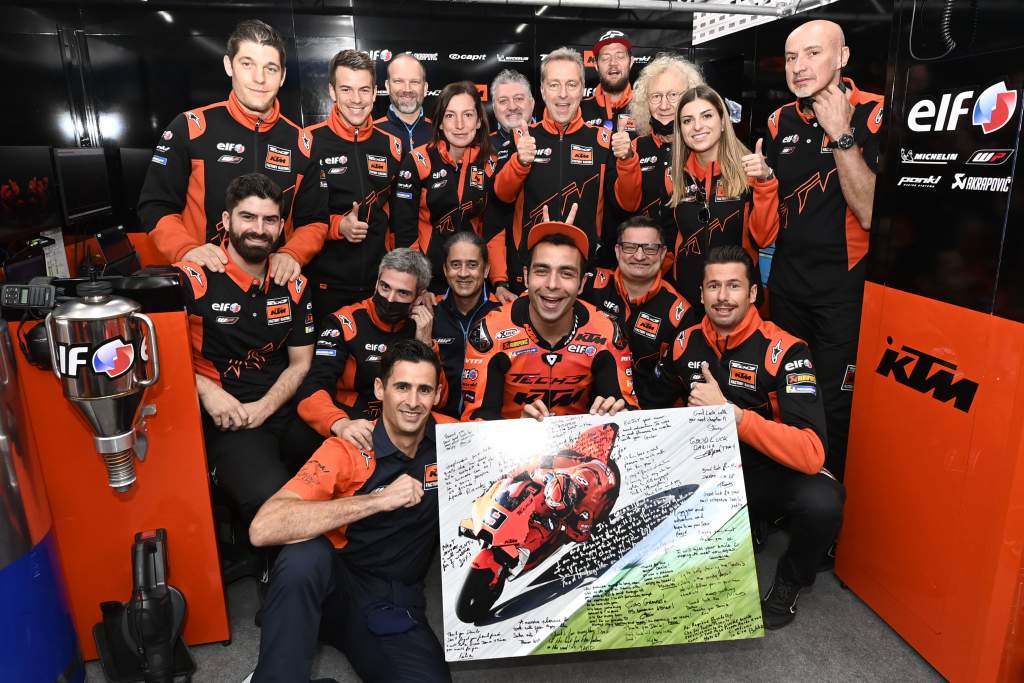 "I started to feel nervous that I wouldn't even make it to the grid," he explained after the race. "Normally I go to the pit box [after the sighting lap], and coming back everyone started to make applause. I had to say hello to everyone, and at the last minute I realised it was three minutes to go.
"All the KTM teams, all the Ducati teams came to applaud me, and thankfully we were at the beginning of pitlane, because if not it would have been difficult to start the race.
"By then I didn't understand if I was sweating or crying! I was really happy to see all this love for myself. When I parked the bike on the grid, I told myself not to cry. Then people started to come to me, everyone I worked with and all the friends in the paddock. I had to start to cry then.
"I cried in Mugello the first time I was on the podium, I cried when I won my first race. Unfortunately when I'm happy I can't do anything differently!"
And, with the end in sight, he admitted that knowing it was his final race influenced his actions in the race as well, as he concentrated just on making it home so that he could see the chequered flag for the final time in MotoGP.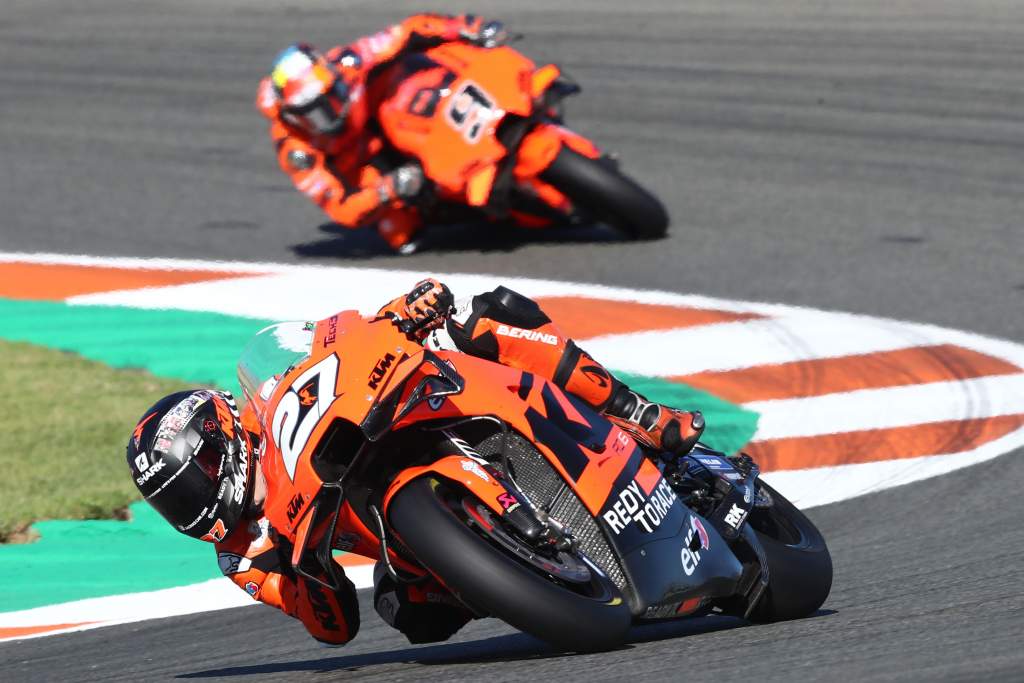 "In the race I tried from the first moment, but after the last two races I wanted to finish it," he said, after being knocked out of the two previous grands prix by Joan Mir and Brad Binder respectively. "The first two laps everyone was so aggressive, so I tried to stay safe.
"Then my front tyre got a very high pressure and it was impossible to brake hard, so I said 'OK, don't think about it. I have a KTM MotoGP bike and a track all for me, so I want to enjoy the last kilometres on the bike' – and it was really a pleasure."
On the other side of the Tech3 garage, it might not quite be the end of his MotoGP career for the 21-year-old Lecuona, as he heads off to take up a new challenge as a factory Honda rider in the World Superbike championship.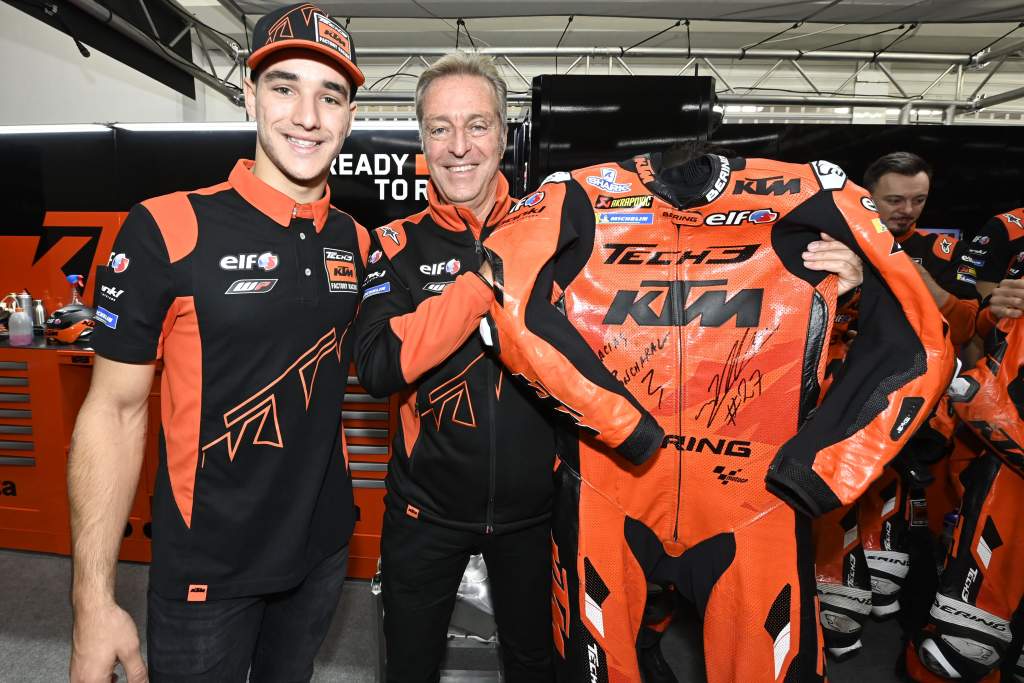 But that didn't make his final MotoGP race for now any less emotional either, especially as he lined up in front of 75,000 fans at his home track in Valencia.
"It was difficult to manage it all," he said of his emotions. "All week I didn't feel anything, just one GP more. Even this morning. But when the race was coming, an hour before the start, I felt something in my stomach.
"On the grid I arrived, it was fine, I went to the box, and when I went back and put on my helmet before the race started, I had to close my visor because I was crying.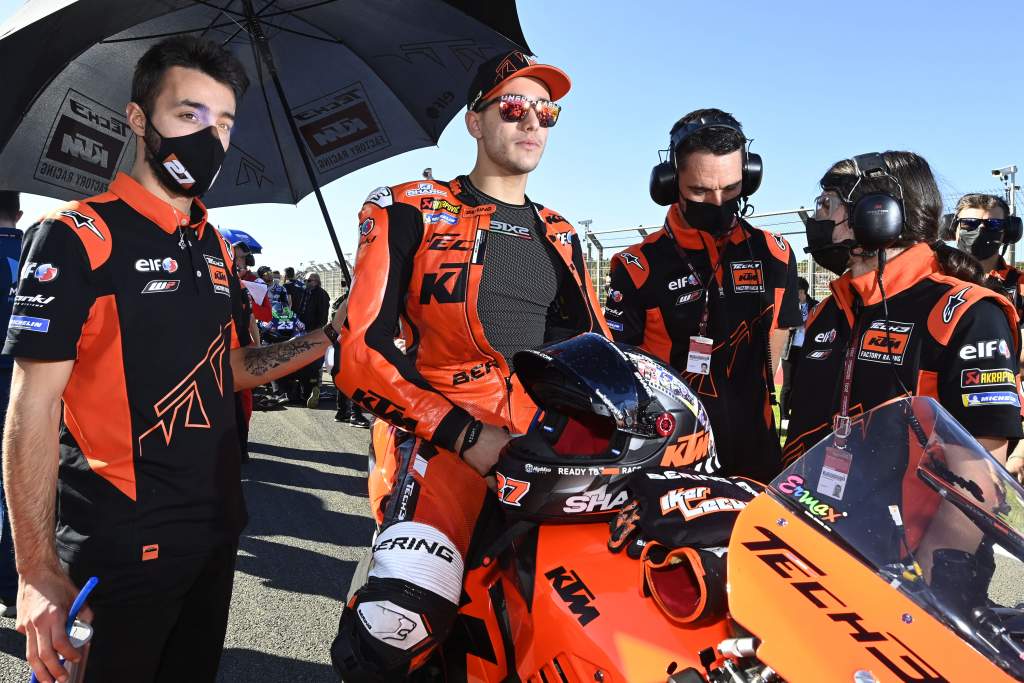 "It wasn't easy to manage it, and I made an OK start but I lost places in corner one and more in corner two. I didn't have my focus on the race – my mind was in another world. I needed some laps to calm my mind and to feel good with the bike.
"During the race it was up and down, but finally I found my pace, kept it all race, and I finished with one point [for 15th place].
"I didn't lose much time to the top 10, I was fast, and I had fun. The last lap after the flag, to say goodbye to everyone and to see all the people was something special for me."