After months of hype, MotoGP's first of 21 sprint races has finally taken place, and while the main lesson of the day at Portugal's Portimao circuit might have been one we already knew (defending champion and race winner Pecco Bagnaia is the undisputed favourite for the 2023 title), the first real track action of the year also yielded many other clues even before the first 'proper' race of the season.
Some of those lessons are simply confirmations of things we already expected, given the strengths and weaknesses of various bikes on the grid – but some of the others came as more of a shock, with, for example, few people betting on six-time champion Marc Marquez being able to wrestle the Honda into podium contention.
Here are just a few of the key talking points from round one of the 42-race season.
Aprilia is great, but needs to qualify better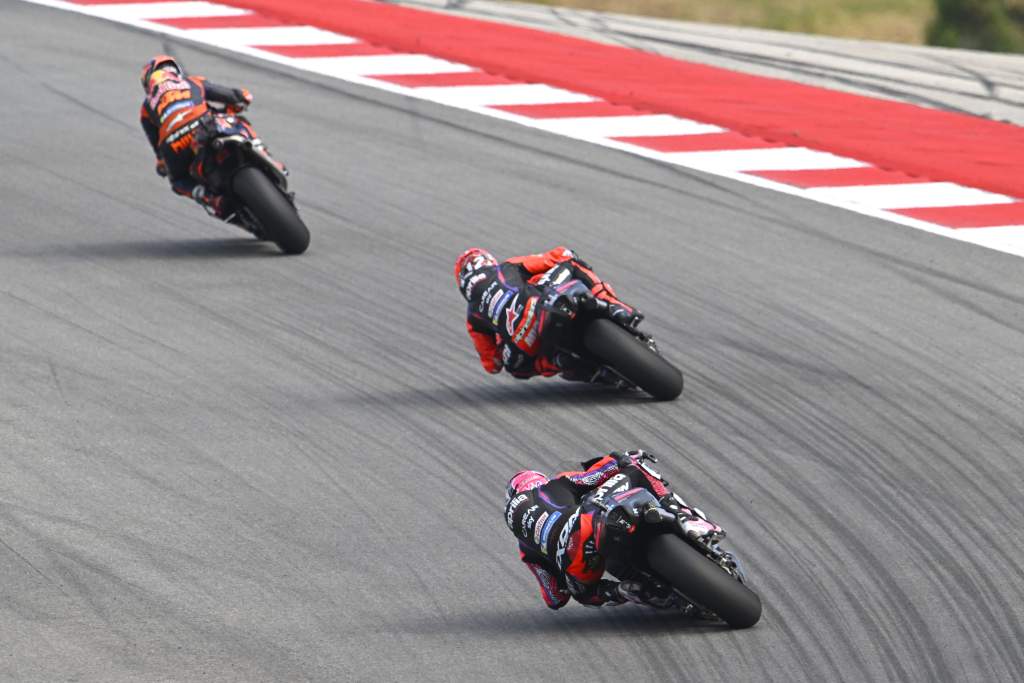 We knew from the start of 2022 and Aleix Espargaro's underdog title challenge that the RS-GP had made a significant step forward, and Aprilia continued to build on that all through the season and into the 2023 pre-season, not only refining the machine but adding two more to the grid in the form of new satellite squad RNF.
Testing hinted that it wouldn't just be Maverick Vinales and Espargaro who would be fast this year, but also that new signing Miguel Oliveira might be full of surprises on last year's bike with RNF – and the sprint race proved that pretty conclusively as he fought for the podium.
However, it also highlighted the weakness of Aprilia's weekend too: mediocre qualifying. With less time than ever to carve your way forwards in a sprint race, Saturday morning's newly-rearranged session becomes more important than ever, and Aprilia can't afford mistakes like Espargaro's Q2 crash if it's going to continue to challenge for the podium and, eventually, the title again.
'Sprint specialists' are benefiting as much as expected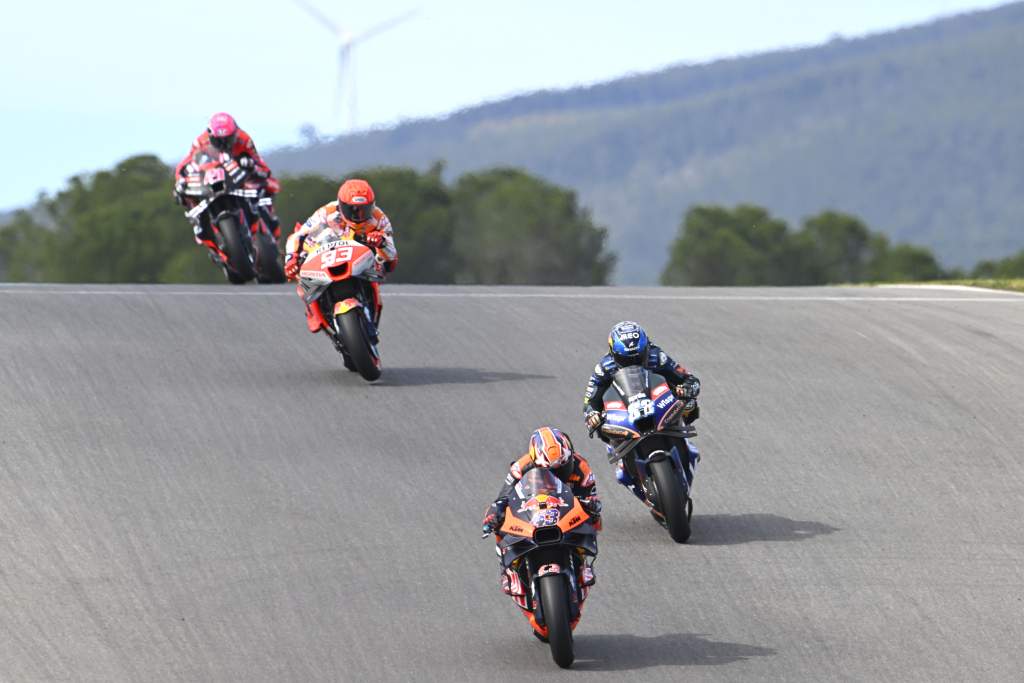 As soon as sprint races were announced, a few names who the format would suit immediately came into conversation – and Saturday's first outing had two of them right at the front, with one of them perhaps even someone that you would argue had absolutely no business being there given what we saw from their pre-season campaign.
One was Pramac Ducati rider Jorge Martin, the master of one-lap time attacks and always strong at the start of races. In the end unable to stick with Bagnaia for the win, he nonetheless racked up a strong podium to start his year.
The other one is new KTM signing Jack Miller, who had been somewhat invisible throughout testing as he worked to modify his riding to his new bike – but was still able to shock in practice, secure an excellent grid spot of fifth and launch himself right into podium contention, just as we thought he'd be capable of before we saw the Austrian team's testing woes.
Marc Marquez remains too wily for the other Hondas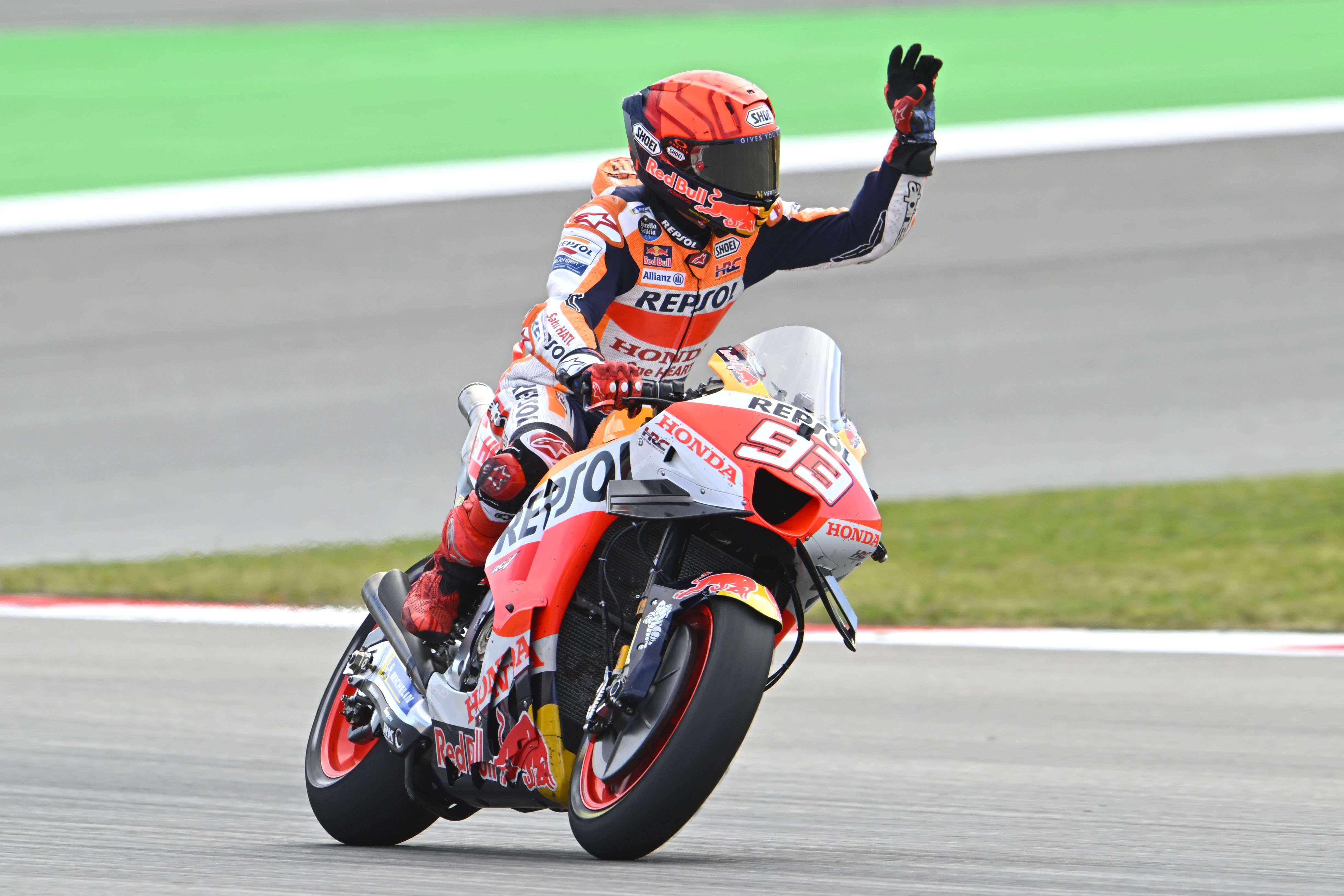 Coming into the first weekend, things looked pretty grim for Honda. Testing was an uphill struggle, its current bike is a long way away from where it needs it to be in order to be competitive, and even Marc Marquez was downplaying his own chances of success, instead predicting that he'd be fighting for fifth to eighth.
That all went out the window as soon as he stuck in a devastatingly fast new lap record in qualifying to take pole position, having progressed from Q1 at the expense of team-mate Joan Mir. He used his fellow past champion Spaniard for a tow too, so there's already bad blood in the Repsol Honda camp and it's only the first round.
But even more impressively, Marquez was also able to translate that pole into a podium, proving once again just how wily the six-time champion can be. While not able to match the speed of the Ducatis in front, it's clear that he still has the racecraft and the desire to be competitive, even if the current bike means that it might be a lot harder to do that in full-length races.
The under-pressure strugglers are struggling bad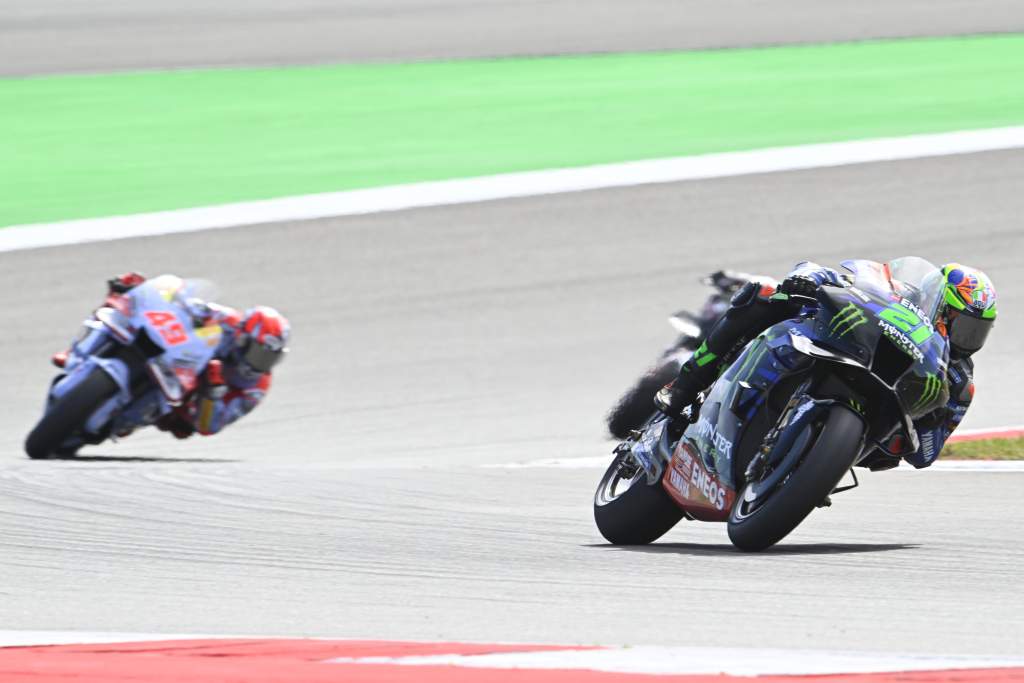 There might have been some (like Marc Marquez) who were able to turn around their weekend despite struggling in testing – but a few others who've had a tough winter didn't exactly find the form that they needed in the season's opening race.
Chief among those was Yamaha rider Franco Morbidelli, whose run of simply terrible performances continued with a disappointing race that never once looked close to threatening the points scorers. He's quickly running out of time to secure a contract renewal and every race counts – meaning his future is already starting to look bleak after only 12 laps in anger and a miserable 14th place.
The same applies to LCR Honda rider Taka Nakagami, who in reality was left in an even worse position than Morbidelli thanks to Marquez proving what the Honda was truly capable of.
In theory, sprint races should suit Nakagami's aggressive early lap style, but coming home six places and 12 seconds shy of scoring points isn't good for his own future.
Riders aren't racing for points right now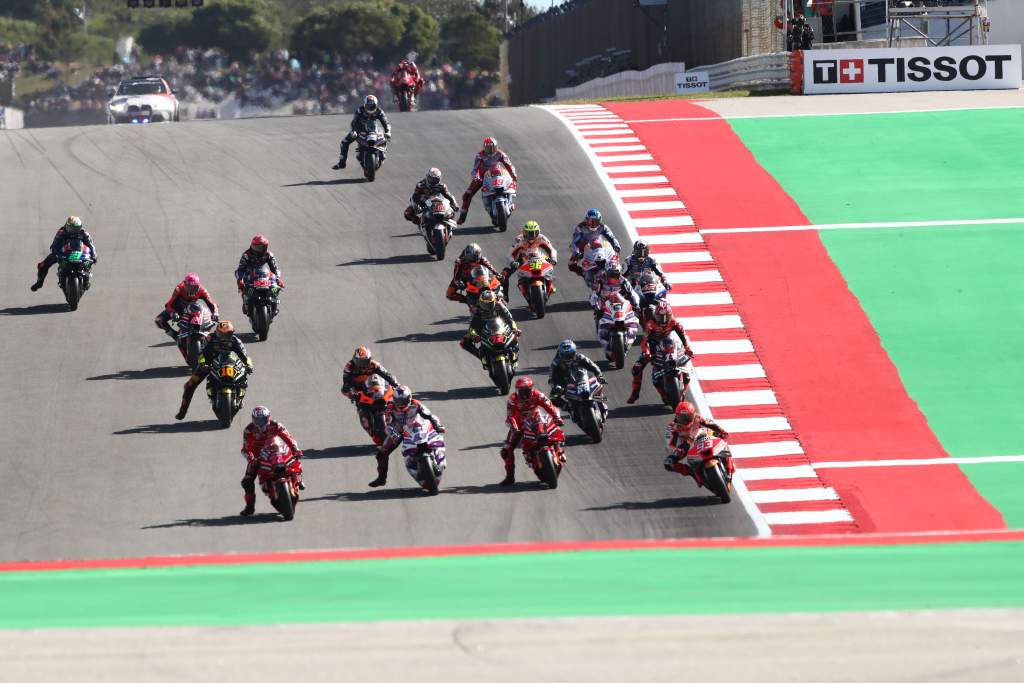 It took a few of the grid's wiser riders to philosophise about what they didn't really like about sprint races – and the consensus among a few of them is that riders haven't quite worked out the risk versus reward ratio that comes from the new shorter format.
They're used to being forced to fight for every position up until 15th for the prospect of scoring even a single point, but that's not the case in the Saturday races. Instead points are only scored to ninth – meaning that you can very easily find yourself battling for a top 10 position that at the chequered flag still leaves you with nothing to show for it, and in the MotoGP format those sprint race results have no bearing on the grand prix grid.
In fact, demonstrating just how little they've mentally adapted yet, one rider in just such a position even admitted that he'd forgotten that 10th place didn't actually score a point…
Of course, some of the ultra competitive racers on this grid would do a deal with the devil himself just to finish a step ahead in a foot race around the paddock never mind in an actual MotoGP race, so you can't expect all competition to go out of the window. But, as the season progresses, it's fair to assume that sprint races might get a little more calm.
The added pressure of a sprint race has an impact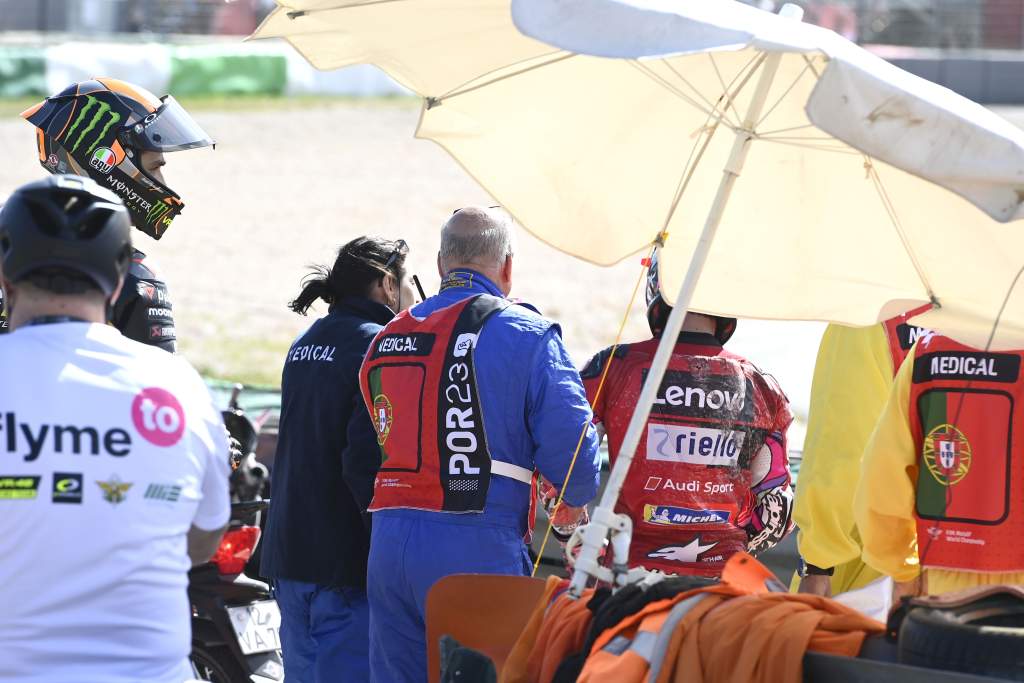 When series promoter Dorna unilaterally decided to introduce sprint races at every single round, one of the lines it used to downplay consternation from riders was the suggestion that it wouldn't mean any extra track time for them over a weekend, replacing, as it does, one of the weekend's free practice sessions.
However, riders immediately claimed that that wasn't a fair assessment, knowing that with races came more pressure, more stress, and more chances for things to go wrong.
That was, unfortunately, evidenced on Saturday by championship contender Enea Bastianini. Getting tangled up with the usually-safe Luca Marini, both of the Italian Ducati riders went down heavily, with Bastianini by far coming out the worse. Suffering a broken shoulder and set to miss next weekend in Argentina as well as the remainder of the Portuguese Grand Prix weekend, his fate just shows how long and demanding 2023 is going to be.