MotoGP championship leader Fabio Quartararo was among the riders who objected to the way Italian Grand Prix qualifying at Mugello played out and that Q2 was started at all in the conditions.
For nearly all of the first qualifying segment and most of the second, the Mugello surface was intermittently damp – meaning that riders were much quicker on slicks than on wets yet were much more at risk of being caught out.
And with such weather often representing the most treacherous conditions in MotoGP – even more so than when the track is fully soaked – Quartararo was unimpressed that the session went ahead as it did especially given Mugello's status as an old-school, high-speed, large venue.
---
Follow Mugello MotoGP race day with The Race Live Hub on Sunday – and the Monaco GP and Indy 500 too
---
"This afternoon the condition was really dangerous, I think it was really not a good decision to make what we did," he said.
"It's not normal to go on the track, the fastest track ever, when you don't know if you are going with the rain, with the slick, you don't know what to expect.
"We say we go with the slicks and we hear thunder, I think it's not normal."
Quartararo got effectively a first-row seat to Marc Marquez's high-side at the start of Q2 and stressed "he did nothing strange" to cause the fall.
It was only that accident that caused a red flag during the session.
"In this track, that is such a long track, it can be wet there, dry here – you start here, it's dry, then you to Turn 8, Turn 9, corners where you arrive close to 200[km/h] or even more, you flick in super fast, and you don't know the condition – to be honest it's not a great feeling," Quartararo continued.
"In this track we cannot wait that something happens to postpone [the session]. For me it was not a good decision to go on track with the conditions that we had."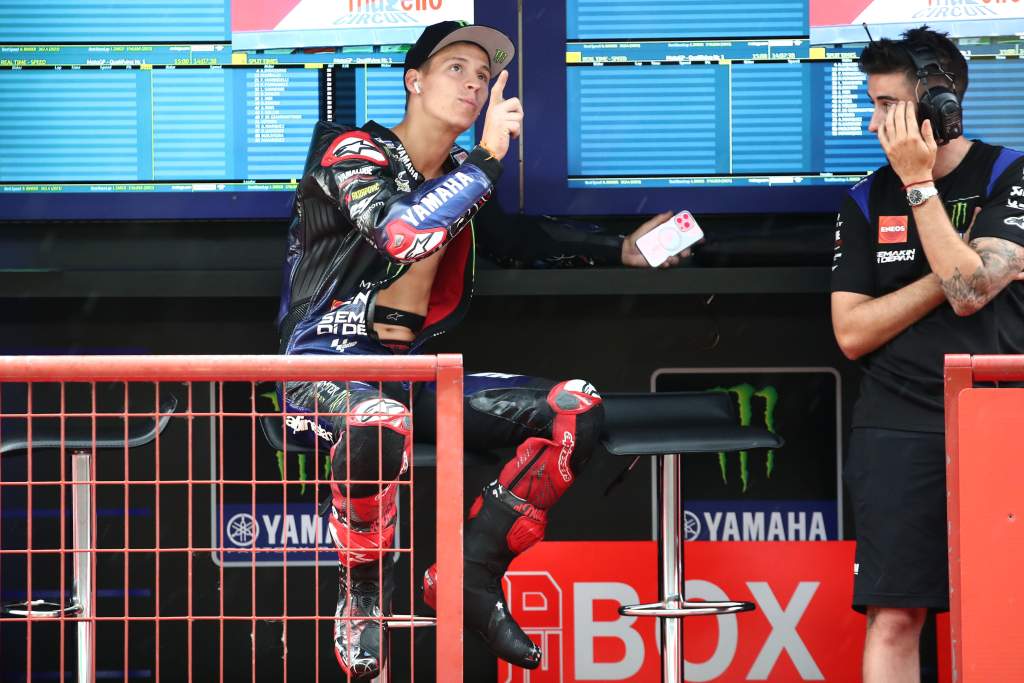 Pramac Ducati rider Jorge Martin was perhaps even more damning in his assessment.
"It was really really dangerous. It's funny that we talk a lot about security [safety] in the safety commission [meetings], all these things, and then we go out on slick tyres in the rain," he said.
"For sure if something [bad] happens then everybody will cry and put their hands in their heads.
"In these conditions we have to think a little bit more and maybe wait – I don't care if it rains but at least for qualifying, that we can control it, maybe wait 15-20 minutes, it's not a matter of time and it's much better for us because we're going into corners at 200ks per hour, raining with slicks!
"For sure some riders won't agree because they have the opportunity to risk a little bit more. But if somebody – because it can happen… then everybody will cry. But it's like this."
Aprilia's Aleix Espargaro concurred, describing qualifying as "extremely dangerous" and requiring a red-flag stoppage or a delayed start.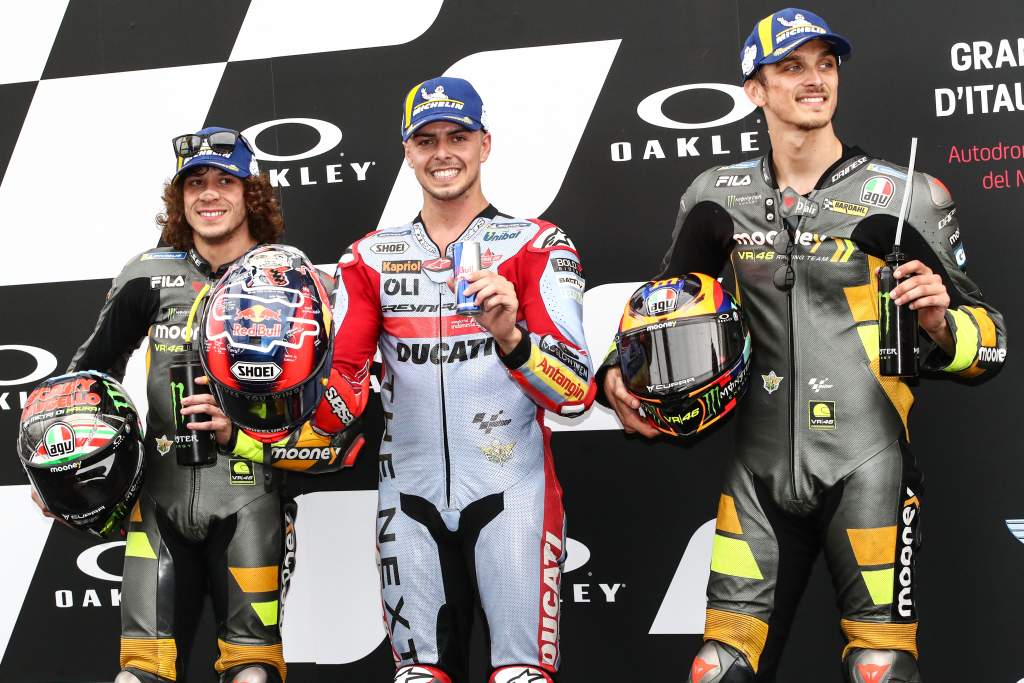 But the Ducati riders that placed in the top three – rookies Fabio Di Giannantonio and Marco Bezzecchi, and sophomore Luca Marini – were unanimous in their belief that the track was in good enough a state.
"For sure you can crash maybe easier – but it was safe. At the end we are the best riders in the world, we can manage it," said Di Giannantonio, having come through Q1 to take pole.
"And when there is this gamble to choose wet tyres, dry tyres – if you want to go safe, you can choose wet tyres and go with the wet. I think here in this case maybe we're not talking about safety."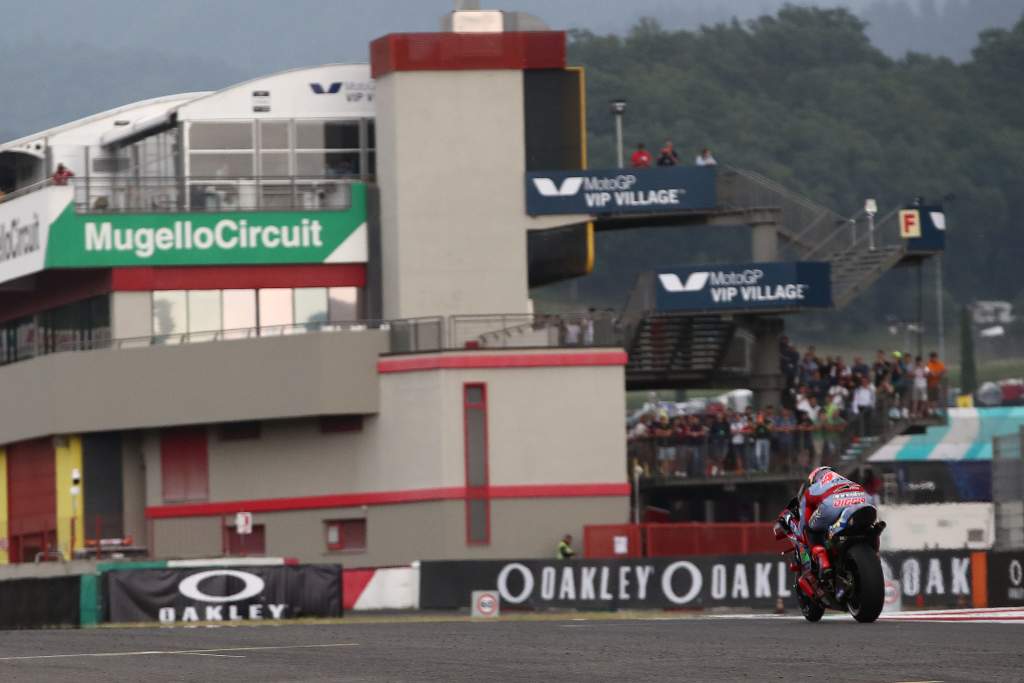 "For me at the end if you see the laptimes this means the track was OK, because we made 1m46s-low," Bezzecchi said. "If we were riding on slicks and making like 1m50s-51s or more, maybe was more dangerous. To make 1m46s for me, the track was good."
Marini said that he noticed the thunder and lightning but trusted the organisers' assessment that it was not a threat – and concurred in his assessment of the track conditions.
"Nobody's pushing you to make 1m46s. Like Diggia said, we are the best riders in the world and we need to perform at our best also in this condition."
Di Giannantonio also chimed in to point out that Portimao qualifying, in which many riders were thrown off their bikes – as opposed to just Marquez today – was "much worse".
"Today was quite OK. How many crashes did we have today? Marc I saw, but apart from him? So, I think was safe enough."
An intermediate tyre – dropped by MotoGP in 2017 shortly after its introduction – may seem a natural solution for the riders who did express concern.
But while Espargaro said he would've indeed used it for the start of Q2, Quartararo reckoned it wouldn't have helped much because of the potential corner-to-corner variance in conditions.