RNF Yamaha MotoGP rider Darryn Binder is to serve a long-lap penalty in the Italian Grand Prix for crashing under yellows earlier during the Mugello weekend – but it's much less clear-cut than that sounds.
Falling off under yellows is a straightforward punishable offence in MotoGP, with the series not penalising all those who go fast under yellow flags but rather only those who lose control of their bikes.
Binder's penalty comes for his crash in the final seconds of FP3, and the fact that he crashed under yellows is something that he doesn't at all dispute – coming off at the last corner while track marshals were still picking up the fallen machine of Enea Bastianini, who fell off a minute before him.
However, according to the South African, there are force majeure circumstances that the stewards failed to take into account even after his WithU RNF Yamaha team manager Wilco Zeelenberg went to discuss the incident with MotoGP stewards' chairman Freddie Spencer.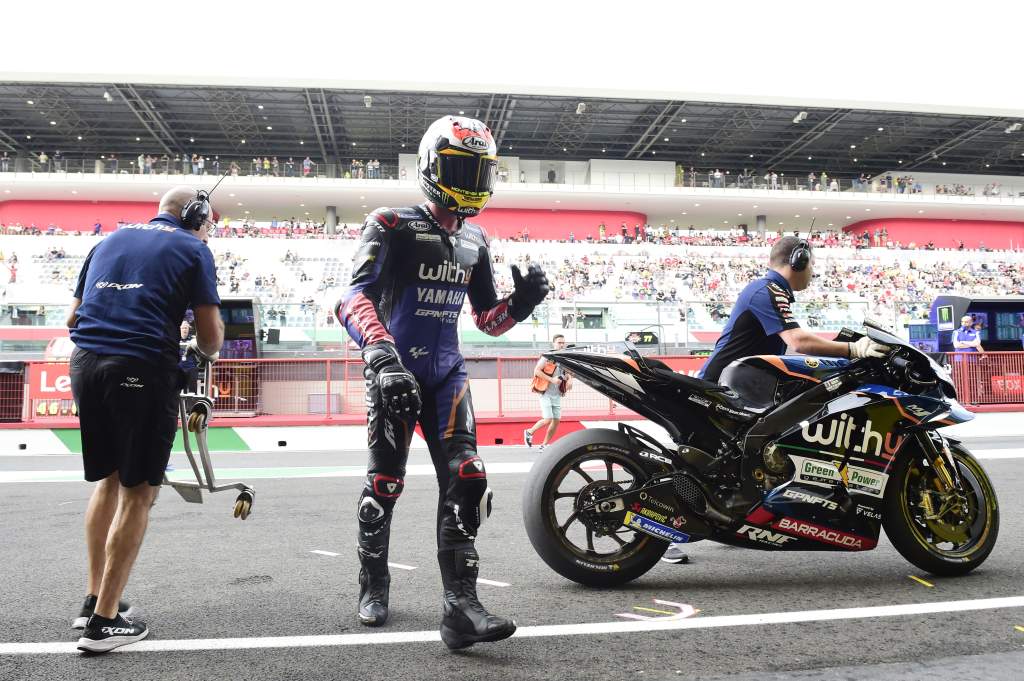 "I was coming back to the box slowly because I had ruined the lap. I saw the yellow flags in the last corner, slowed down, and actually looked over to see what was going on. Before I knew it, I rode over something and I crashed myself," Binder explained.
"I've been given a long-lap [penalty] for crashing under the yellow flag, which I knew was going to happen, but it's unfortunate though because I really wasn't pushing. I was three and a half seconds off. But… f**k… it is what it is. It's unfortunate.
"Wilco went for me [to race control]. They [the team] took the screenshot of the corner, of the data, to show that I was going like 20kph slower into the corner. You can clearly see that I take the throttle and I hit something and it goes 'bump, crunch'. I literally rode into something, but on the video, it isn't good enough to see it.
"I don't know what it was, but I shouldn't have crashed on a yellow flag and it is what it is. I really wish I hadn't!"
Binder – who hopes to be able to mitigate the consequences of an early long-lap penalty tomorrow – will start the race in 20th, six places behind Pramac Ducati's Jorge Martin, who has already effectively served his own sanction.
But Martin appears even more confounded by the fact he'd been penalised.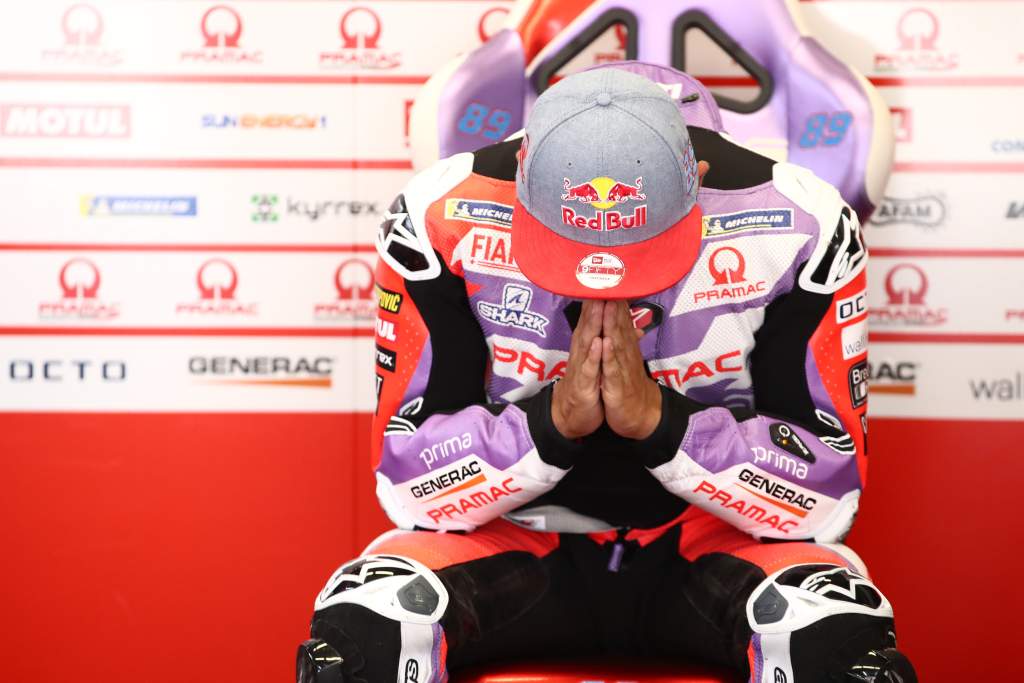 The incident involving him occurred off-screen but at approximately the same time at the end of FP3.
According to Martin's account, he was forced wide because of a move from an unnamed rider and ended up in the gravel trap. Rejoining the track, he then got in the way of Maverick Vinales and was judged by the stewards to have impeded the Aprilia rider, with the result a three-place penalty on Sunday's grid.
"In the last stint I was disturbed by another rider and I had to go to the gravel," he explained, "and when I was cleaning the tyres a little another rider arrived. I tried to get out of the line; I think I didn't disturb them that much. But race direction gave me a penalty. I accept it and I move forward."
Pressed though on whether, despite accepting it, he still disagreed with the sanction, Martin said: "I mean, 100 percent it is not correct and I do not deserve it because I was out because of the thing done by another rider.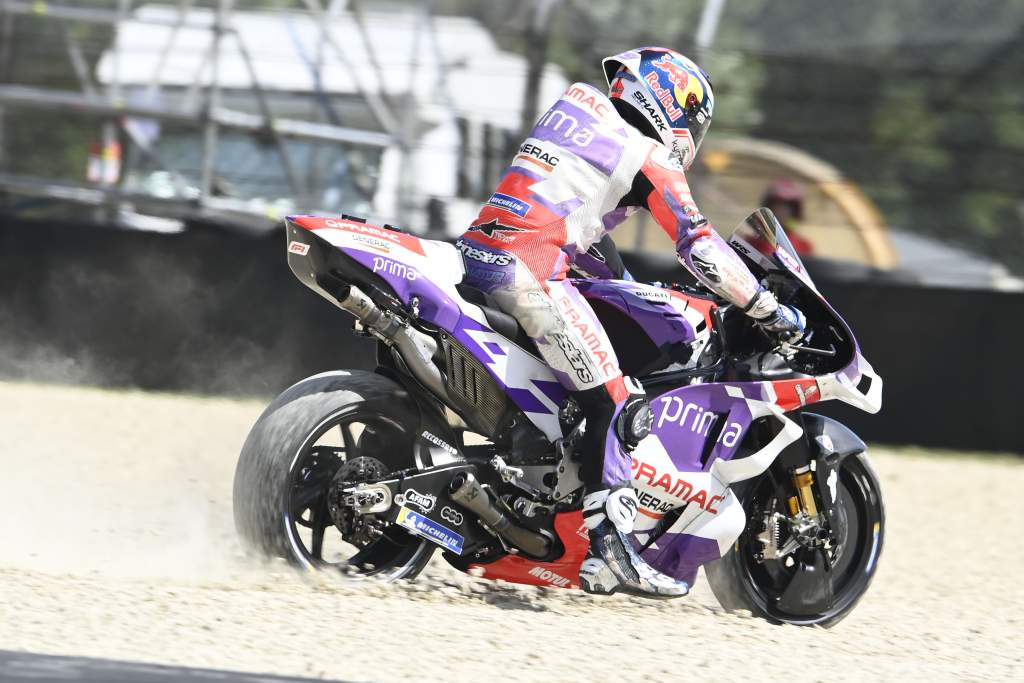 "It was a consequence of that. If not, I wouldn't have been off the line, but it seems like they didn't understand that. They just put penalties everywhere. They told me they would take a look, but half an hour later the penalty was still the same."
When contacted by The Race for comment, series bosses Dorna (who handles press enquiries for the stewards) issued a short statement that simply echoed the official notification of sanction issued earlier in the day.
"The FIM MotoGP Stewards' documents provide reasoning for the sanctions," they said. "Darryn Binder crashed under a yellow flag and it has been confirmed that light panels and flags visible to the rider were all displaying yellow at the time.
"Martin was slow on the line, and disturbed another rider, on the last lap in FP3.
"The FIM MotoGP Stewards are responsible for sanctions. In cases where any additional information is required, it will be supplied within the press release containing the sanction document."