When the news was announced that Suzuki rider Joan Mir would be replaced at the Thai Grand Prix by former MotoGP racer and fan favourite Danilo Petrucci, it was met with almost universal acclaim, as the friendly Italian was extended a chance to cap his crazy 2022 season with a return to prototype machinery at Buriram, signing off one of the most fascinating seasons in modern racing history with what looks likely to be his final grand prix appearance.
Travelling directly to Thailand after receiving the call-up only hours before the final race of the MotoAmerica domestic series in the USA, where he finished second to Jake Gagne, it means Petrucci finished 2022 where he signed off 2021: on the MotoGP grid.
In the interim he hasn't just had a memorable season in the US but one in which he also made his mark in the world of off-road racing by winning a stage of the Dakar Rally as a rookie.
Yet despite the incredible 2022 entry to his racing CV, he says the call from Suzuki that gave him a chance to return to MotoGP for the final time will always be a particular highlight.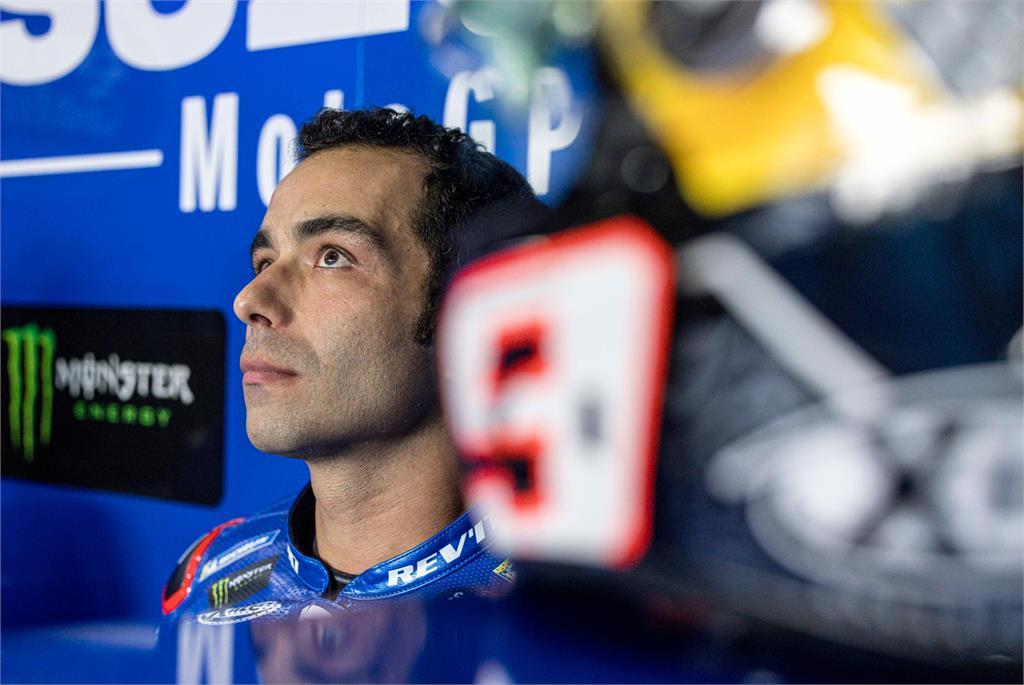 "It's something that I wasn't ever expecting in my deepest dreams," Petrucci told The Race in an exclusive interview at Buriram, "to race again with a MotoGP bike, with a factory bike, with a factory like Suzuki. It's something that I have no words to explain my feelings about.
"It's something that makes me proud, because in this world we are all really connected to the brand, to the deal, to the contract, and it's something unbelievable that you can race a Dakar with KTM, then you go to America with Ducati, then the week after you're in MotoGP with Suzuki."
Initially planned for Misano but delayed in large part due to Ducati's fear of Petrucci losing focus on his MotoAmerica campaign, Petrucci's Suzuki debut – described by him as "the best gift of all my life" – ultimately came as Mir's battle for fitness after his Red Bull Ring ankle fracture was prolonged.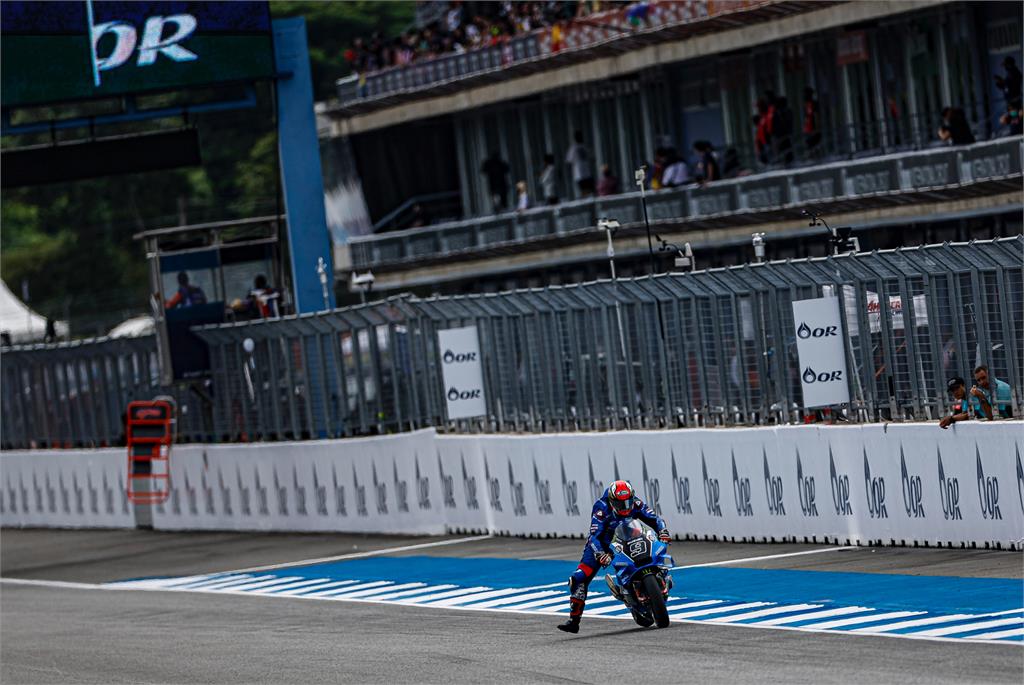 Jokingly likening his return to being able to hear the eulogies at his own funeral, Petrucci got a chance for something of a lap of honour through the paddock again – and, despite finishing the race in Thailand in 20th place, some 42 seconds from winner Miguel Oliveira, it was absolutely worth the return.
"I just want to say thank you to Suzuki," he repeated, "because I'm so happy to have reached this point, to be so friendly with all these people in the paddock. It's the biggest achievement of my career.
"It was already so emotional last year in Valencia. They made me cry then. I needed to leave the paddock at 8pm and I couldn't say goodbye to everyone because from the starting grid of the race until then so many people came to me and made me cry that I spent all the afternoon crying. Not because I was leaving MotoGP, but because I was happy with all the people who came to me.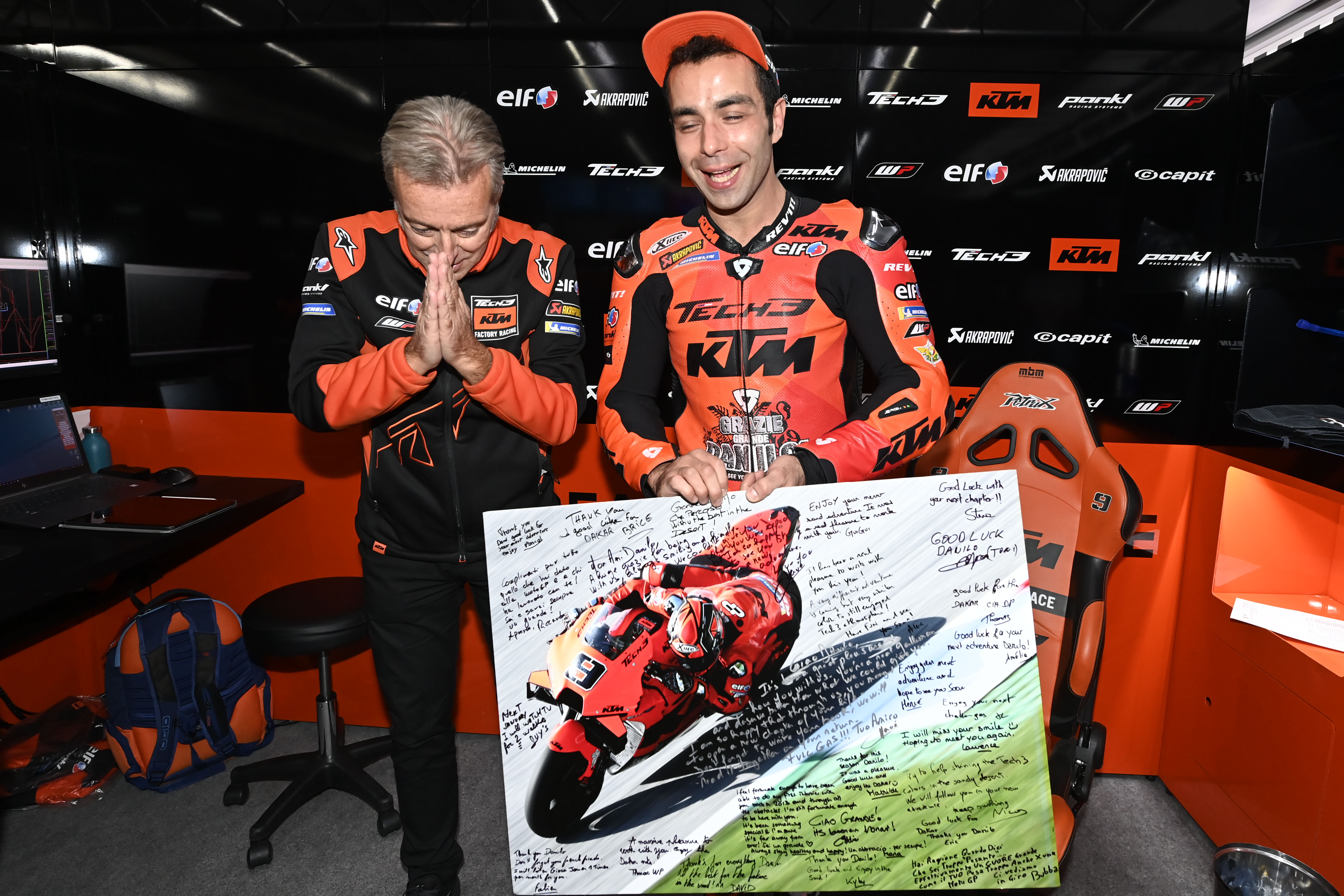 "It was something unbelievable to see, and the same again in Austin when I saw them again [when MotoAmerica supported MotoGP]. Maybe like you say, people only recognised this when I left MotoGP and went to the Dakar with less media, less of everything because there you have nothing but a tent to sleep in. I recognised this big support I have from the people, and I can't say another time how happy I am."
And while his manic 2022 season might now be at an end, what comes next for Petrucci still isn't certain. "I still haven't decided," he admitted when asked about his future plans. "I can continue in the USA and continue this adventure, or I can go to World Superbikes, but let's see. After MotoGP last year, when I quit, I just wanted to enjoy racing bikes, and I don't know. At the moment I'm not in a rush to decide, because I'm so tired, and when you're tired or upset you shouldn't take decisions.
"If there is a chance to wait and understand these two offers between MotoAmerica and World Superbikes, I will wait, but if not I'm happy to not race and prepare a proper Dakar for 2024 and the next years. I bought the bike from KTM, the bike that I raced, so at least I have one thing ready!
"I'm in the twilight years of my career, and I knew that I wouldn't be competitive to race in MotoGP. I'm not 23 years old anymore, and I recognise that I'm not competitive.
"I'm the first to say that, and I know that to go to World Superbikes I need to get involved 100%. I first need to find this within myself, and the offer isn't about money, it's about technical conditions and the will to do it. Racing in MotoGP and World Superbikes the effort is mainly the same for the riders and I need to understand that."
The magic of the Dakar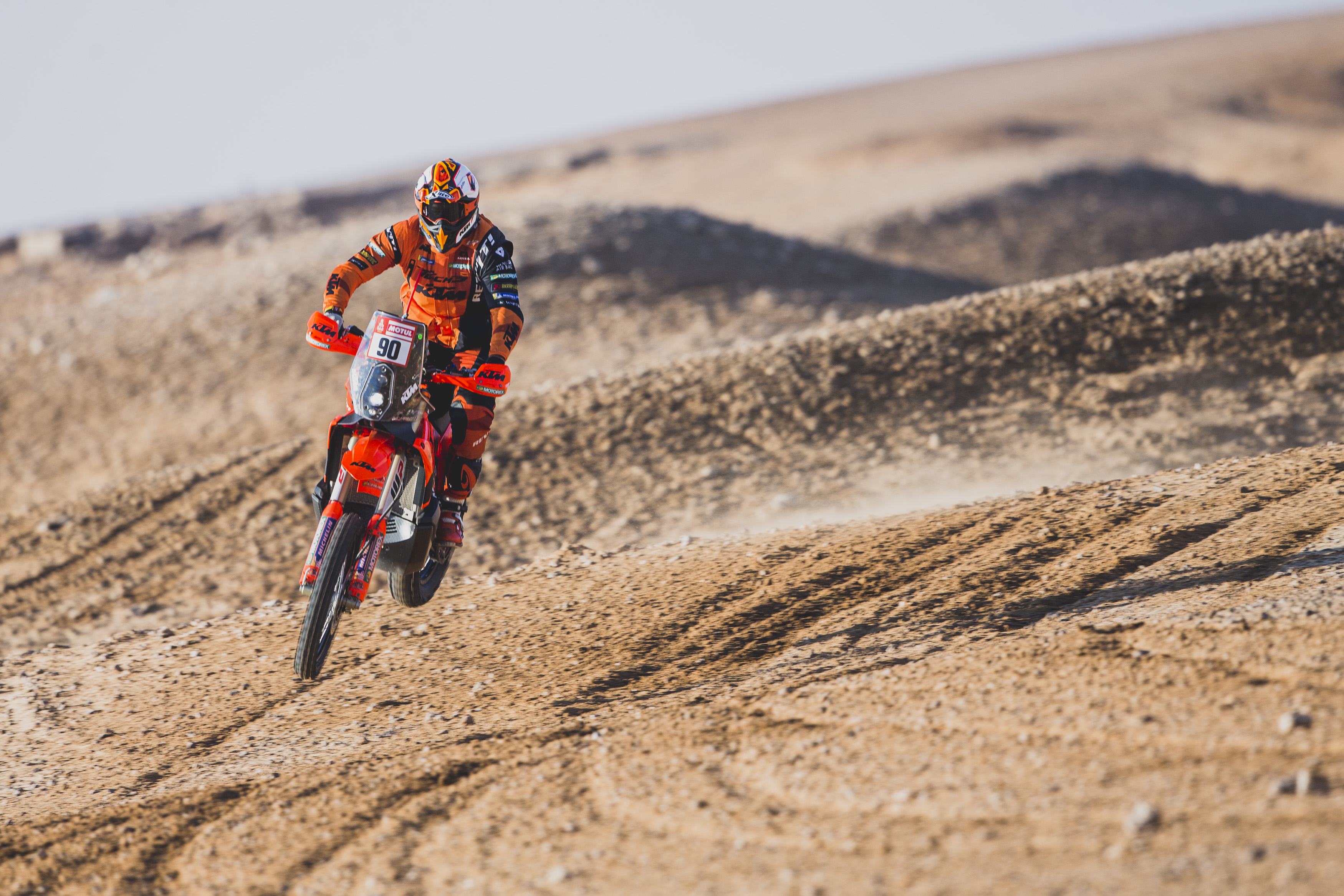 Listening to Petrucci speak about the Dakar, it is clear that the 2022 debut has not at all satiated his hunger – he "misses it a lot".
"I felt free there. Inside here, inside MotoGP, it's the biggest level of competition but you are quite locked in. You don't know what's going on in the other other side of the garage – it's a different bike, another brand, another manufacturer and you can't even look in.
"At the Dakar, you can see the KTM, Honda, Sherco, Mini, Audi. You can watch how they do everything. And especially the sense of freedom you have riding the bike.
"It's so tough, so dangerous – you can die every moment. But I felt free. Me and my bike, just alone.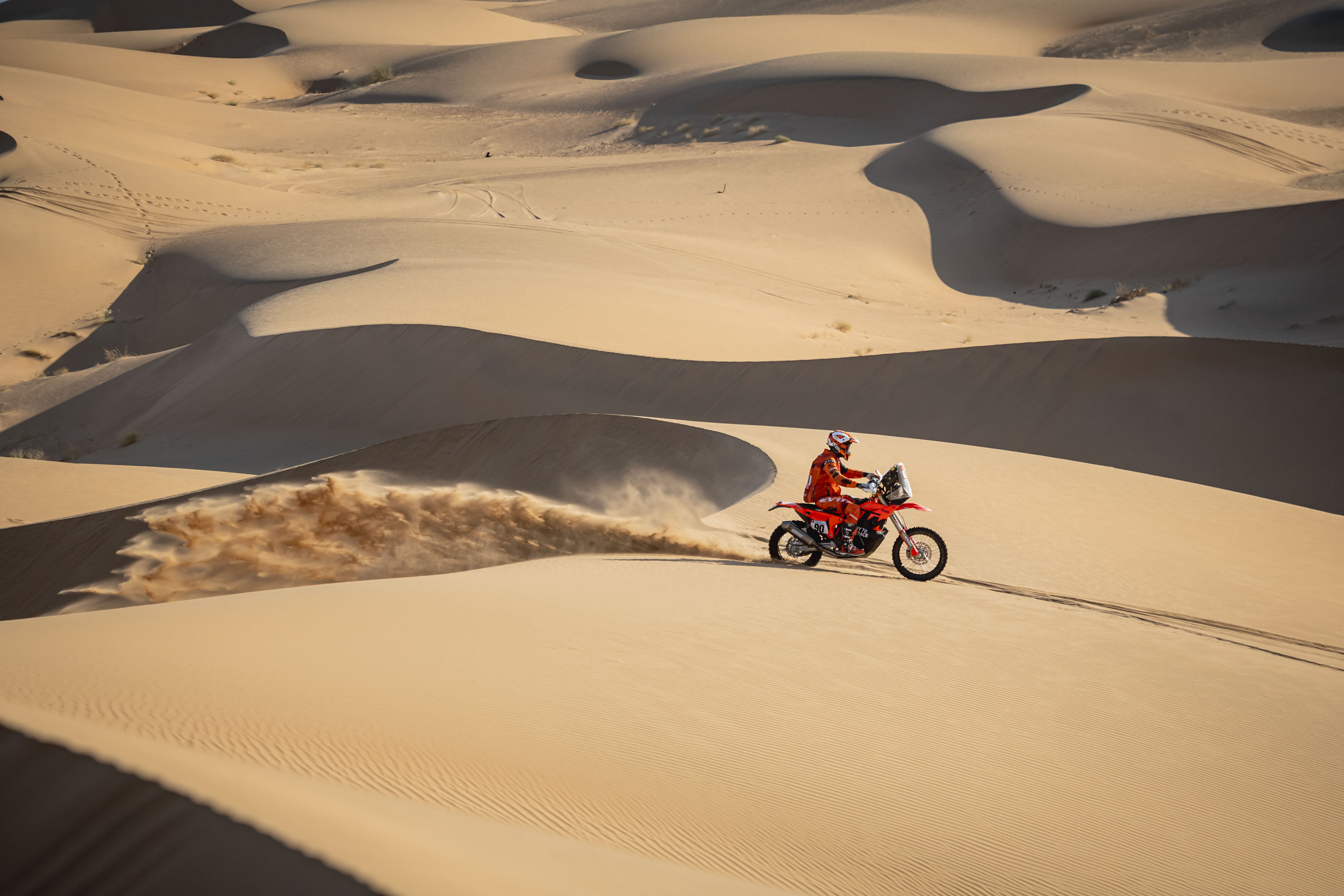 "In a MotoGP race you have maybe one chance to pass a rider in front of you; you have to keep the throttle open and pass the guy. At the Dakar, you have maybe 1000 times per hour where you can keep the throttle open but where you have to close it because you never know what is coming after the crest, after the hill, after the dune.
"For me the main difference was to not see what is coming after and to close the throttle. Maybe you think 'I'll keep it open' and for 1000 times you could do it, but then there's one time when you see and think 'oh f***.' To do that for almost 10 hours a day for two weeks is something that blows your mind.
"Apart from the physical thing, because I wasn't really fit but you manage, the mental thing means you can never be relaxed – and I miss a lot that feeling."
Back to MotoAmerica?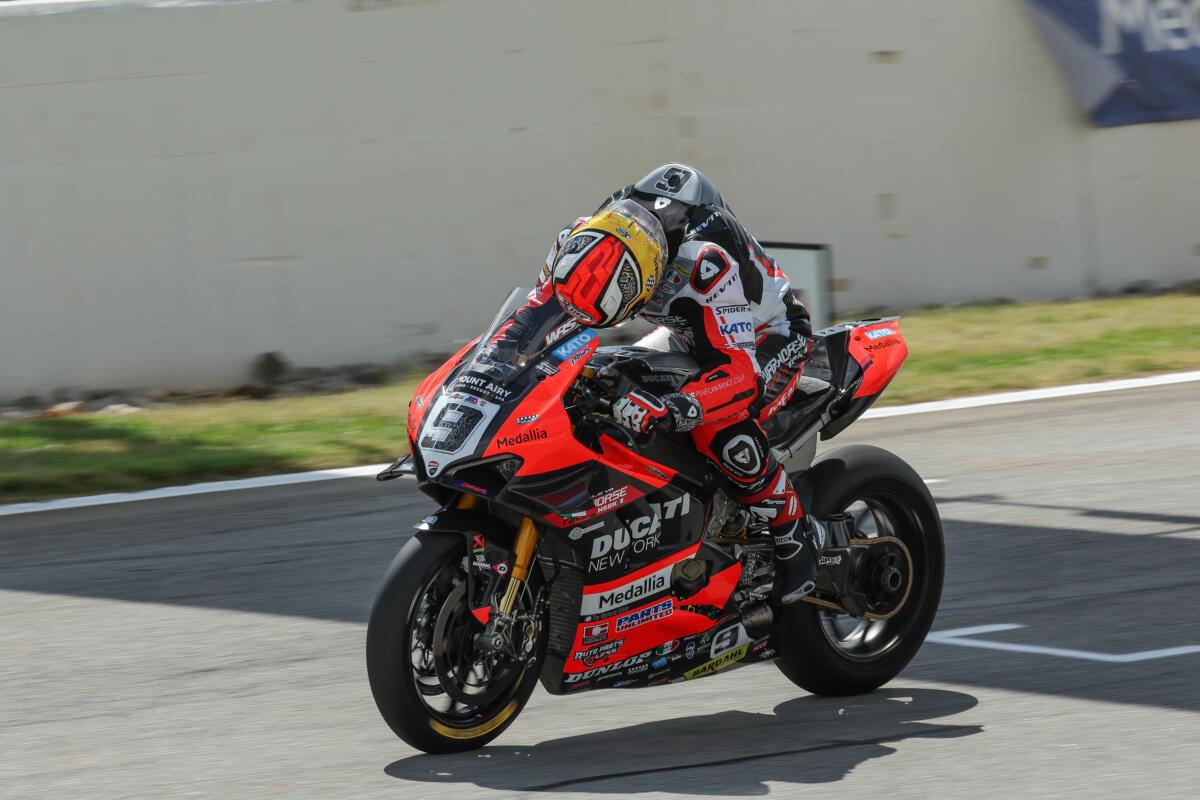 When Gagne sealed the MotoAmerica title in the season finale over Petrucci, he acknowledged there had been an extra motivation. "It was amazing being able to race with Danilo," he said. "That guy is a world-class racer. I don't think there has ever been anybody that I wanted to beat more, just because of his resume.
"He's a MotoGP guy, a MotoGP winner. I don't know how many of those we've had here in the States, so I wanted to do right and protect the home turf here."
That status is something Petrucci felt, too. "They were so proud to have me there, and they were so committed to beating me. When they saw me, they saw red, and from the first moment on in Austin I understood that it was me against them.
"But in Austin, everything was so different because I was in the MotoGP paddock and I was so happy to see everyone. I won the two races quite easily and I thought 'this is going to be the best year of my life.'
"But from that moment on, everyone started to scare me, to say 'you've still not seen the real MotoAmerica'. I thought 'oh come on, what can be the difference?'."
The difference proved to be a "matter of fear". Away from the MotoGP-homologated COTA, MotoAmerica's status as a national series shone through in the calendar – with Petrucci loudly critical of the safety aspects at Virginia International Raceway and acknowledging that the danger was a persistent consideration.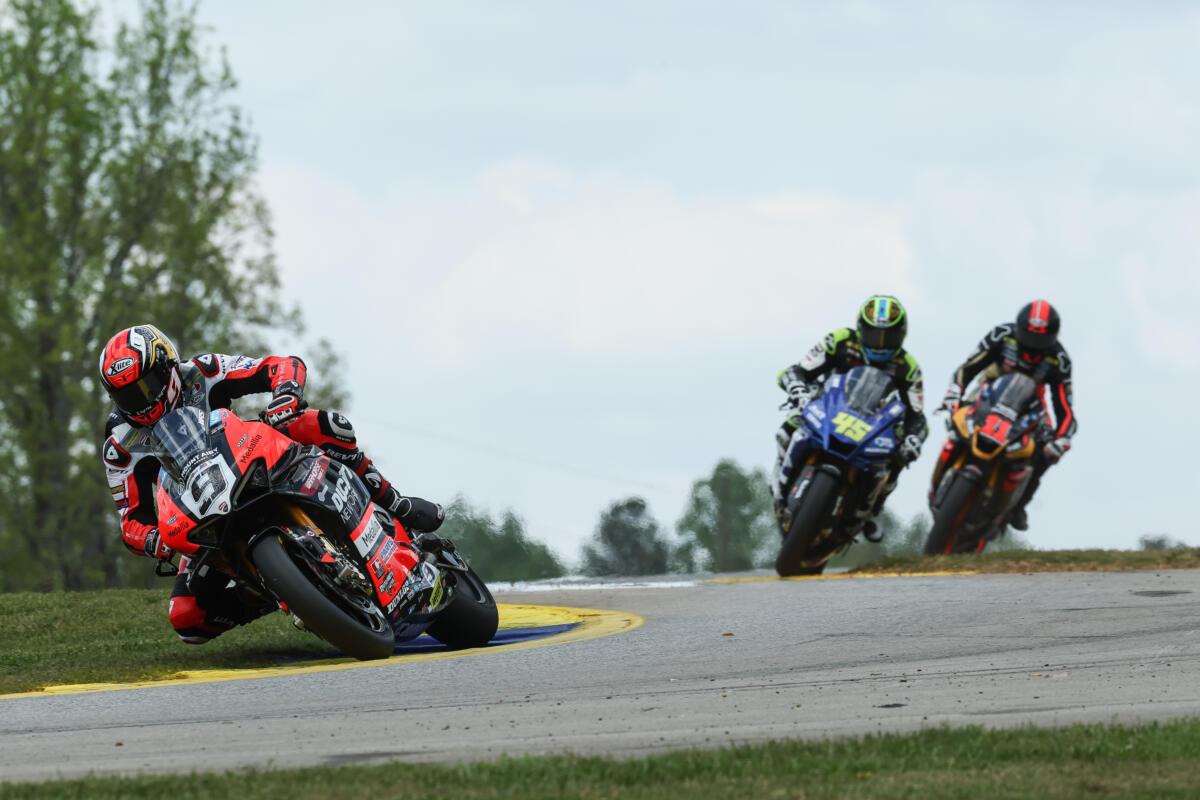 "I understood that it's so similar to BSB [British Superbikes] – the tracks are so different, the surface is so different, the safety is so different.
"It's like racing 40 years ago, where you also have to manage the fear to go close to the walls. I started to complain about the safety, about the track conditions, because the walls were so close and the pavement so bad that you cannot ride the bike as you want.
"But for them, as we've seen many times in Austin, it's not a problem. They would say 'the track is more difficult' and I would say 'no, the track is not more difficult, it's more dangerous.' You have to go inside a corner 20km/h less because it's full of bumps, and if I try to ride the bike like I want, then I would crash and hit the wall. I struggled a bit with this."
This is bound to be one factor influencing his MotoAmerica future. Another is whether he can get a more competitive package than a bike he felt "wasn't really prepared" and not gelling with the Dunlop rubber.
"We went in March for testing at Misano, and I was riding so slowly compared to the Pirelli guys.
"I went back for World Ducati Week and they allowed me to test Alvaro's [Panigale] bike with Pirellis, even with Alvaro weighing 30kg less than me, I was faster in six laps than after two days.
"It was the most cruel thing racing in the USA and knowing that the potential of the bike was much more."