MotoGP title hopeful Aleix Espargaro escaped sanction for potentially impeding Fabio Di Giannantonio during qualifying at Aragon – despite the latter suggesting it was a "clear" penalty.
Chased by Marc Marquez at the start of his first flying lap in Q1, Espargaro immediately went wide at Turn 1 and forced Di Giannantonio to check up as he returned to the outside kerb and then the track – the incident immediately placed under investigation.
The incident that's under investigation! 👇#AragonGP 🏁 pic.twitter.com/BO9H4g1jlN

— MotoGP™🏁 (@MotoGP) September 17, 2022
Yet while Di Giannantonio's Gresini team lobbied for the Spaniard to be penalised, the stewards heard from Espargaro and came out with an official "no further action" verdict two hours later.
"I think in the last races he's doing some, let's say, not so respectful things," rookie Di Giannantonio said of Espargaro.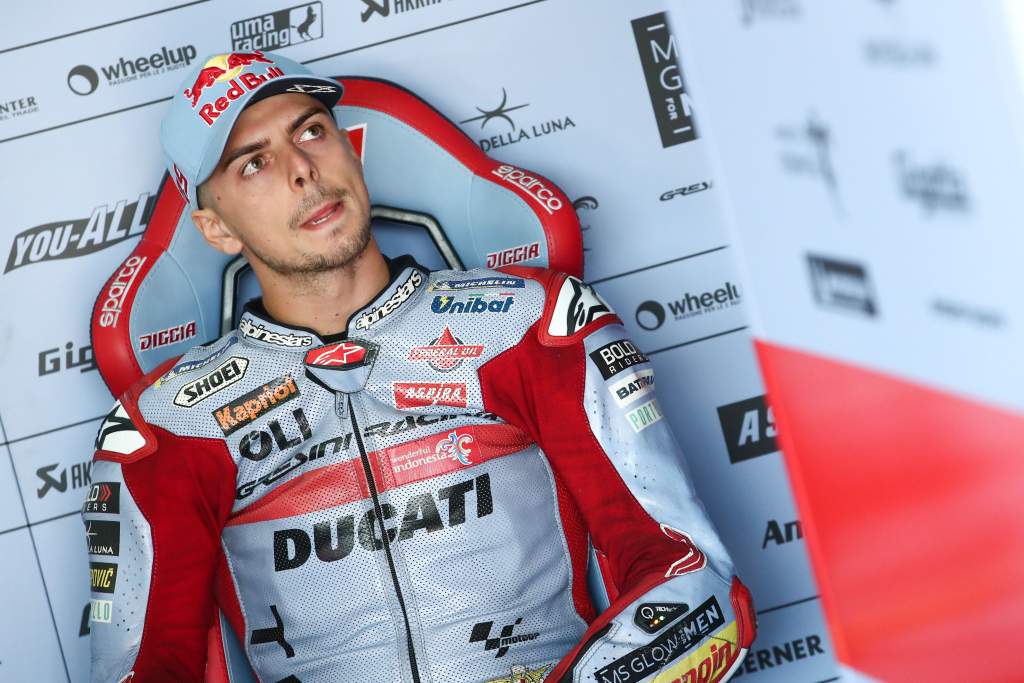 "For example this one is quite clear, he was in the middle of the line when his lap was [already] gone, and it was a dangerous situation.
"I don't know now what race direction decides. But from my side I had to completely close the throttle, if not I would go in[to] his ass.
"So… it was not a nice situation, honestly."
When it was suggested to Di Giannantonio that he himself had gone wide, he insisted it wasn't the case and pulled up the video of the incident.
"I was not wide – or not so wide to not finish the lap, that was my flying lap. If I want to go there [to that part of the track], I need to have space to go there.
"If your lap is gone, you have to be off the line. And the regulation says that if in qualifying you are in the line you have to be penalised."
Espargaro – who seemed to suggest that he didn't run deliberately wide at Turn 1 to shake off Marquez but rather made a mistake – argued that the line taken by Marquez through the corner showed Di Giannantonio had no case to make.
"We were lucky that Marc was also behind me, Marc was not wide, you could see Marc four or five metres inside, I was out of the racing line, and Diggia was behind me because he was wide as well like me.
And while Di Giannantonio felt that the stewards had no need to hear from himself of Espargaro, as "if the rulebook says you cannot do it, theoretically you have to be penalised and that's it, you don't need to listen to me or to Aleix", Espargaro welcomed the fact that the stewards waited to hear his side.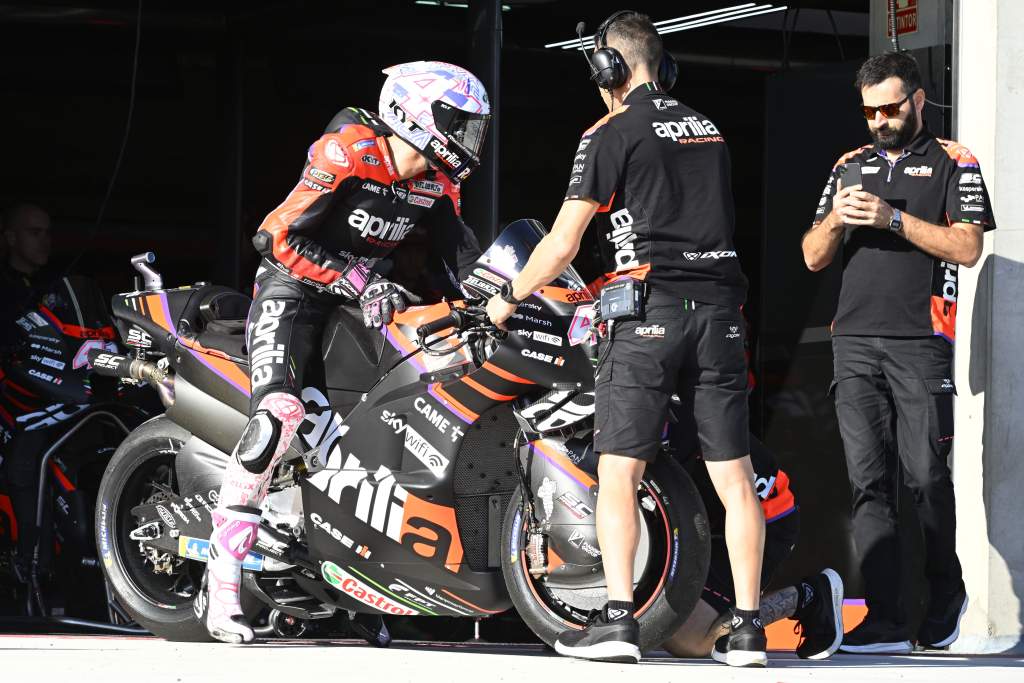 "I proved that I was really far from the racing line, and they [the stewards] really understood. They just wanted an explanation – and I think it's good to talk with them.
"I hadn't talked with them for two years. I mean, it's good to talk, to give the explanation – and then, if they want to put a penalty to me, it's okay. But it's good to listen to us, to have feedback with race direction, it's good."
Pressed on why he'd described Espargaro as being "not so respectful" as of late, Di Giannantonio pointed to the move the Spaniard had launched against another Ducati rookie in Marco Bezzecchi during Sunday morning warm-up last time out at Misano.
Practicing some big moves for later on 👀#SanMarinoGP 🇸🇲 pic.twitter.com/v2OovrsROO

— MotoGP™🏁 (@MotoGP) September 4, 2022
"For example yesterday in safety commission there was a little sketch between Bez and Aleix for the warm-up, I think, in Misano, and what happened was clear was an unrespectful thing, I think, with Aleix.
"For sure in that case there is not a rule where you have to penalise Aleix, it's just good sense for the rider not to do these things."