Honda MotoGP rider Marc Marquez has indicated that he's had to effectively sacrifice a key session of his comeback weekend in Aragon for the sake of 2023.
Marquez will start his first MotoGP race since May's Italian Grand Prix at Mugello in 13th, having missed out on making the second qualifying segment by just half a tenth.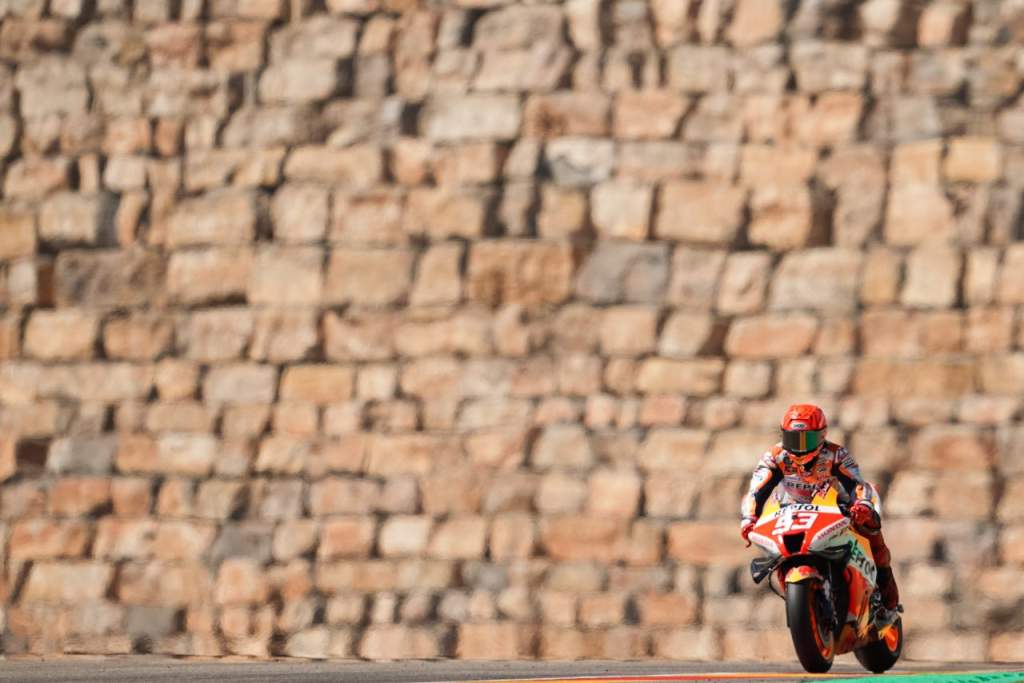 This came after he couldn't secure an automatic Q2 spot in Saturday morning practice, having crashed and ended up two tenths short of the top 10.
"Today we came back to the real moment, that's the first thing," he said. "It's true that in FP3 problems started – like yesterday I said to you, in the morning I don't feel well, so this morning I didn't feel well with the bike.
There was no saving that one this time! 💥

No warning at all for @marcmarquez93! 😮

Thankfully he was immediately up to his feet 👍#AragonGP 🏁 pic.twitter.com/k0PhHDKN1R

— MotoGP™🏁 (@MotoGP) September 17, 2022
"I crashed with the good bike, the other bike was not the one that I preferred. And then I couldn't improve the laptime."
Marquez was then much more satisfied with how Q1 went even though he didn't advance.
Having tried to tow Aprilia's Aleix Espargaro, he was ultimately forced to do his lap alone on the opening run but did enough to take the initial lead, which he said was a "good sign" as "in the first part of the season it was impossible to ride alone, and now I rode alone and I did a good laptime".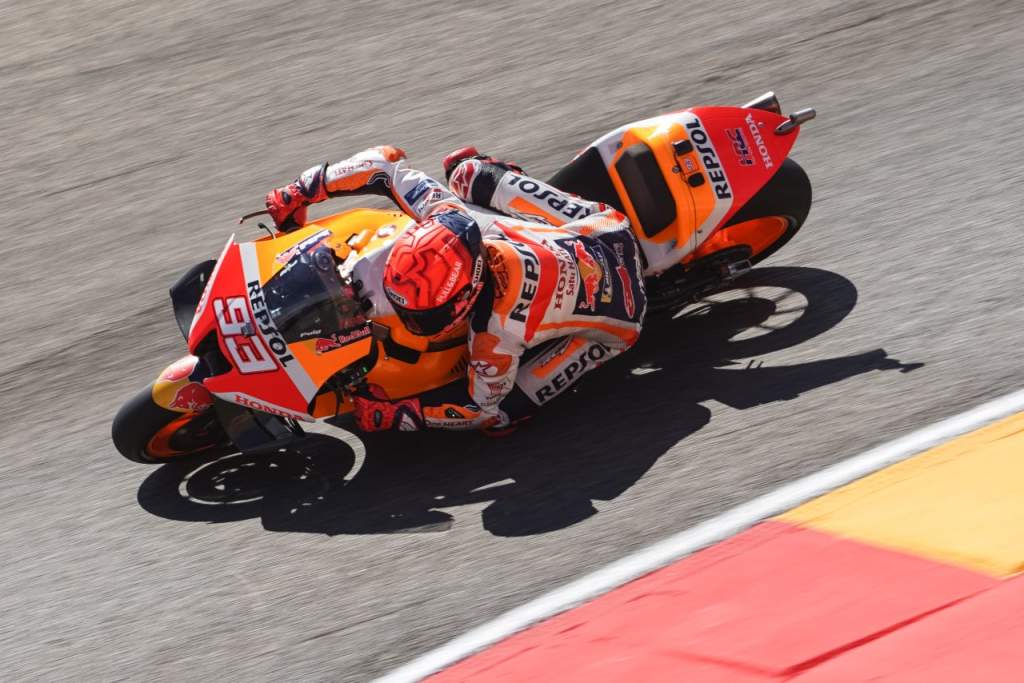 Yellow flags interfered with his second run and consigned him to third in the session, but Marquez argued: "If you have the speed, you are always lucky. If you don't have the speed, then you are always unlucky. Today it's true that still we don't have the speed of the top guys."
However, he then also pointed to the fact that the "crucial" practice session that could've been used to bypass Q1 altogether had to be used for longer-term bike development purposes.
"Yesterday we analysed everything and we found the best bike, our base.
"Then this morning that base was not in the garage, because it was important for Honda, in this circuit that especially here in Motorland [Aragon] I have the feeling of the bike, and I know what I need to be fast, it was an important circuit to try things.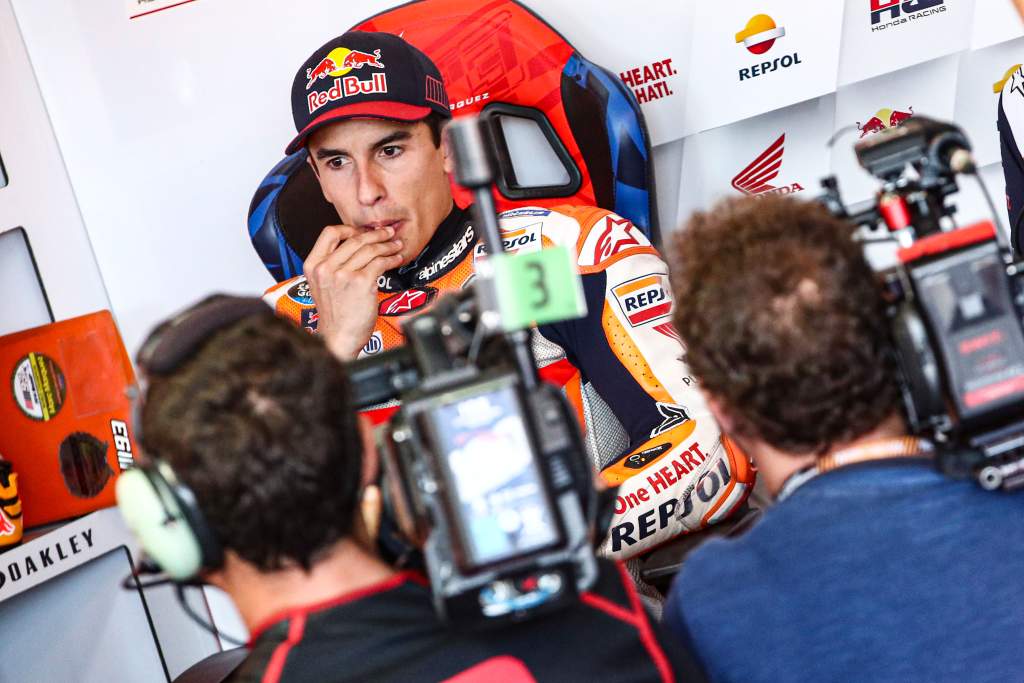 "And this morning we tried a good concept for Honda – that in the end was not working like we expected, but it's important to try that concept to understand the way for the future, for 2023.
"And then I knew that FP3 is crucial for Sunday's race. If you are out of QP2, then QP1 everyone is riding very fast, it becomes more and more difficult – but FP3 was for Honda, FP4 [right before qualifying] was for me."
Among the changes on his RC213V between FP3 and FP4 was the use of the new aluminium swingarm that Honda has had outsourced from Kalex (on the bike in the below picture).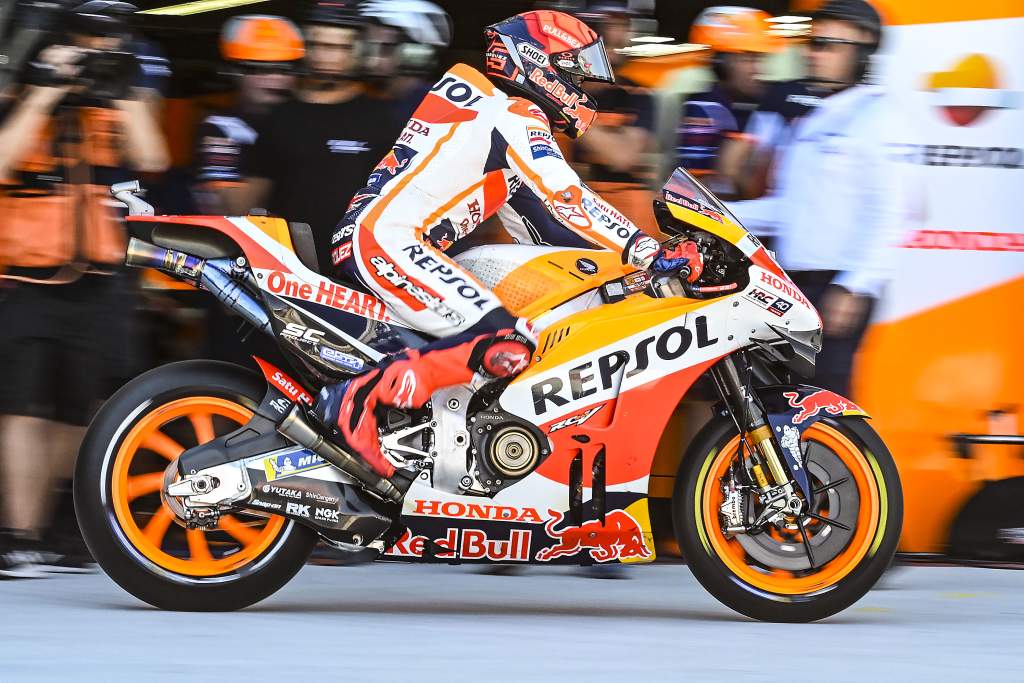 Marquez wasn't sure he'd be trying it coming into the weekend, but has come around.
"The swingarm, I cannot lie – you can see from outside, and as you see, if I did the qualy with the aluminium one, it's because I feel better. But that aluminium one, if you check in FP3, was not fixed in any bike. Because we were working for another thing."
Marquez has no expectations for Sunday's race given he did "no long runs since Mugello" and will have to focus on "managing myself" in terms of fitness rather than managing the tyre.
"I already understood in free practice that to overtake is very difficult," he also said. "As soon as you brake behind another bike, the aerodynamic effects you feel a lot. And then you cannot stop the bike."