Aprilia rider Aleix Espargaro and Red Bull KTM's Miguel Oliveira have been left in agreement about the cause of their close call at Mugello's scary start-finish straight crest during the opening Italian Grand Prix practice – with the rivals both pinning the blame not on each other but on the effects of turbulence and dirty air caused by MotoGP's extensive aerodynamics changes in recent seasons.
Oliveira was forced to go grass-tracking at well over 200mph (320kph) across the rise on the straight, after getting pushed wide by Espargaro as the Spanish rider overtook him in the slipstream, only just avoiding what could have been a horrendously fast crash.
Easy lads, it's only FP1! ⚠️@AleixEspargaro and @_moliveira88 get a little too close for comfort over the crest into turn 1! 😱#MotoGP | #ItalianGP 🇮🇹 pic.twitter.com/sIxWwAOiai

— MotoGP™🏁 (@MotoGP) May 27, 2022
However, rather than hitting out at the Aprilia rider afterwards, Oliveira instead insisted that it wasn't a case of anyone doing something wrong, but rather just something caused in part by the nature of the Italian track and in part by the way that modern MotoGP machines behave at very high speeds.
"Aleix got sucked into my slipstream and at the same time it pushed me out," the Portuguese rider explained. "It's quite a particular place because we're over a crest, there is a wall, the wind is all of a sudden coming, and we have a little bit of an angle. It's borderline, and I'm all for innovation and performance and all of this, but when these things happen it makes you reflect a little bit.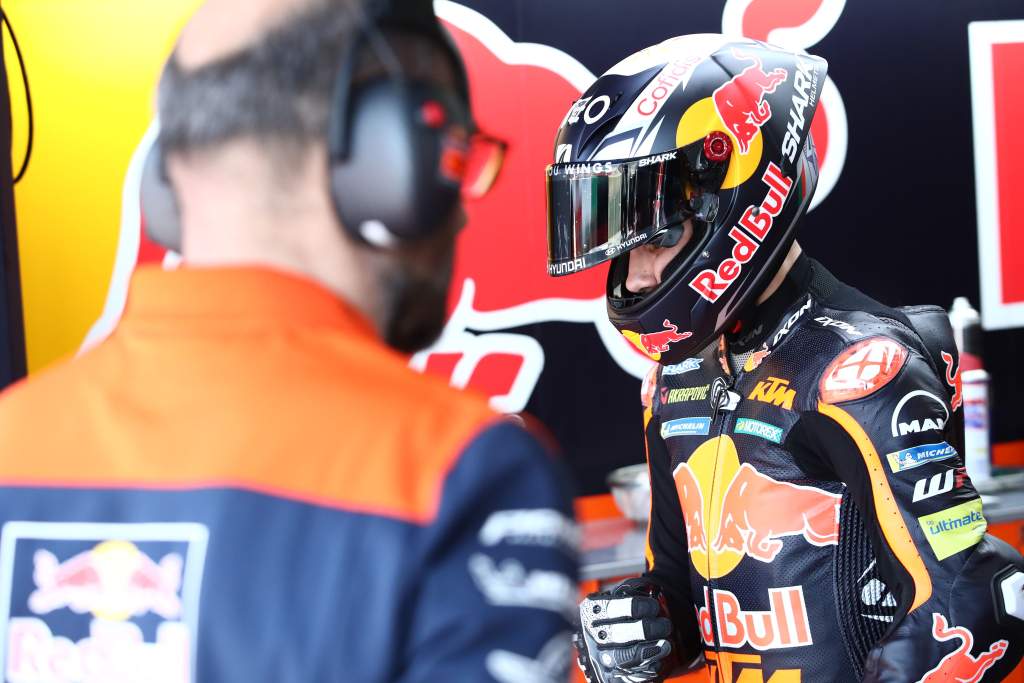 "He also got sucked in. It's the aero thing. The turbulence created by the aero thing, the dirty air. When you catch the slipstream, you want to take it and get off it as quickly as possible, so that you're not in the dirty air. You try to go to clean air immediately.
"But what he did is stayed out, in the critical part. He needed to point the bike to make the corner, he got sucked in, and that wind really pushed me out. It was a combination of bad things."
Espargaro confirmed that the pair were able to have a conversation about it and came away in agreement about what had almost gone so wrong for them.
"We had a long debrief now and my feeling was I was not close to him," he explained, "but I was so close to him. So I said to him I'm very sorry, maybe I didn't calculate very good – he said 'no, no, you were very far from me, but the wind pushed me out of track, and if it was not asphalt there it would've been very dangerous'.
"It was like a left[-hand] corner, I turned but I was far from him but the wind pushed me on the left and the same wind pushed him out of track."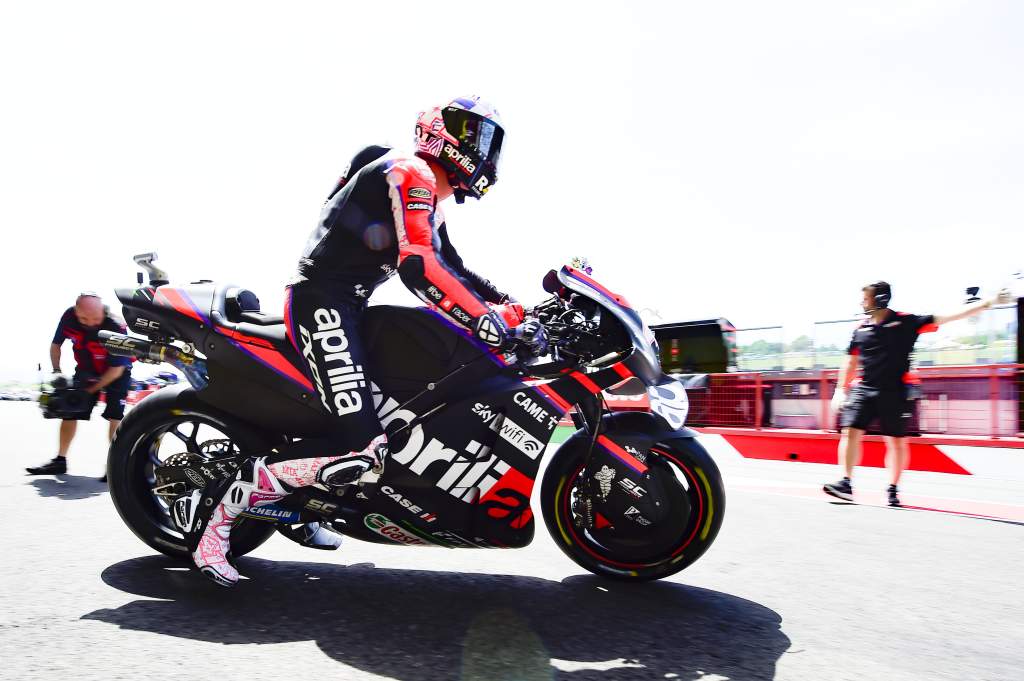 And, as far as Espargaro is concerned, that means that there is only one solution that can be taken for the future – removing the famous kink on Mugello's straight and making into a true straight.
"The wings give us a lot of stability there," he explained of the fastest point on the MotoGP calendar, "now it's very easy to pass there at 350, 360, there is no problem, the bike doesn't move. But when you follow another bike and you have turbulence, the rider really cannot control the wind at that speed.
"So we have to be very careful for the race, and for me this place has to be modified for the future, 100 percent, no doubt. It has to be straight."
However, according to Oliveira, there's a bigger (if even more radical solution) to the problem – removing the wings entirely and returning to a more traditional shape of motorcycle in the future.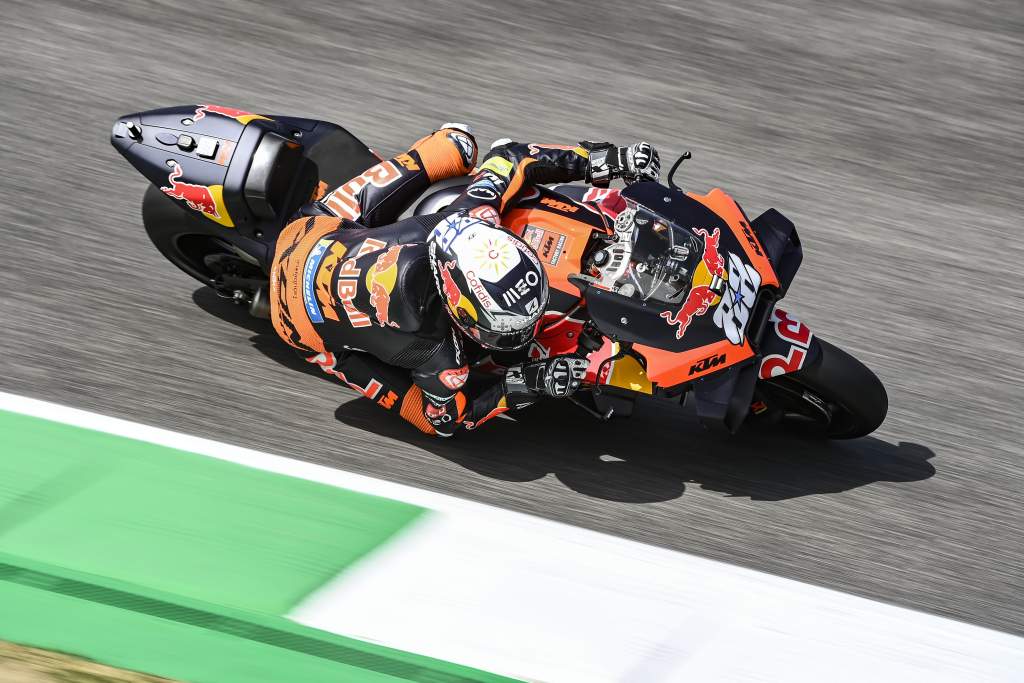 "Should we really be with the wings, what do they really bring to the show, are they really that much better, are they a little dangerous?" he asked. "We need to address it quite seriously, but I think it needs to come from all the riders and not just one guy from time to time.
"Right now, there's this aluminium box and the wings must fit in it. But we need to go to zero, and limit it, or the rules won't do any good.
"We raced many years without wings, and you would use less power, manage it more, be more of a rider – but I think this is a good solution."
But while that might address the problem more than, say, modifying the track would, it's also not something that can be done quickly, according to Espargaro. Coming from relative obscurity only a decade ago, aerodynamics are now an integral part of MotoGP R&D, and the Aprilia rider says that the result is that banning them would now take time.
"It's not that easy," he stressed. "I'm not against removing the wings but you cannot say 'remove the wings!', the bike will completely changed. More than if we change Michelin [tyres] for Bridgestone. A lot more. For me, if we ban the wings – it has to be something with two years in advance.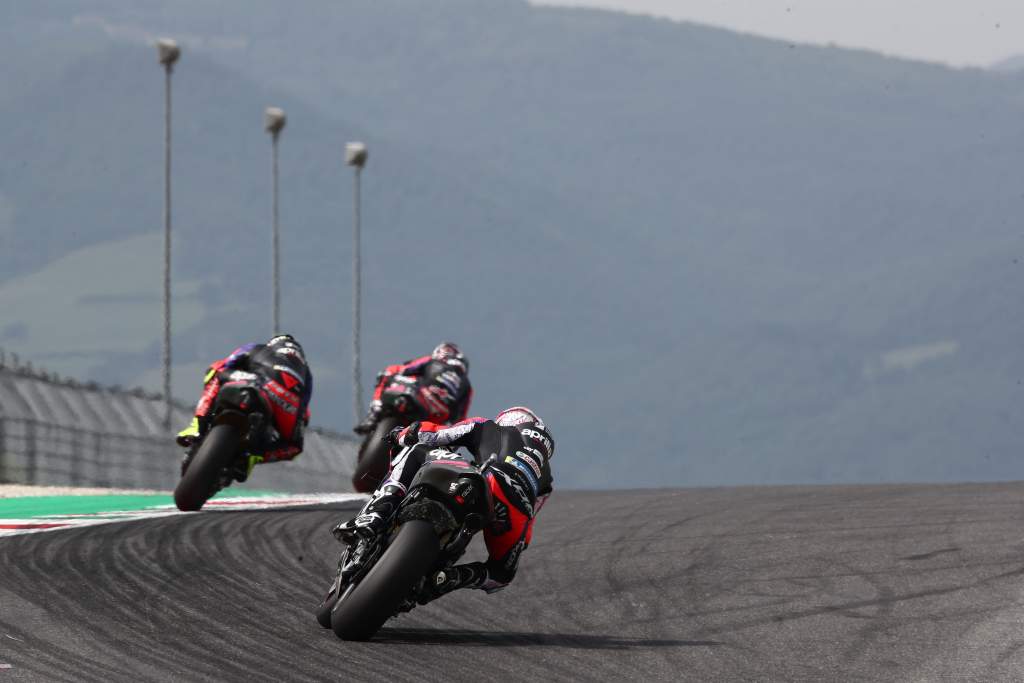 "The bike will completely change. The power delivery, the setting, the geometry. Everything. I remember in the past here, with the MotoGP, even with the Ducati of Pramac or the Suzuki, in corner 1 was very very difficult – and now it's very easy with the wings.
"So it means we can go back for sure, but it's something that needs time."