The base facts of Joan Mir's first race weekend as a Honda MotoGP rider paint an unkind picture – didn't make Q2 through practice, didn't make Q2 through Q1, rammed into Quartararo in the sprint, trundled to 11th place out of 14 finishers in the main race.
That is not a record that suggests a clear upgrade on the riders that struggled in that seat in the last few years – the latter-years Dani Pedrosa, the this-isn't-gonna-work Jorge Lorenzo, the rookie Alex Marquez and the dream-move-gone-wrong Pol Espargaro.
The thing is, while it clearly, demonstrably wasn't a good weekend, you can talk yourself into it being one – because results aren't what matters for that side of the Honda garage right now.
What matters is a more general proof-of-concept of Mir/Honda, and that proof was there. In the weekend-opening practice session, he was second – and he was then sat third when the red flag came out in practice two for Espargaro's nasty crash.
That red flag delay, coupled with an earlier red flag delay for a power outage, brought the temperatures well down, and Mir didn't manage to warm his tyres enough. His previous lap – done, it is important to note, without a tow – stayed his best, and wasn't quite enough to breach the all-important top 10.
"We started really good on Friday," Mir said at the end of the weekend.
"I had the pace to be in the top five, on paper. And then in qualifying I wasn't able to go through Q2.
"And then that changed all the weekend."
By the end of Friday he was the quickest Honda, and probably by more than the timesheets showed. Overnight, that did seem to change as Marc Marquez got to work.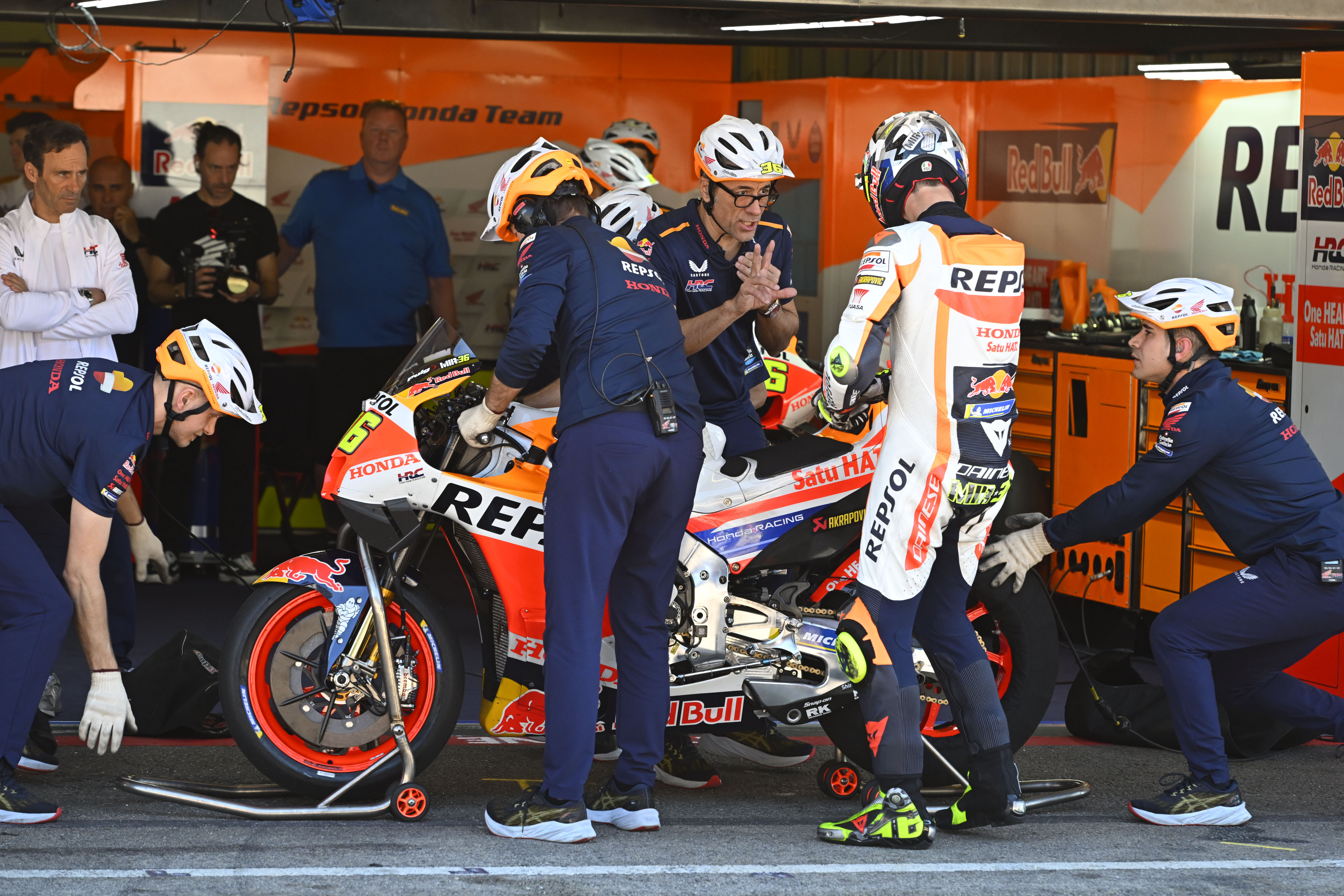 As Marquez would later acknowledge, he had taken on board riding style feedback from his team after struggling from Friday. That feedback came from the data of Mir and fellow Suzuki convert Alex Rins – two riders who Marquez has been talking up as reference points. He also moved more towards their electronics set-up.
All that clearly worked because Marquez was much-improved on Saturday. But he also displayed his trademark ruthlessness by towing none other than Mir in Q1, getting a spectacular laptime out of it, then staying in the garage to save tyres.
"I will try to follow somebody [going forward]," said Mir after.
"At the moment we don't have the package to make the laptime alone. This Marc understood. If we don't have the package to do it alone, we need some help.
"And this is what I will try to do in Argentina, to find some help in qualifying, to qualify in the top five. Then, the pace, I'm sure we'll get it."
The positives basically dried up from there. In the subsequent sprint, Mir felt in a rush – also to make up for a "bad start" – and speared into Quartararo, having attempted a move that looked like he thought he was still riding the corner-speed demon Suzuki.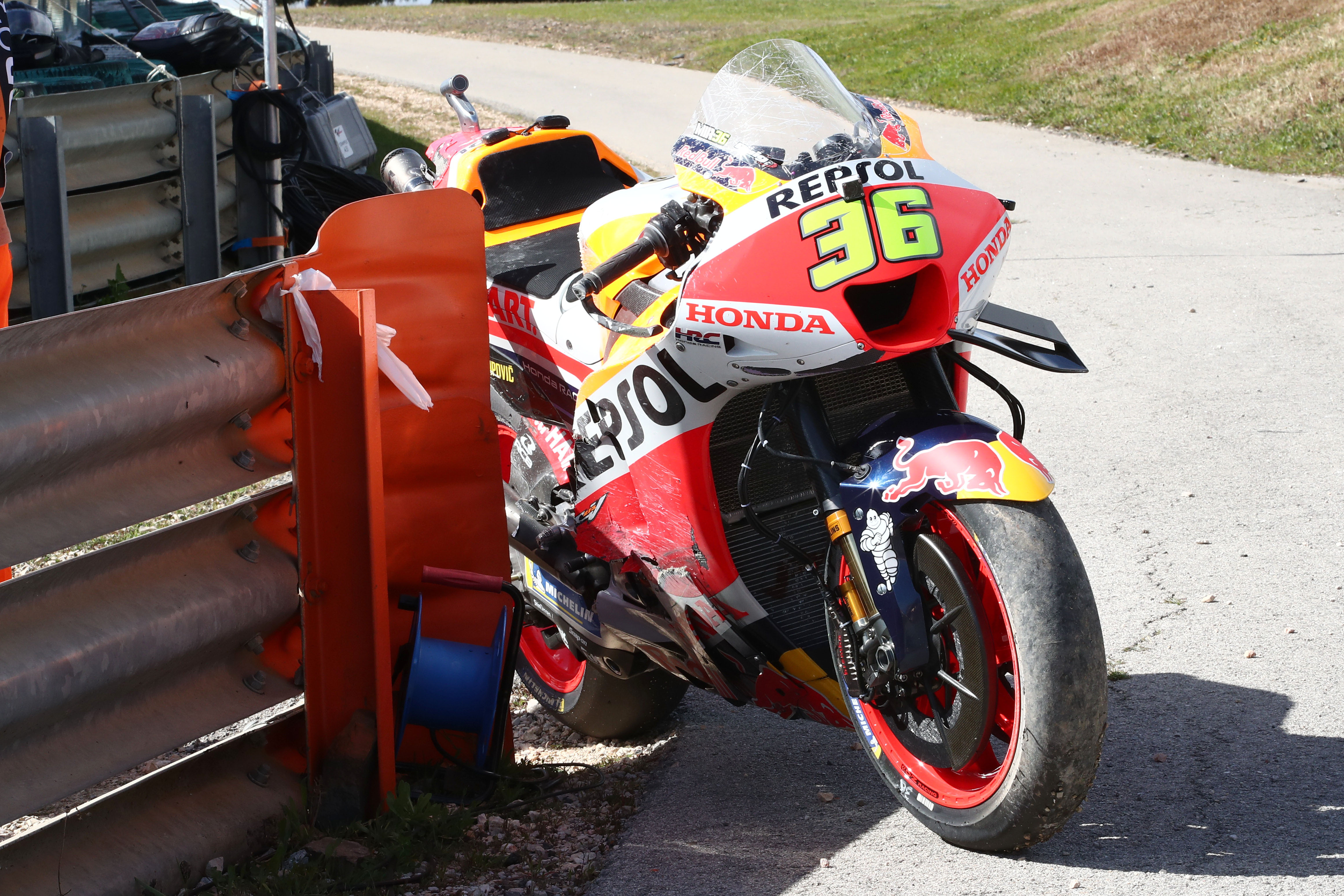 That resulted in not only a retirement but in a somewhat controversial long-lap penalty serving which sent him from ninth to 15th – which, through a pass on Takaaki Nakagami and attrition, turned into 11th at the end.
"The first laps were very chaotic. Somehow I managed to stay there, in P9 before the long lap – so I was more or less in the front group, everything OK, but then when you lose three-four seconds for this reason, and then you have to overtake again five riders more, in this track without grip, it's very difficult."
In an aside, that early-lap approach got him hilariously lambasted by Aleix Espargaro of Aprilia.
"Joan Mir today – the first and second lap of Joan Mir were crazy. Right, left, overtaking, he touched me – with a long lap penalty. What the f*** was he doing?! Man, relax, you will lose five seconds in the next lap [by serving the penalty].
"What the f***?! It was something, I was behind watching him, saying 'he doesn't understand anything at all'. You will lose five seconds, why do you want to risk again?"
Ultimately, though, Mir doesn't really blame the long lap as much as he blames another tyre warm-up issue. This, he says, went undiscovered before the race because he hadn't previously done a long enough run of consecutive laps on the Honda – too busy with test items and set-up changes in testing and retiring way too early in the sprint.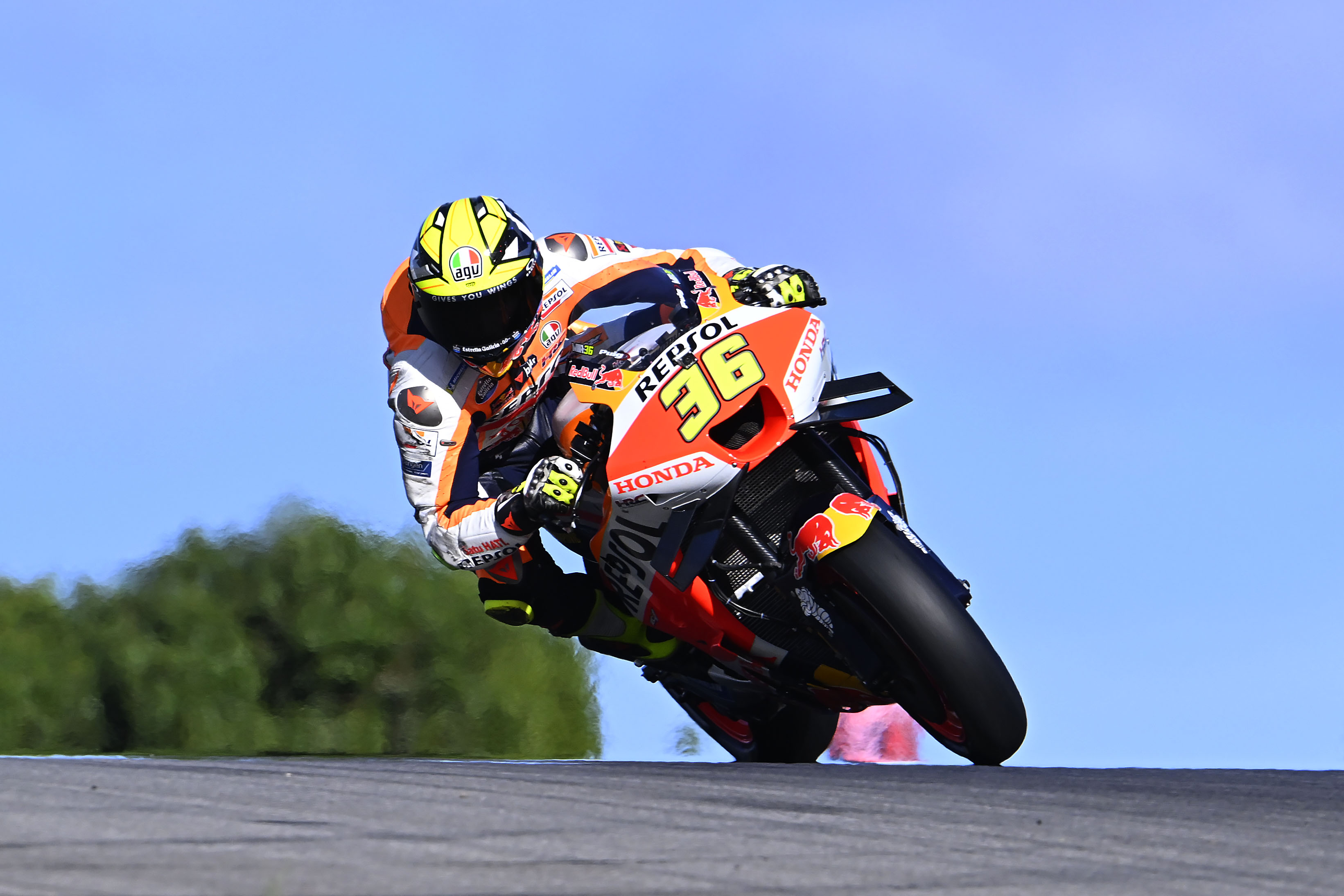 "The bike was just spinning a lot, I wasn't able to go into the corner with a lot of brakes because the rear was coming around, so, the tyre was not working," he explained.
"Naturally, it's something you can solve easily. If you don't know it – what can you do?
"I'm sure that if we were able to make the sprint race, we could understand a lot of things. The sprint race is – OK, it's very important but it's more important to prepare the race for Sunday. In this format, it's what I see.
"Today, when I started to have this problem, I said to myself – 'Joan, we have to finish the race, we have to score points, to give this information to the team, [so that] this doesn't happen again in Argentina, what happened today'. And that's it. It's part of the process, first race, different bike, first time that I made 25 laps in a row with this bike. What d'you want?
"We are on that learning process. It's still not our time."
Beyond the issues, the on-track errors and seemingly excessive aggression are something you can criticise. It's why I have no qualms with my colleague Simon Patterson placing Mir 16th of 21 in his post-race rankings. And it's also fair to have some doubts over how much Mir's flashes of pace will carry over to the tracks that weren't part of the pre-season schedule.
But the glass-half-full view of Joan Mir's Honda debut, for all its rough edges, is very tempting indeed.