Marc Marquez deserved more than just a double long-lap penalty for causing the Portuguese Grand Prix pile-up, but if that's now the guideline punishment for such incidents than MotoGP needs to make that clear – argues Simon Patterson in this opinion column.
Let's not beat about the bush: what we saw from Marc Marquez during Sunday's Portuguese Grand Prix was nothing short of reckless.
Coming charging into the Portimao circuit's Turn 3, he didn't at all look to be in control of his Repsol-coloured Honda, and the result was inevitable: a high-speed collision with Miguel Oliveira and Jorge Martin that took one of them out of the race (and Marquez too) and left the other with a broken bone.
Handed a double long-lap penalty afterwards for the move, Marquez got away lightly. Very lightly. It looked for a while like he may not have to take that penalty too until the FIM moved to reissue the penalty. It obviously wasn't an intentional move – Marquez is aggressive but he's not stupid – but the severity of the consequences mirrored Taka Nakagami's lunge into the opening turn at Barcelona last year that left Alex Rins with a broken wrist.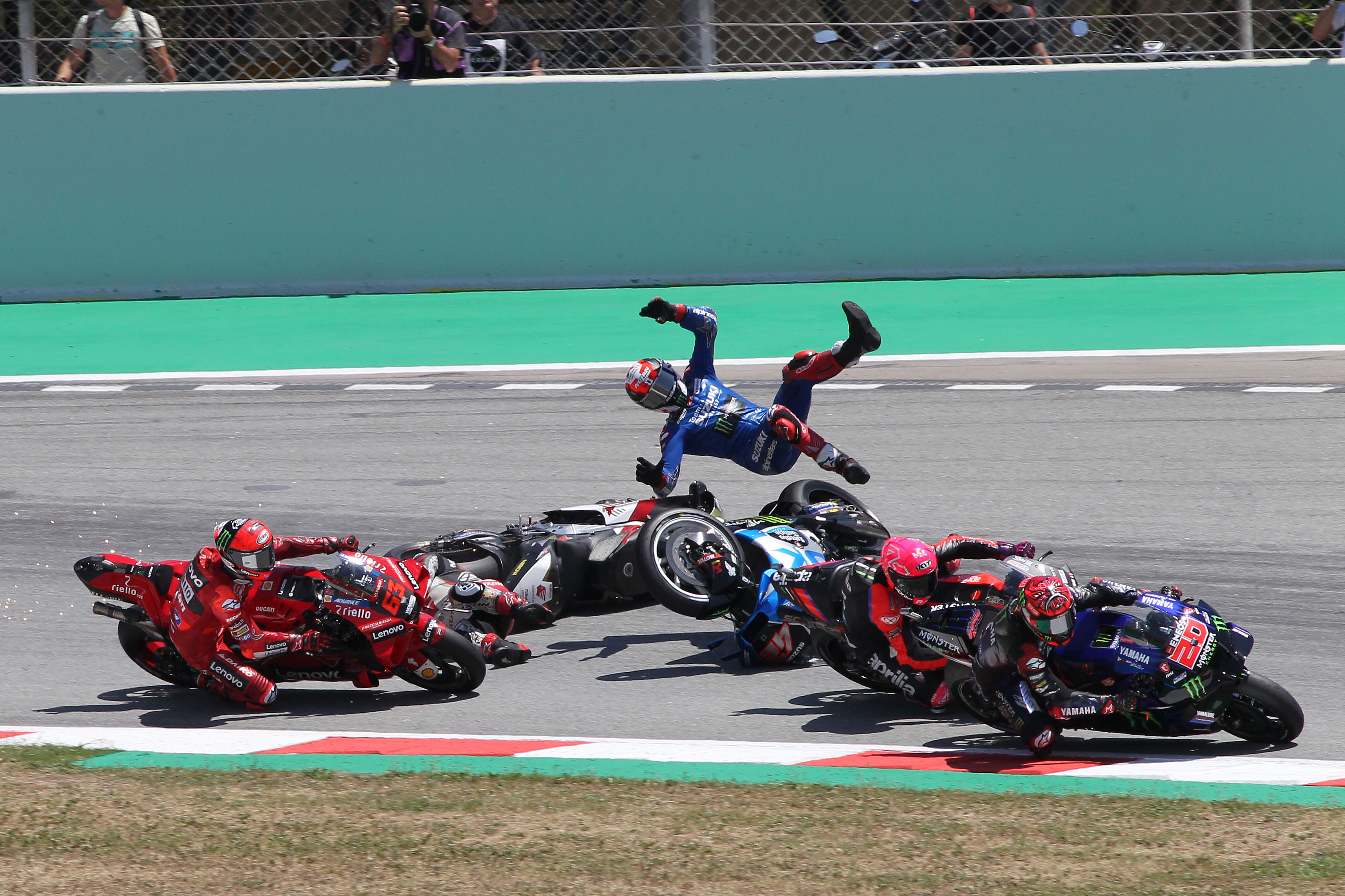 Marquez downplayed his intentions afterwards, explaining away the crash as not an overtaking attempt gone wrong but rather a locked front tyre as he tried to brake hard – but also conceding in the same breath that such hard braking is the only way to make up time on what is currently an under-par Honda.
"We are braking so late," he said. "If you don't brake late like this, then you finish 11th, 10th, 12th. It's the only way. But… I was not attacking. Because we were not riding very-very fast and I was not attacking."
In the past, we've seen very different standards of sanctions for reckless riding. The stewards completely failed to sanction Nakagami for his Barcelona lunge last year, and, given that Marquez was arguably even more out of control on Sunday, the double-long lap is maybe a welcome escalation.
But at the same time, we've seen such reckless action penalised far more harshly than with any number of long lap penalties in the past, albeit mainly in the lower classes. The one that springs to mind first and foremost is Sam Lowes' fall at the 2020 Styrian Grand Prix, where in a similar loss of control he went down and took Somkiat Chantra and Jorge Navarro with him.
💥 Even MORE drama! @SamLowes_22, Somkiat Chantra and @Jorge_Navarro9 all end up in the gravel at Turn 3! 😮#Moto2 | #AustrianGP 🏁 pic.twitter.com/PbfS0qsfhw

— MotoGP™🏁 (@MotoGP) August 23, 2020
Lowes was handed a pitlane start for the next race due to the "seriousness" of his offence – a fair penalty that essentially sabotaged his chances of a decent result, something that two runs through the long-lap loop doesn't necessarily achieve.
Not as severe as the race ban that many (including Aleix Espargaro) have been calling for in Marquez's case, it nonetheless sent a significant message, and to date has prevented any further trips to the stewards' room for Lowes.
There was also Ivan Ortola's penalty in Moto3 from just this weekend – the same sanction as Marquez, for a move that you would not consider to be of the same level of severity.
Ah that's a huge shame! 😢

Hotshot rookie David Alonso gets the harsh end of the stick after contact with @IvanOrtola48! 💥#PortugueseGP 🇵🇹 pic.twitter.com/Xdrh4Cuy0Z

— MotoGP™🏁 (@MotoGP) March 26, 2023
But, look, it's no surprise anymore that MotoGP's stewards act in an inconsistent manner. That's the way that things have been for a long time now, and in the words of one past world champion on Sunday evening, the only way that it's going to change now is by replacing the panel headed by former racer Freddie Spencer.
But even if we can accept that we're not going to get a new judiciary panel any time soon, there's one thing that they can do that would at the very least make things a little bit easier for fans, journalists and even riders to understand: be more up front and open in how they go about their business.
That's another complaint that isn't exactly new – but it was given fresh impetus on Sunday evening by Marc Marquez's somewhat surprising revelation, backed up by other riders, that the penalties for 2023 were essentially reset on Thursday in a behind-closed-doors riders' briefing that kicked off the current season.
"In the briefing on Thursday, on the rules, was that penalty," he said of his sanction. "So… it was like, if you overtake and you create a dangerous situation and you create the crash of another rider, it's a double long-lap the first time, then second time I think it's a pitlane start, and third time is a ride-through.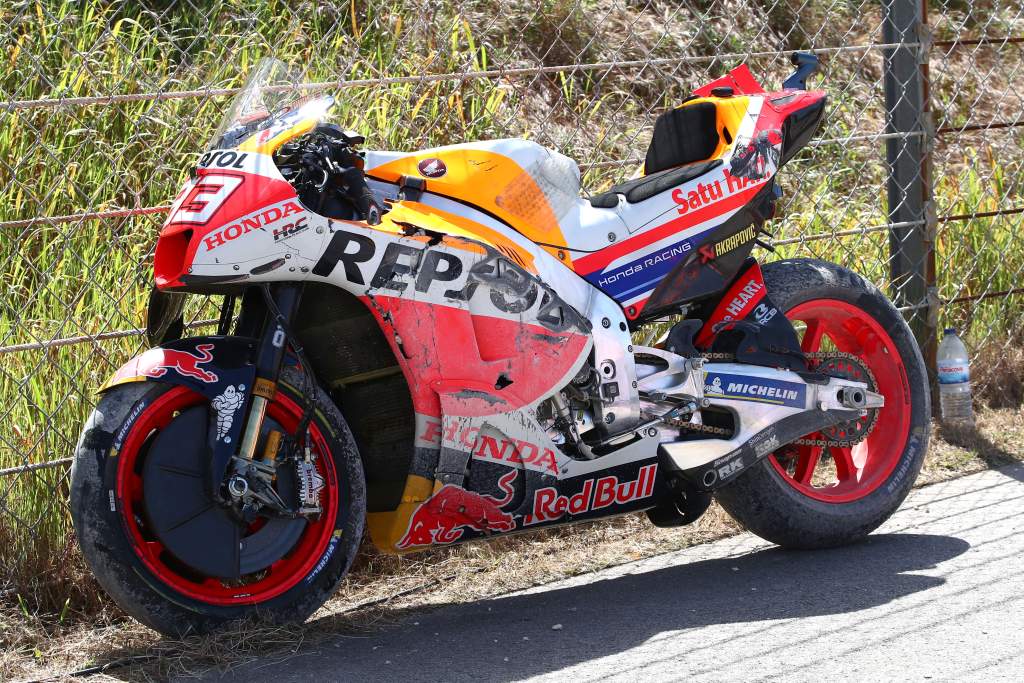 "So, by the rules, by the regulations that they explained in the briefing, it was a double long-lap. But if the rules said heavier, I would accept! Because it was my mistake. But the rules now say that the penalty is that."
For a world championship where rule infractions mean people potentially end up seriously hurt, rewriting the rules behind closed doors simply isn't good enough. MotoGP's stewarding has been in crisis for many seasons, and if there's to be any return to trust in its actions, then transparency not secretive meetings has to be the way forward.