Honda rider Marc Marquez will miss the 2023 Argentine Grand Prix after undergoing surgery late on Sunday night to repair the damage sustained to his right hand during his crash with Miguel Oliveira and Jorge Martin at the Portuguese Grand Prix.
The Spaniard broke his right thumb in the fall, and travelled to Madrid's Ruber Internacional Hospital, where he had undergone the third operation on his badly-damaged right arm in 2020 after stepping away from his long relationship with MotoGP's usual hospital of choice in Barcelona, the Hospital Universitari Dexeus.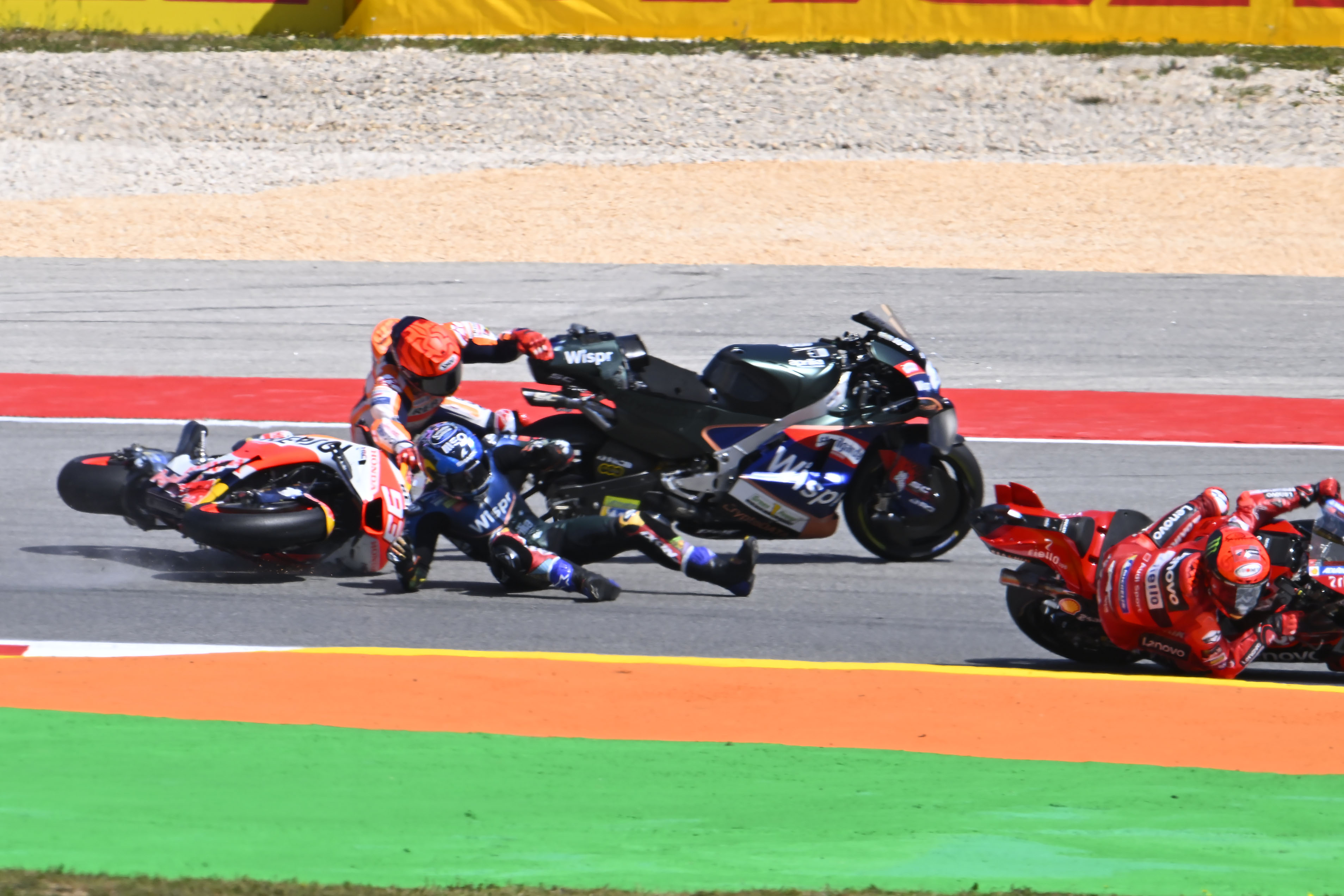 Going under the knife right away after the Portimao crash, he had two screws fitted to the first metacarpal of his right hand in a surgery that his team says went well – but will force him to "miss the next round of the world championship to fully focus on recovery and arrive at the forthcoming rounds in the best possible condition".
That decision is undoubtedly a part of the hard lesson learned by the six-time MotoGP champion in 2020, when he rushed back too soon from a broken right humerus and damaged the bone further, triggering a chain of events that continued until late 2022.
It also means that he will have more time to concentrate on making a full recovery for the next round of the championship after Termas de Rio Hondo at Texas' Circuit of the Americas, a favoured track of Marquez's where he enjoys an almost-unbeaten record.
Marquez joins the likes of Enea Bastianini and Pol Espargaro on the sidelines, his two MotoGP peers having suffered injuries earlier in the weekend. Both Martin and Oliveira were also banged up in the crash Marquez caused, the former fracturing a toe and the latter suffering a leg contusion, but both expect to be racing at Termas.
The news that Marquez will miss the Argentine Grand Prix also means that the penalty he was handed will now be rendered null and void, with the double long lap sanction not carrying forward beyond Termas.