Red Bull KTM's duo of Brad Binder and home favourite Miguel Oliveira are in agreement that they've got a lot of homework to do ahead of Sunday's Algarve Grand Prix, after a disastrous opening day for the pair at the Portimao circuit.
Both Binder and 2020 race winner Oliveira were hoping for an easier transition back to the Portuguese track than they enjoyed last time out in April, after making a significant step forward with the RC16 bike in recent weeks – but that didn't come to pass on an opening day of practice that saw them 17th and 19th respectively on combined times.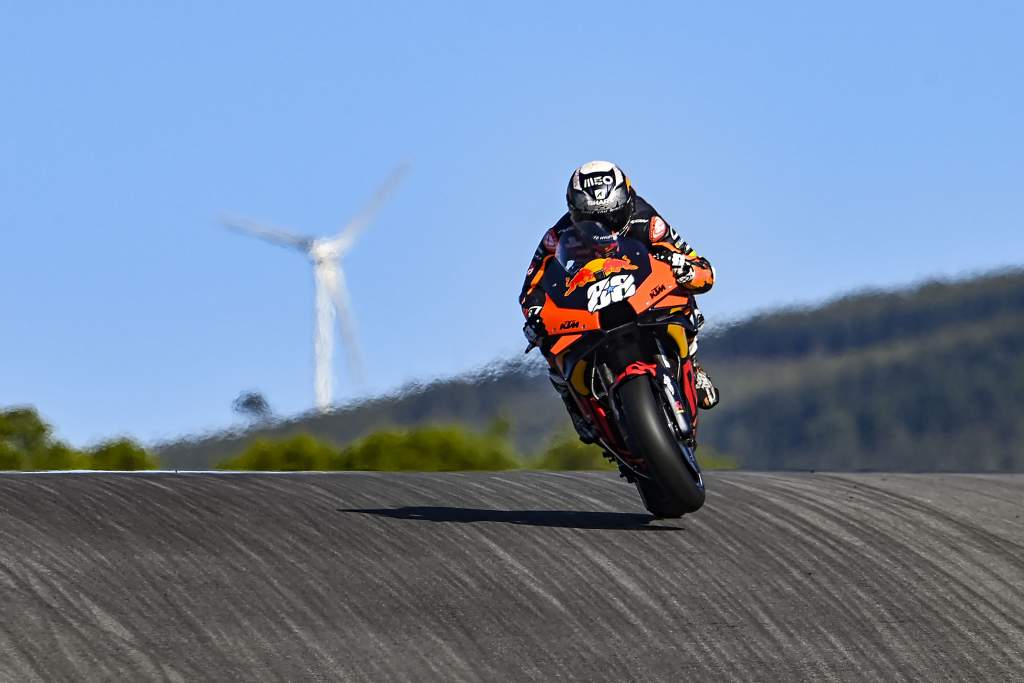 The duo didn't have an easy time at the track back in April as KTM struggled to adapt its 2021 bike to Michelin's new tyre allocation for this season, an issue eventually only addressed a month later at Mugello with a speedily-produced new frame design.
Since then, though, KTM has been making solid progress despite injury woes for Oliveira, who crashed out of podium contention last time out at Misano and subsequently headed home full of confidence that the worst lows of their rollercoaster season were behind them.
But that all changed after Friday running at the circuit on Portugal's south coast, as Oliveira admitted to a "frustrating" day that had left KTM chasing for answers.
"The track was very greasy as we started the day," Oliveira explained, "and the grip wasn't there. It felt like it was getting better but not for us, and we hit a wall quite quickly and I couldn't go any faster. We tried to figure it out and what to do for tomorrow, but we're running out of time to do anything.
"So far everything the team has done to help me out hasn't worked, so now we have to just analyse a little more and try to come up with something more.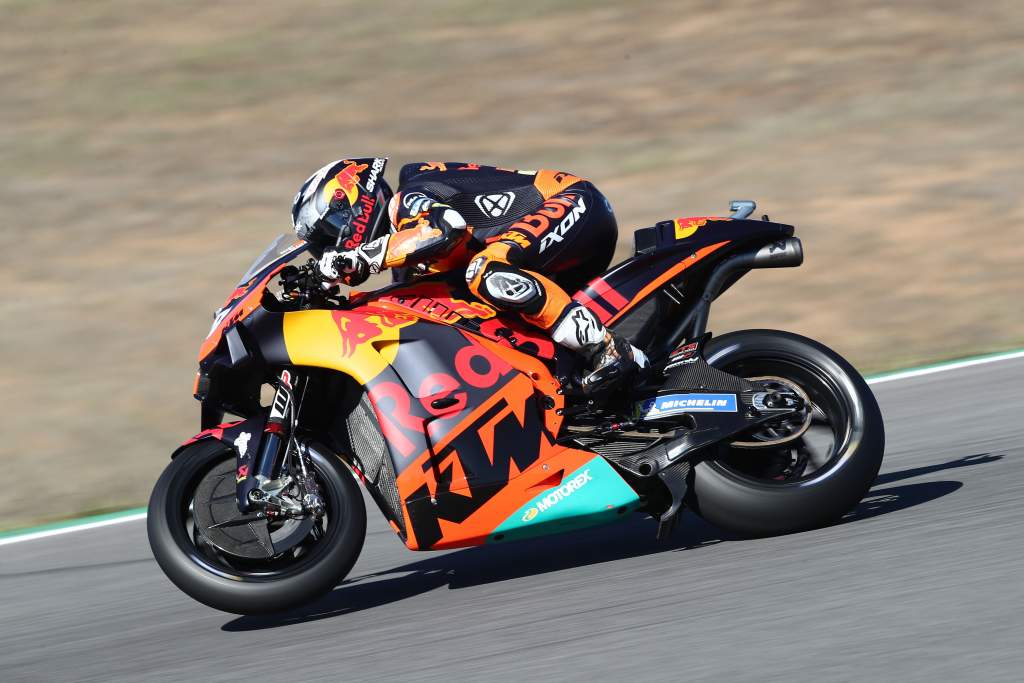 "But it wasn't the track, it was the bike. We didn't move a lot from the base of the bike from last year and the beginning of this season in Portimao, but the conditions aren't really helping us and we need to adapt the bike because the track will be the same.
"It's totally a surprise that I'm struggling quite a lot. I'm not missing any confidence, I'm doing my lines pretty good, but every time we are on the throttle I'm losing grip and the bike is spinning.
"I'm just not understanding what to do. The team is trying to do something but it's not working so it's a bit frustrating. We have to stay calm and not throw in the towel, but we need to do something about it."
On the other side of the garage, things were no different for his South African team-mate, with Binder equally lost and equally adamant that there was a long night of studying data ahead for him and his team as they aimed to find any sort of solution to their issues on corner exit.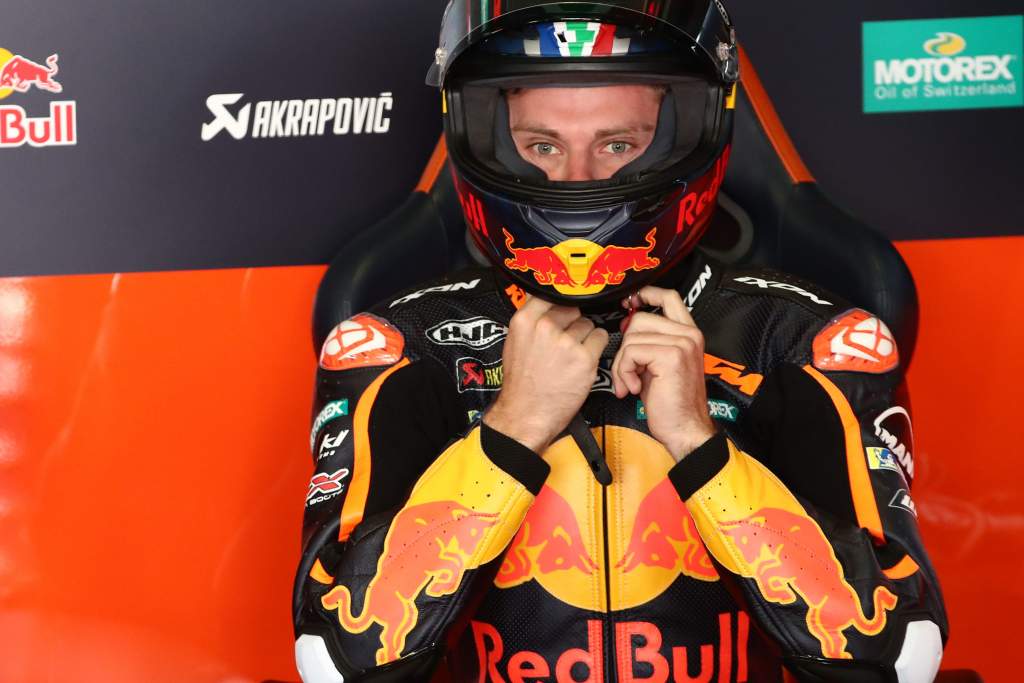 "We're struggling a lot more than expected," he added, "and we've got a lot of homework to do tonight to figure out what we need to change for tomorrow. Hopefully we can come back strong, but honestly I'm not sure what's going on at the minute. I expected to be much stronger than we are, but it's clear from the start that it wasn't easy.
"We're really struggling to get the rear to hook up on corner entry, and as soon as we go for the throttle we're drifting wide. That means carrying a bit more angle, not quite getting the drive we want, and it means when we put in a softer compound tyre we get a lot of [suspension] pumping.
"We've got a bit of homework to do, but on the other hand it's Friday and we've got a bit of time to sort it out."
Perhaps more sure of the cause of the issue than his team-mate, Binder reckons that colder temperatures were partly to blame, especially with the softer tyre – but with the weather not scheduled to improve significantly, he admitted that's something he and KTM are going to have to work around if he's to repeat his usual Sunday special performance in the race.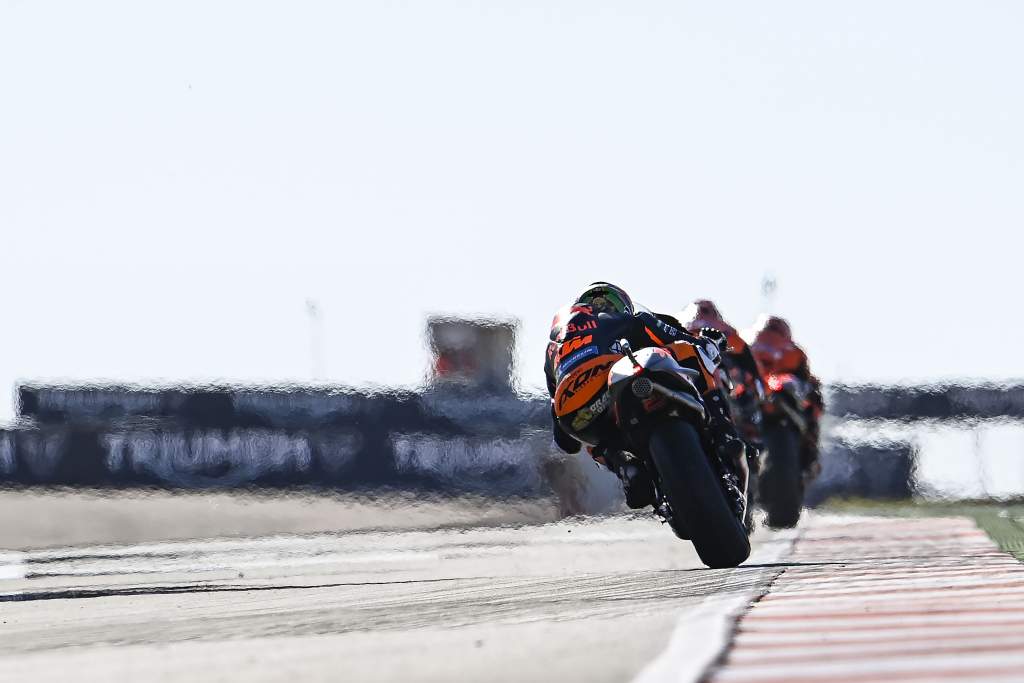 "It's not necessarily so cold, but the wind chill factor is pretty hectic," he explained of the November weather. "When you're standing out in the wind it's pretty nippy, so I think that's just making it a little more difficult to bring the tyres up [to temperature], so each exit needs more time to get up to pace. It's not a bad track for grip when you get there, but to do that is a challenge.
"I was really looking forward to counting on myself as a Friday man today. I had a feeling I was going to be strong straight away because I felt like I knew how to be fast here, but I was obviously wrong. But as long as I'm there on Sunday, that's all that counts, so fingers crossed."