Since MotoGP resumed from its 2021 summer break at the Red Bull Ring in August, it's been something of an unmitigated disaster for KTM rider Miguel Oliveira.
The Catalan Grand Prix winner, who was three times a podium finisher in three races earlier in the year, has seen a complete reversal of fortune since, scoring just one point in the past five races.
Part of that is easily attributable to one specific reason: the bruised bone in his wrist that he suffered at the first of two races in Austria.
A slow speed crash made even more unfortunate by the innocuous circumstances in which it happened, the Portuguese rider was left nursing the injury after running wide and highsiding himself at too slow a speed for the RC16's traction control to kick in.
However, since the Aragon Grand Prix earlier month, he's been adamant that it's not the injury that's been holding him back, but rather that he's in the middle of a furrow with no obvious end in sight.
It has left many scratching their heads both inside and outside the Austrian manufacturer's factory team, and, speaking exclusively to The Race, KTM race manager Mike Leitner admitted that even he isn't entirely sure what exactly has gone wrong for his star rider.
"After the summer break, he had this crash in Spielberg 1, and he was suffering there." explained the former works Honda crew chief. "The result in England [at Silverstone] is actually quite good with this injury.
"But yeah, since then to be fair it's really not a 100% explanation of what's really happening.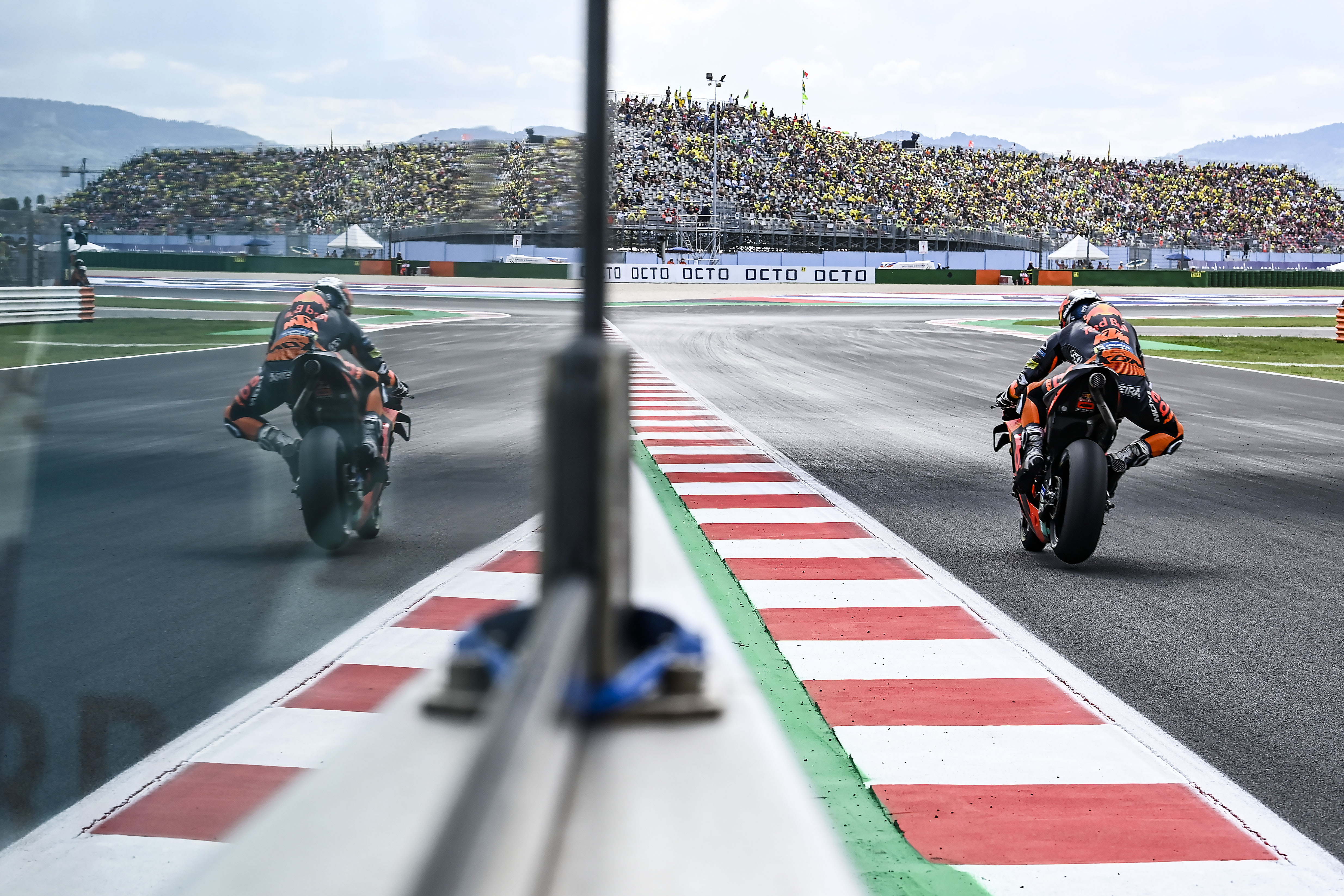 "Of course, he started this weekend [in Misano] with the same issues that Brad [Binder] had, then to have the chance to have a collision in the first corner means that everything is gone," he added, referring to the opening lap contact between Oliveira and fellow KTM rider Iker Lecuona at the San Marino Grand Prix that took one of the wings off the front of his bike.
"But most of the time things like this happen when already you're not having a good weekend. It's not always related to bike performance and rider performance, these kinds of things. But we've not been on the point we want to be this weekend, it's as simple as that."
Making things even tougher for Oliveria this weekend past at Misano was a dip in form for the entire KTM quarter of riders, with none of them looking particularly impressive all weekend, even if Olivera's team-mate Binder did manage to pull something out of the bag in Sunday's race.
And while he might be at something of a loss to explain Oliveira's dip in form of late, Leitner believes he understands what went wrong for the factory as a whole in much more detail at the Italian track.
"I think it was not an easy weekend for us," he admitted. "We've not been as competitive as we've been at other circuits this year.
"It's a very common situation in the paddock though; I see other manufacturers the same, it seems everyone has their period and it's always moving, going up and down. It doesn't matter which brand or which rider.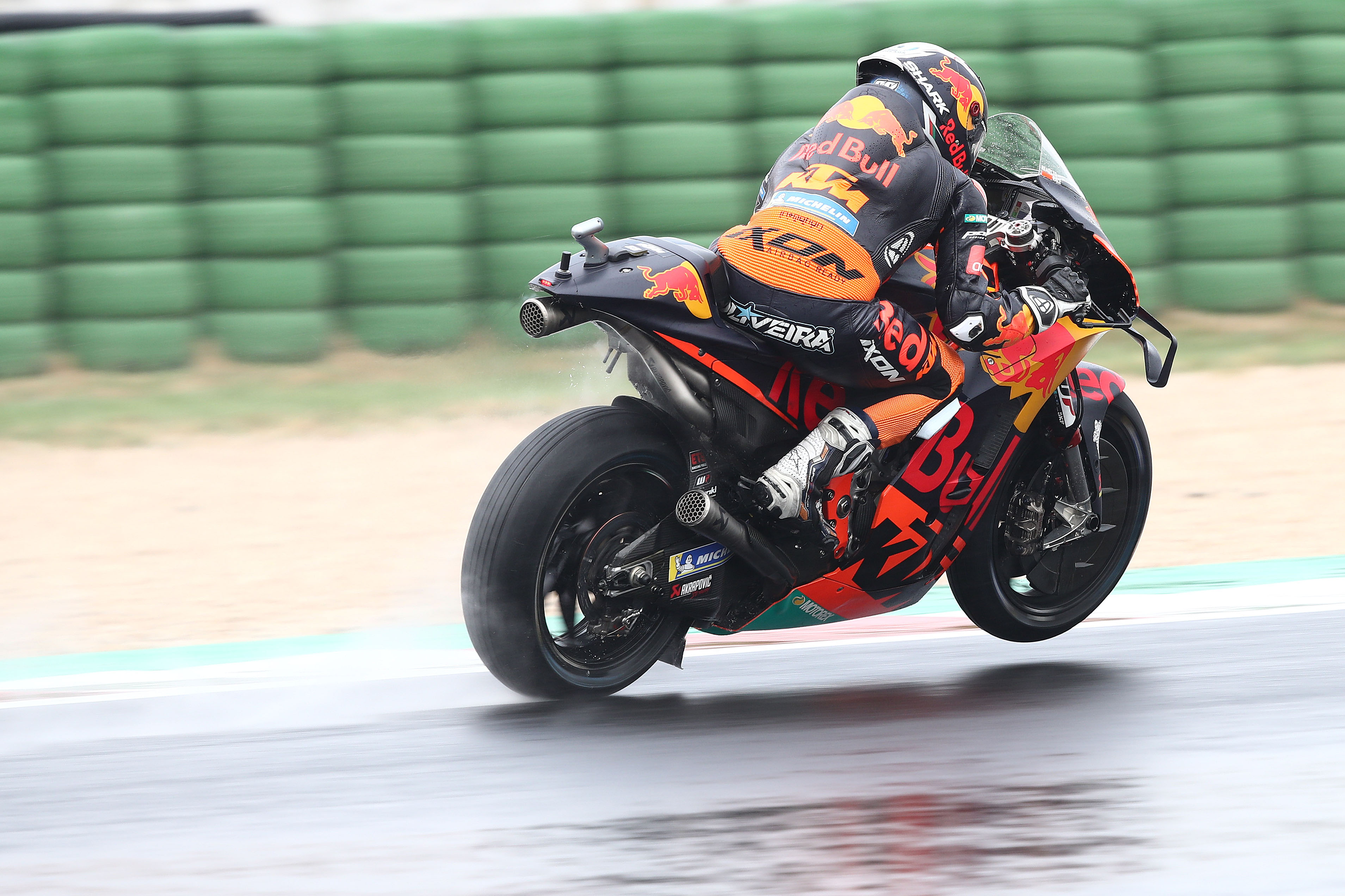 "It's clear that this weekend was not our highlight.
"Riders are always looking for grip, but here we've been struggling to find the correct grip. But the thing is, I can understand why riders cannot always say what their problem is.
"It's very tight, you have sometimes a tenth or two that can make a huge difference in this category."
More than just the fine margins of MotoGP, though, Leitner said that sometimes it's just a case of bad luck affecting the course of your entire weekend.
"It's also how your weekend turns out," he explained. "We've had sometimes this year a situation where we've arrived at a circuit and been quite competitive from the beginning, and others where you have to work and then you get competitive.
"When you come to a place like here, it looks like the riders after the first run aren't that happy.
"Then 15 minutes before the session ends it's raining, session two it's raining, you go in FP3 and you don't immediately have the answer before the first qualifying is happening and you're not in Q2, and then you're just acting on your instinct.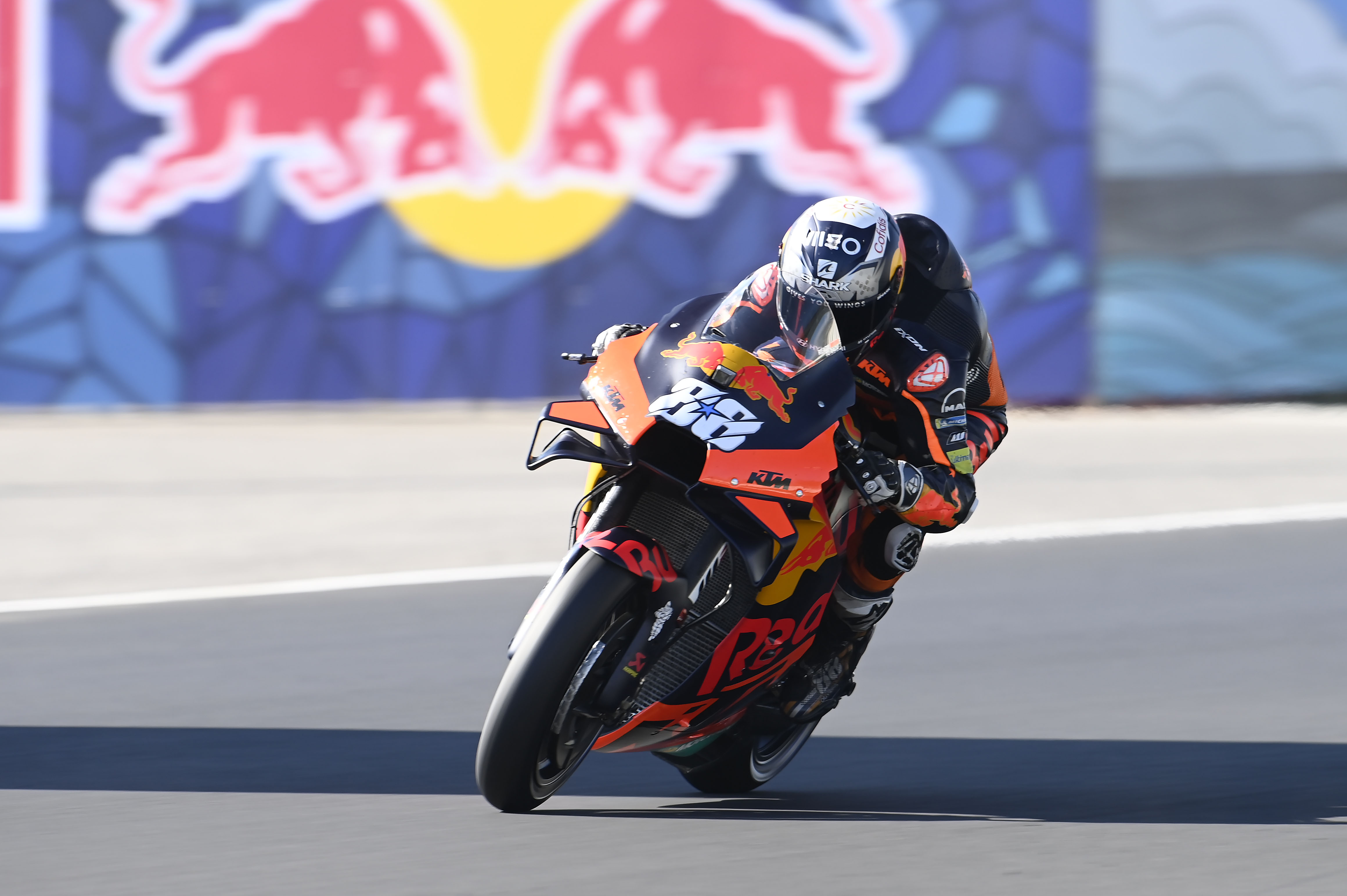 "That's why for riders and teams it's difficult to say that you've got a problem because you've just run out of time and don't know if you could have fixed it with four dry sessions.
"Then you watch a race like Brad started 17th and we weren't happy, then you finish ninth and compare with the riders who finished fourth or fifth and see f***, for two-thirds of the race you had the same rhythm as them.
"You just have to swallow it and take it like it is."