KTM factory man Brad Binder is now "one of the best riders of the grid", said Aleix Espargaro after narrowly beating the South African at Aragon.
Bidding to score his first podium since the Qatar opener in March, Binder made an "insane" start and was already up to second from 10th on the grid on the run to Turn 4 on the opening lap, before eventually settling into the third place that he'd spend most of his race in.
He ultimately could not fight off the title-contending Aprilia of Espargaro, who launched it down his inside at Turn 1 on the penultimate lap, and finished a quarter of a second behind.
But, after defeating Binder, Espargaro was absolutely full of praise for the 27-year-old.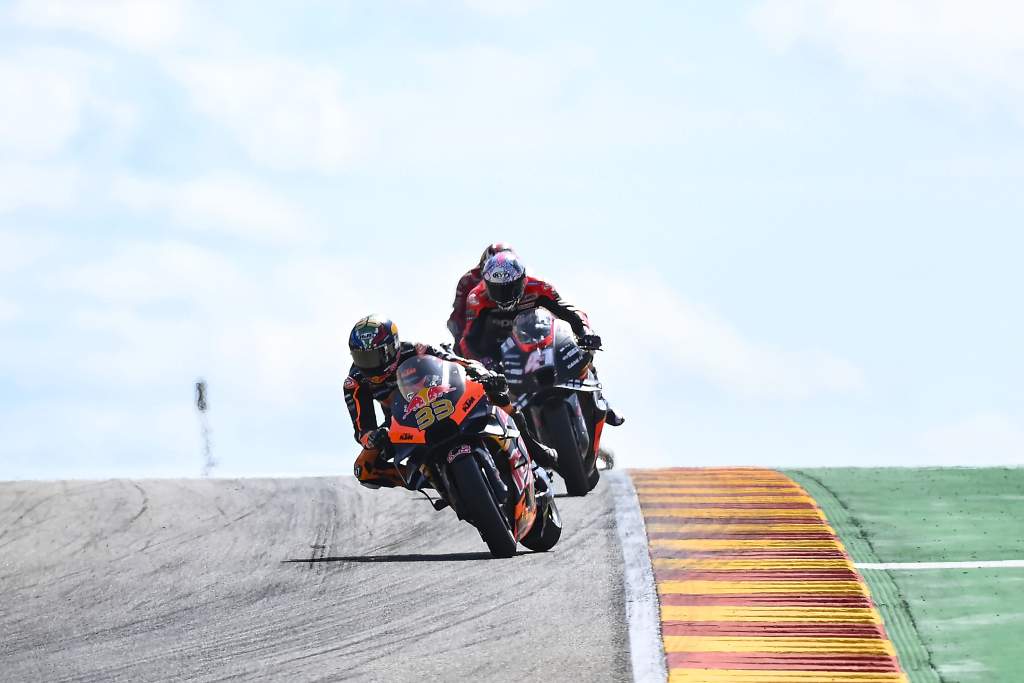 "Hats off with Binder. For me, I've said many times, he's one of the best, top three riders of MotoGP, without any doubt," Espargaro told MotoGP's After the Flag show.
"I never expected him to be at that level today, so for me was a bit shocking. I couldn't overtake him at all.
"Brad is doing a super good job in the KTM. You just need to see the points he has on the standings, with not a really competitive bike this year. He's doing a super job."
He subsequently described Binder as "one of the best riders of the grid, [who] doesn't have the best bike at all without a doubt this year but he's always strong" in the post-race press conference.
"@BradBinder_33 was able to follow Enea! It was crazy" 🎙️ – @AleixEspargaro

The Aprilia rider elaborates on his decisive overtake for P3 on a superb Brad Binder #AragonGP 🏁 pic.twitter.com/d74q4gguKR

— MotoGP™🏁 (@MotoGP) September 18, 2022
Binder is now seventh in the standings with 128 points, having finished sixth in the year prior – despite KTM having struggled to extract consistent pace, particularly over one-lap, from its RC16 over the past two seasons.
When told of Espargaro's words by The Race, Binder said: "Well, it's nice to hear. Yeah. I try my best. But honestly I really struggle – we don't quite turn as well as the others do and because we miss a bit of turning, when I open the throttle I don't get off the corner as well either.
"So I have to make it up somewhere and in the really fast, flowing stuff I need to take a lot of risk with the front to try and make it back up.
"I tried my best. I did a good job to come through the field. Had an amazing start. Positive weekend overall. Let's keep building.
"It's clear what we need to be faster so now it's time to do something about it."
Ducati's Jack Miller, who was in the podium fight with Espargaro and Binder and will join the latter in the factory KTM team next year, expressed his satisfaction at what he'd seen from the RC16 on Sunday.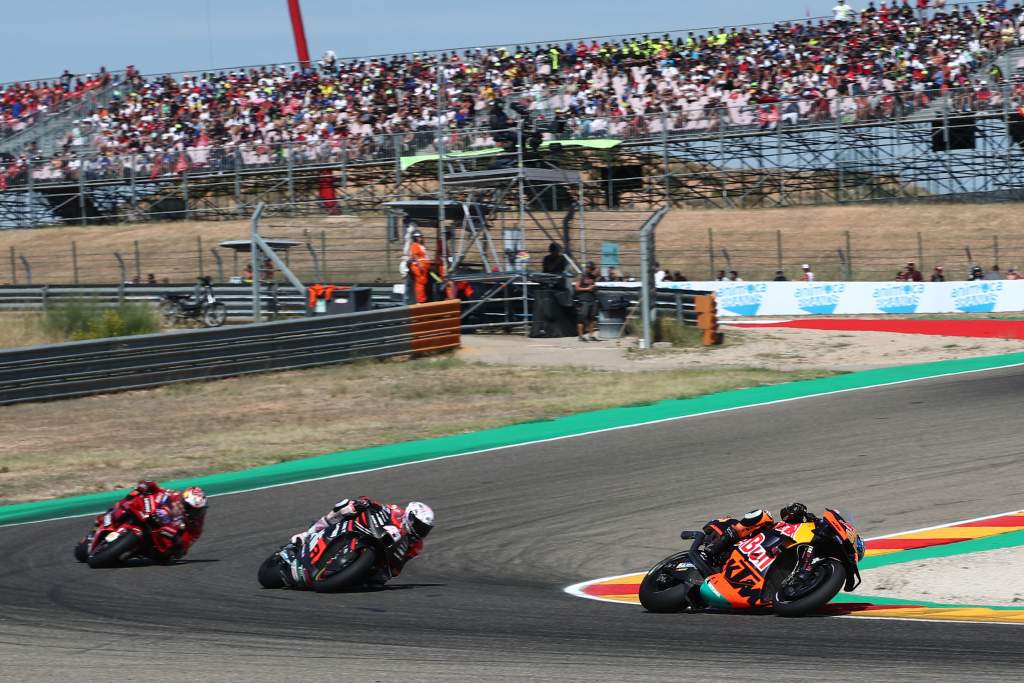 He also said of Binder: "He didn't make any mistake until about three laps to the end, two laps to the end… and then he had about six in a row. Apart from that, he had a flawless race.
"Could've been [the painkillers wearing off]. Really, he had a fantastic race up until that point."
Binder had hurt his right ankle in a Saturday morning practice crash and had to be assessed by the medical staff several times over the rest of the weekend.
But he didn't put down his late-race surrender of third place to fitness, but rather to having used up his rear tyre early on and also picking an engine mapping that didn't work out for a couple of laps. "I don't think I should've been as far forward as I was," he said.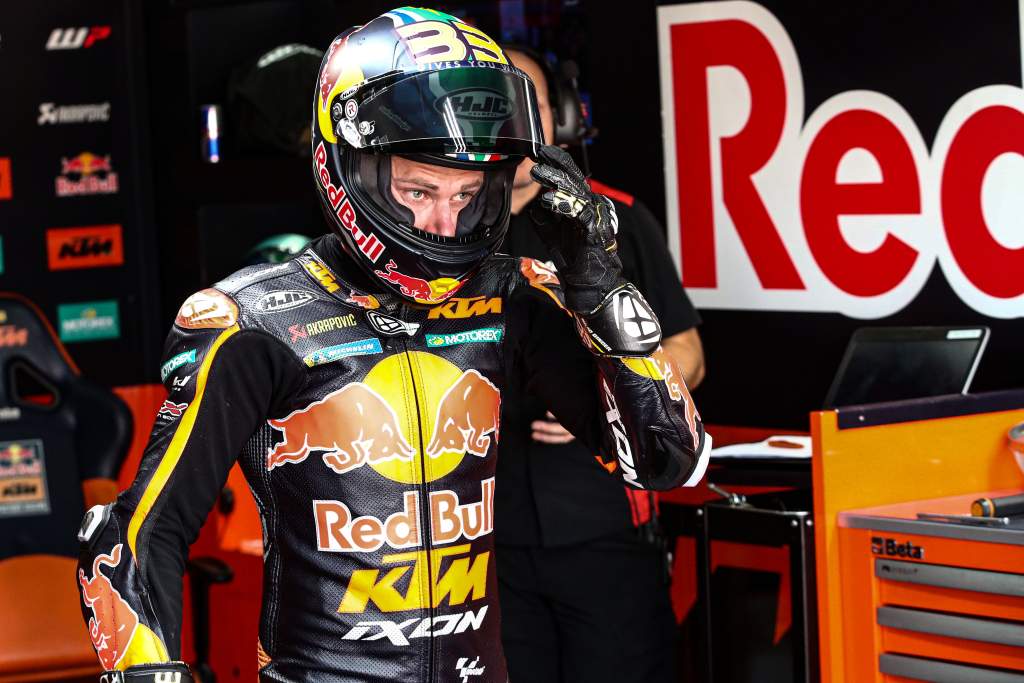 "The big thing was, I just didn't have anything at the end," said Binder, who reckoned the Qatar opener "was still the best one" in terms of his races in 2022.
"I'd played all my cards early on.
"Ah, anyway, I'd love to have been on the podium, it's disappointing to get passed with two laps to go, but I really gave it my best – but Aleix didn't make any mistakes, I could sit behind him but not pass him.
"Hats off to the guy, he did a good job. Try again next week."
The Race Says
Valentin Khorounzhiy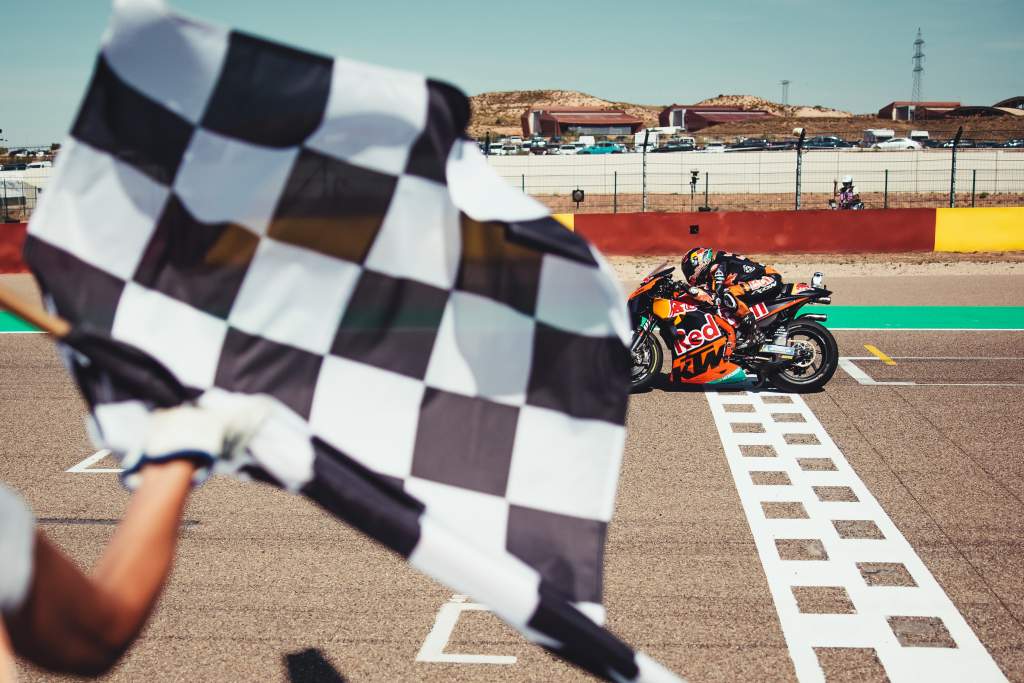 The points table will not reflect it, but watching on a weekend-to-weekend basis it's difficult not to come away with the conclusion that Brad Binder of 2022 is a better rider than Brad Binder of 2021.
The best yardstick for that is the other RC16s, and particularly team-mate Miguel Oliveira. Even if Binder didn't have a contract through 2024, with Jack Miller coming in he would've won the battle to keep the other seat over Oliveira.
The Portuguese is not having a particularly bad season, but if he could be reliably counted on for a fair few weekends where he clearly had Binder's number last year, that hasn't been particularly the case in 2022.
Binder looks to have stepped up in qualifying – it's just coincided with the RC16 not stepping up and being repeatedly locked in Q1 by the Ducati army and others – and on Sundays he continues to be an ultra-effective operator.
And he's still super-dependable. Though Johann Zarco and Pol Espargaro didn't particularly care for the Binder lunge that ultimately triggered a first-lap Misano pile-up (and you can certainly see their point), that's about the only recent case of note – and Binder has now scored points in 31 of his last 33 races.
So, a really good MotoGP rider? Certainly. A top-three MotoGP rider? You could probably make quite a good case. A MotoGP rider who is better than the bike he has right now? That much seems fairly clear.