Coming into last weekend's Aragon Grand Prix, Aprilia MotoGP rider Maverick Vinales was on the crest of a wave.
He'd taken three podiums from the previous four races and was now heading to a track where he very much felt like he had unfinished business because the Motorland Aragon circuit had been the scene of a disappointing debut for Aprilia 12 months earlier after his dramatic mid-season switch from Yamaha. Back then, he'd qualified only 19th and finished 18th as team-mate Aleix Espargaro took fourth.
What better place to prove how Vinales had turned things around in his new home?
His confidence continued as the weekend kicked off, with Vinales making a huge step forwards in terms of speed from last season in Friday practice.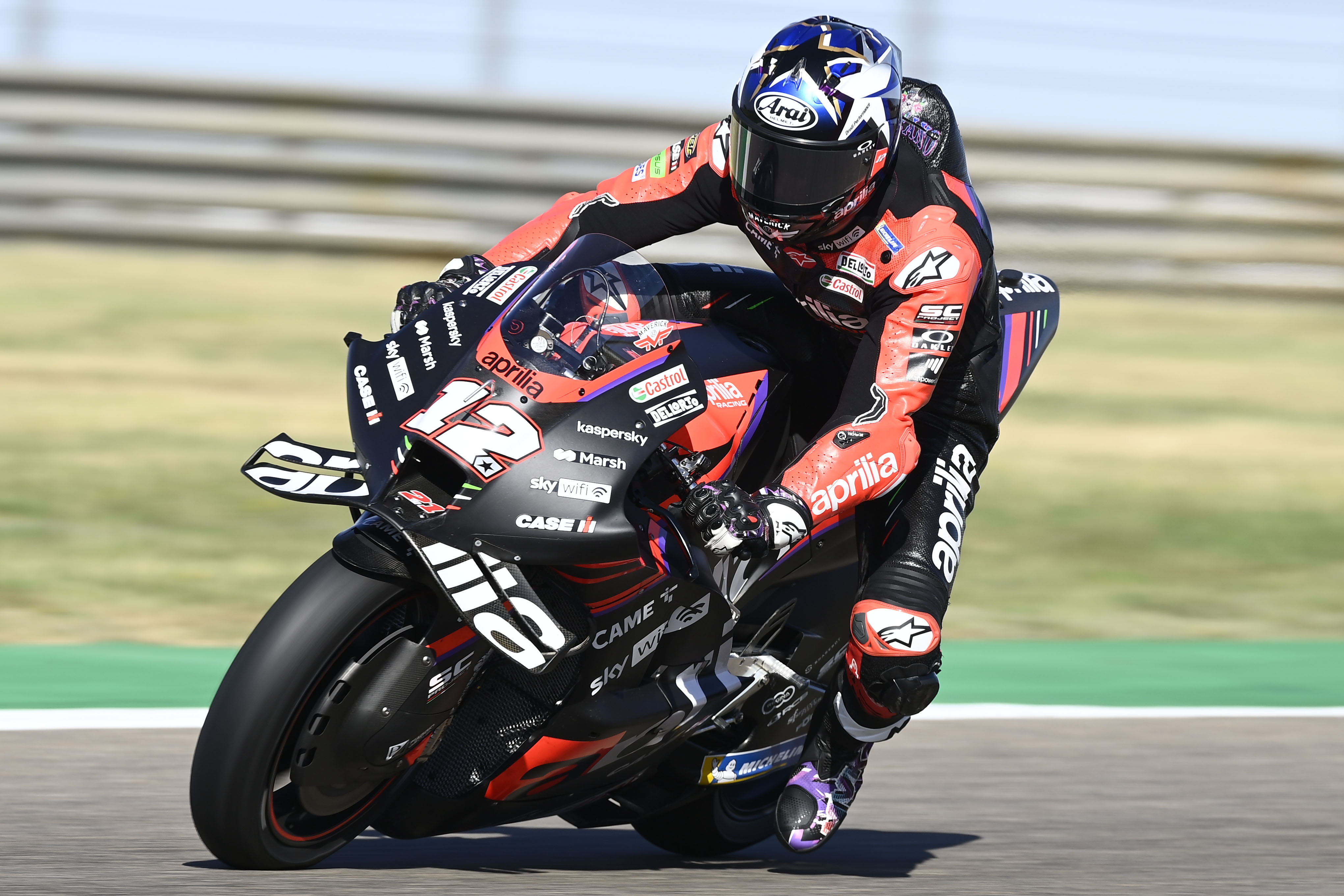 That boost meant he very much had Sunday's race marked down as another chance for him to tear up the record books by becoming the first rider in modern history to win a premier class race for three different brands (Suzuki, Yamaha, Aprilia).
"The jump is huge," he explained after free practice on Friday.
"I've never felt an improvement like this in all my life. More than one second a lap, it's amazing, huge.
"The feeling I have with the bike, the way I ride on track, the confidence. Everything is better, and this is still just the beginning of our relationship. I feel myself very strong in the future."
Those hopes rapidly turned to disappointment, after a strong start to the weekend turned into a messy Saturday.
In practice three he found it "difficult to stop the bike and difficult to turn", which he initially put down to the tyre compound before realising it was the same on a hard front in fourth practice, prompting a switch to his spare bike that convinced Vinales there was a mechanical problem on his original RS-GP. He then had his first crash of the whole season in Q1.
Vinales consequently qualified way down the grid in 16th – far enough back that when the opening lap chaos triggered by Marc Marquez occurred, he was on the wrong side of the resulting break in the field.
As a result he was not able to even contend for the top 10 in the end. Thirteenth was a disappointing finish to a weekend that started so positively.
But, with confidence to spare thanks not just to his recent streak of results but also to the difference to his mindset that the switch from Yamaha to Aprilia has made, it's not dented his enthusiasm for the rest of the year.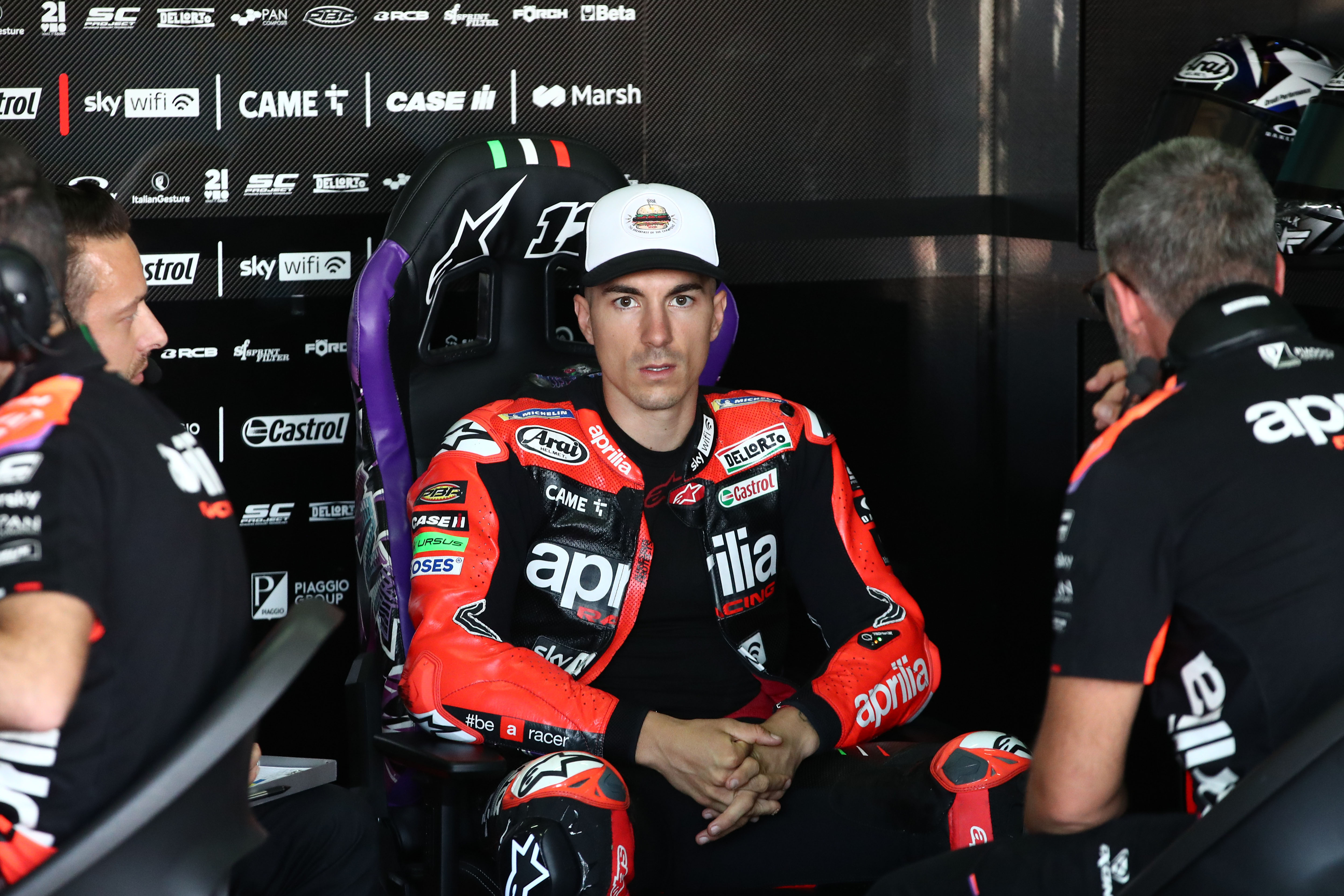 Insisting that he had the eventual pace to go with race leaders Enea Bastianini and Pecco Bagnaia if he'd been able to make a clear start, Vinales is also aware of what he believes went wrong and what Aprilia needs to work on next time out.
"When I went to the box and saw the lap times, [in theory] I was able to go onto the podium again," Vinales said afterwards when asked about his pace by The Race.
"Not fighting with Pecco and Bestia, but between them and Aleix [who finished third], like in Misano.
"I would have been able to follow them for the middle part of the race and then drop back a little.
"I'm a little disappointed, because you know this weekend was very important for me, very important.
"Last year I was very slow, this year I felt very fast since FP2 – and since then there've been a lot of technical problems, misunderstandings, and that's not something I like because I always give my best.
"This weekend, I didn't feel we worked well, and we need to analyse and think and to improve for Japan.
"It's difficult to understand, and we need to get some more information.
"There are some issues, but it's difficult to say what the concrete problems were, and we need to analyse everything."
Of course, he won't have too long to wait until getting another crack of the whip, as MotoGP enters an intense period of racing and goes straight into the Japanese Grand Prix at Motegi this weekend.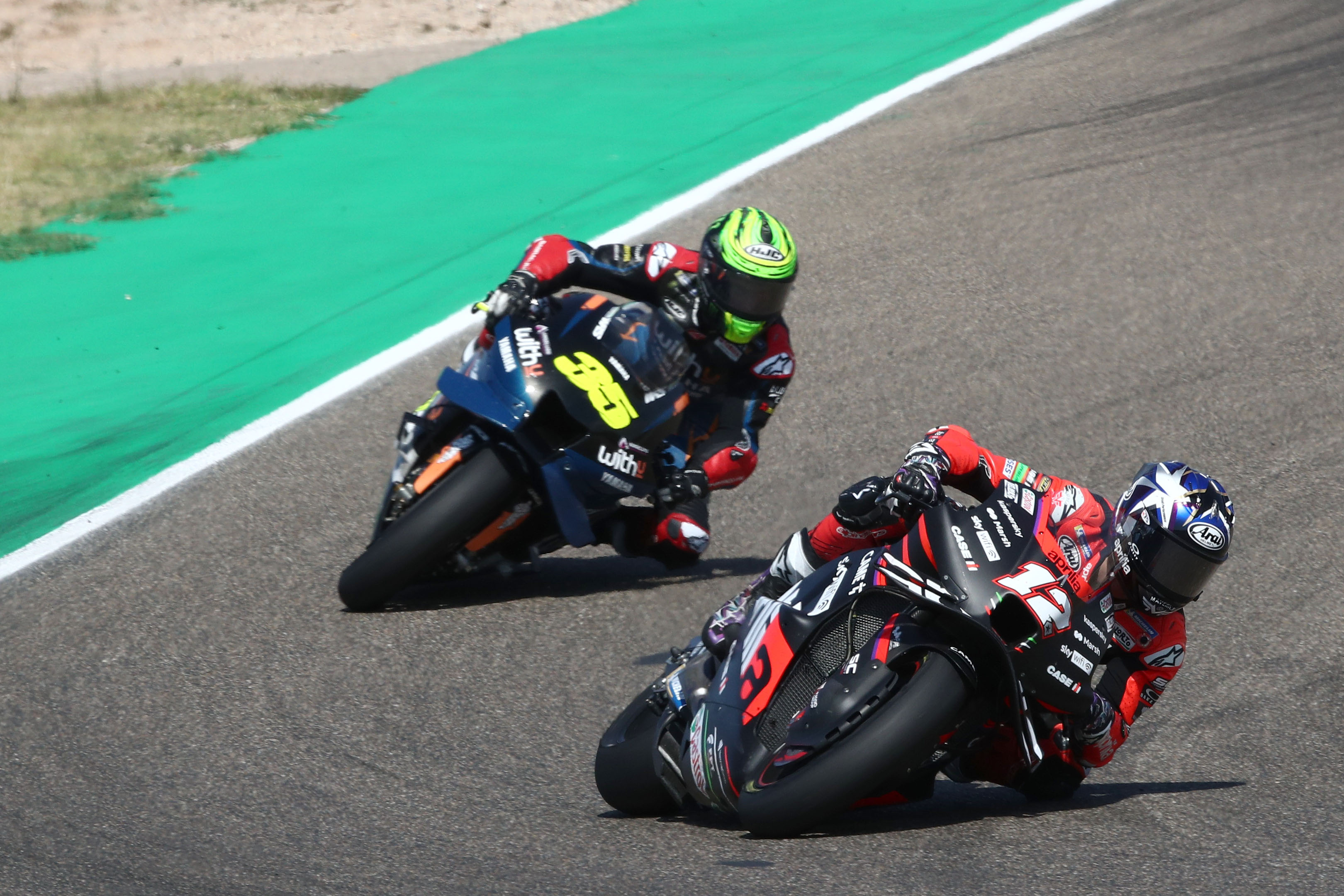 "I will not say that we need to come back [to form] in Motegi," Vinales added, "because when I saw the lap times, we were there.
"We just need a good Friday, a good Saturday and then to see what happens in the race.
"We always have the chance to win when we're on the grid. My times were equal to Aleix, and that makes me feel very strong because this is his best track.
"Our opportunity will come, our chance to win the race, and we need to be ready for it. This weekend was a good opportunity because the bike was working well. When it was working normally, I was able to keep the distance."
With the opening lap chaos at Aragon taking out championship leader Fabio Quartararo and moving Vinales' team-mate Espargaro right back into title contention with only five races left this season, Vinales insists that there's no better time for him to find his form again if he's to do what he can in helping his compatriot take the title for Aprilia.
"I think it's very important for us and for Aprilia – and now I'm talking as a team – because it was very unfortunate for Fabio, it was very nasty, and I hope he is OK, but we are back fighting," he added.
"Now I need to be at the front. I need to be there, fighting, and I need to help Aleix as much as I can. The way to do that is to try and win races."