When then-KTM rider Danilo Petrucci announced that he was trading asphalt for sand dunes at the end of the 2021 MotoGP season, there was considerable scepticism about the two-time race winner's plans to take on the Dakar Rally, especially given his relative lack of experience – but the Italian has firmly silenced his critics by taking an unexpected yet thoroughly well-earned stage victory in the iconic event.
Petrucci has taken to the off-road discipline like a duck to water, and he's been looking increasingly strong all week despite a mechanical problem that ruled him out of overall contention on only the second stage of the race.
Blowing a fuse on his factory KTM 450, he attempted to repair the problem himself with remote assistance from his mechanics – only to discover that a burst rucksack had cost him his phone, passport and wallet somewhere in the Saudi desert! Unable to find the offending problem, he was forced to have his bike recovered by organisers, leaving him out of the general running order.
However, with a stated ambition of using his first time at Dakar simply to learn the ropes ahead of a concerted charge in 2023, it seems that losing the pressure of the general classification was the best thing that could have happened to him.
Since then, he's been in podium contention for individual stages every day, despite a penalty for speeding that demoted him from second to third on stage four. A similar issue worked in his favour on day five, however, as former race winner Toby Price was demoted from P1 to P2 and an emotional Petrucci promoted to victory.
🏁 Stage 5 🏍@Petrux9 wins the stage! He becomes the first former @MotoGP rider to seal a win on the Dakar!#Dakar2022 pic.twitter.com/dQEvDpXN1Y

— DAKAR RALLY (@dakar) January 6, 2022
"I still need to understand what happened," admitted an emotional Petrucci afterwards. "When I was young, I always wanted to make history in motorsport, and today I did it because I'm the only person in this world to have won a MotoGP race and a stage at the Dakar. No one has done this before and I am really happy."
Despite making history to win by a mere two seconds at the finish line, he definitely didn't have an easy day, either, with a series of incidents not just leaving him thanking his lucky stars but also showing just how quickly he's learning the ropes of rally racing.
"I was so, so lucky not to get injured in my first crash," he said "I wanted to kill the camel that I found after a corner. I wanted to kill him but here they consider the camels more important than women so I think I would have had some problems with it. Camels are quite big! I must tell you, I imagined that they were smaller, but they're not!
"Then I was a little bit confused, because the crash was quite heavy, and I rolled quite a lot. I was thinking a lot about that camel, saying to myself 'oh come on, I just need to make it to the finish line.' I had a big problem with my pants – they were open and I was always trying to pull them up."
There was still more to come after the crash, however, with a tricky navigational day allowing Petrucci to make up more time; something that bodes exceptionally well for his Dakar future given the problems that those switching to rally racing from other disciplines traditionally have with finding their way using nothing but a roadbook.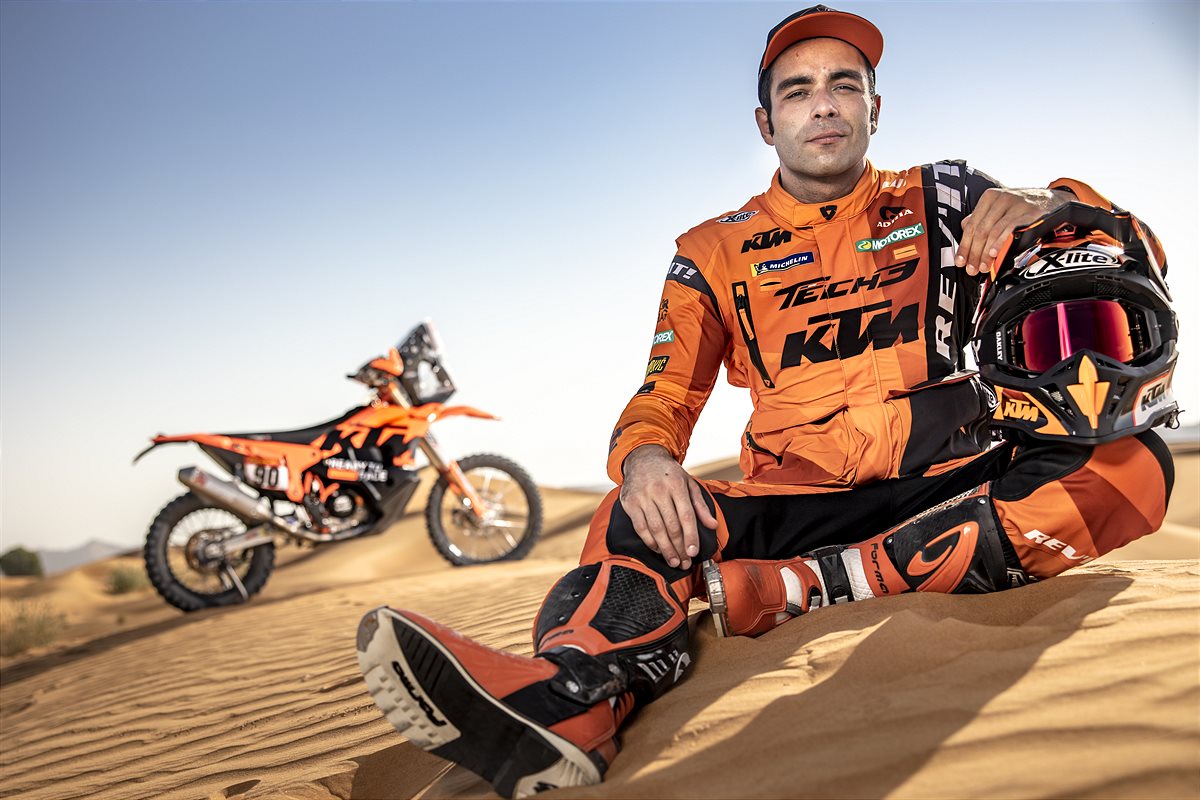 "I pushed really hard, and [Daniel] Saunders helped me a lot," the 31-year-old explained. "He's a really unbelievably fast rider, but today also my bike was really good. On the stones and the rocky section, we were so fast and I caught up a lot of time to the others. I was able to navigate when we lost everyone, six of us. We lost everyone in a dry river, and when I found the waypoint I started to push a lot again.
"In the dunes, on the last fifty kilometres, they were really never-ending. I almost went into a hole but fortunately, I was able to change direction at the last moment. I hit my ankle so hard, and [Ross] Branch was so much faster than me, so fast on the bike dunes. They were all third gear going up, and I tried so hard to follow him but couldn't.
"He started two minutes in front of me, and I arrived 1m58s behind him, so after four hours, I won two seconds! In reality, Toby won the stage, starting far behind and with all the marks to follow. Toby is another unbelievable rider and he won the stage, but he got a penalty like me yesterday for speeding. He hit 50kph for a few metres when the speed zone was 30kph."
Petrucci's rally continues tomorrow with another 620km of race action before the halfway-point rest day gives him and his rivals a chance to relax briefly – and Petrucci a chance to check the messages he says he's been inundated with.
"I need to say thanks to all the people who have messaged me – my phone is full of people writing to me," he added. "I want to say thanks to all of them, and especially to all the MotoGP riders; really every one of them has written to me, and I would like to thank the whole MotoGP paddock.
"It is a world that has given me a lot, and I'm so happy that I have so many friends close to me who have helped me to get through my life."