When the MotoGP media assemble to grill reigning world champion Fabio Quartararo after his first day of testing the 2022 Yamaha early next month, there's only going to be one single question that everyone wants to know.
And the answer to that question – whether its race department has made the M1 faster in a straight line or not – could well be the line that defines not only the upcoming season but Quartararo's entire future.
That's because, quite simply, more power is the only thing that the Frenchman has demanded from Yamaha over the winter break, as he focuses almost exclusively on improving the only area of the bike where he believes that it's struggling.
"They already know!" he insisted when asked by The Race late last year about his request for Yamaha's development team. "I feel so good on the bike, but the top speed isn't just for one lap, it's to fight in some races. It's so important, it's the main thing.
"The chassis is so good that the margin to improve is super small, but the top speed is the clear thing that I have asked to Yamaha. To fight for races, to overtake more clearly."
However, that was somewhat complicated after his chance to try the first prototype of the new machine at Jerez in November, when he was left upset afterwards about a perceived lack of progress – a frustration so deeply felt since then he has been hinting at looking at a move to another manufacturer when his current contract expires at the end of 2022.
"More work needs to be done to feel an improvement," he said after that test. "I hope that they keep the best for Sepang and have more speed. That's the thing that we need the most.
"We have three months to find that power. In the end, to be honest, the 2021 bike I won't say is perfect because no bike is perfect, but our base is really good. We are missing just a lot, a lot of top speed and aerodynamics, so that's why I'm pushing so much every day to have this in Sepang. Here we didn't see what I expected."
So how much more can he expect when he jumps on what is hopefully a different-feeling bike next week at the Malaysian circuit? Well, the unfortunate reality is that he's probably not going to get everything he wants – simply because doing so would probably do more harm than good, regardless of his demands.
Motorcycle engineering is and always has been about the art of compromise. Sure, you can build a bike that has more power, but then you need to build a longer frame to contain it – and the resulting chassis no longer goes around corners very well. Ducati, chasing improved mid-corner turning since 2007, is the perfect example.
Acceleration is a similar issue; build in more torque, and you can create an uncontrollable monster, just like the various iterations of Honda's RC213V that only Marc Marquez has been able to consistently manhandle.
Yamaha's strengths lie at the opposite end of the scale – it has a bike that isn't the fastest, but which can turn well. Not just into bends, but all the way around, producing high cornering speed that is a large part of what allows Quartararo to be so fast in qualifying in particular, when there aren't other machines in his way to hold him up.
Even more than that, though, Yamaha engine power limitations aren't some arbitrary thing, they're also dictated by a fundamental part of the machine's DNA.
Now one of only two manufacturers on the grid, alongside Suzuki, to remain powered by an inline-four-cylinder engine, Yamaha's always going to be at a disadvantage to the other four factories with their inherently faster V4 machines.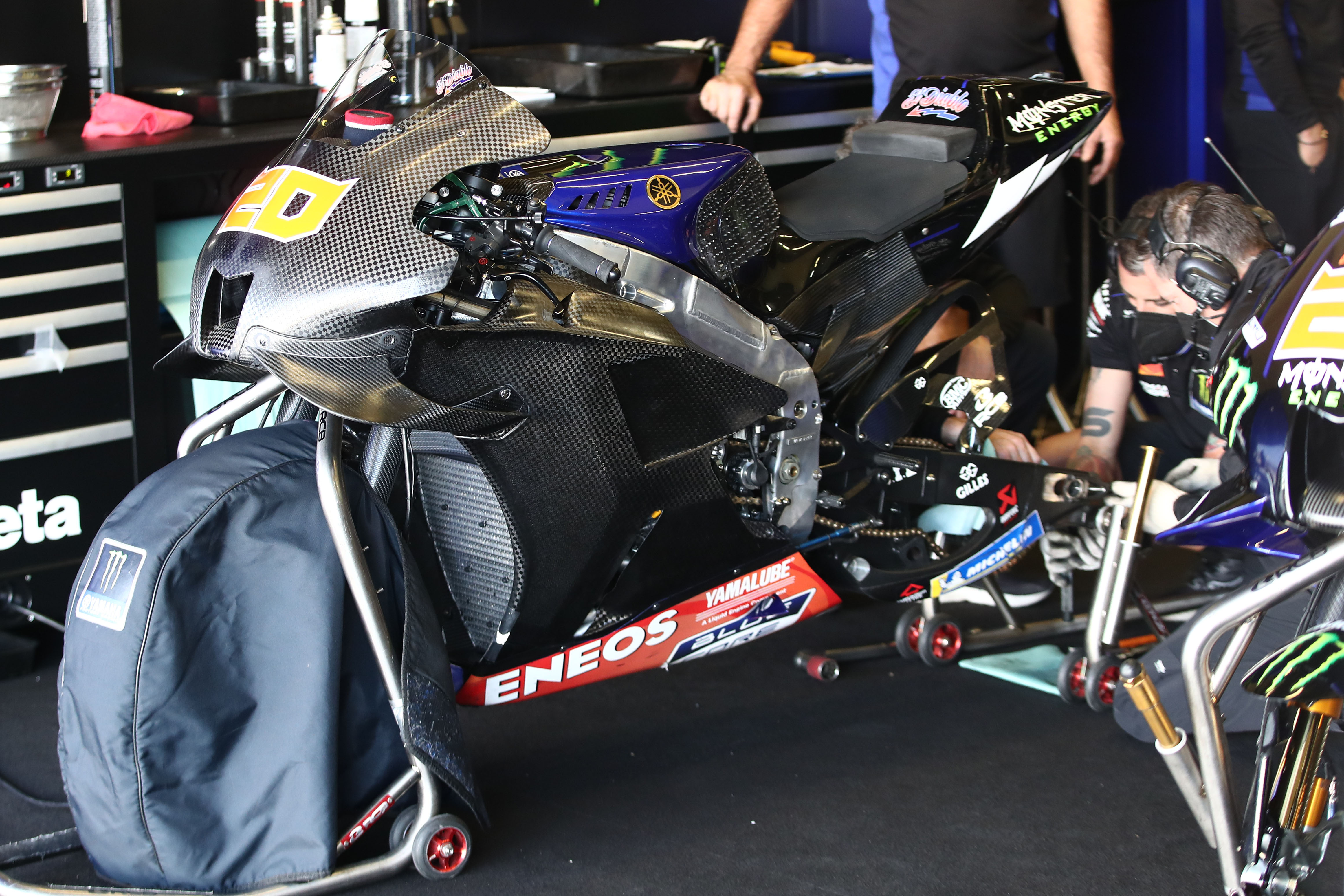 So the real secret for the upcoming season is not simply to listen to the rider and bring a superbly powerful motorcycle – something that Yamaha are capable of doing, inline-four limitations aside.
Instead, it's going to be about finding a balance, where the new powerplant is just powerful enough to close the advantage to its rivals while helping maintain the strengths elsewhere – and then to spend the majority of the test working hard on refining those extra horses electronically.
That's something that Suzuki in particular is very good at thanks to how it uses test rider and former World Superbike champion Sylvain Guintoli. It might be more of a challenge for Yamaha as it continues to ensure its own test rider, former MotoGP race winner Cal Crutchlow, doesn't spend anywhere near as much time on the bike.
As a result, it probably means that we can measure Yamaha's progress in Sepang and afterwards at the new Mandalika Bay track by how much time is spent on track versus sitting in the garage, with Quartararo and team-mate Franco Morbidelli likely to be worked hard gather electronics data if things are going right.