Pramac Ducati MotoGP rider Johann Zarco says he cannot dwell on having failed to convert his eighth premier-class pole into his first win – following a "surprise" crash that quickly snuffed out his Silverstone victory bid.
Zarco led the first four laps of the race before a tip-off at the Vale chicane relegated him to last and eventually forced him to pull into the pits and call it a day.
He attributed his crash to choosing the medium front tyre – but acknowledged that Francesco Bagnaia also used it and would ultimately come out on top, having run over a second behind Zarco the lap before the Frenchman crashed.
"It was important to have a good start and lead the race – even this I was surprised to stay first at the first corner," Zarco said.
"No one was attacking me too much. It was nice to lead the race.
"Yeah, the first thought is this sadness to miss this chance, but then… I cannot stay on it, that's why I look forward to be in Austria."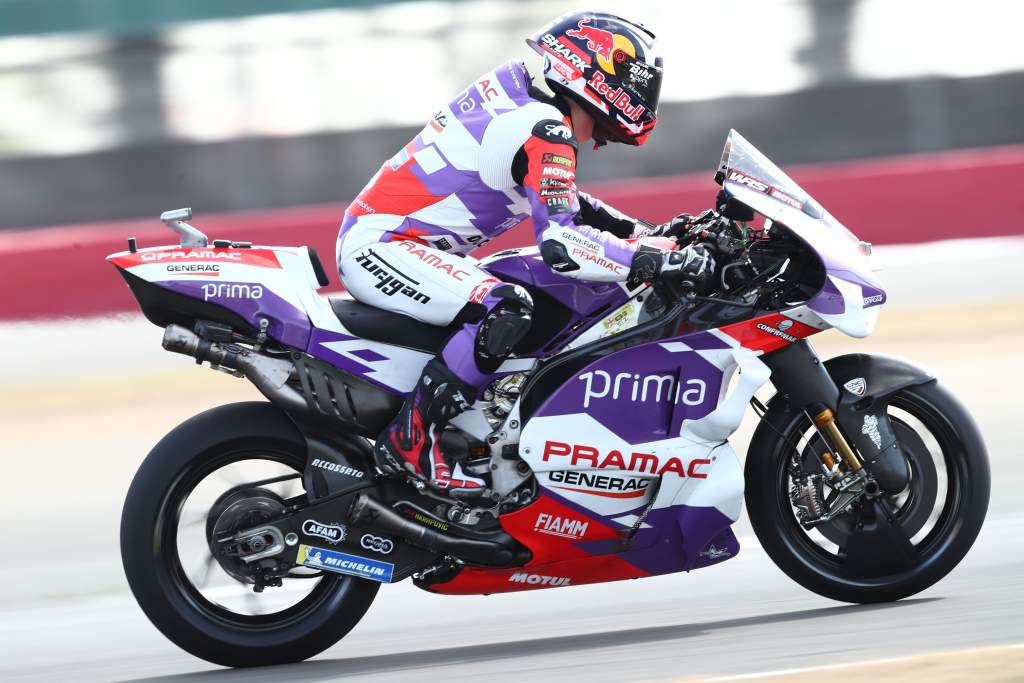 Zarco had put together a very complete weekend before the crash, and looked to have the pace for victory. His expected biggest threat pre-race, Maverick Vinales, got himself on the back foot right away by dropping to as low as seventh.
There is, therefore, every reason to think Zarco was in a choice position to finally get that first win under his best. It was perhaps his best chance yet – which is saying something given that even before Silverstone Zarco had led as many as 87 laps over the course of his premier-class career.
While Zarco attributes the crash to the front tyre choice, he's clear he did not see it coming.
THE CURSE CONTINUES! 🥺@JohannZarco1 crashes out of a golden opportunity for his first victory! 💥#BritishGP 🇬🇧 pic.twitter.com/tpNh6adhWs

— MotoGP™🏁 (@MotoGP) August 7, 2022
"The warm temperature pushed me to take this medium front – that was a good tyre anyway because Pecco won on it, but it seemed for me it was the reason of the crash, because there's always a bit less grip with this tyre. But I was too worried to go with the soft one and not finish the race on a good pace, overall. The medium one, I knew it pretty well, so that's why I was quite confident, and the first laps were pretty good.
"But I was surprised in that Turn 8. And clearly I'm disappointed, and it's pretty hard to put all the things together to put the victory."
Zarco said he'd had "a little bit" of a warning from the tyre before the crash, but also insisted that he had taken that corner with a lot more speed in practice.
And while dismayed, he is clearly convinced – as perhaps he simply has to be – that a weekend like this at least shows more chances will come.
"I hope I will be in good form again in Austria, because what I could feel during this weekend and even during the race helped me to grow on the Ducati and get even more feeling as I want.
"So, yeah, the most positive of today is this feeling that I could take during the race, and understand even more this tyre that sometimes seems a tricky choice, because for nothing you can be hero or zero."