Under two years on from piloting a year-old Yamaha to within half a race win's margin of the 2020 MotoGP title, Franco Morbidelli has the factory contract and current-spec bike he had craved.
But with it, he also has the status of a complete bystander in the 2022 season.
Eleven races in, Morbidelli has accrued 25 points, averaging out to around 2.3 per race – so, between 13th and 14th place. Unless you are, in fact, a rookie, these are not numbers you can parlay into job security – especially when you are a factory Yamaha rider.
---
'Second' factory Yamaha rider's points 11 races into a season, 1999-now
Checa – 78
Biaggi – 89
Checa – 89
Checa – 116
Melandri – 24
Checa – 93
Edwards – 123
Edwards – 84
Edwards – 93
Lorenzo – 114
Lorenzo – 162
Rossi – 114
Spies – 109
Spies – 66
Rossi – 143
Lorenzo – 137
Rossi/Lorenzo – 211
Lorenzo – 138
Rossi – 141
Vinales – 113
Vinales – 102
Vinales – 118
Vinales – 95
Morbidelli – 25
---
Since the factory team in its current form was established in 1999, only one works Yamaha full-timer has scored fewer over the first 11 races of the campaign, this being Marco Melandri in 2003.
Melandri did skip the first two races of that season through injury, but he also lost his ride at the end of the season, demoted to Tech3 to make way for Valentino Rossi, his time at Yamaha then coming to an end a year later.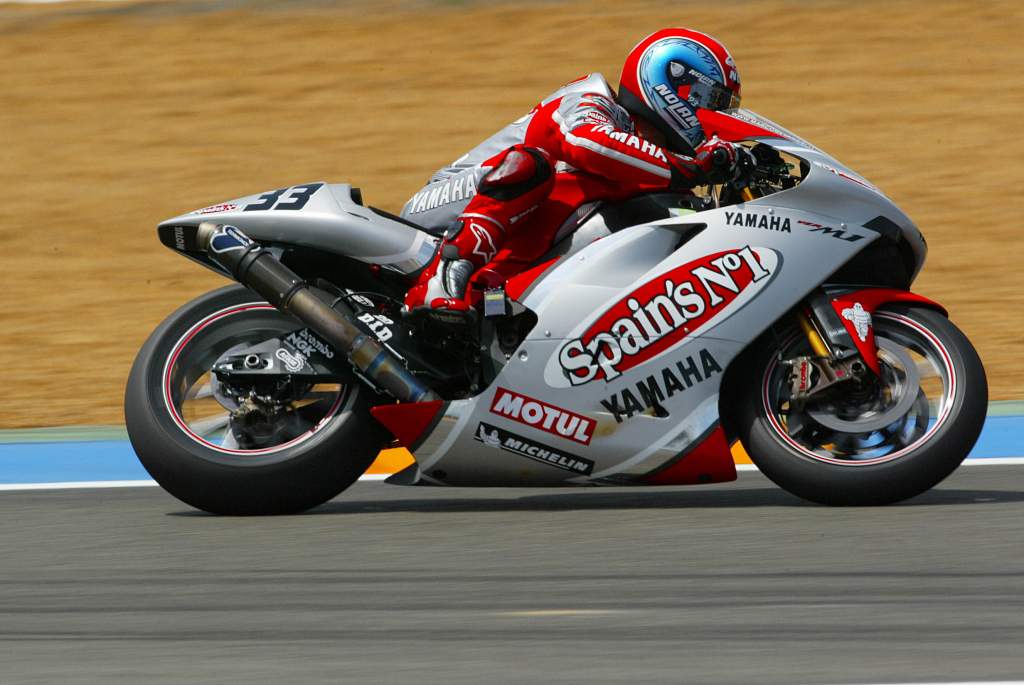 Next-worst? Ben Spies, in 2012. He lost his job, coincidentally also to Rossi.
Yes, Yamaha was stronger in 2012 – and though it was weaker in '03, it was a much simpler environment for factory riders. There weren't eight Ducatis of factory specification or close enough to it to make sure you never leave Q1, also because Q1 wasn't a thing.
Even still, 25 points is grim. And though Yamaha would never say anything of the sort, had it not committed to Morbidelli through 2023 last year, it is incredibly hard to see how he wouldn't now be a free agent making way for an Alex Rins or a Miguel Oliveira.
"We are convinced about the performance, the speed that Franco has," team manager Massimo Meregalli said at Assen.
"And in this moment we are really looking for a solution that will allow him to be more comfortable on the bike, to be more fast and consistent. Because probably the race results don't show, in my opinion, what he's been doing in recent races.
"The pace that he's showing during the practices is already improving. What is missing now is the time attack. He's suffering, and it's also very difficult to understand. He's complaining that he has too much grip and he can't turn and let the bike spin as he would like.
"I'm quite convinced that with a better starting position for sure his results in the race will be definitely better. You know, especially for us [for the top-speed deficient Yamaha bike] it's not easy to recover positions during the race.
"So, the moment we will achieve the goal to take him starting more from the front, I think we will start seeing Frankie back on the speed."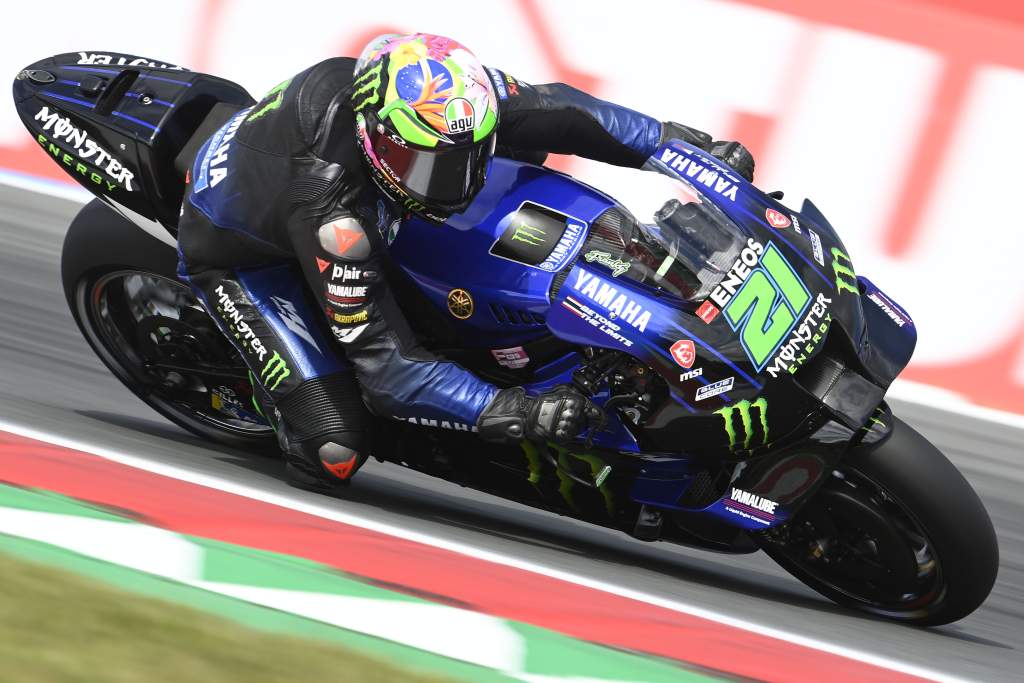 The emphasis on qualifying underperformance being Morbidelli's biggest downfall has also been an ever-present feature of his 2022 debriefs, so in that sense it's at least nice that the rider and team are on the same page.
Without having access to the data Yamaha has, it's still possible to get to the conclusion that the assessment that Morbidelli's race pace has been better than his qualifying pace is broadly correct, just going off the FP4 sessions used for race preparation.
Any assertion that his race pace has been frontrunning – which is what it needs to be – is a little harder to swallow, especially compared to Morbidelli's Yamaha predecessor Maverick Vinales, now at Aprilia and singing very much the same tune but in a much more credible manner.
But, of course, it's also minimal relief. 'Improving qualifying' is much easier said than…let's not even say 'done', but 'understood how to do'. Alex Marquez has been trying to pick that particular lock since his MotoGP arrival three years ago, and it has not transpired for him.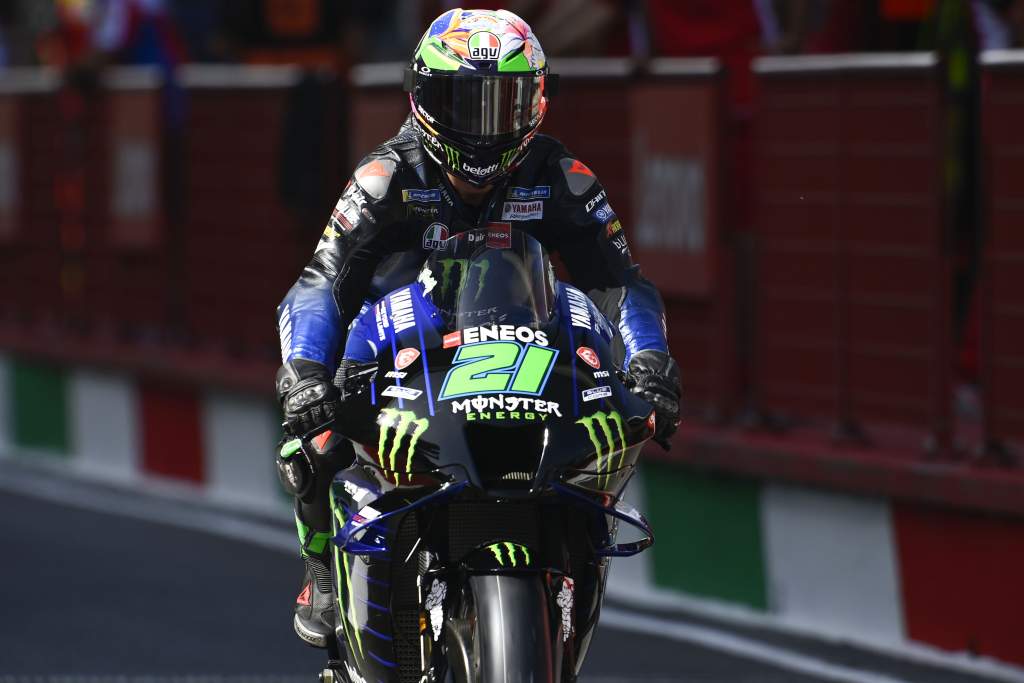 Morbidelli, though, has been an accomplished qualifier before. So what's changed?
"When the grip is low, my gentle riding style pays off. Then, when the grip gets higher and we go on soft tyres, my gentle riding style doesn't pay off," Morbidelli said at Assen.
"To be fast on this bike, I need to change. I need to change. Even though I know that my riding style pays off in some conditions. And pays off with a certain type of chassis.
"I need to change. Anyway. Because I ride this chassis, I ride this bike, with this team. And I will change. I will need to change.
"It's tricky. You need to change many things, also maybe your personality, I don't know. You need to change a lot. But it's going to be fun, I think, it's going to be a fun process – let's see if I manage to do it."
When asked by The Race whether the evolution of the Yamaha has surprised him, Morbidelli answered with one word – "yes" – repeated eight times in quick succession.
"But the bike, the bike has changed towards the right directions, let's say. Towards increasing the performance and increasing the grip and everything.
"To extract that kind of potential, you need to be aggressive. You need to be tough. And I'm more gentle than tough when I ride.
"But as I said, I need to change."
But the technical evolution in question is not the 2021 M1 to the '22 M1 – which, if you hear Fabio Quartararo say it, is minimal – but almost certainly '19 M1 to '22 M1. Morbidelli spent the first two and a half years of his Yamaha stint on that older bike, and proved most potent during that time.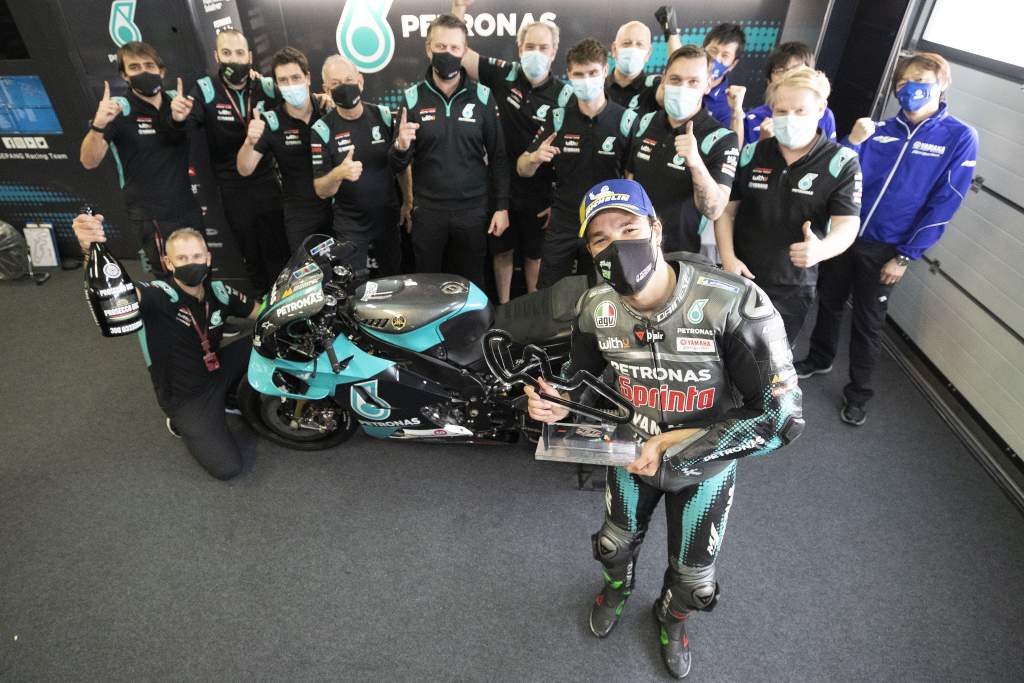 "Even though he was a Yamaha rider in 2020, he only just moved now onto a bike that is different than 2020," Meregalli said.
"Sometimes he's trying to get the same feeling, but at the end we try to tell him that the 2022 bike has different characteristics to that bike.
"We are working to try to make him comfortable with the bike, with the stuff we have – and we also think that the stuff we have is really good stuff."
"I will try to come towards them and they will try to come towards me," said Morbidelli.
It's a nice explanation to have – but can it really be the full explanation? The current M1 does permit Quartararo to have full faith in the front, to be aggressive on the braking and yet carry a great amount of corner speed, and and it's not something the "gentle" Morbidelli is able to replicate as it stands.
But that begs the question – why was that less of a hurdle for Morbidelli last year?
The Italian was introduced to the 2021 Yamaha midway through last year after a spell on the sidelines necessitated by his knee surgery. His late-season form was nothing to write home about, but it was widely understood that he was still in his recovery process and "not fit enough" – his words – to hang on to the desired results on Sunday.
The informative bit, therefore, was qualifying. And Morbidelli, make no mistake, was qualifying well.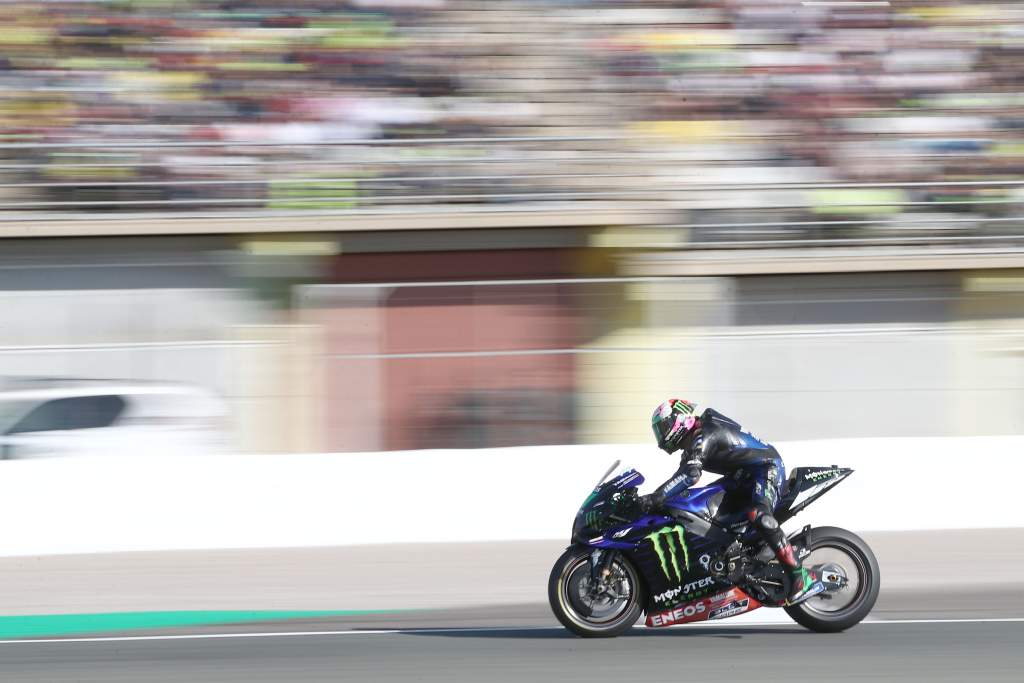 He was in Q2 at three successive races to the end the season, compared to all of once in 11 races this season. His post-injury qualifying average last year was a perfectly acceptable 11.0, whereas now it is a frankly mortifying 17.7.
The gap to Quartararo in the last representative session with a single-lap emphasis for every given weekend? An average of 0.266s in last year's final five weekends, and an average of 0.703s this year so far.
Quartararo was not in his absolute peak qualifying form late last year, but he isn't really now, either. And a quarter of a second is just about where you'd expect Morbidelli to be relative to him over one lap, considering the Italian has always been keen to emphasise just how good his team-mate is when it comes to 'time attack'.
So, where did the four tenths go?
Has Morbidelli suffered some sort of complication with his fitness? Doesn't seem like it – he's long insisted he's in fine shape.
Is it something to do with the Michelins? Maybe, but the new front is still on the way here and the new rear came in all the way back in 2020. There have been some allocation and range changes, but the timelines don't really match up.
Is it the loss of crew chief Ramon Forcada, with whom Morbidelli scored his three wins so far? Yamaha is far from convinced, and again, Morbidelli already didn't have Forcada at the end of 2021, but rather Silvano Galbusera. Now he's working with Patrick Primmer – an accomplished former suspension technician who Yamaha has "great belief" in and who cannot possibly be the factor behind this much of a discrepancy.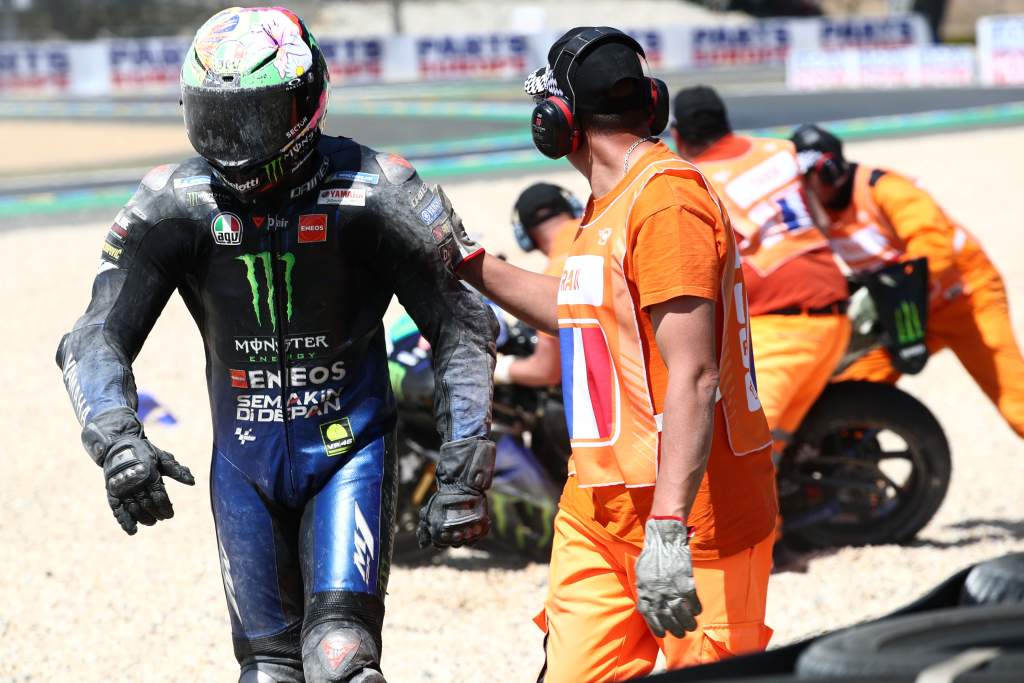 Both Yamaha's and Morbidelli's answers suggest they very much recognise the symptoms but remain at a loss for the disease. As Meregalli put it, it's "very difficult to understand".
"We will take this summertime to regroup, to understand well. I will try to sort out something different in my riding style, to be more aggressive and to make this bike work," Morbidelli said.
Perhaps it won't work as well as the 2019 version did for him. But right now, just going back to that end-of-2021 form would be welcome. And before Morbidelli seeks to reprogramme himself completely as a rider, it might be prudent to retrace his and Yamaha's latest steps.