When we look back on the 2022 French Grand Prix at Le Mans, there's every possibility that it'll stand out for two reasons: the weekend where title favourites started to stretch their lead, and the one where some people hinted at what their futures would hold both due to good and bad results.
Enea Bastianini made it yet another flawless win, his third from seven races and thrust himself into the middle of Ducati's contract negotiations. Fabio Quartararo kept his cool when his title rivals couldn't and secured valuable points. Aleix Espargaro showed that the Aprilia is a genuine title contender with another strong podium finish.
On the flip side, Pecco Bagnaia highlighted his weakness again by crashing out. Joan Mir damaged his title ambitions by not having the one thing he's supposed to have: consistency. And at Honda and KTM, things are obviously in a very dark place right now.
As always, the result of another thrilling MotoGP weekend is plenty of winners and losers, and plenty to talk about when it comes to our rider ratings.
Our MotoGP ranking system is simple: the riders who we believe performed the best in every race are at the top, and the ones who underperformed are at the bottom and scored appropriately.
It isn't just about the end result though, with pre-race expectation and form going into a race and a weekend heavily influencing their eventual score, not just the points they scored every Sunday afternoon.
Enea Bastianini – 10
Started: 5th Finished: 1st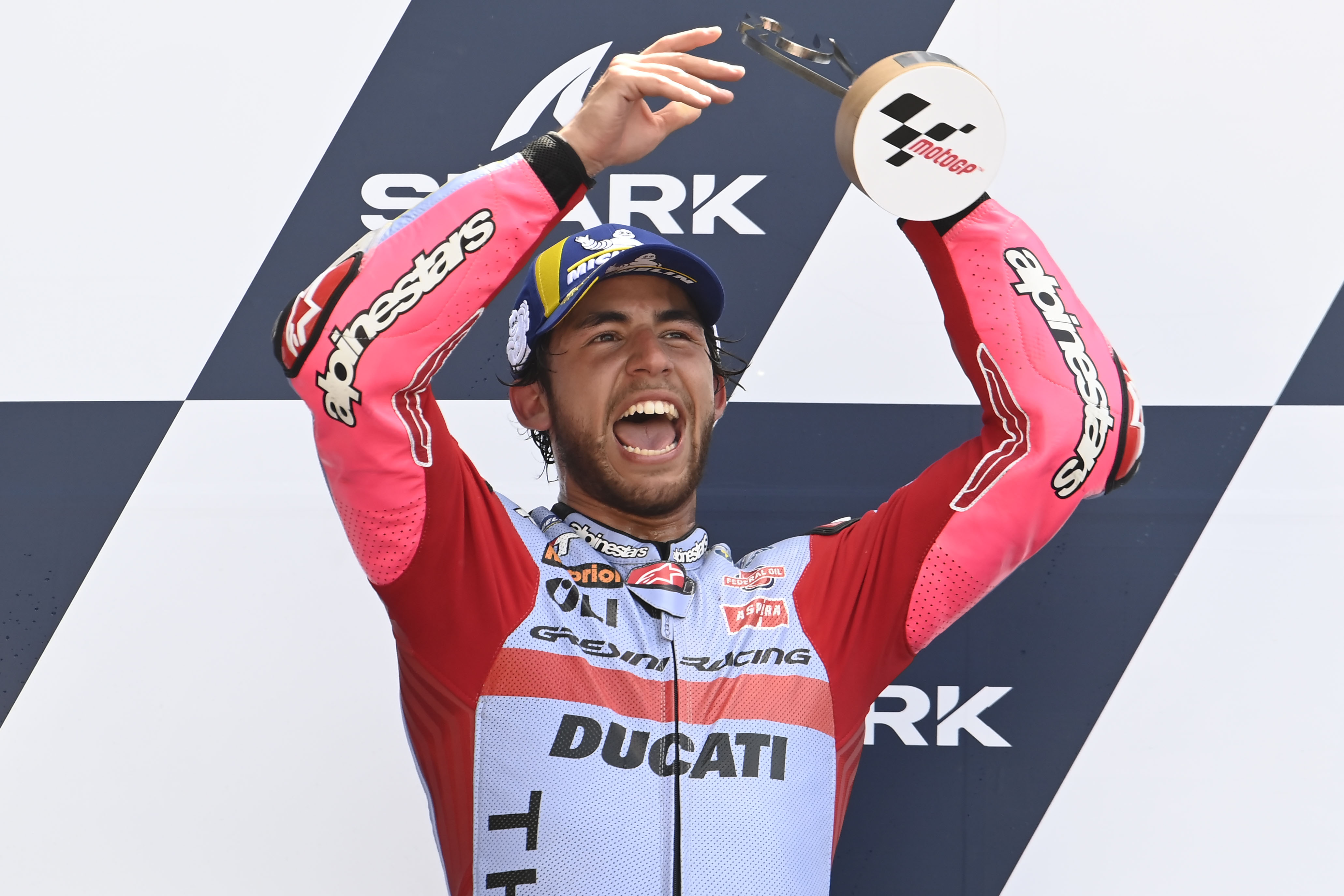 Another truly sublime performance from the now three-time MotoGP race winner, Enea Bastianini once again looked absolutely flawless on Sunday as he did what he does best: made a strong start, picked his way forward, and then delivered an absolute masterclass in tyre conservation as he smoothly controlled the rest of the race. Is the fourth tier Ducati rider now a title contender? It's starting to look that way.
Fabio Quartararo – 9
Started: 4th Finished: 4th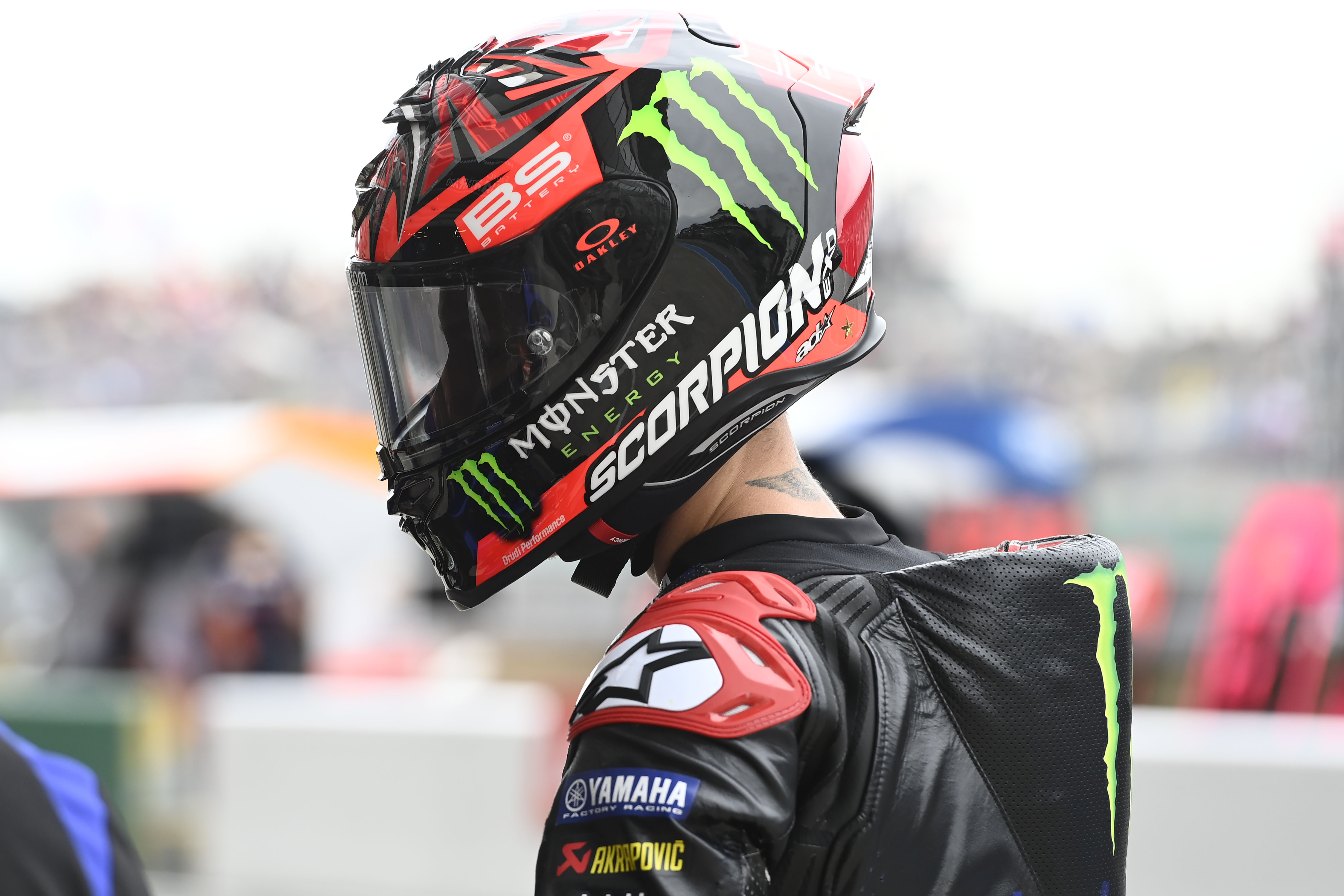 It might not necessarily seem like it on paper, but reigning champions Quartararo's fourth place at home was the sort of ride that wins championships.
It's increasingly obvious that Yamaha's 2022 bike isn't up to scratch, but that doesn't preclude a title defence: it just means it has to come in a different way. That's why P4 on a tough day is a success for him, especially as his rivals all crashed out, ensuring his lead maintains and setting him up for a Mir-esque year of consistency.
Aleix Espargaro – 9
Started: 3rd Finished: 3rd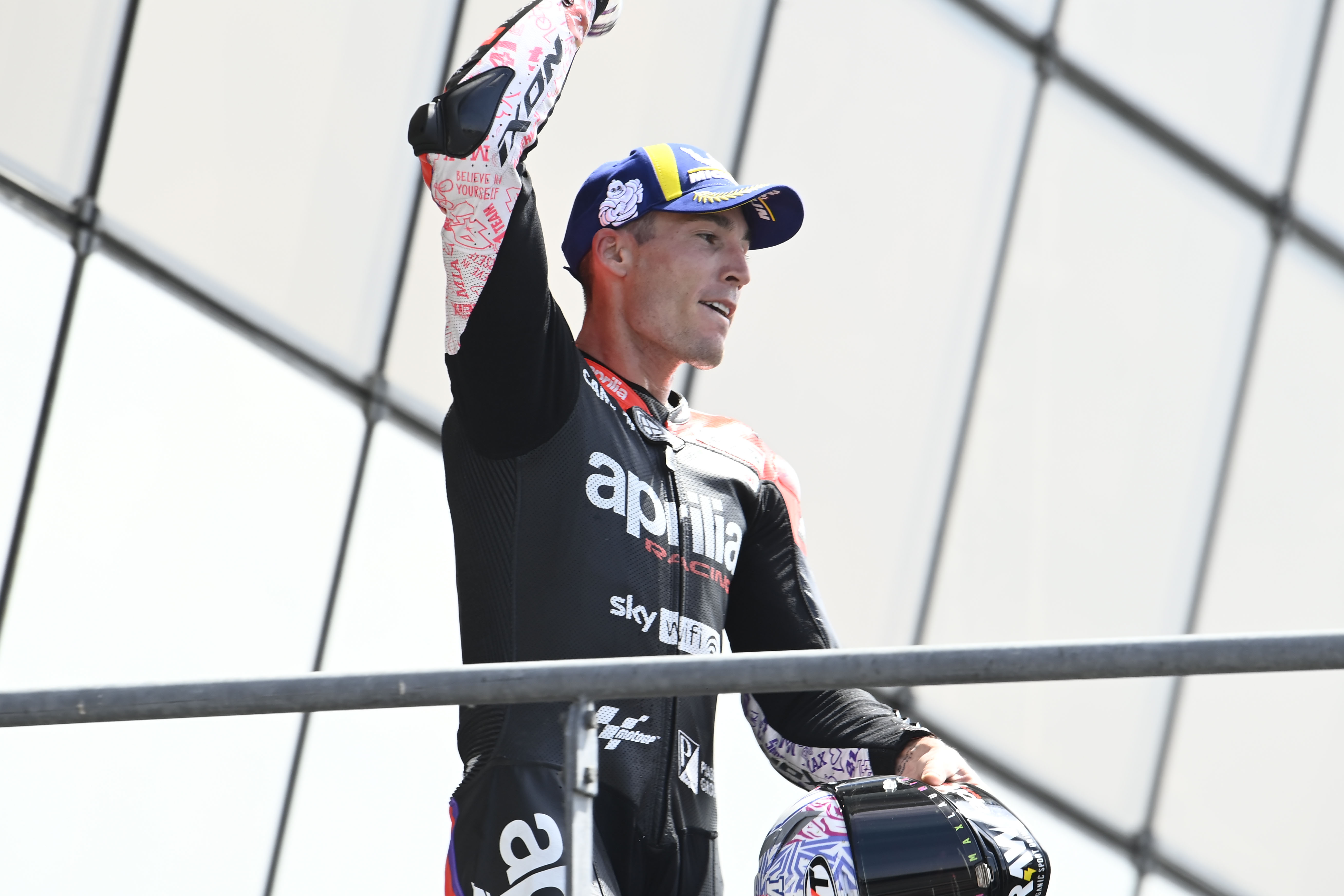 At this point there's no denying it: Aleix Espargaro is a title contender. Once again fast all weekend but also smart enough to recognise his potential in the race and perform to that level, his combination now of consistency and speed is morphing into one hell of a year for him.
Sure, he wasn't within touching distance to Bastianini, but he's aware of his weak points (overtaking), and will be closer at other venues this year.
Jack Miller – 8
Started: 2nd Finished: 2nd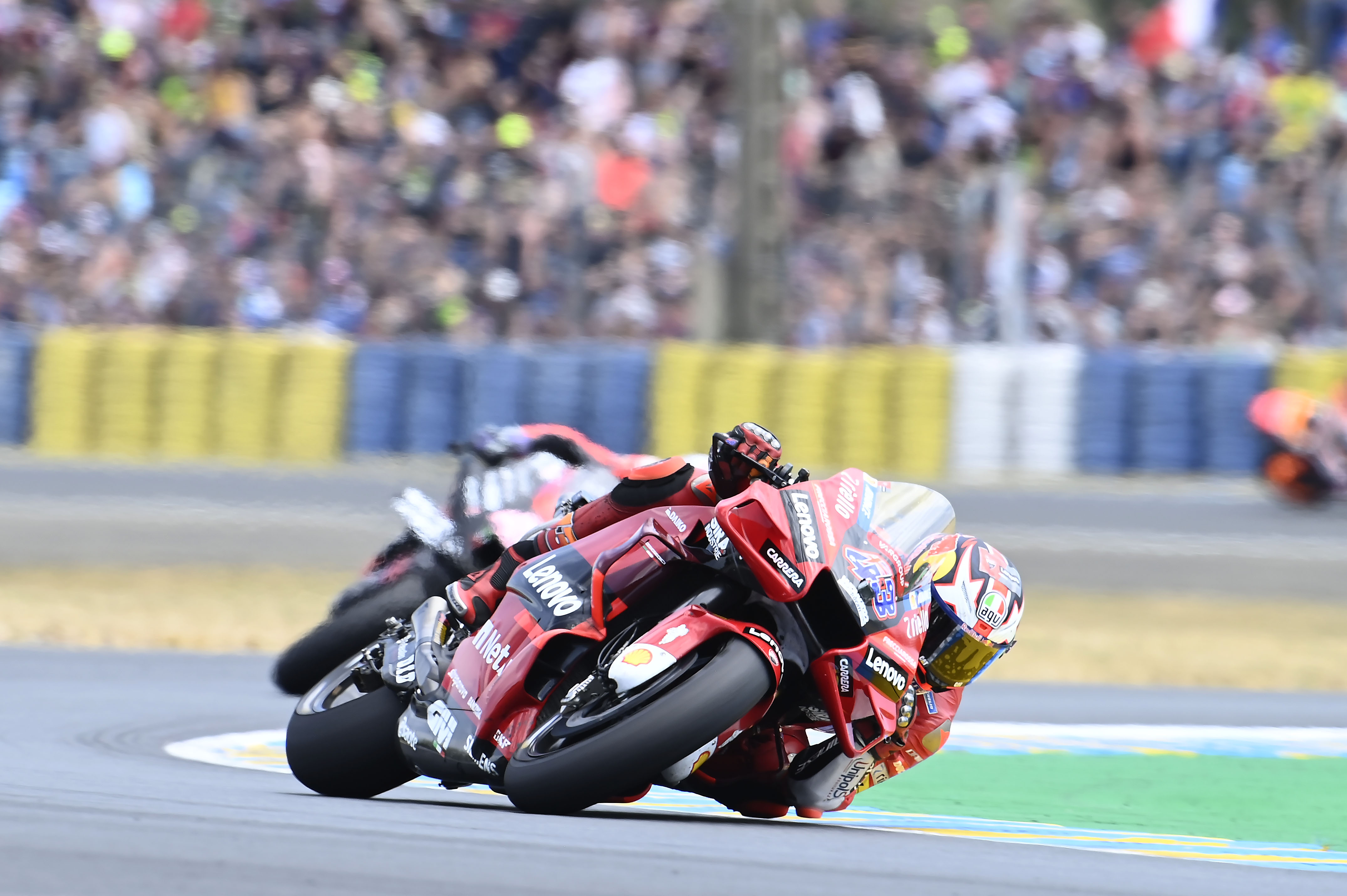 What really makes Jack Miller's performance stand out is the intelligence of it, doing what his team-mate Pecco Bagnaia wasn't able to by being smart. Miller realised that Bastianini was going to be stronger, and he settled rather than put up a fight, perhaps hinting that the Australian has finally realised that sometimes it's better to finish on the podium than crash out of the fight for the lead. He still got beat by the young Italian, mind you, which isn't a fantastic look for him.
Brad Binder – 8
Started: 18th Finished: 8th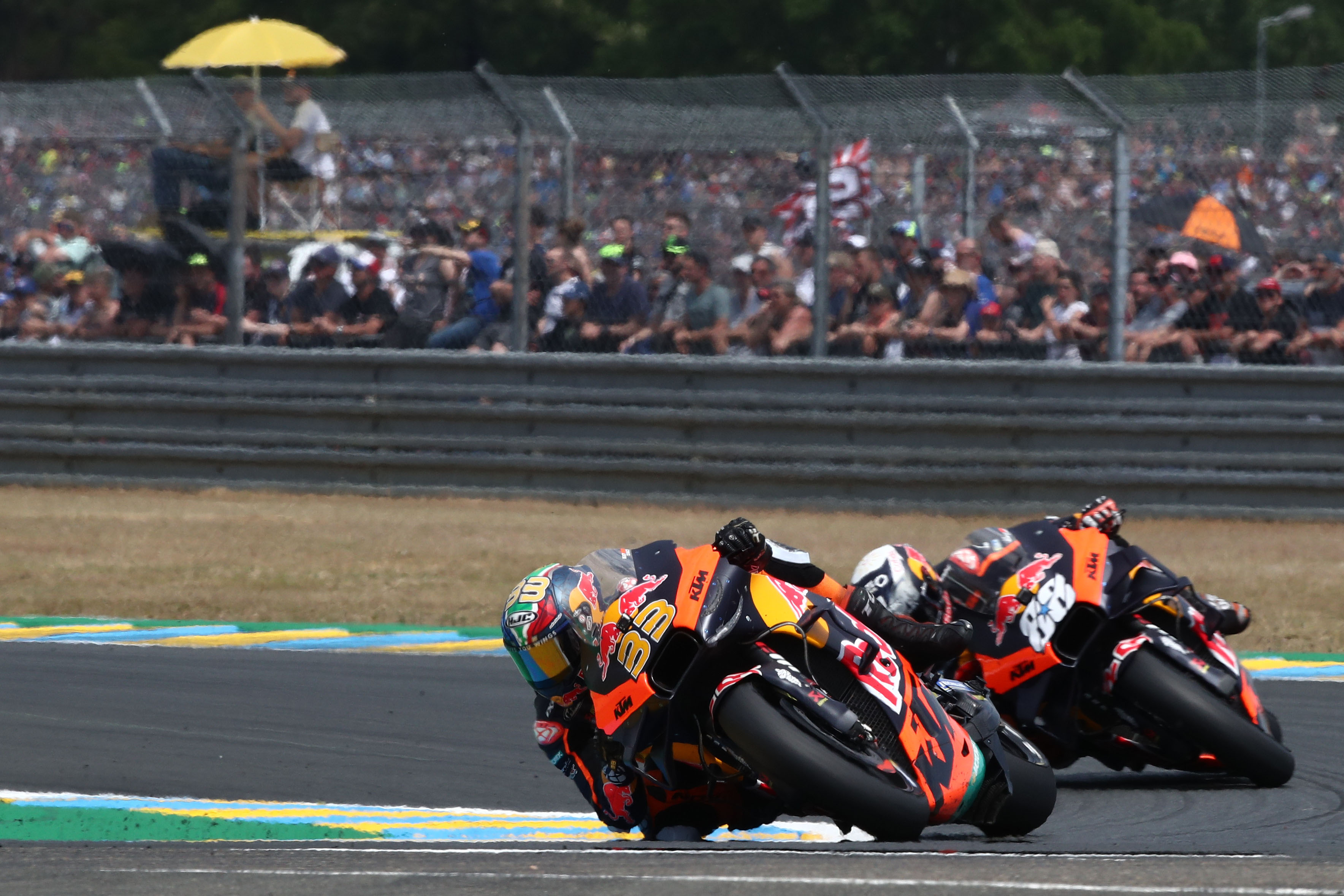 A superb effort from the South African given the hardships of the weekend and the race. Obviously riding a bike that isn't very good, he was the only one of his four team-mates to even stay on it, but he did even more than that. Clipping Johann Zarco early on and losing a wing, the fact that he kept going forward rather than backwards is a testament to his stubbornness and physicality.
Taka Nakagami – 7.5
Started: 12th Finished: 7th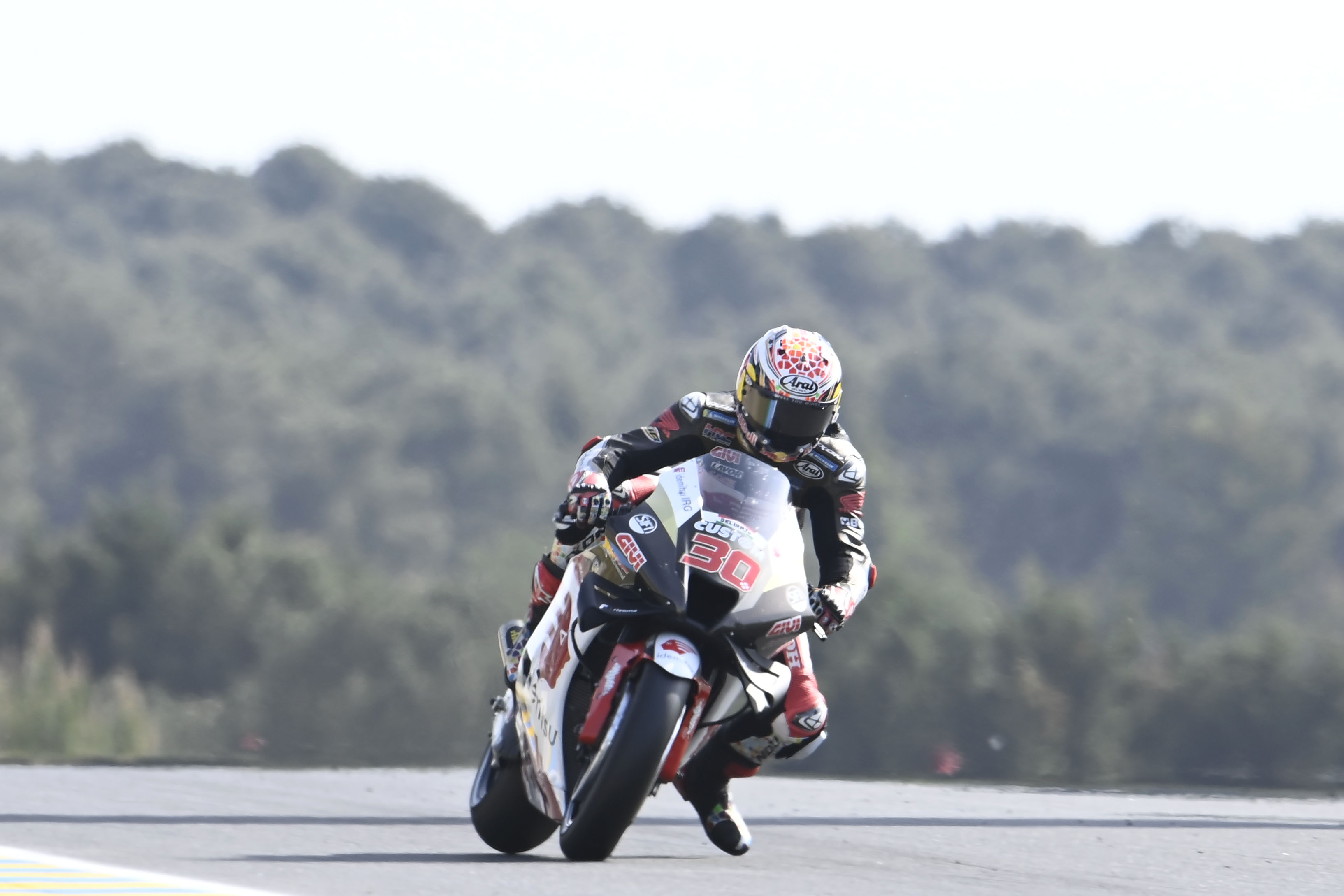 Arguably the best race of Nakagami's career, seventh place and just a second behind Marc Marquez is a very strong result for the Japanese rider and suggests that his Jerez blip might not have been a one-off. Whether it's too little too late to save his future remains to be seen, but it's at least a positive step in the right direction.
Johann Zarco – 7
Started: 9th Finished: 5th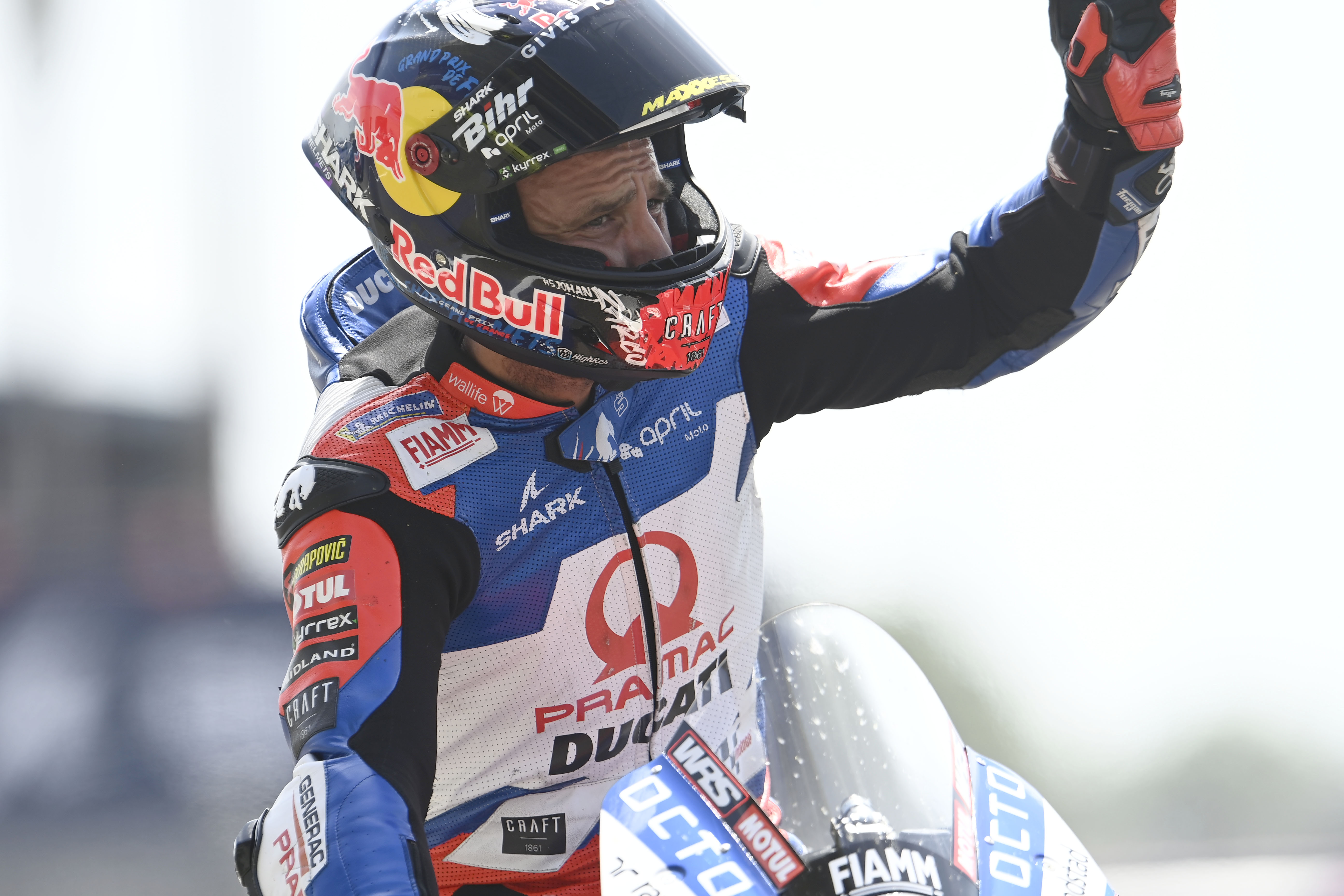 Another standard-issue anonymous Johann Zarco race where he doesn't do much of note, barely appears on TV, yet still manages to finish in a good result at the end. Perhaps not quite the result that he wanted at his home race, with eyes set on the podium, it was still a decent day out for the Pramac rider.
Marco Bezzecchi – 6.5
Started: 13th Finished: 12th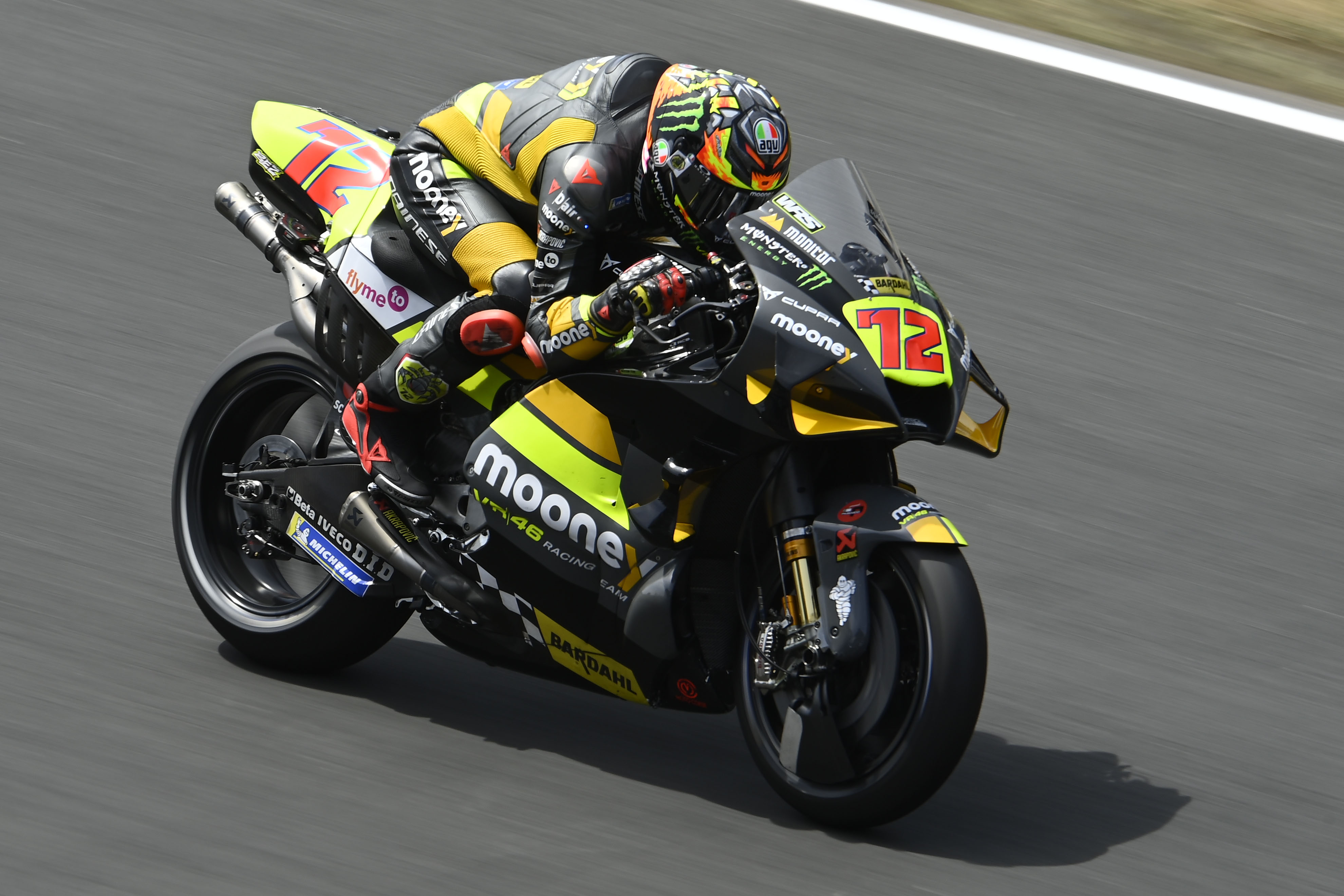 Another race with a good points haul and an extension of his lead in the rookie standings, it's looking apparent that Bezzecchi will be the standout rider of this crop. Still, to somewhat perfect his Sundays and repeat his Saturday speed, it's all starting to fall into place for the next big Italian star.
Fabio Di Giannantonio – 6
Started: 16th Finished: 13th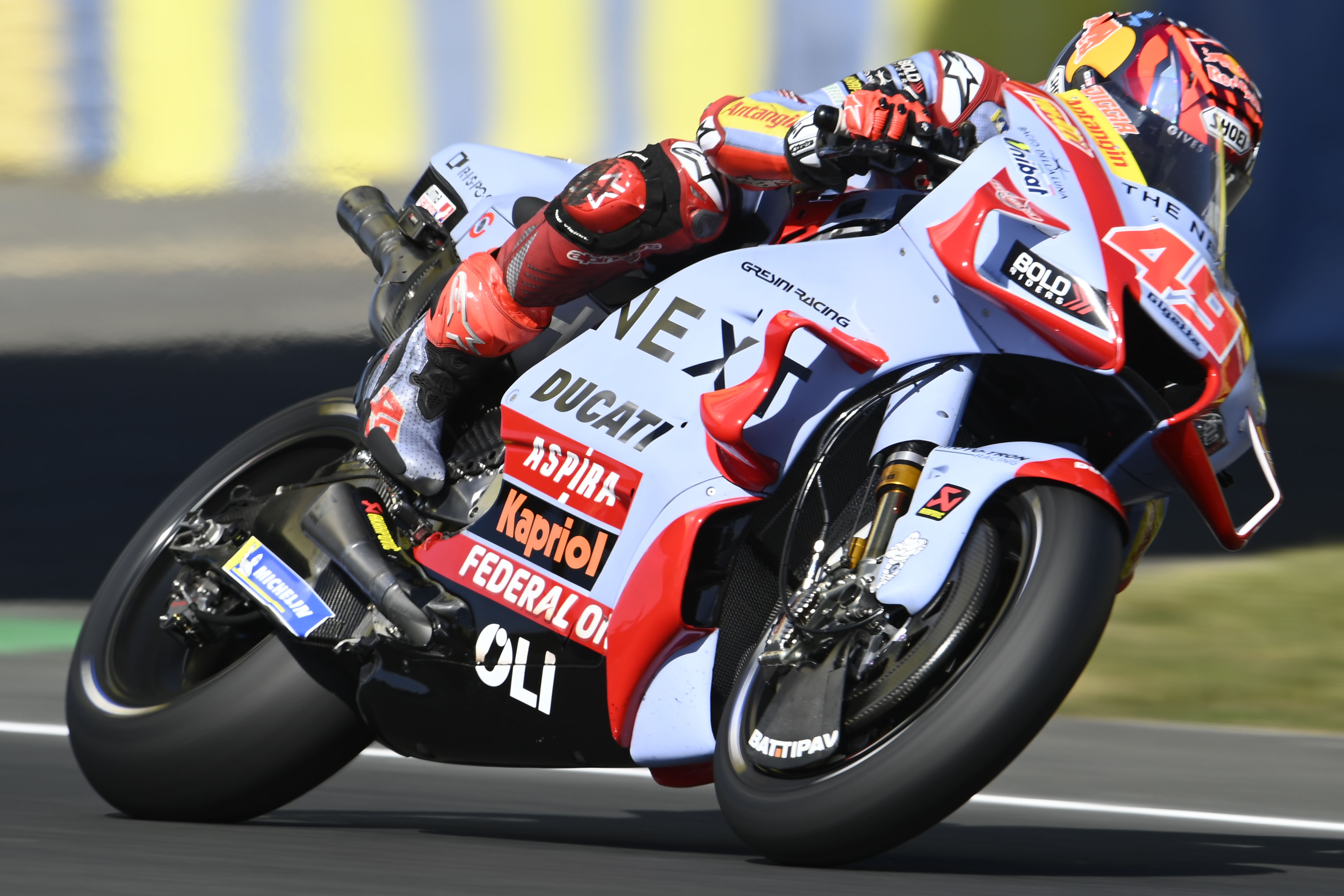 The rookie of the year battle has so far been largely devoid of Di Giannantonio as he's struggled with a tough start to his season. But he said that last weekend's test at Jerez would be key to catching up and it seems that he's delivering on that promise now, especially if he can maintain his newfound level in Mugello.
Luca Marini – 6
Started: 15th Finished: 9th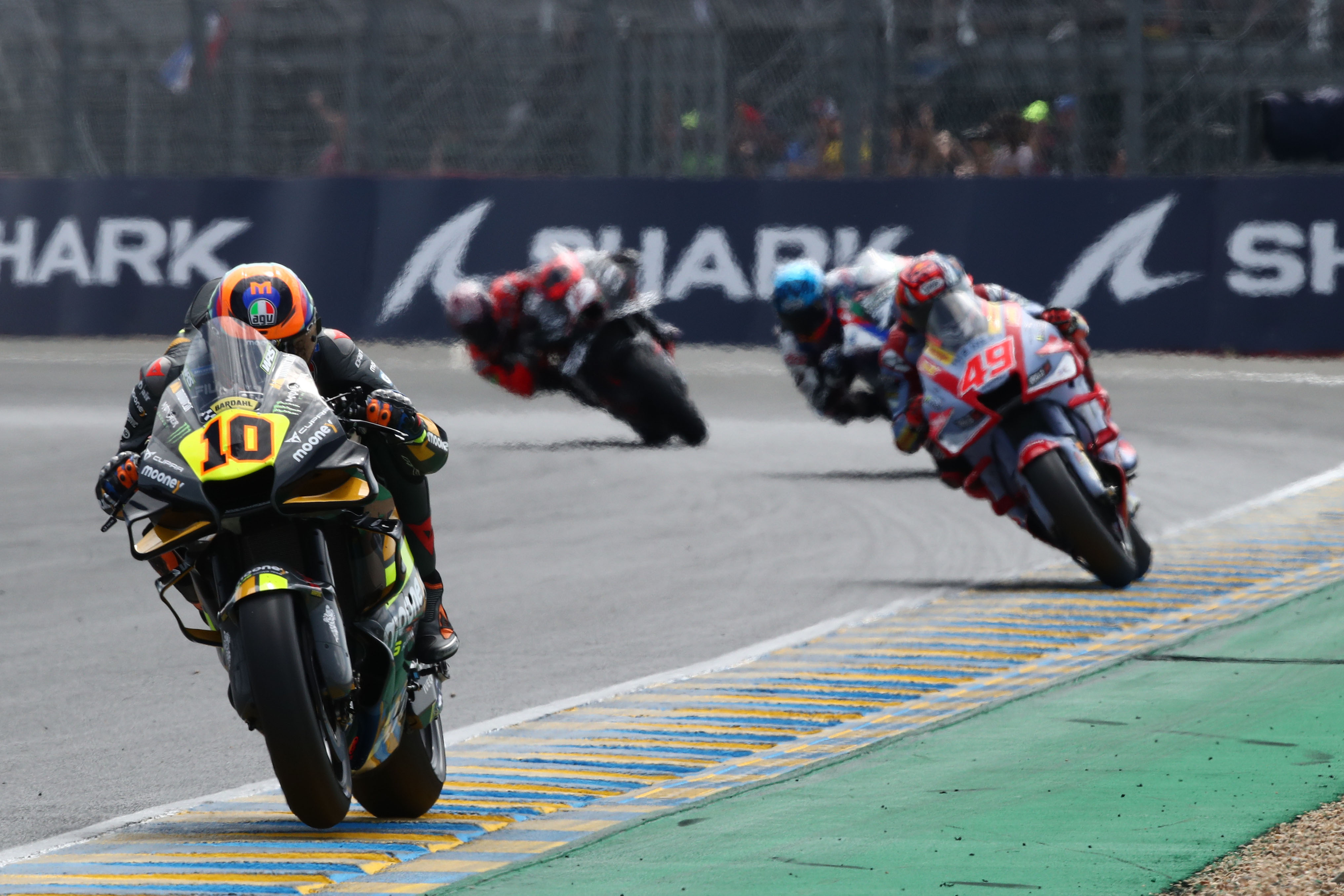 Without a doubt Luca Martini's best day of the season. Obviously somewhat aided by lots of crashes in front of him, he still held it together to progress his way forward even as he faced another tough day on the VR46 Ducati. A few more of them, and people might be less likely to start questioning his future.
Darryn Binder – 5.5
Started: 23rd Finished: 17th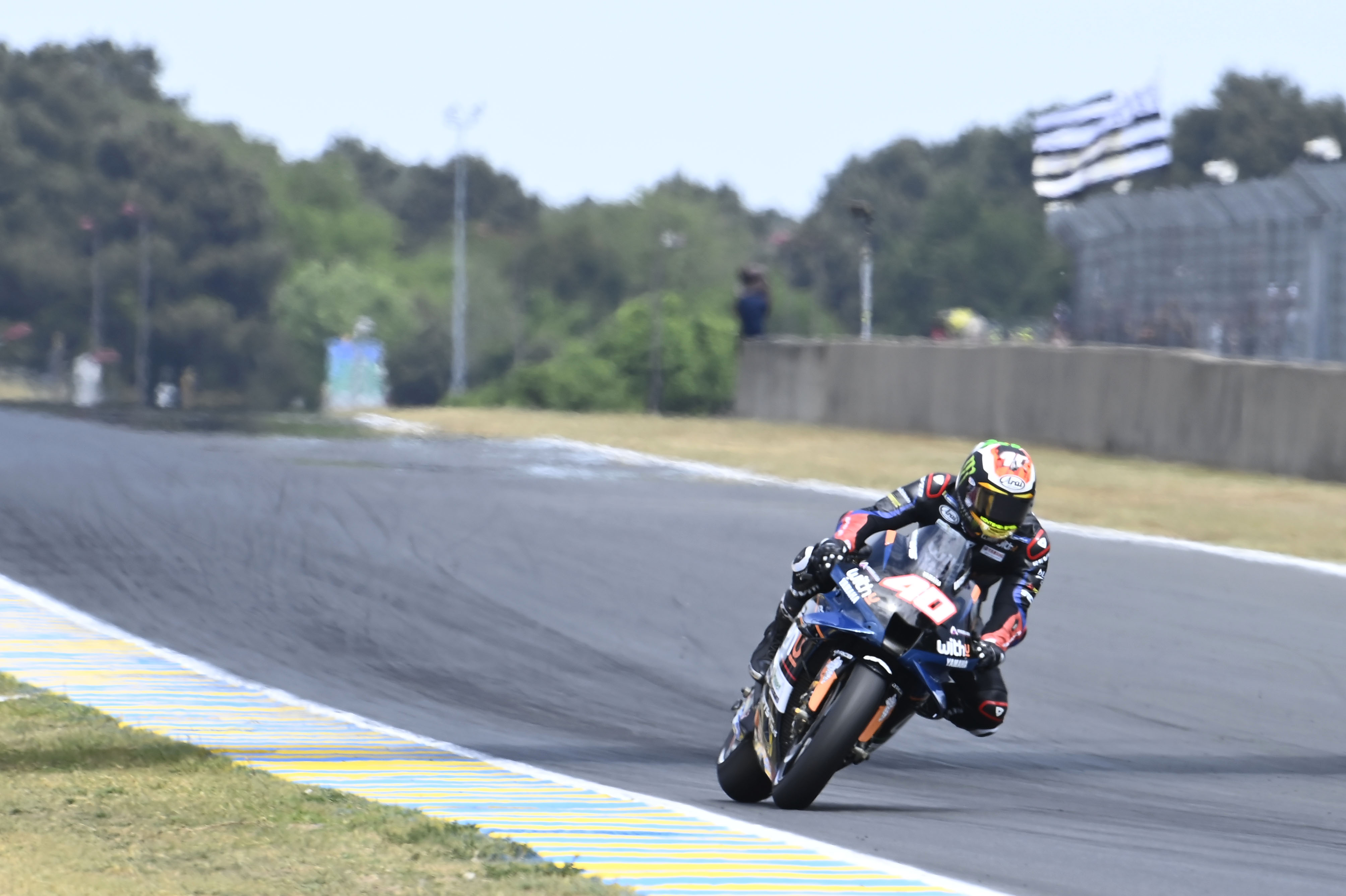 A deeply frustrating race for the rookie, Darryn Binder was left beating himself up afterwards about an error-strewn performance that didn't amount to much. The positive thing is that it came on a tough day for Yamaha and that in your first season days like this are character-building not disasters.
Maverick Vinales – 5
Started: 14th Finished: 10th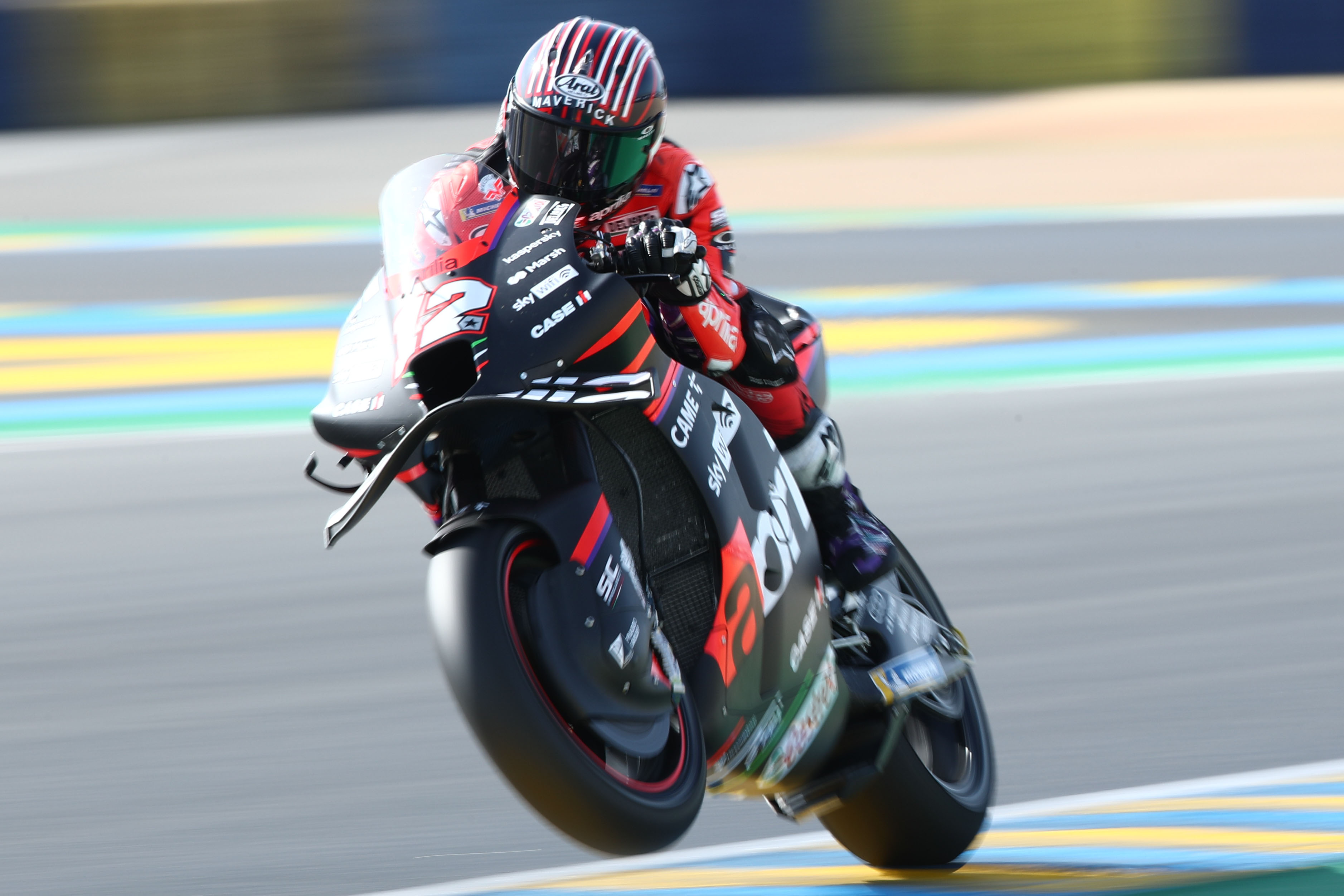 There's only going to be so long where Maverick Vinales can get away with rehashing the same excuses about not fitting with the RS-GP. Either extensive modifications are needed from the factory or he needs to change his riding style faster, but one way or another you have to think that tenth while his team-mate is on the podium isn't good enough for a multiple race winner, especially as others circle his seat.
Pol Espargaro – 4
Started: 11th Finished: 11th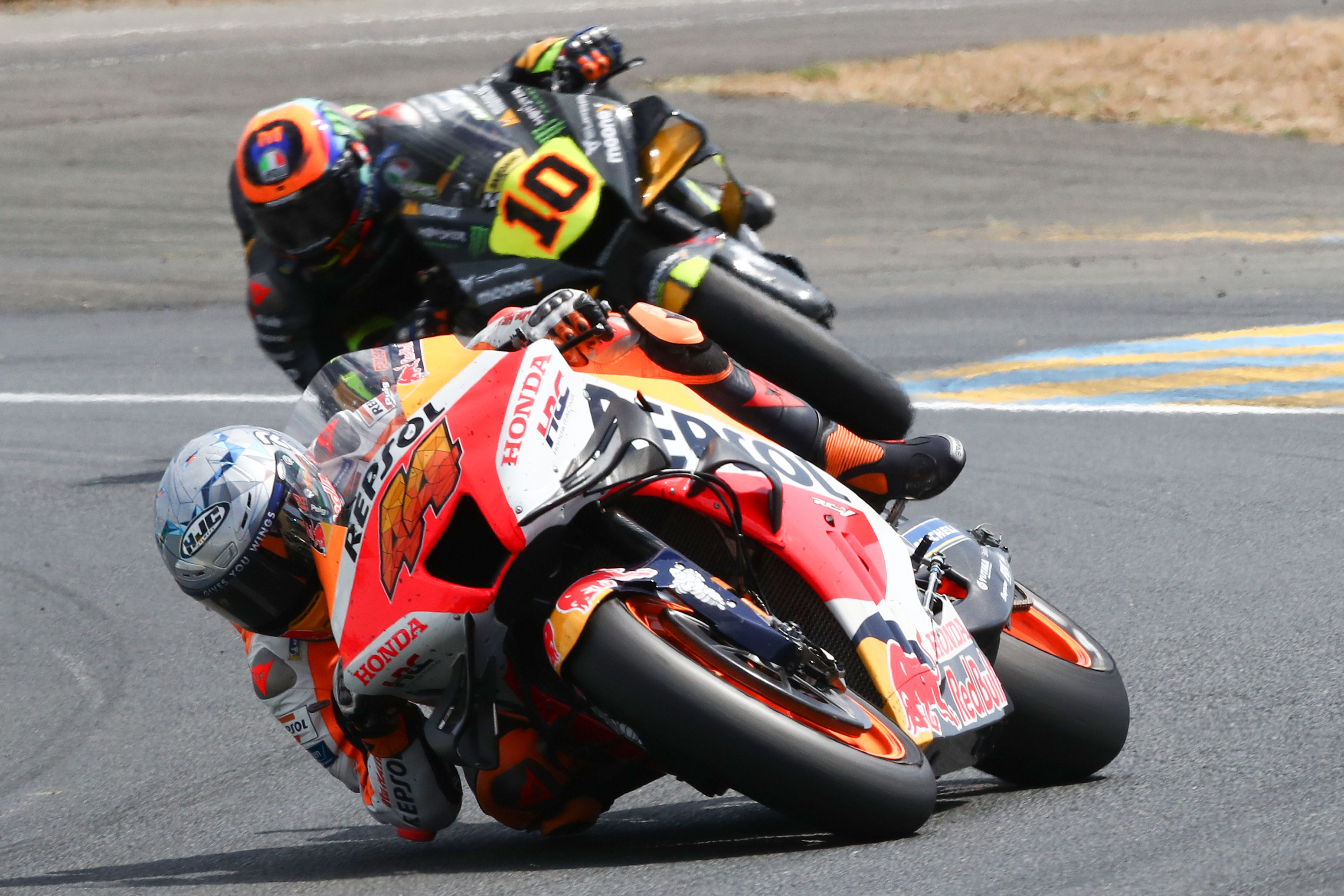 For a rider who traditionally goes well at Le Mans, Sunday's race must have really stung Pol Espargaro. This year's Honda should have worked well for him at the French track, yet it seems like they've taken a huge step backwards with it instead in the past few races and it's him that's most paying the price.
Yet, while he's in trouble, maybe the most worrying thing is that, for the third race in a row, he was beaten by a satellite Honda.
Marc Marquez – 4
Started: 10th Finished: 6th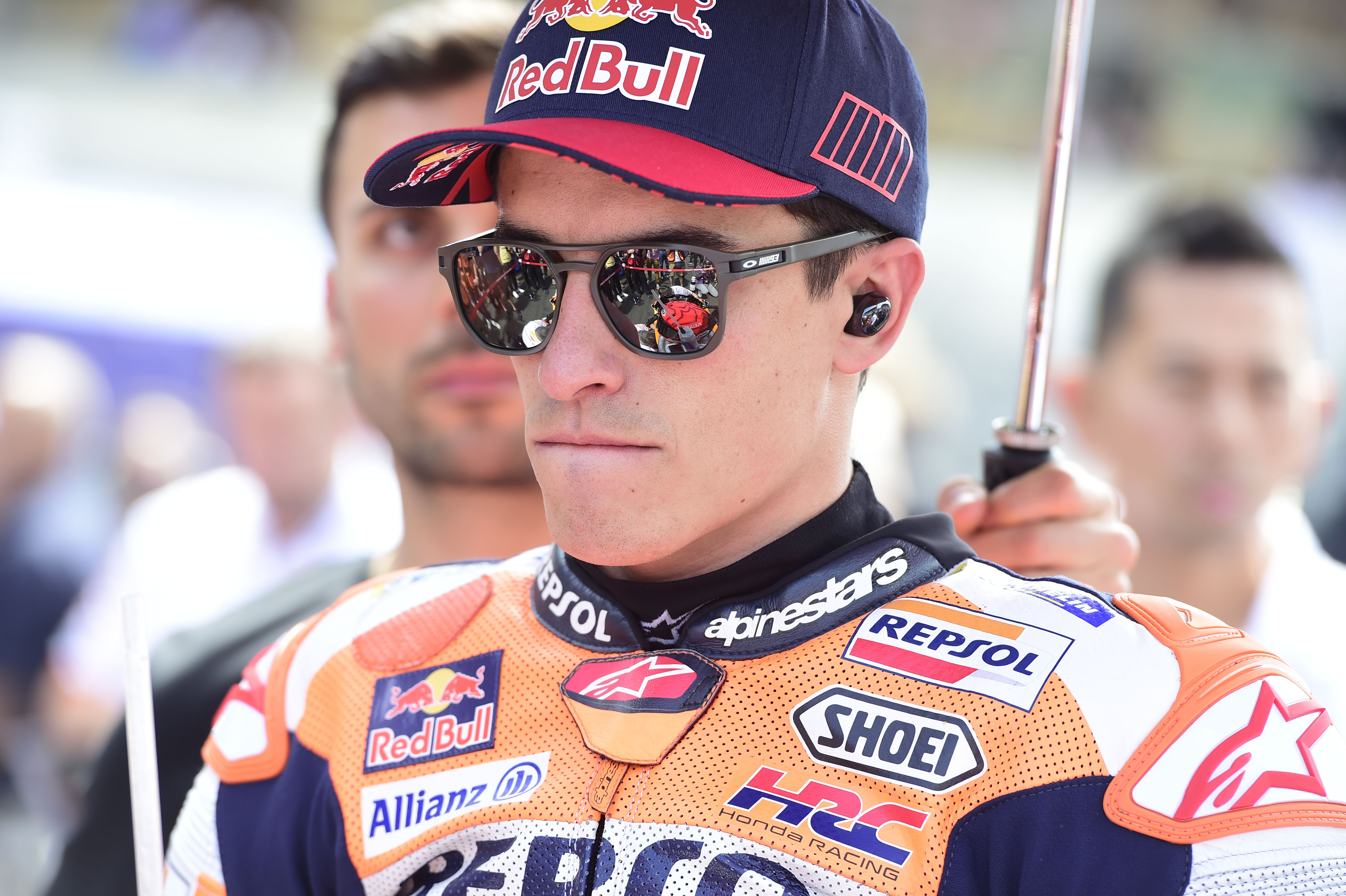 Sixth at the flag but more realistically fast enough for ninth or tenth had those in front of him stayed on, it's almost unbelievable to see Marquez struggling so much. Always able to make up for the limitations of a weak Honda in the past, that superpower seems to have deserted him now – and the result is a demotion to mid-pack obscurity.
Remy Gardner – 4
Started: 22nd Finished: DNF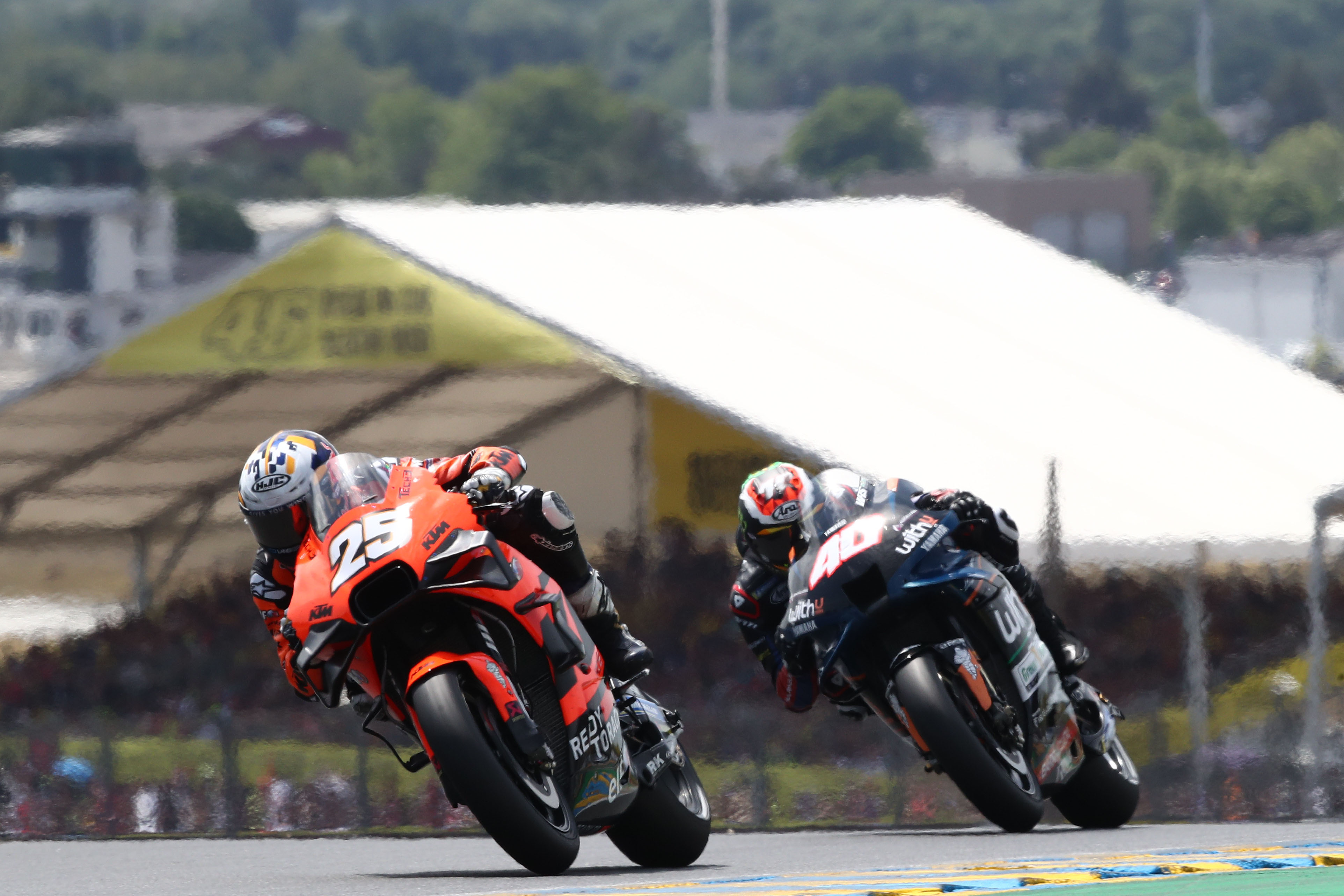 Of all the riders who had tough days at Lr Mans, there's none who sounded so totally dejected afterwards than the straight-talking Gardner.
Completely unable to find any competitive set-up on his Tech3 KTM, he spent the weekend begging the Austrian brand for new parts – and came away with nothing to show for Sunday's race except fresh additions to his ever-growing litany of injuries.
Raul Fernandez – 3.5
Started: 24th Finished: DNF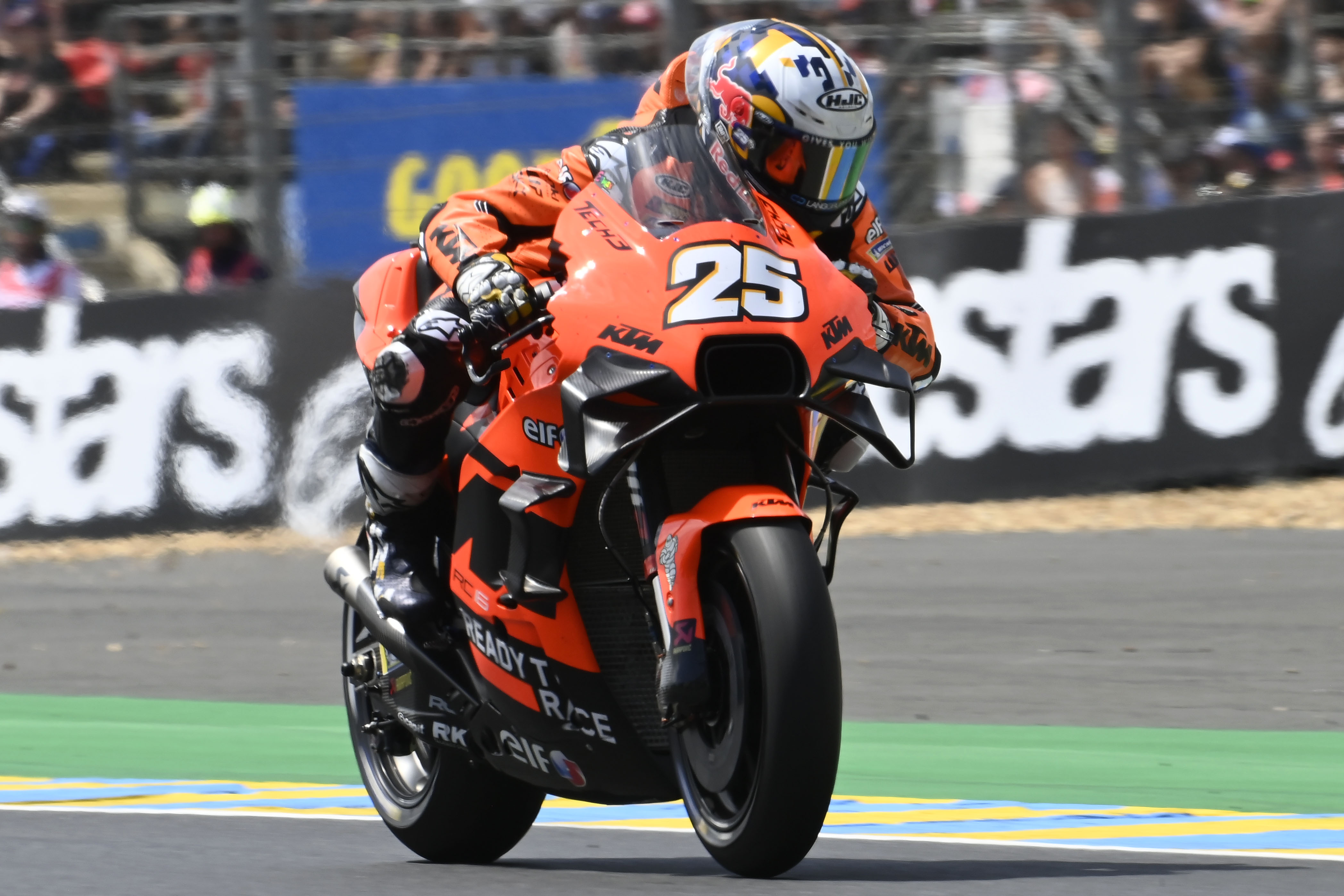 While KTM's rider line-up was mainly left frustrated with their weekends, Raul Fernandez was the one who instead was quick to apologise to his team.
He's still suffering with the same issues as the others, he nonetheless put his own crash down to rider error, after pushing too hard trying to catch the group in front and holding his hands up afterwards to concede that it had been a dumb thing to do with an inevitable outcome.
Joan Mir – 3
Started: 6th Finished: DNF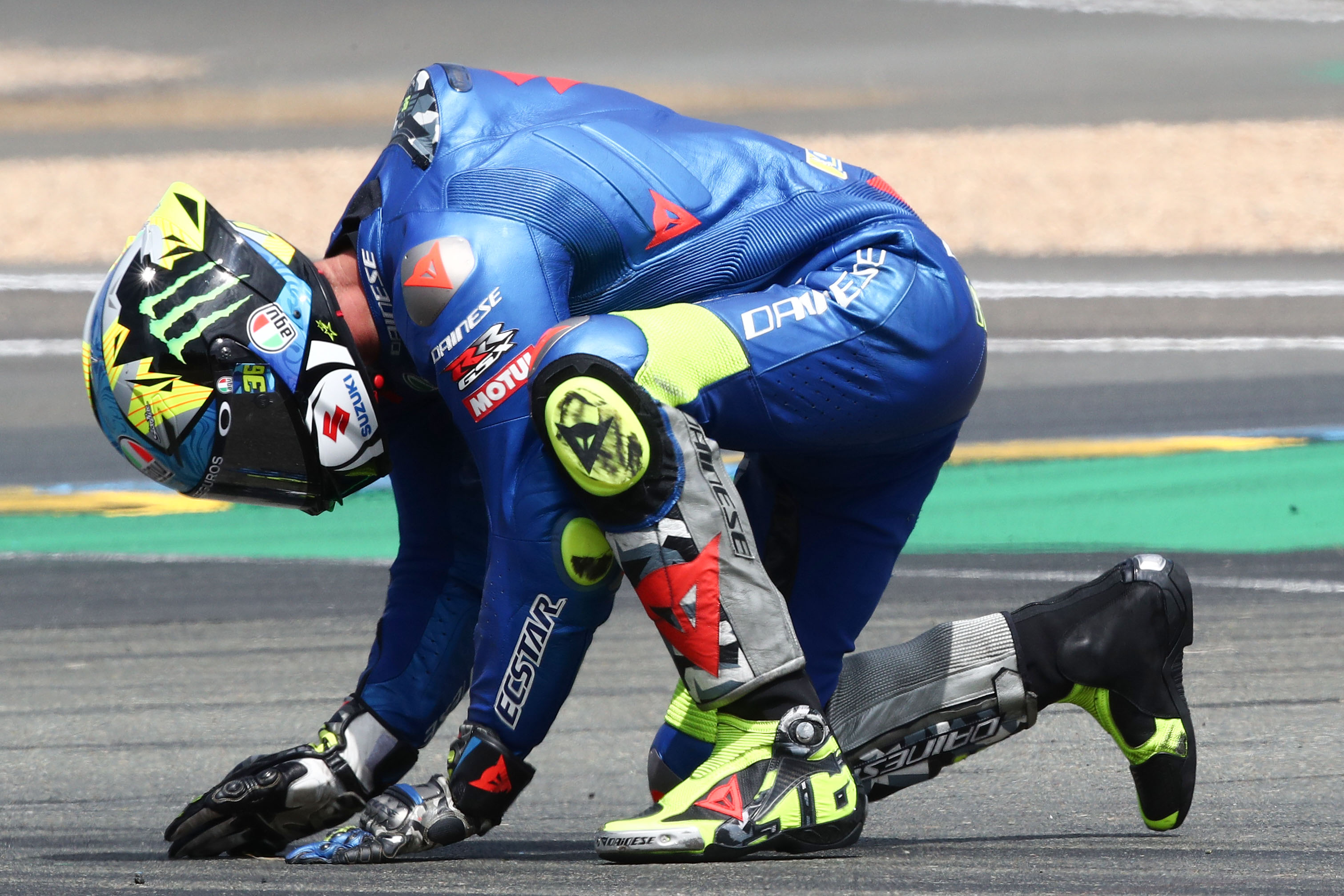 Joan Mir admitted after his crash out of the race that it was a mentally painful day, and that's no surprise given that he was the fastest man on track when he fell. There was at the very least a strong podium there for the taking, but instead, his terrible history with Le Mans continues and his title campaign takes another step backwards.
Miguel Oliveira – 3
Started: 17th Finished: DNF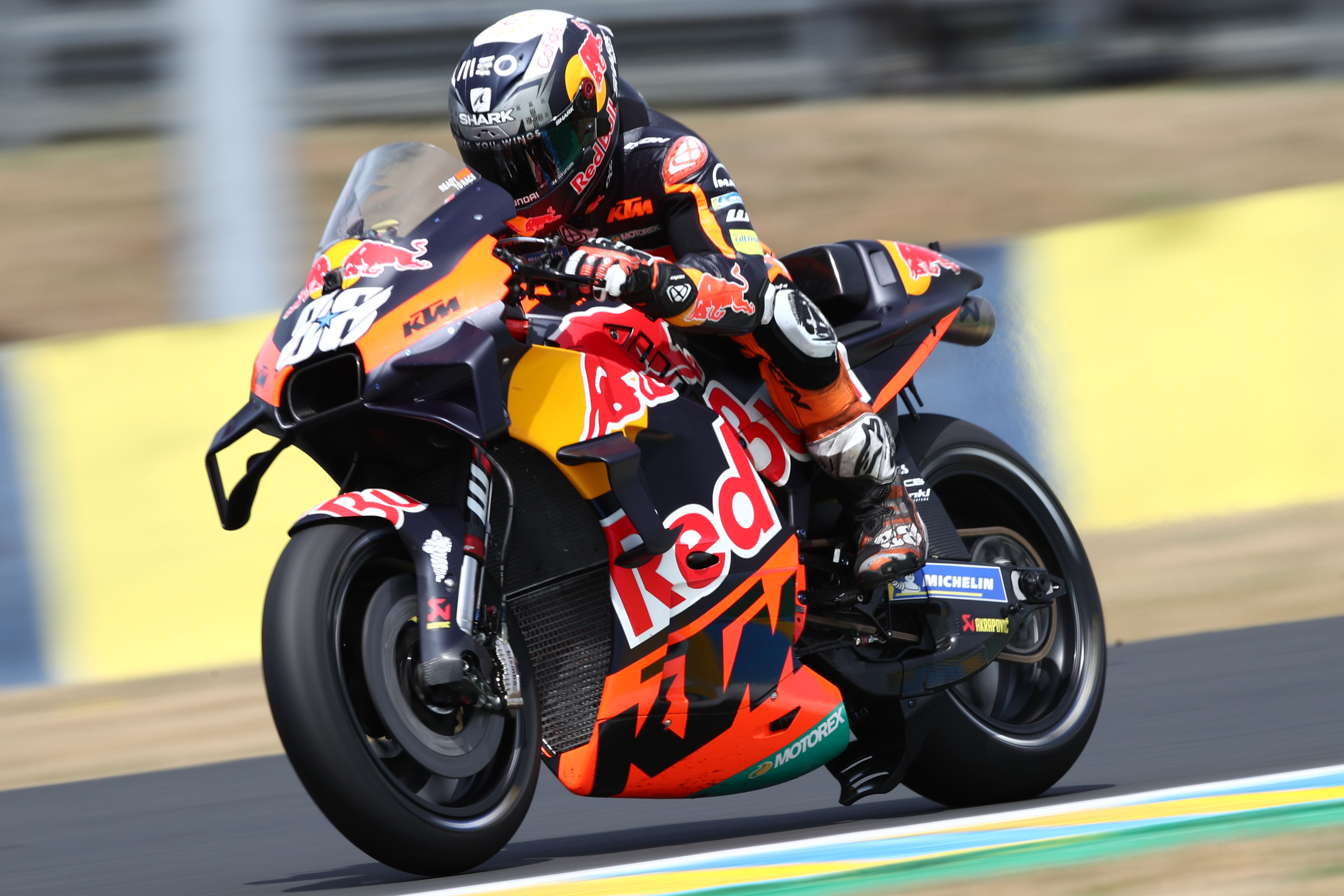 Sunday's race at Le Mans was an easy one to make a mistake in, and even easier again when you found yourself overriding a KTM – which means that Miguel Oliveira's crash is almost forgivable. Yet coming when it did, only three races from the chequered flag and when positions were largely decided, means it was still a disappointing end to the weekend for the Portuguese racer.
Andrea Dovizioso – 3
Started: 20th Finished: 16th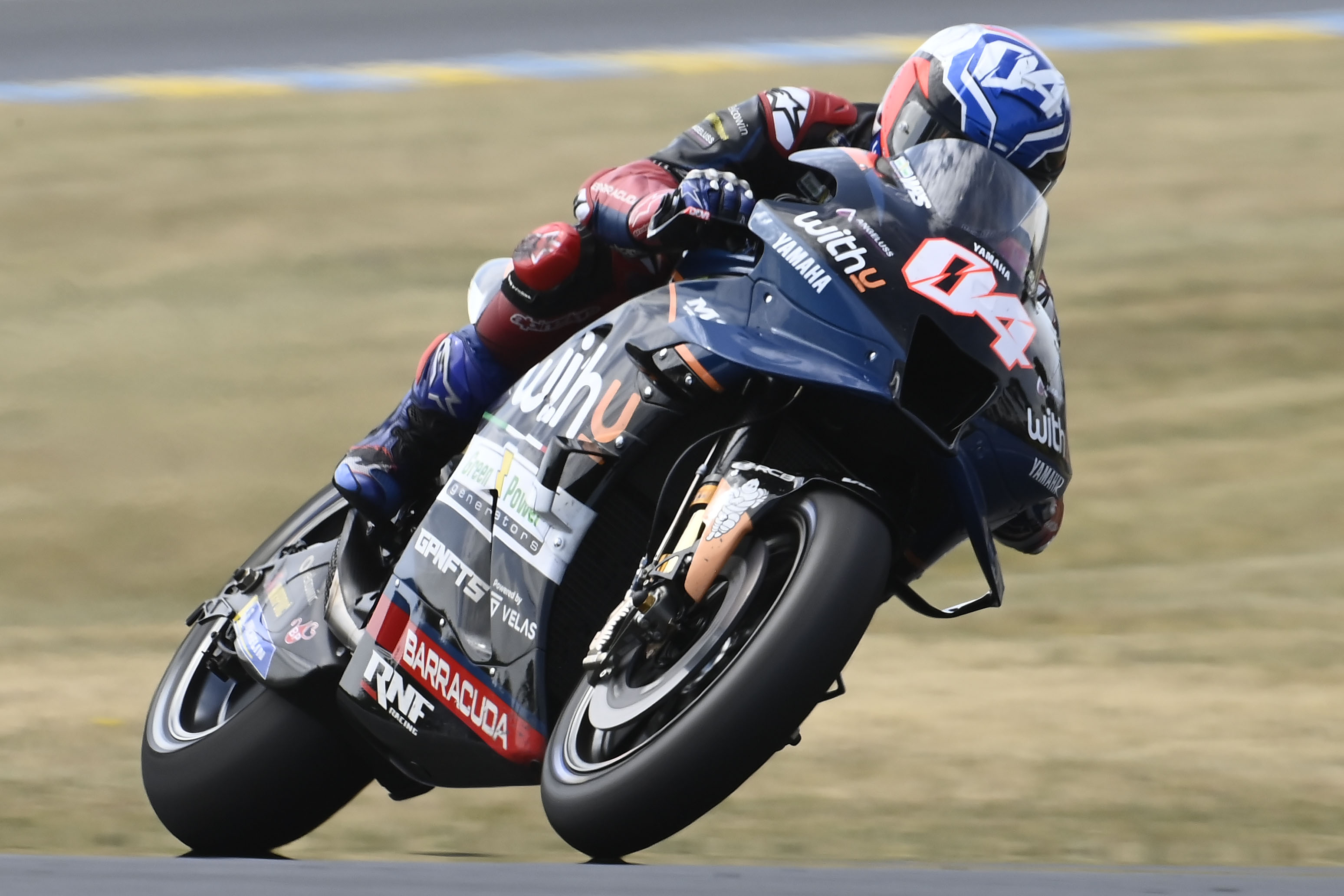 Three-time title runner-up Dovizioso sounded like a defeated man at Le Mans, as he eventually conceded that there's no way to fix the Yamaha M1 into a machine that works for him, and that the only way forward now is to find a way to ride like Quartararo. But that's much easier said than done, and P16 shows again how hard it is to teach an old dog new tricks.
Alex Marquez – 2.5
Started: 21st Finished: 14th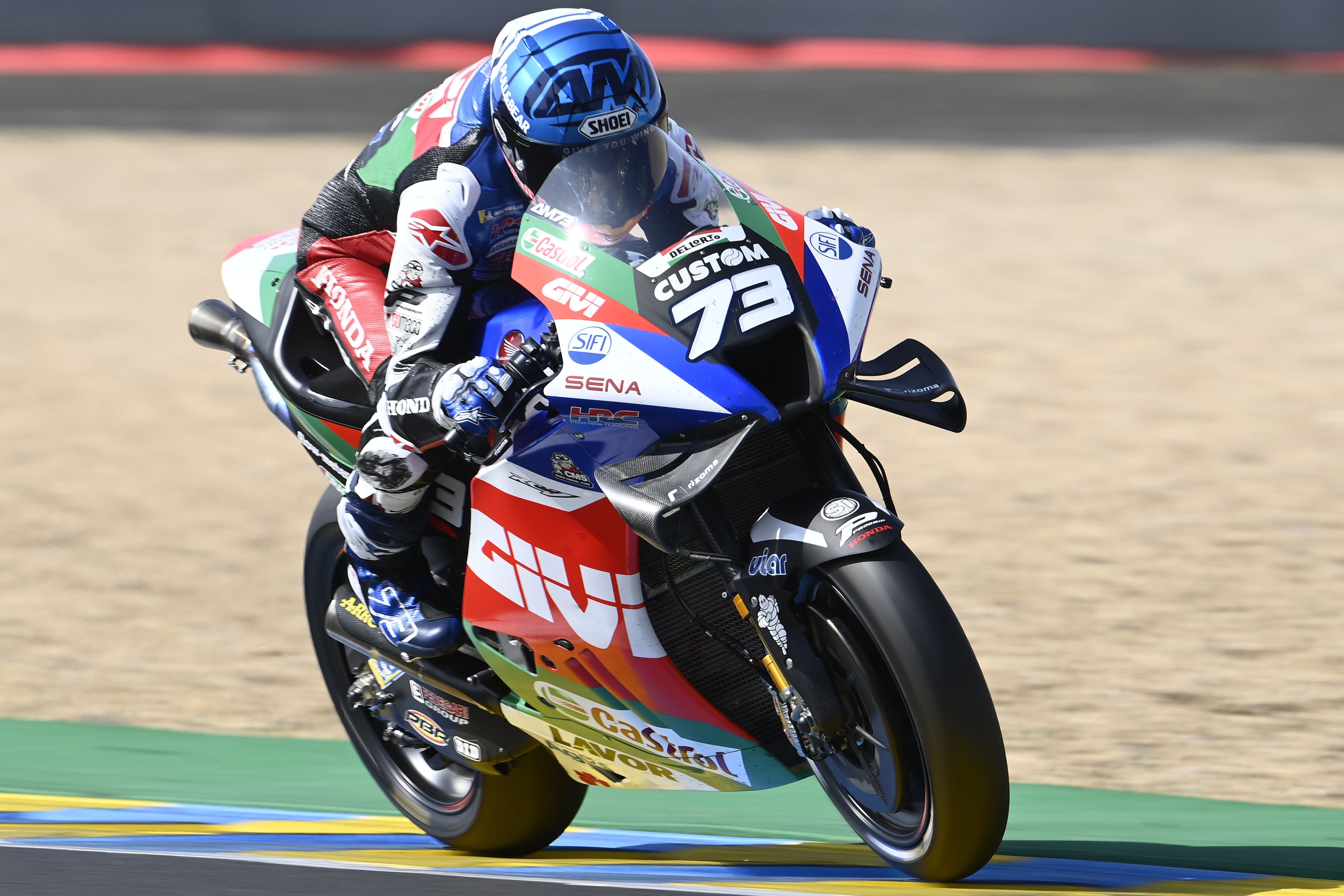 Two points and P14 on a day when five riders crashed out in front of him isn't exactly something to celebrate for Alex Marquez. Given, it was a tough weekend for Honda – but team-mate Nakagami was able to make something work for him at Le Mans and Marquez once again wasn't. Really, the only positive is that he saw the chequered flag.
Alex Rins – 2
Started: 7th Finished: DNF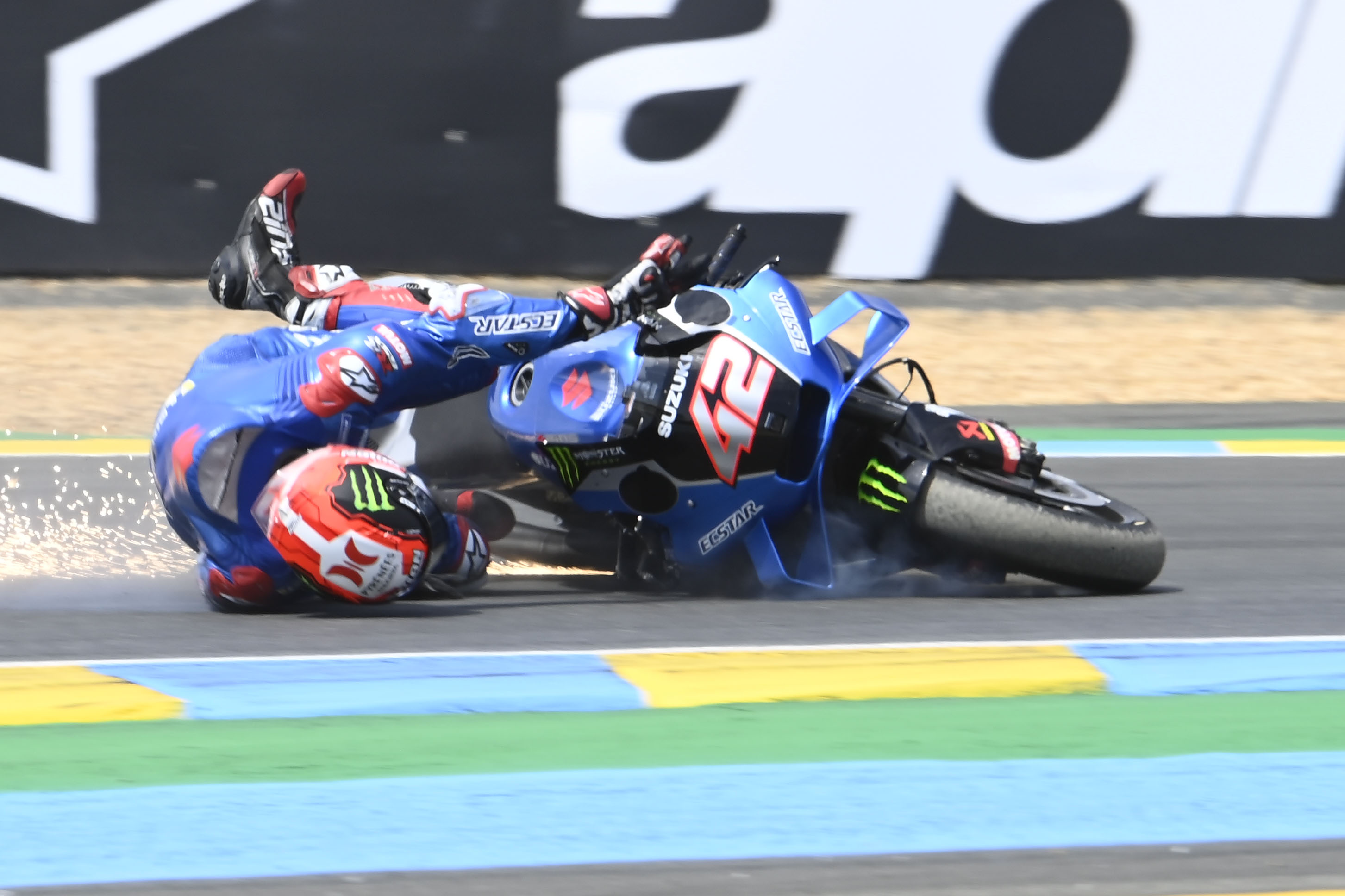 Obviously, Le Mans was a tough weekend for the Suzuki squad, what with the team's departure from the sport looming over them – but while that might be an excuse for Alex Rins' second DNF in two races, it nonetheless very much hints at a return to old Alex, the one with the inconsistency problems.
That's not good news at all, especially for someone who only a few days ago was a title contender, and the pressure is on to bounce back well now in Mugello.
Franco Morbidelli – 2
Started: 19th Finished: 15th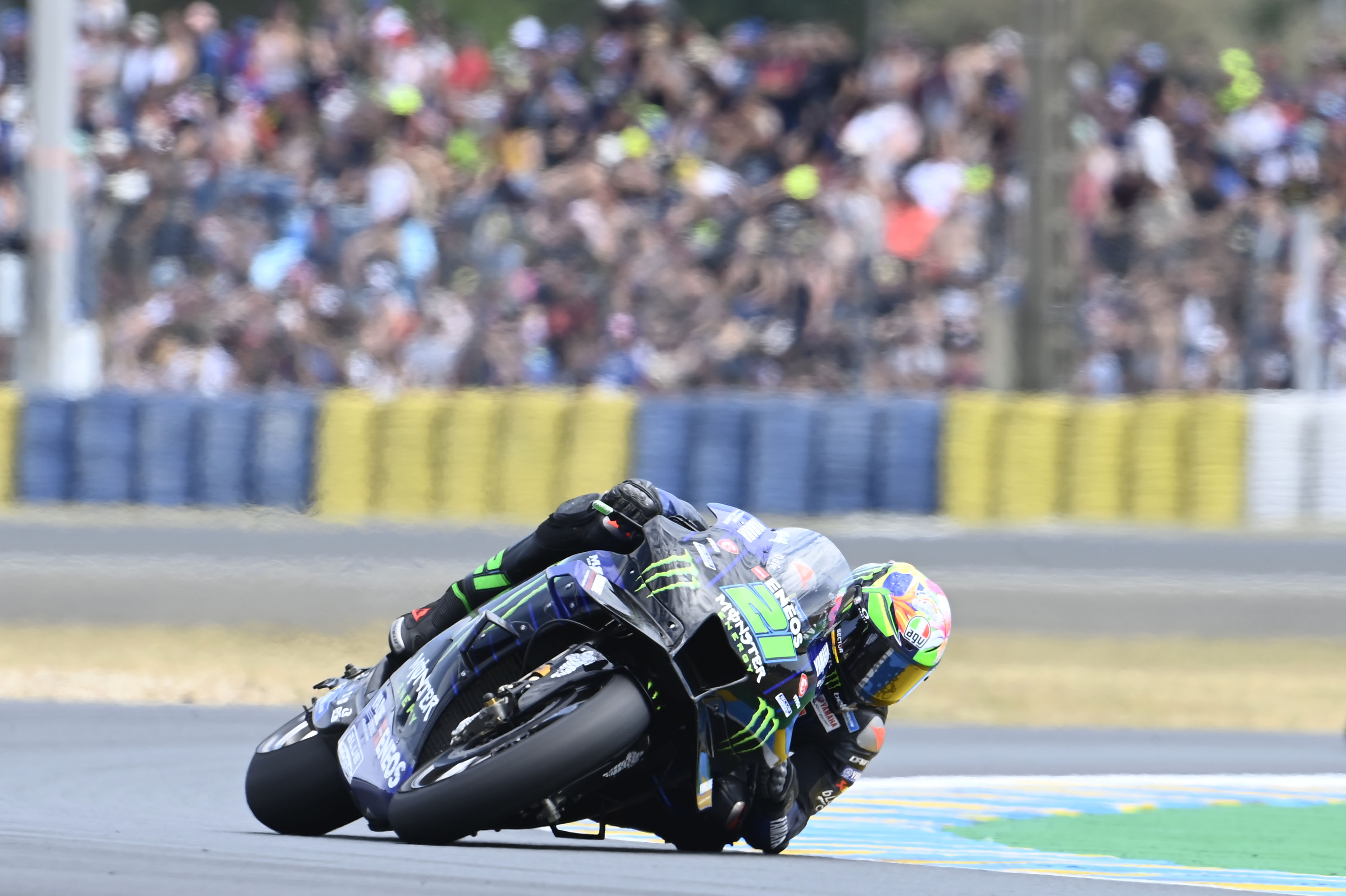 Questions about Franco Morbidelli's future just won't go away despite having a signed contract for 2023 – and it's no wonder when you see his race result from Sunday.
Bringing home a solitary point and ending up 30s from the winner, It's obvious that something is missing: the 2020 title runner-up has lost his mojo. And while things aren't easy technically for them, Quartararo's performances show it's not entirely down to the Yamaha M1.
Jorge Martin – 1
Started: 8th Finished: DNF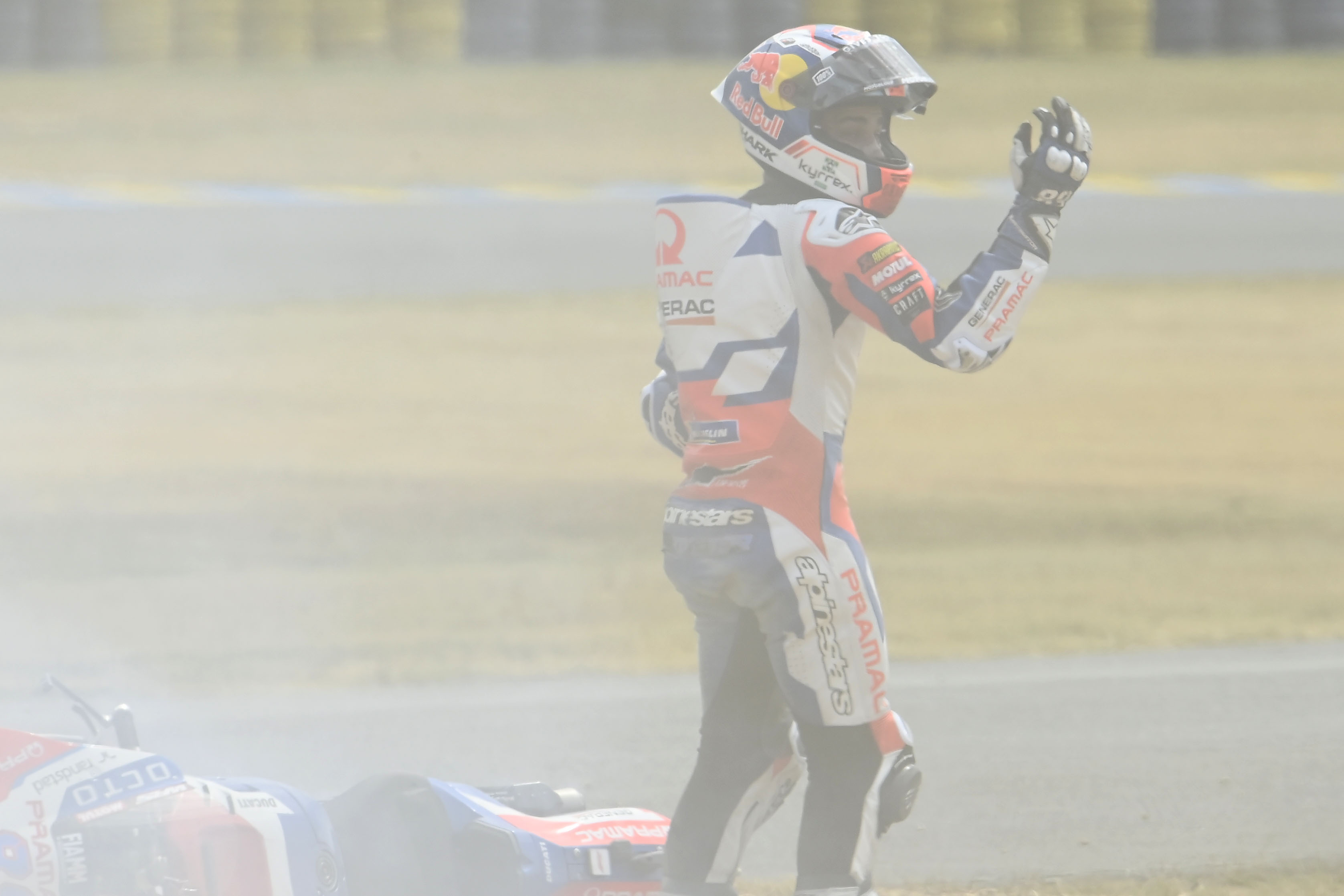 The less said about Jorge Martin's race the better, really. Admitting afterwards that an old nerve injury made a recurrence this weekend and left him unable to feel his arm in the race, that might partially excuse him, but it's still the fifth crash from seven races this year regardless of the cause.
Pecco Bagnaia – 1
Started: 1st Finished: DNF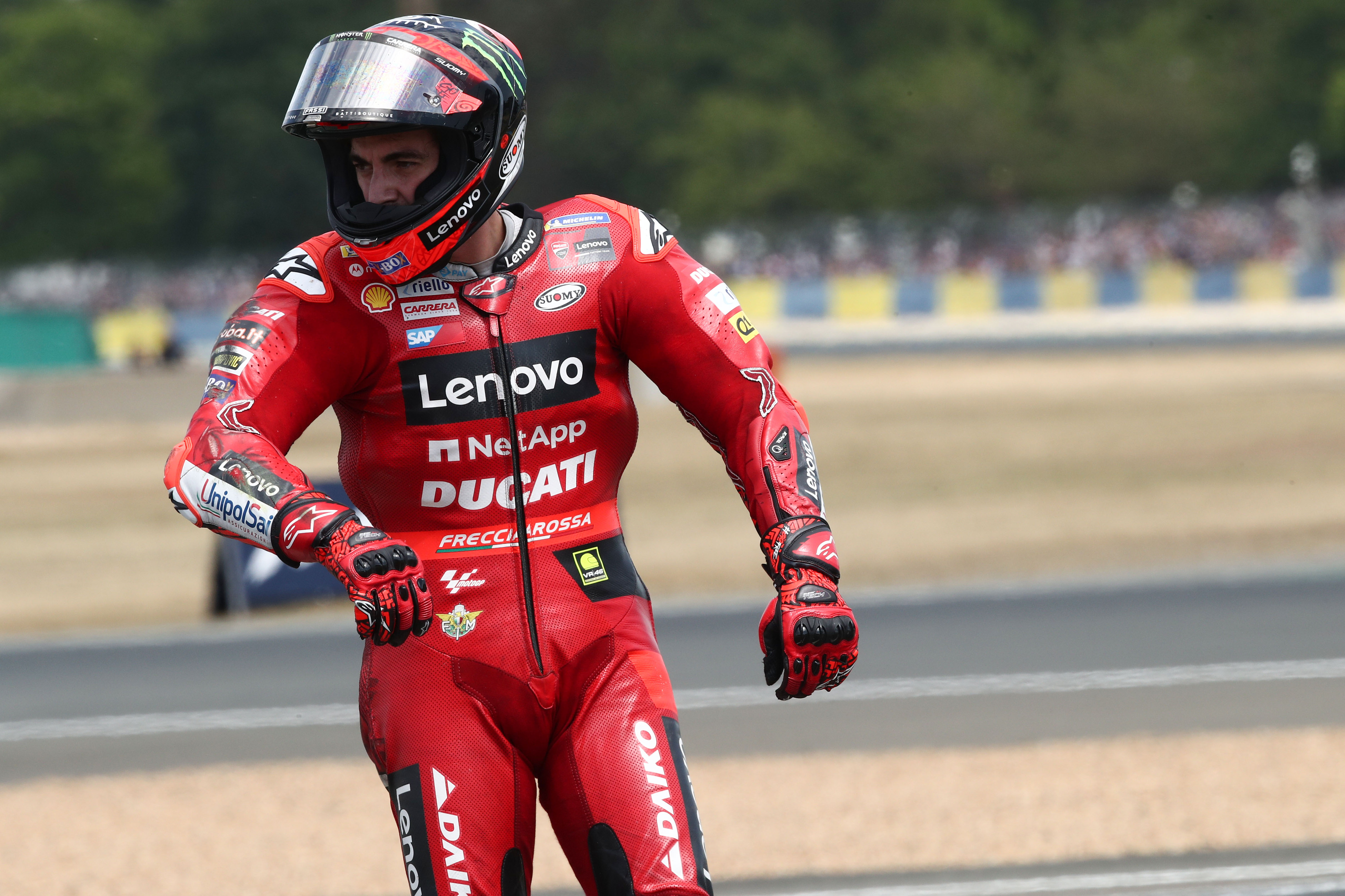 In the past, Pecco Bagnaia has struggled with pressure, prone to making stupid mistakes when he fights himself in a tricky spot. Recent performances had suggested that he had overcome that issue – but his unnecessary crash out of Sunday's race was a sign that he definitely hasn't. A more sensible head (like team-mate Miller) would have realised that Bastianini had something more in the bag, but instead, he kept attacking after a warning from the tyres earlier in the lap – and the result was painfully inevitable.