Ducati had concluded the 2006 MotoGP season with a 1-2 race finish, but championship glory remained a distant prospect at best. Yes, Loris Capirossi was there or thereabout at the end of the campaign in terms of the riders' standings, but it took a deeply messy season for Valentino Rossi (or, more specifically, Yamaha) for that to be possible, and the fact remained Ducati was yet to finish within even 100 points of the constructors' champion since kicking things off in 2003.
In 2007, it won the constructors' race by 81 points, took the teams' championship and brought home the biggest prize – a riders' title won by Casey Stoner, someone it had only recruited at relatively late notice in October of the year before.
Stoner was the missing piece, a truly elite talent delivered to a factory that had before that got by with capable-to-good veterans. But it was several rows of falling dominoes that allowed Ducati not just to win in 2007 – but to win as comfortably as it did.
The rubber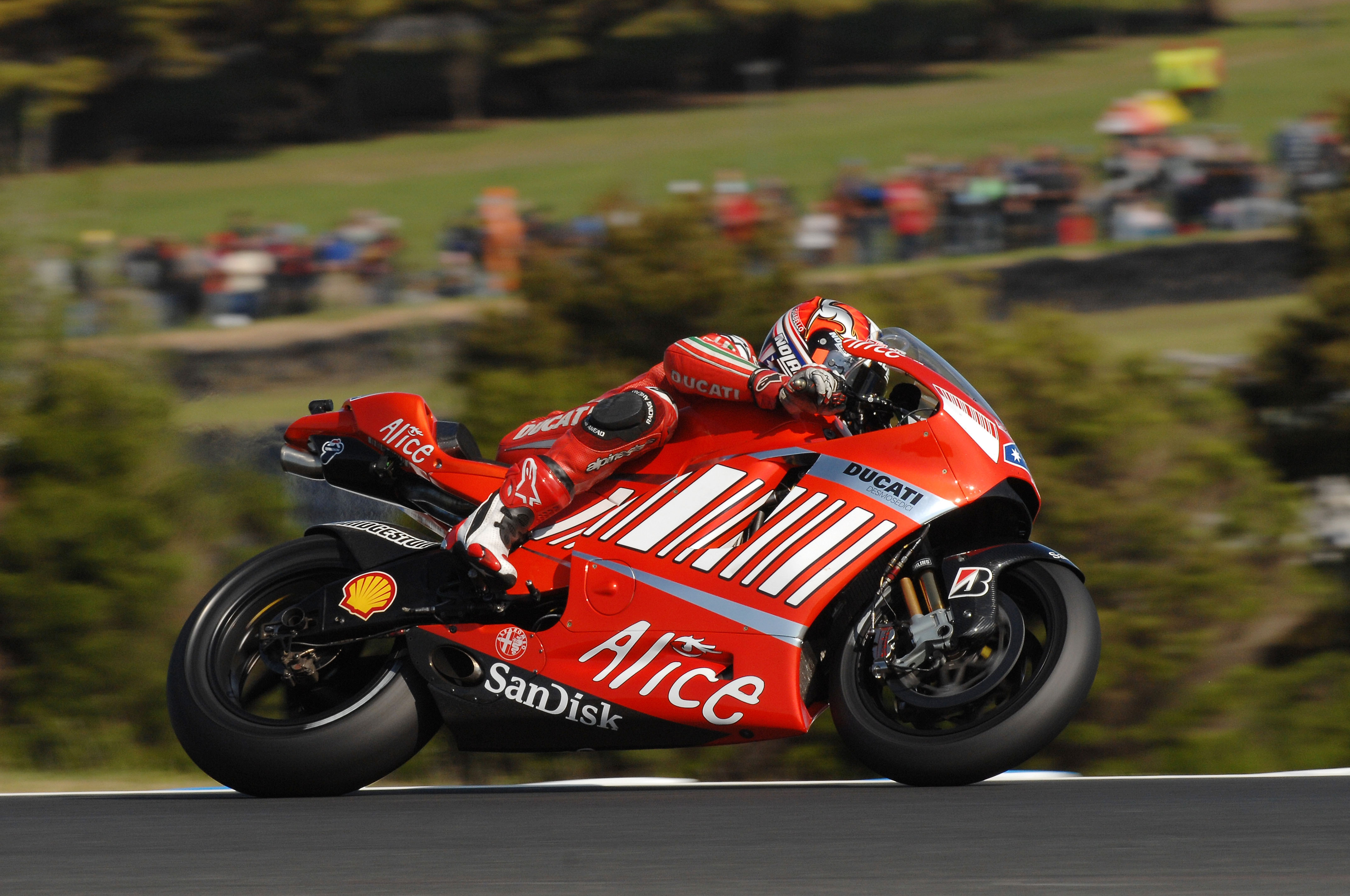 As Ducati's then-team boss Livio Suppo recalls, Bridgestone was on the ropes in 2004.
In what was only its third MotoGP season, Michelin runners were hogging the silverware, while the Japanese tyre supplier had to enjoy the questionable publicity of Kawasaki rider Shinya Nakano having his rear tyre go pop on none other than Mugello's terrifying front straight, sending him – thankfully unharmed – into the barriers.
Makoto Tamada, the sole Honda runner on Bridgestones, also had a less dramatic failure at that same place – one of several reported tyre blowouts for him that season. Yet Tamada's Bridgestone-shod RC211V was doing something else of note, too – it was winning.
The Japanese rider's two wins caught the eye of Suppo, as his Ducati team had "come back to reality" after a strong debut season. Lead rider Capirossi was not gelling with the new Michelin front, and Suppo knew Ducati was in a place where it had to go big or go home. Treading water may have been insufficient to title sponsor Marlboro – without which "we'd have to stay home".
"I thought 'we need to win two races in a year to survive'," Suppo told The Race MotoGP Podcast in 2021.
"The coolness of the brand allows you to stay alive, even if you don't win the championship – but you have to be competitive, you have to win a couple of races a year.
"I thought it was better to win two races and finish out of the top 10 in others, more than finish every time in fifth.
"And then I started watching Makoto Tamada, who was coming from Japanese Superbikes.
"At the time, he was the only rider coming from Superbikes that was able to win races. We had Troy Bayliss, Colin Edwards, Nicky Hayden.
"Tamada never won Japanese Superbikes – but he was the only one [of them] able to win [MotoGP] races. OK, he's racing with a Honda – [but] it cannot be only that. There must be something very special in his tyre."
In September that year, Suppo called Claudio Domenicali – the CEO of Ducati's racing company – and general manager Filippo Preziosi, and told them he wanted to go with Bridgestones.
"They were like 'are you drunk in the morning?'. Because clearly Michelin at that time was, with no doubt, the best tyre in MotoGP. But I was famous for being a pain in the ass – if I had an idea, I was pushing, pushing and pushing.
"Both Claudio and Filippo are very clever. They said 'if this crazy guy has this idea, maybe there's something good'. They said 'OK, but now let's try to evaluate more technically how Bridgestone is growing from 2003 to 2004'.
"And then I did a lot of Excel files in which it was clear, analysing the total gap of the first Bridgestone rider to the winner of the race, and to the best lap of the race. And the graphic clearly showed that Bridgestone was catching."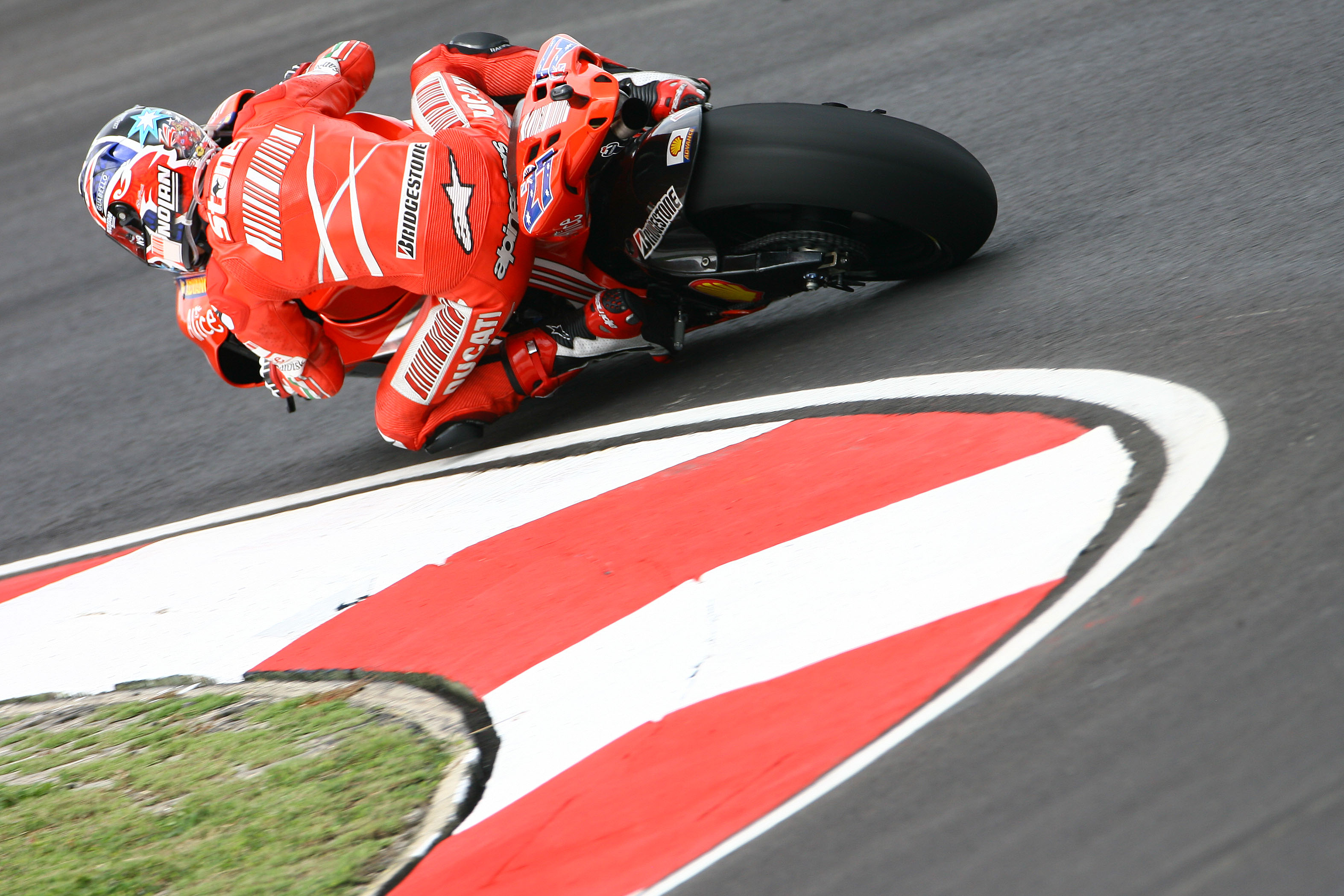 A close cooperation with Bridgestone, for which Ducati became its most prominent client/partner, bore dividends right away. But it was Stoner – regarded before his Ducati switch as being particularly accident-prone – who really cemented that switch as a massive success.
"You give Casey Stoner a front tyre that you can't crash on…" recalled engineer Tom Jojic, who was with Kenny Roberts' MotoGP team that was among Bridgestone's early adopters, in the recent Stoner-themed episode of The Race MotoGP Podcast.
"I mean, Jeremy [McWilliams on a Proton KR], six-eight-ten bar pressure, maximum lean angle at Brno – you can't crash a Bridgestone front! It was ridiculous, right?"
The rule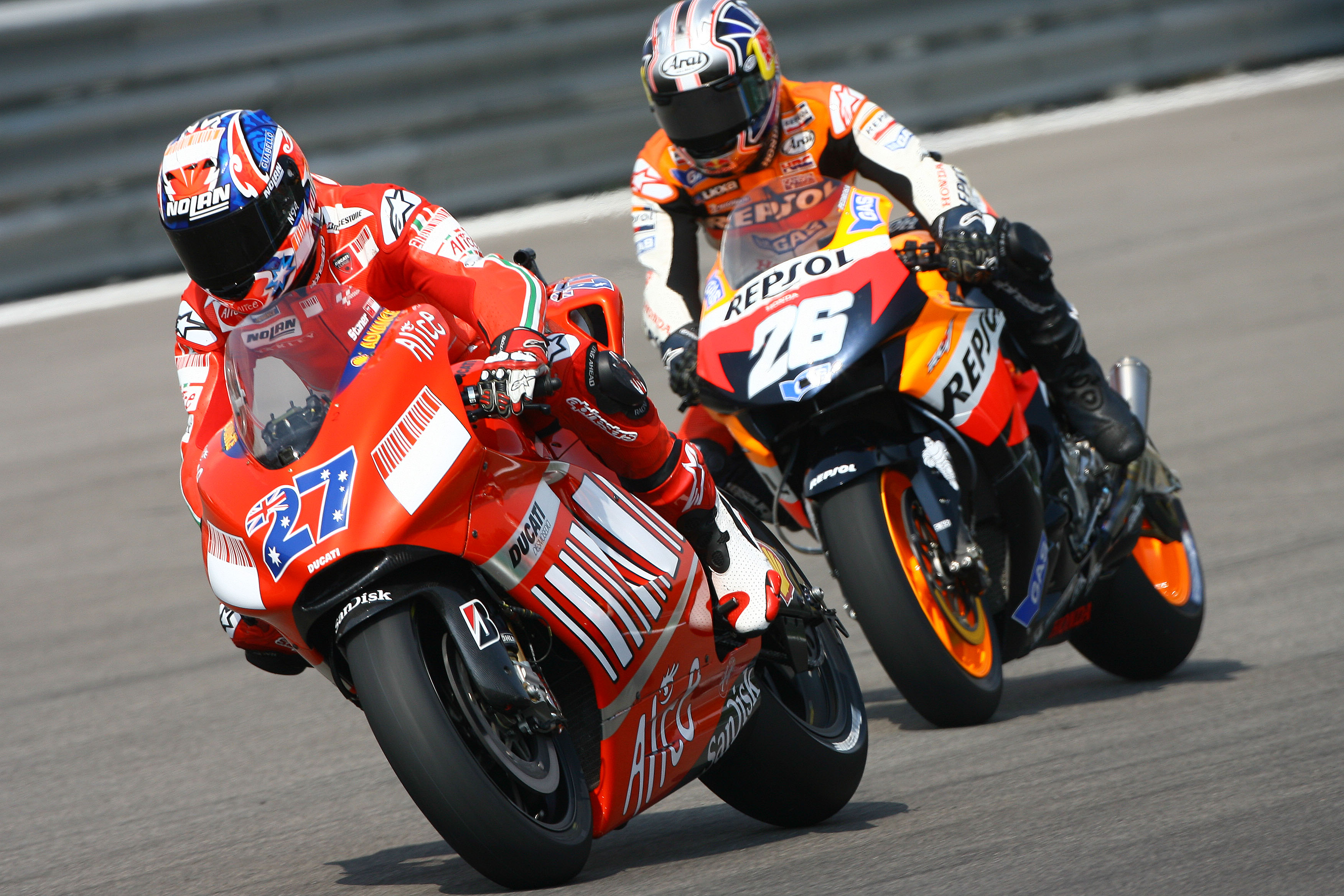 The 2007 season marked MotoGP's transition from 990cc to the generally unloved 800cc ruleset – a transition that, as recalled by Jojic, was led by Honda, which "dominated rule changes".
Honda protege Dani Pedrosa wasn't yet in MotoGP at the time the plans for 800cc engines were made official in 2005 – he was leading the 250cc championship, having already won the title the year before. But Jojic believes Pedrosa's specific dimensions were part of Honda's keenness on the new rules.
"That was their number one target – to dominate with Dani Pedrosa.
"And Dani was a tiny guy so he needed the bike to have less mass, have less inertia, and the only way to do that is to reduce the capacity and make them smaller again. It backfired on them.
"I always look at this back then as Dani versus Casey. If you're thinking [as] Honda – you've let Casey go on a satellite [LCR bike], then he hopped on a Ducati in '07 in the year that you decided you need to go to 800s, everybody's agreed to that – and he smokes everybody with Bridgestone. Now they're looking at it 'well, hang on, is Casey better than Dani? Did we make a mistake here?'. And pre that you would say no, because Dani won back-to-back 250 world championships on a Honda. He was the golden boy."
Both Pedrosa and Stoner were among those at the time saying the 800cc machines – described by the latter as possessing "peaky, sharp" power but with a lot more corner speed – were closer to what they'd known from 250cc.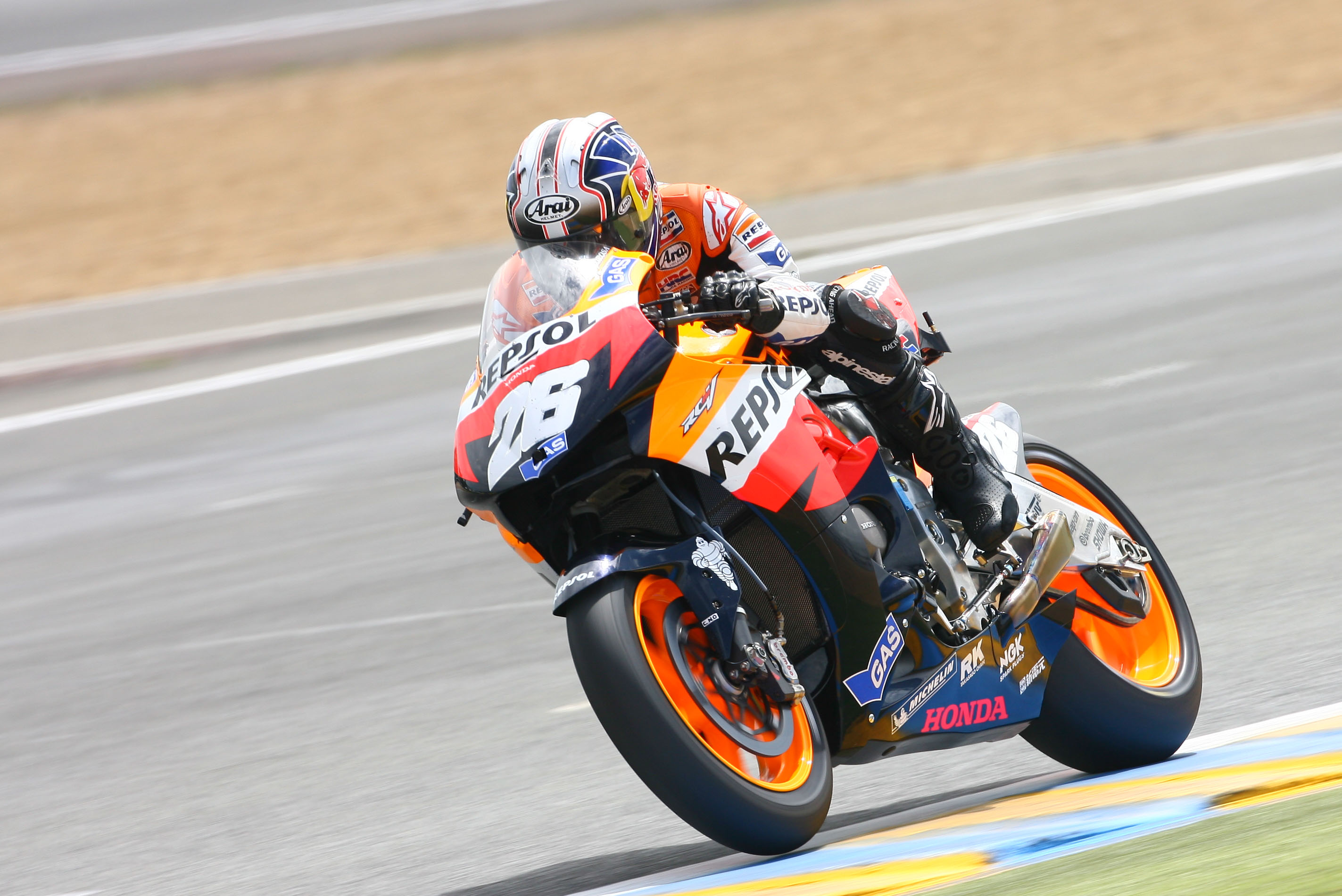 "Definitely the bike is smaller, so for me, it's better because I can control the bike more easily. I could touch my knees with my elbows while sitting on the bike and that's something I cannot do now with the [900cc] RC211V," Pedrosa said.
And Pedrosa didn't do too badly in 2007. Within a career defined by injuries, this was one season where he stayed healthy, despite being wiped out by two separate Kawasakis in two separate races – and with championship-winning team-mate Nicky Hayden out of sorts and struggling with the 800cc Honda's characteristics, Pedrosa established himself as the top Honda.
Marco Melandri at Gresini was the big threat to that, but ultimately Pedrosa led the Honda contingent in 11 of 18 qualifying shootouts and 10 of 18 races, while also ending the season with four successive poles and scoring Honda's only two wins of the year.
But 'only' is the keyword there. "Honda made the worst engine they'd ever made in grands prix in 2007," Jojic said. "And the reason I say that is because we were running the Honda and that was the end of Kenny Roberts[' team]. It was so bad."
There was no such problem for Stoner. The Ducati Desmosedici GP7 was slaughtering opposition on the straights and, in the hands of Stoner, fuel-efficient enough for that to be viable. In qualifying for the Qatar opener, the four Ducatis were 1-2-3-4 in maximum speed.
The rider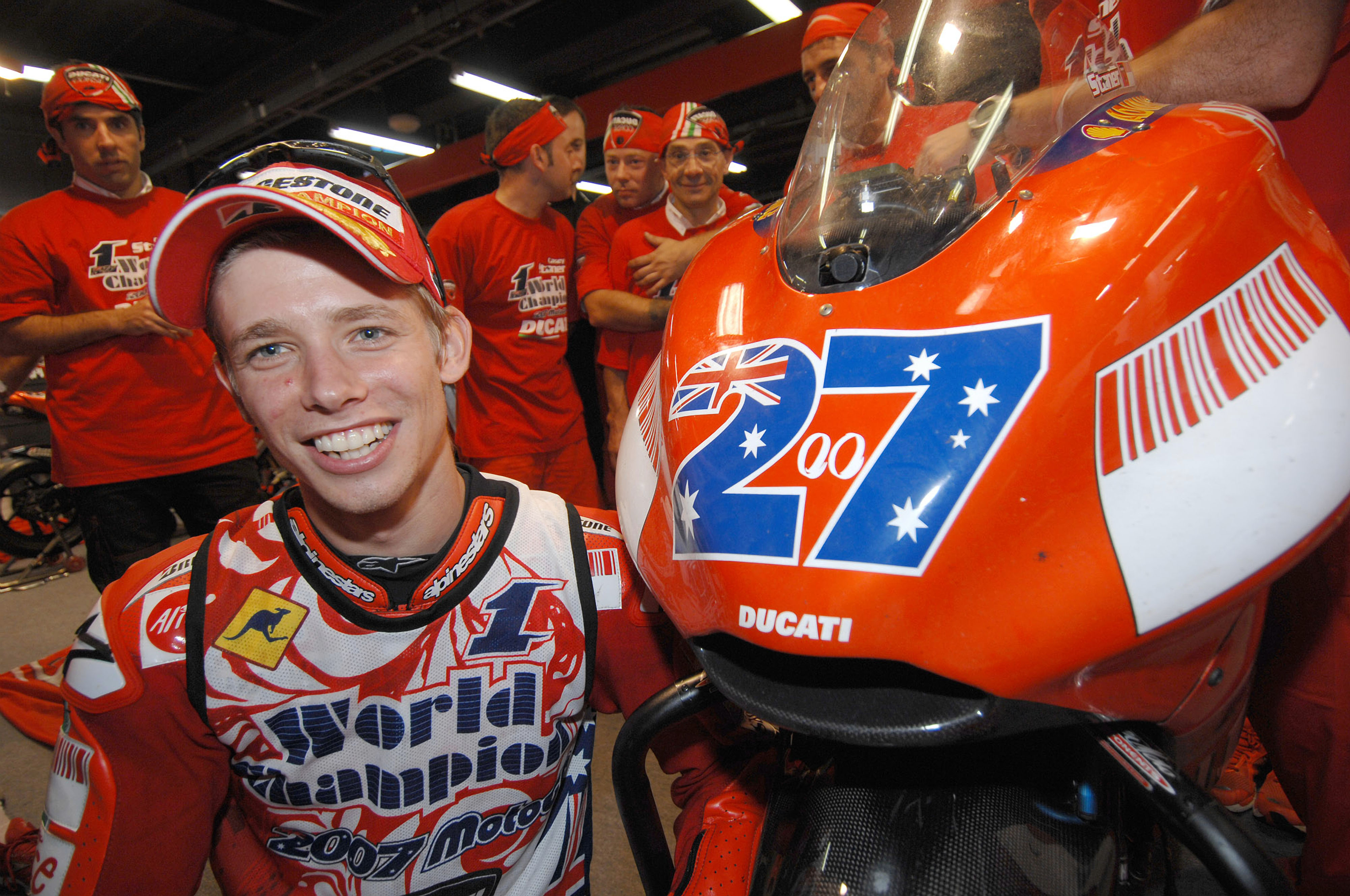 Mind you, of course, they weren't 1-2-3-4 in the championship. Far from it.
The best Desmosedici rider in 17 of 18 qualifying sessions and 15 of 18 races, Stoner was operating on a different level to his Ducati peers – despite having not been anything like the first choice for the ride.
Faced with a vacant 2007 ride alongside Capirossi, Ducati had sounded out the likes of Hayden and Melandri – the latter locked down by a Gresini Honda option – and also held talks with incumbent Sete Gibernau despite the Spaniard's underwhelming, injury-ravaged '06 season.
But said talks with Gibernau – or, more specifically, his sister Cristina – hit a wall. So at Estoril, the penultimate round of the season, Suppo definitively turned to Stoner.
"I called Claudio and Filippo and I said 'I think we should try to go with Casey'. At the time Casey was already of course in MotoGP with Lucio Cecchinello, and he already showed that the speed was there. Crashed a lot but super fast.
"And because with Sete we didn't end up with a reasonable-for-us agreement, I suggested it was time to switch and change strategy and take the risk of signing a young gun.
"And in Estoril – Colin [Stoner, Casey's father] was not there, Colin was in Australia, so we started exchanging emails and phone calls and we found the agreement quite quickly."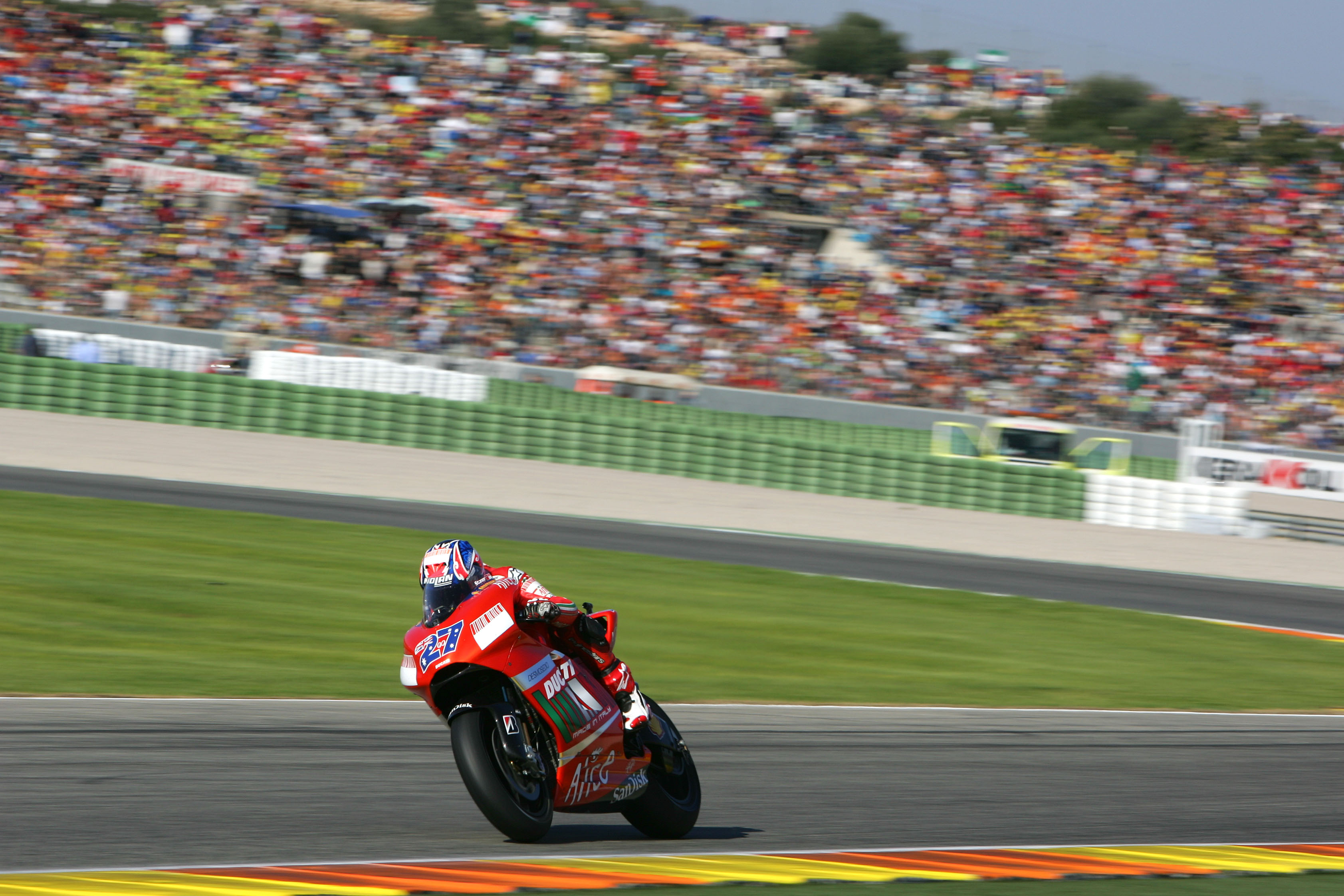 Suppo joked he "wanted to kill himself" in regards to the exact timing of sealing the deal with Stoner – as the contract signing apparently came after the race on Sunday, a race in which Stoner fell and took down none other than Gibernau with him.
Even outside of the rival candidates, there were two wrinkles for Stoner-to-Ducati. The first one was that, according to the LCR Honda side of things, his initial MotoGP deal was either a straight-up two-year deal or at least something like a one-plus-one.
As per former LCR sporting boss Oscar Haro, the team had to secure a replacement before Stoner's move was properly set in motion – and that replacement came in the form of Carlos Checa, who went on to struggle with the Honda.
The other hurdle was convincing the title sponsor, which was, according to Suppo, absolutely set on Melandri.
"That was a clever idea of Mr Maurizio Arrivabene, that at the time was the big boss of Marlboro. He didn't want to have Casey on board.
"[Fausto] Gresini exercised his option to keep Melandri in 2007. Maurizio Arrivabene was in love with Melandri, and believed that Melandri was the new Valentino. So he said to us 'you sign Casey for 2007 only if you sign the same day Melandri for 2008'."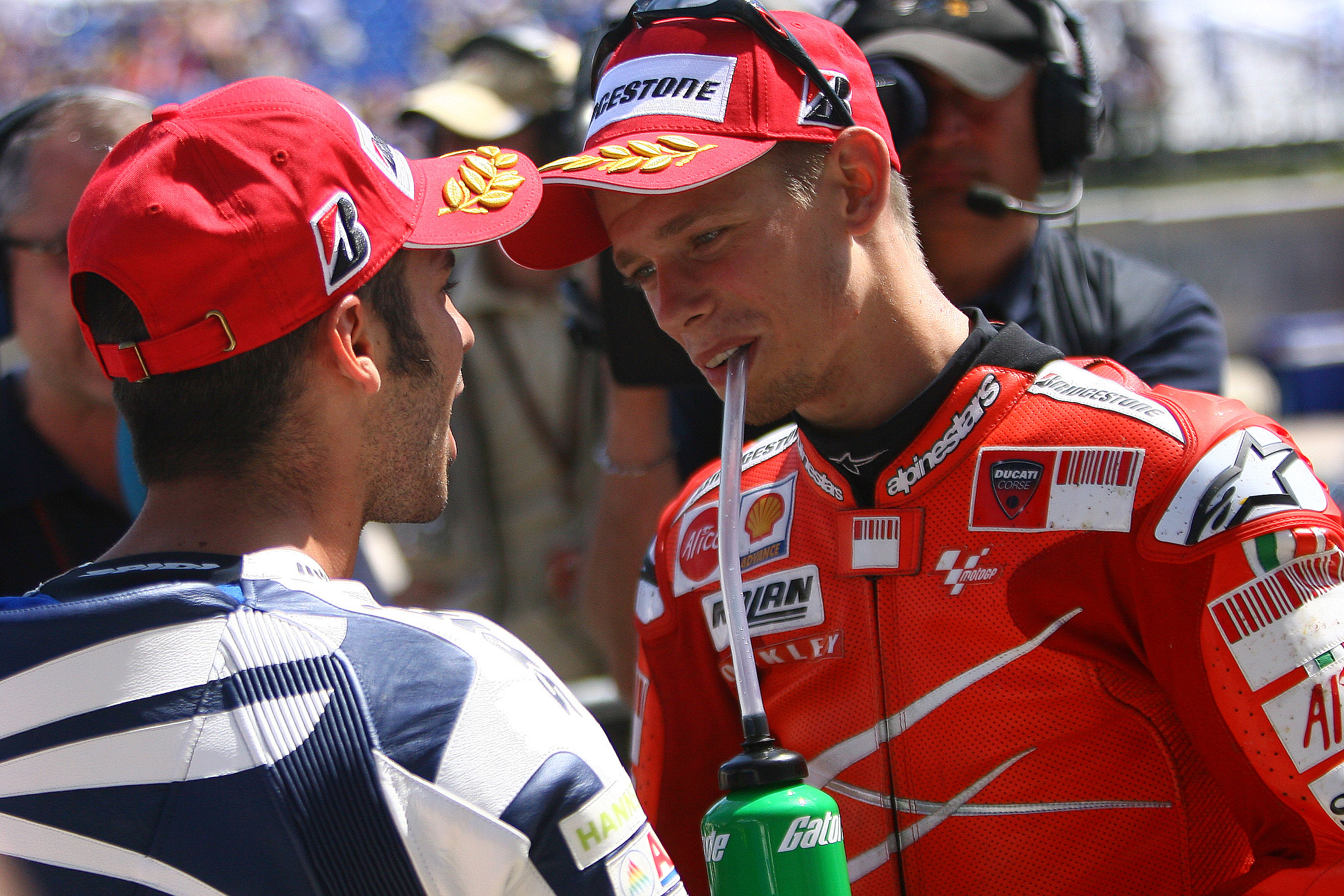 You may recognise Arrivabene as the Ferrari Formula 1 team boss through the 2015-2018 seasons, or as the very-recently-resigned CEO of Italian football giant Juventus.
"For us [committing to Melandri so early] was a mistake," Suppo continued. "We were not sure he was the correct replacement. And anyway it was strange for us to sign before the start of the season – before the end of the previous season – with the previous rider."
Melandri was, as mentioned above, quite good in that extra Gresini season in 2007 and then absolutely shocking as a Ducati rider in 2008, a huge downgrade on Capirossi. But even if Ducati had known what we know now, it'd likely have considered the failed Melandri dalliance a small price to pay for having bagged Stoner.
Could it have been even better?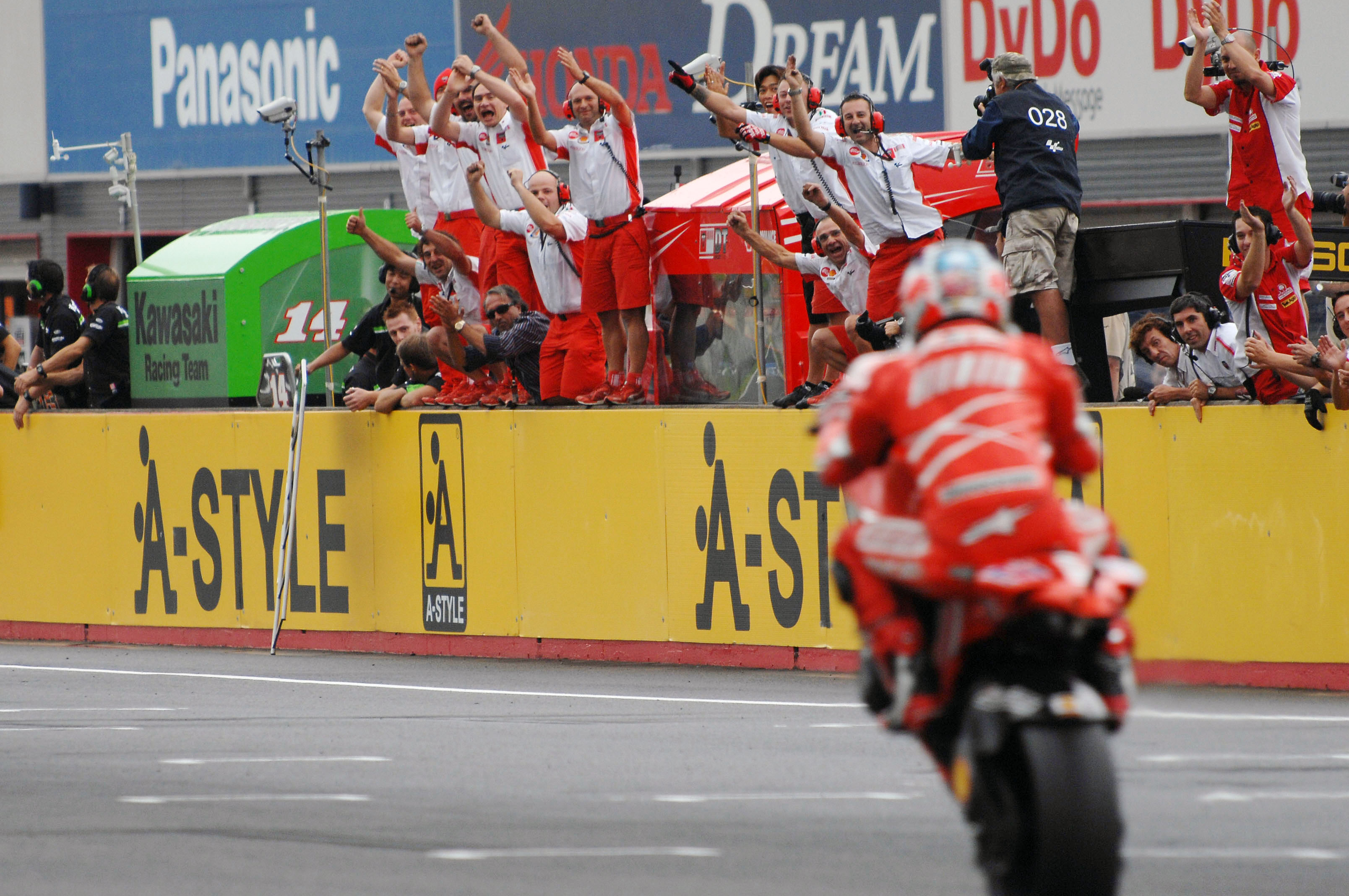 Ducati wound up more or less squandering the other three MotoGP years of Stoner that it got – but what about the extra year that it could have had?
"I said in many interviews that the biggest regret I have in my career is that I had a conversation with Colin Stoner in Brno in 2005, when we were speaking with Sete, and instead of signing Casey [for 2006] we signed Sete," Suppo said.
"That was, I think, my biggest mistake."
Stoner's rookie season in MotoGP wasn't phenomenal, but he did score a pole as early as his second race – which was also only the second MotoGP race for his LCR team that had only come into the class after Stoner's move to the established Pons team fell through alongside that team's entire premier-class programme.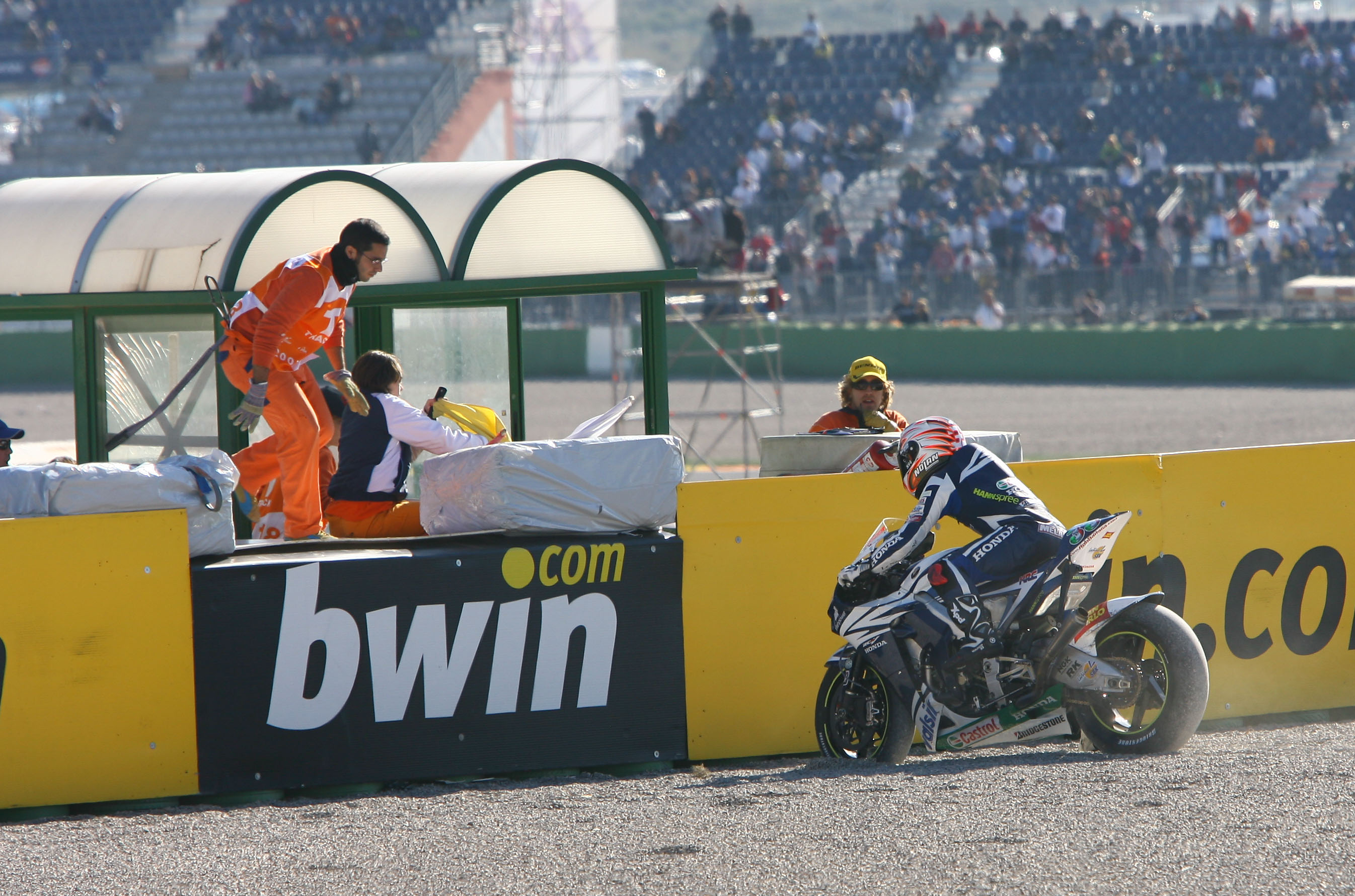 The following race, in Turkey, Stoner nearly won – narrowly defeated by Melandri on the final lap. But the rest of the season was a bit of a crashfest.
"Casey has proven at the beginning of the season to be unbelievable, because with more or less no winter testing he was so fast," Suppo said back then, after announcing Stoner for 2007.
"Then he did of course some mistakes but as a rookie it's normal. I think you can teach a fast rider not to crash – you can't teach a slow rider to be fast. And this is typical for Casey."
Stoner wouldn't have had the 800cc leveller had he joined Ducati straight away in 2006, nor the experience of a rookie season. But the Bridgestone tyres, that key component, were already in place, propelling Capirossi to a third-place finish in the standings, 23 behind Hayden. And for Suppo, given everything he now knows about Stoner's ability, that's enough to make a pretty stunning prediction for how MotoGP 2006 might have turned out with Stoner on a works Ducati.
"If you look at the results of Loris in 2007 and Casey in 2007," Suppo argued, pointing to the outrageous 201-point gap between the works Ducatis that year, "I can imagine that Casey in 2006 would've been able to do what Marc Marquez did in 2013."