Aprilia MotoGP rider Aleix Espargaro has given the media an update on the condition of his brother Pol, after the Tech3 Gas Gas rider's huge crash during practice for last weekend's Portuguese Grand Prix – and stressed that things need to change in MotoGP given just how lucky that the former Moto2 world champion was to escape without life-changing injuries.
View this post on Instagram
Pol crashed during the final minutes of Friday's FP2 session at Portimao, losing the rear of his RC16 and impacting a wall after skirting across the gravel at high speed; gravel which is at the centre of attention after what riders say have been four years of complaints about the large diameter stones that are insufficient to slow them down after a fall.
Breaking four vertebrae and his lower jaw in the fall, the younger Espargaro also suffered major damage to his lungs thanks to the force of the impact with the wall, and faces a MotoGP layoff that will potentially be measured in months, not weeks.
Speaking to the media ahead of this weekend's Argentine Grand Prix, the elder Espargaro brother says that while Pol is making progress, the week since the crash has left him very aware of just how lucky an escape his brother had made even despite the severity of the injuries.
Ya lo sabíais, pero por si a caso, mi hermano es el puto jefe, más fuerte y valiente que Hulk! 💪💙 pic.twitter.com/d6jK0rQcuu

— Aleix Espargaró (@AleixEspargaro) March 27, 2023
"Pol is getting better," an emotional Aleix explained. "He obviously had a big crash, but I want to think that, after talking a lot with the doctors and with him these days, my point of view is that he was very lucky. Very lucky. You cannot imagine the impact that he had on his head.
"Even with one of the best helmets in the paddock [made by Italian brand AGV], you cannot imagine how his head was. He was very lucky, because the gravel was not good at all. After four years of pushing for the gravel, something finally happened. Also it was not an air fence [there], and we've been lucky and hopefully Pol will be back soon racing with us."
Pol's crash has brought a wave of criticism since from his fellow riders and, according to his brother, might finally be the thing that forces riders to take more concrete action in future to demand necessary improvements. The Race has already had it confirmed that Portimao plans to fully re-fill its gravel traps.
"It's not in my hands, but I hope yes," Aleix replied when asked by The Race when asked if the incident would force change. "We've been very lucky, and Pol could be really a lot worse in this crash. The speed that he gained when he went into the gravel and the impact he did was insane.
"He has a full mandible broken, from the mouth to the ear. He couldn't even hear anything, because the mandible was pushing on his ear. That is the impact he had.
"This is unacceptable. A rider cannot hit the wall like this. This is totally unacceptable. I believe that we will learn from this."
How the 'walking wounded' are getting on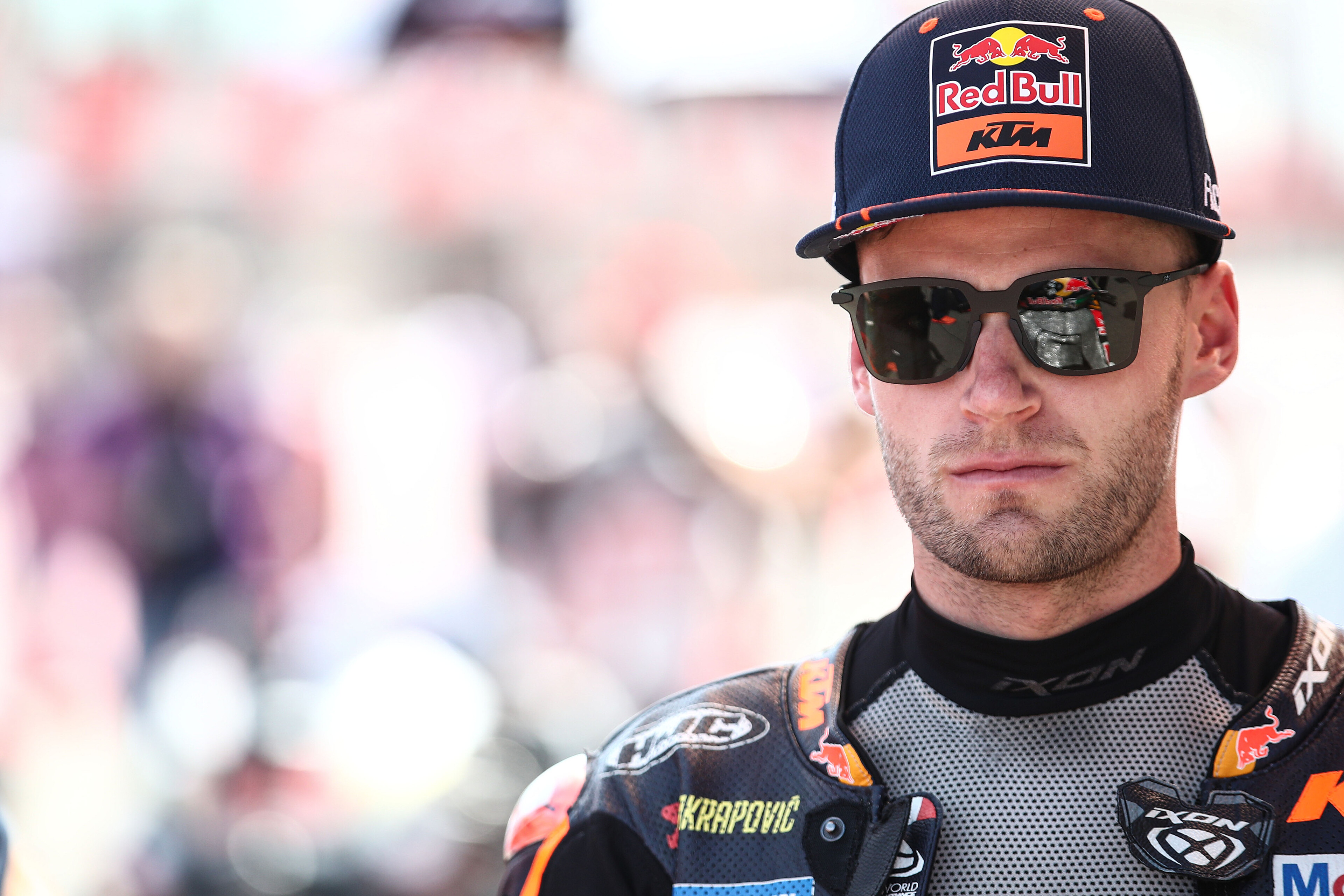 Beyond the quartet of full-timers – the younger Espargaro, Enea Bastianini, Miguel Oliveira and Marc Marquez – missing from the Argentina round, at least three more riders are carrying serious fitness concerns into the weekend – but all seem to be in better shape than they were in Portimao.
KTM's Brad Binder rode all weekend in Portugal with a suspected nerve issue in his neck and back, even going into hospital for checks, and has not had enough time to completely rectify it.
"I want to thank KTM because they got a physio here from the moment I landed. So, I've done two sessions a day since I got here. After the race I was really not so good, especially after the flying as well," he explained.
"So, the lady worked really, really well, and she helped me get everything dialled in.
"It's still a little bit sore and stiff, but 100 times better than last Friday. I think I'll be fine."
RNF Aprilia's Raul Fernandez, who had a promising Sunday undone by sudden arm numbness, said he will "cross the fingers [that] my arm will be good, and I will try to finish at 100 percent".
"Now it's good. But when we arrived here and I tried to take the luggage, I couldn't get the luggage. I said 'f**k, something is wrong'," he recalled.
"But to be honest, we were very lucky to have this amazing team of Quiron[salud, MotoGP's medical partner] here, they improved a lot with this, I think Dorna did a good step with that, and also with the doctor it's amazing. I think for them I will be ready for the weekend."
Pramac Ducati's Jorge Martin – who suffered a toe fracture in the Marquez-triggered multi-bike shunt – skipped the usual session with the print media, but told TV crews: "I feel alright about the foot.
"Monday I couldn't walk, actually, I was a bit worried about my situation for the weekend, but finally I'm feeling better every day, so this is good news and I feel we can be really competitive and it won't be a problem for the weekend."