There's been much talk of late of both whether Ducati will instigate team orders within its ranks as the 2022 MotoGP title comes down to the line and, indeed, whether it should have already done so earlier this season.
This was sparked by Ducati allowing Enea Bastianini to take five valuable points off Francesco Bagnaia at the Aragon Grand Prix and then arguably forcing his compatriot into an error at the Japanese round on Sunday, with the Italian crashing out of eighth place when Bastianini was right behind him.
Yet the irony of the matter is that the Italian factory could well have found itself in a mess entirely of its own making in no large part thanks to the very impressive season that its eight machines on the grid are so far all having. And if that costs it the title in 2022, we could see some real reform not just in the way it conducts race weekends but for the bigger picture too.
With four rounds left now, Bagnaia and Bastianini and Sunday's runaway winner Jack Miller are all reasonably well-placed in second, fourth and fifth in the standings respectively. Bagnaia sits 18 points behind title leader Fabio Quartararo but, with races in Thailand, Australia, Malaysia and Valencia still to happen, all three of those riders still have a mathematical chance of being the champion.
Bastianini is 49 points back on Quartararo and 24 from Aprilia rider Aleix Espargaro in third, while Miller is now (thanks to his absolutely dominating victory) only 11 from the Gresini rider.
Beyond that, Bastianini is in another championship race as well, that for the top independent rider. Leading it with relative comfort by 32 points from Pramac Ducati racer Johann Zarco, it's not as big a prize as the main title of course, but it still comes with enough kudos that he won't be wanting to risk throwing it away.
And within those championship standings lies perhaps the secret to why Ducati has so far been unable to implement what appears to even be a shard of a team orders policy.
Ducati has been repeatedly insisting that it has not demanded that its riders allow Bagnaia to win, and has instead said that the rule right now is that they must race cleanly and fairly, limiting the risk to each other in the process.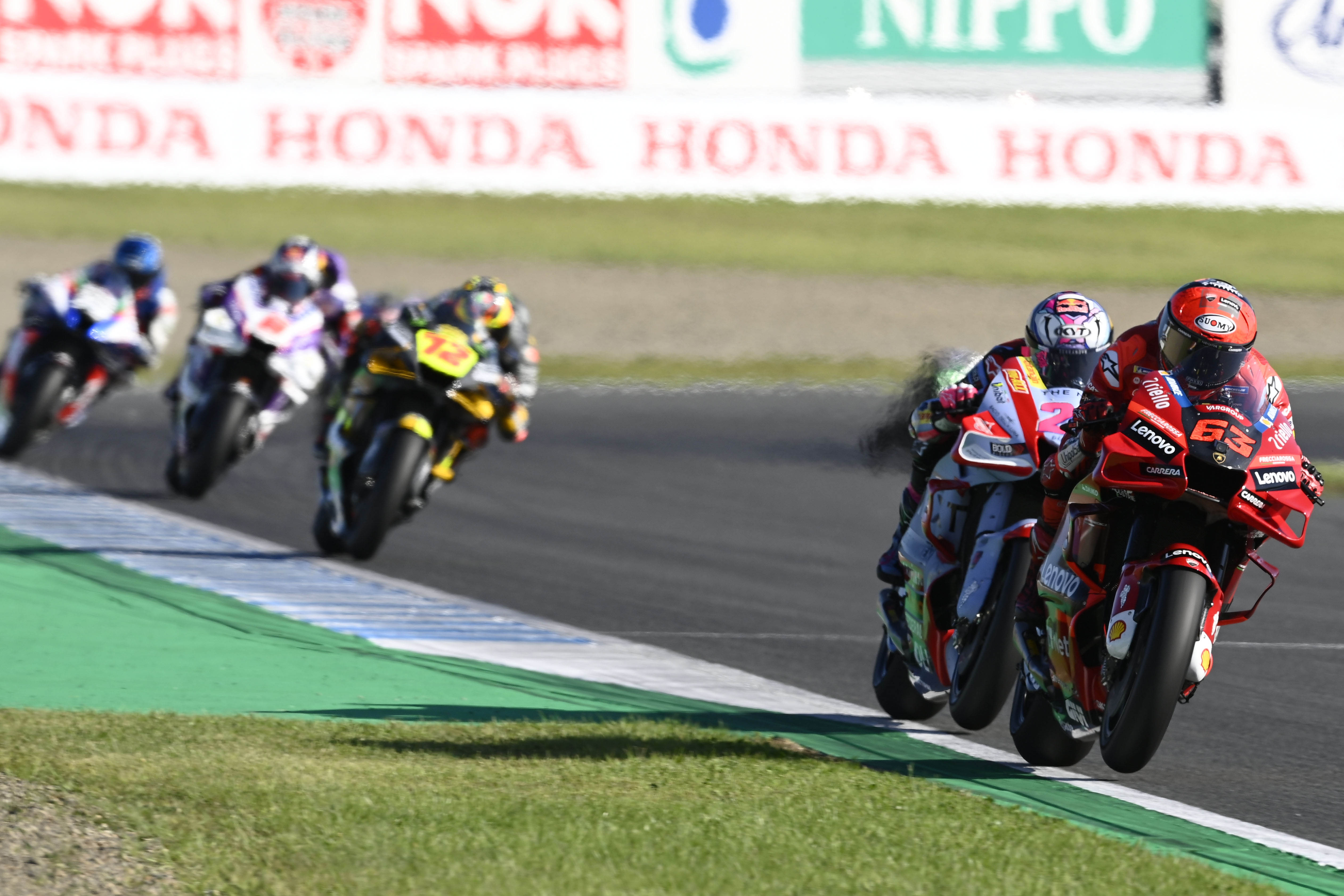 That's something that team boss Davide Tardozzi clearly didn't believe happened on Sunday, with the former racer caught on camera furiously storming out of the team's box after an aggressive early overtake on Bagnaia from Bastianini – with The Race's spies in the pitlane reporting that he left the factory team's garage to visit Gresini's and give it a piece of his mind about its rider's actions.
But here's the nub: thanks to the way in which Ducati has always rewarded its racers, there's no incentive right now for Bastianini to respect any order that he believes might prevent him from beating Bagnaia, a situation made even worse by the complicated nature of Motegi, where plenty of riders were left bemoaning the lack of chance for an overtake thanks to the impact that ride height devices and aerodynamics (technologies pioneered by Ducati) now have on the series.
It's well known that Ducati is the worst team in MotoGP when it comes to paying out salaries. With the exception of big-name bonuses to lure the likes of Valentino Rossi and Jorge Lorenzo, it has always opted instead for another tactic: relatively low base contracts coupled with big win bonuses, something quite liked by riders, a breed always absolutely confident in their own abilities.
Take Casey Stoner for example. Paddock rumour has it that his 2007 salary when Ducati hired him from Honda as its fourth or fifth choice for a factory seat, he joined on a very modest salary indeed that had win bonuses so high that Ducati tried to renegotiate the deal after he won the opening four races of the year.
Rejecting its offer (and rightly so), Stoner went on to rack up a significant seven-figure total as he took what remains its only rider world championship – and then benefitted again from a clause that made 2008's base salary the total winnings of year one.
That rough structure remains to this day, and, with Bastianini on a factory contract even though he rides for Gresini, it means that not just does every win likely bring a big payout, so would a top-three finish in the world championship standings and victory in the independent riders' championship.
Combine that with the fact that he's managed by the entirely shrewd Carlo Pernat, veteran manager of the likes of Valentino Rossi, Marco Simoncelli and Loris Capirossi, and it wouldn't come as a surprise at all if he's told Ducati where to stuff its team orders – and there's probably not much it can do about it without being willing to cut a very large cheque to make its problems go away.