It's already been declared the championship that no one wants to win, but the 2020 MotoGP saga took yet another swing today at the Catalan Grand Prix when Andrea Dovizioso was wiped out on the opening lap of the race and Maverick Vinales was left to limp home in ninth.
Yet despite the catastrophes that befell both of them, leaving previous championship leader Dovizioso in fourth, 24 points behind new leader Fabio Quartararo, and Vinales only six points ahead of him, the Ducati rider came away from Montmelo at least philosophical if not quite happy with the events.
Making a poor job of Saturday's qualifying, Dovizioso left himself with a lot of work to do starting from back on the sixth row of the grid in 17th. He was able to make a strong start and launch himself into top 10 contention from as soon as the lights went out, but it was all for naught when team-mate Danilo Petrucci had a major moment in front of Johann Zarco.
Having to quickly slow down to avoid Petrucci, Zarco then made contact with Dovizioso, with both out of the race.
However, with Dovizoso far from fast but nonetheless able to be consistent so far in the crazy 2020 season, the crash marks his first non-score of the opening eight races – and means he's still got a glimmer of hope about his title aspirations, even if he's still trying to figure out how to go fast this season.
Asked by The Race if he sees himself as still in the championship fight with just under half the season remaining, Dovizioso replied: "About that, for sure. But the point will be to be fast. It is what we have to do first rather than thinking about the championship.
"I hope and I think that Le Mans can be a good track for us, let's see if we're able to make a step on the brakes and be able to ride in a better way. It will be very, very important."
Dovizioso was also quick to point out after the race that despite the attention focused on Zarco so far in 2020, he firmly believes that the clash was nothing more than the sort of first-lap contact that's increasingly becoming the norm as MotoGP grows closer and closer.
"It was very important to make a good start and I did it, I was very happy about that, and there's nothing else to say. It was a racing incident, so nothing more to say about that.
"I'm very disappointed because especially when something like that happens, you feel very frustrated because you couldn't try anything. And for the championship we lost a lot of points today."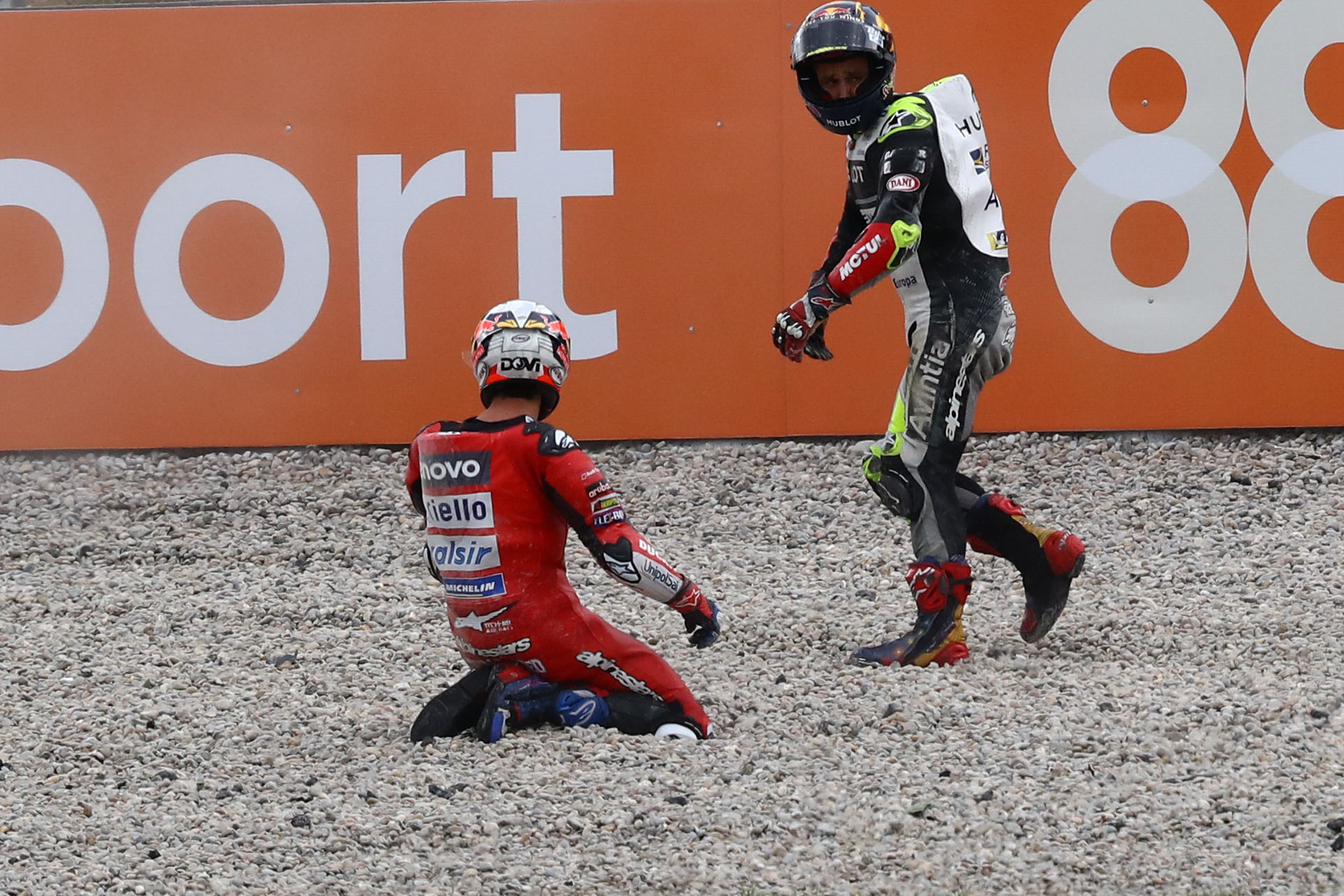 Team-mate Petrucci expressed his regret at having played a part in Dovizioso's exit, but made it clear he didn't feel he was responsible.
Asked by The Race whether there had been contact with KTM's Pol Espargaro that led to the incident, Petrucci said: "I was checking this right now, the accident, but I don't think I have any fault. Pol braked in front of me, I touched him, my front wheel touched his rear wheel, and Johann just braked and crashed, but I don't think I had any fault.
"I'm so sorry for the crash, behind me, but I almost crashed myself, I was really, really careful to not touch the front brake even if Pol was braking in front of me and I avoided crashing. I'm really sorry for Johann and Andrea, but I don't think I have any reason [to feel at fault]."
Despite the compressed nature of the season and the intense pressure the whole paddock is under as they go racing in the midst of a resurging coronavirus pandemic, Dovizioso remains adamant about where blame lies for the results being turned upside down.
"Unfortunately in this season the tyre changed more than what everybody expected,' he complained after the race, "and to adapt to that is very, very difficult. It is not about the set-up. How do you explain the average points of the riders this season; for example Maverick?
"So, this year it's crazy, the championship, because if we had the same tyre as last year, in the way we had to do the championship, the result would be similar to last year. It's everything related about the new casing."
However, while Michelin's new grippier rear tyre design has clearly thrown a spanner into the works for some riders, it's becoming increasingly apparent as fellow Ducati riders Jack Miller and Pecco Bagnaia continue to outperform Dovizioso that it's more a case of adaptation rather than reinvention that's needed to address the issue.
And unlike Dovizoso's assessment of Vinales' race, the winner from last weekend says that tyres weren't the influencing factor but rather Yamaha's consistent inability to overtake other bikes in a straight line.
"Nothing went to plan," Vinales admitted afterwards. "When I saw the start positions, with Miller and Zarco beside me and Mir and Petrucci behind me, I thought 'oft, this is going to be a hard day!' We tried to take the maximum points, but it's the same as always and I lost a lot of places. It's something we know.
"I spent six laps behind Aleix Espargaro and Cal Crutchlow, but I couldn't pass them. The only place I could overtake was around the outside on the brakes at Turn 5 – a crazy move where I was risking a lot."
That's fairly standard for the Yamaha rider, who has been complaining about similar issues all season – and who will be looking for some relief next time out at Le Mans. But the issues aren't likely to be solved in time for the remainder of the 2020 season, though, and he's seemingly destined to suffer on the long straights of Motorland Aragon straight after the French race.
That means there's a lot of pressure on his shoulders for the upcoming round – something he's well aware of despite the prospect of October weather in northern France throwing a spanner into the works.
"We will see in Le Mans," Vinales conceded about his title chances after Sunday's race. "This result is difficult to swallow after winning last week, and the championship could go any way. This weekend we made a mistake in the qualifying and we paid the price."