Honda rider Marc Marquez believes his vision is fully recovered as he makes his MotoGP return at the Circuit of the Americas – but admits his confidence has been shaken severely and will require time to restore.
The six-time MotoGP champion suffered a big highside crash in Sunday warm-up at Mandalika on March 20, and developed symptoms of diplopia – double vision – during his trip back home.
It was the third incidence of diplopia in his career, and the second in a fairly short span of time – given he'd spent several months recovering from it at the end of 2021 after a training accident.
Speaking to media ahead of the round in Austin, Texas, Marquez – who wound up missing races in Mandalika (Indonesia) and Termas de Rio Hondo (Argentina) – said his recovery was so much quicker this time that he even pondered the option of trying to race at Termas.
"After Mandalika was a really hard week, but luckily for me the injury, the vision injury, was much less affected than last time. Even for Argentina was very close to come, but I didn't feel motivated to take that risk, I didn't want to. We discussed with the doctor and we preferred to stay at home," he explained.
Of the warm-up crash, his fourth of that Indonesian GP weekend and one that had also left him concussed, he said: "I don't remember a lot. I remember more from the images than what I feel, what I remember. But it's true that the Indonesian GP was one of my worst GPs in my career. Because I crashed too many times, some crashes that I didn't understand, especially the warm-up crash."
The combination of a torrid Mandalika weekend and a diplopia relapse have naturally left the Spaniard unsettled, and when asked to compare his current condition to his previous return from double vision, he said: "About the physical condition I feel a bit beter, because in Qatar I was struggling even more. But it's true that, in the way of confidence, I feel much worse.
"This is something that is obvious after a not-so-good weekend and after another injury, especially when the vision was again affected – that is something that makes me scared."
Asked by The Race about whether his risk of suffering diplopia relapses in the future was now heightened, Marquez said: "It's the second time, the vision problem, in just six months but I asked my doctor that maybe it's because I had the injury in October and now again? [And I asked] what happens if I stop for one year completely?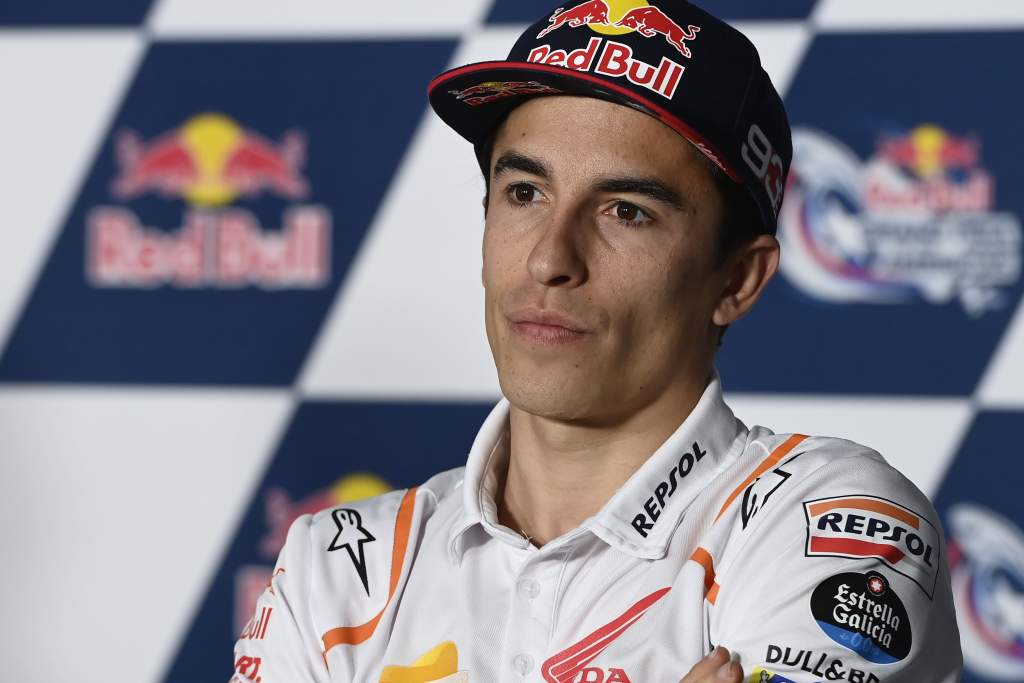 "And he said in the end that the hit, the impact that I had – you saw the crash, the impact was huge – and I will have the same risk this weekend, and I will have the same risk in one year or two years. Because in the end it's is a nerve [the fourth optic nerve of the right eye] that is one of my weak points."
Marquez said he felt lucky about the way the crash played out, because the rest of his body was unharmed in what was a brutal impact. He also said that he spotted "no problem" with his vision during a run-out with a Honda bike at his local Alcarras circuit.
He said, however, that he would not push at COTA if he didn't feel sufficient confidence because he was wary of another "unexpected crash".
Marquez has only been beaten once in MotoGP at COTA, and this came when he crashed out of a big lead in 2019.
Asked whether a win was possible this weekend, he said: "It's possible, of course, it's possible, but it's not the way to approach the weekend. We're coming from an Indonesia GP where I struggled a lot, where I crashed too many times, and where I had a very big highside. I just started to train again in a normal way a few days ago."