Ducati rider Pecco Bagnaia remains "determined" to recover his hopes of winning the 2022 MotoGP title, even with his gap to championship leader Fabio Quartararo now up to 66 points after Takaaki Nakagami wiped him and Alex Rins out of the Barcelona race.
But with that costly crash coming just as Bagnaia and the factory team were finding their feet with the 2022 bike, it feels particularly damaging to his championship chance.
Bagnaia, who was lucky to escape unscathed from the tangle that left Nakagami in intensive care overnight with significant bruising and has probably ended Rins's own title aspirations, as he has a broken wrist, now has more work to do to pull back a big margin made worse by his own slow start to the season.
Defending champion Quartararo's start to the season has not been without issues, but the Yamaha rider – who took his second victory of the season at Barcelona – is one of only two riders in the top 12, along with second-placed Aleix Espargaro, to have finished all nine rounds of the year so far.
Bagnaia won four of the final six rounds of 2021 and reduced Quartararo's margin from 70 points to 26 by the end of the season.
He is bullish about his hopes of doing similar in 2022 if he's given half a chance.
"I was determined to recover 70 points last year in six races, so I'm still determined now to recover 66 in a lot more than six races," he said after Sunday's non-finish.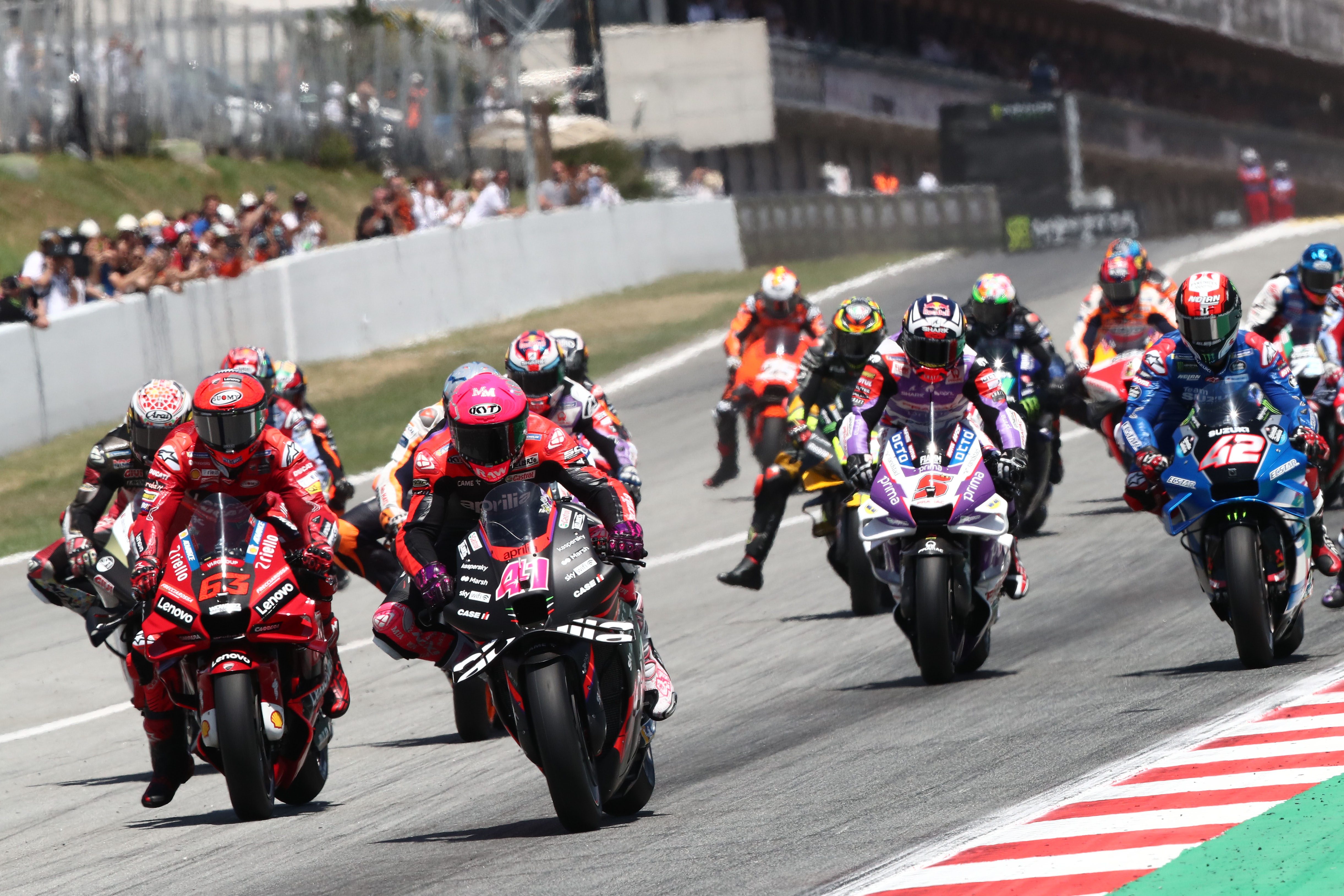 "But for sure the possibility is lower. There is still a possibility, so I will try."
Considering Bagnaia's actions in 2021, that possibility is still there. His streak included wins at Aragon, Misano, Portimao and Valencia – three of which are still to feature on this year's calendar.
Moreover, with other venues that have been absent from the calendar in recent years due to the pandemic set to return, there should be venues that suit Bagnaia's Ducati even better than the likes of Valencia – with Motegi, Buriram and Sepang no doubt also key targets for him.
But that fails to take into account what might also play out for Quartararo and surprise 2022 title contender Espargaro, the stand out hopefuls after nine rounds – even after Espargaro conceded nine additional points in the Catalan GP with a spectacular lap-counting blunder at the end of the penultimate lap.
Espargaro, whose mistake of thinking the race had finished a lap early dropped him to fifth and ended an impressive run of four podiums, has been ultra-consistent in the early part of the year but will look to ramp up his points scoring in the coming weeks and months as MotoGP heads to circuits very much on the Aprilia target list such as Assen, Silverstone and Phillip Island.
And Quartararo is happy to continue doing what he did at Barcelona, utilising his pace when he has it to break his opponents, or cling onto their coattails and limit the damage to his lead when things aren't quite right for him on the factory Yamaha.
"Yes, I think this is the way," he laughed when asked by The Race if that would be his strategy for the remainder of 2022.
"To make first, second, first is not going to be easy because I have tough, tough opponents, but in Mugello, I couldn't win. I felt a little bit faster but in acceleration, in top speed, we lost a lot.
"Here I expected the top speed to be much worse, but with the downhill [last corner and straight], I felt like the bike was not bad. In Mugello on the uphills it really got low on the revs but here, downhill it was much better.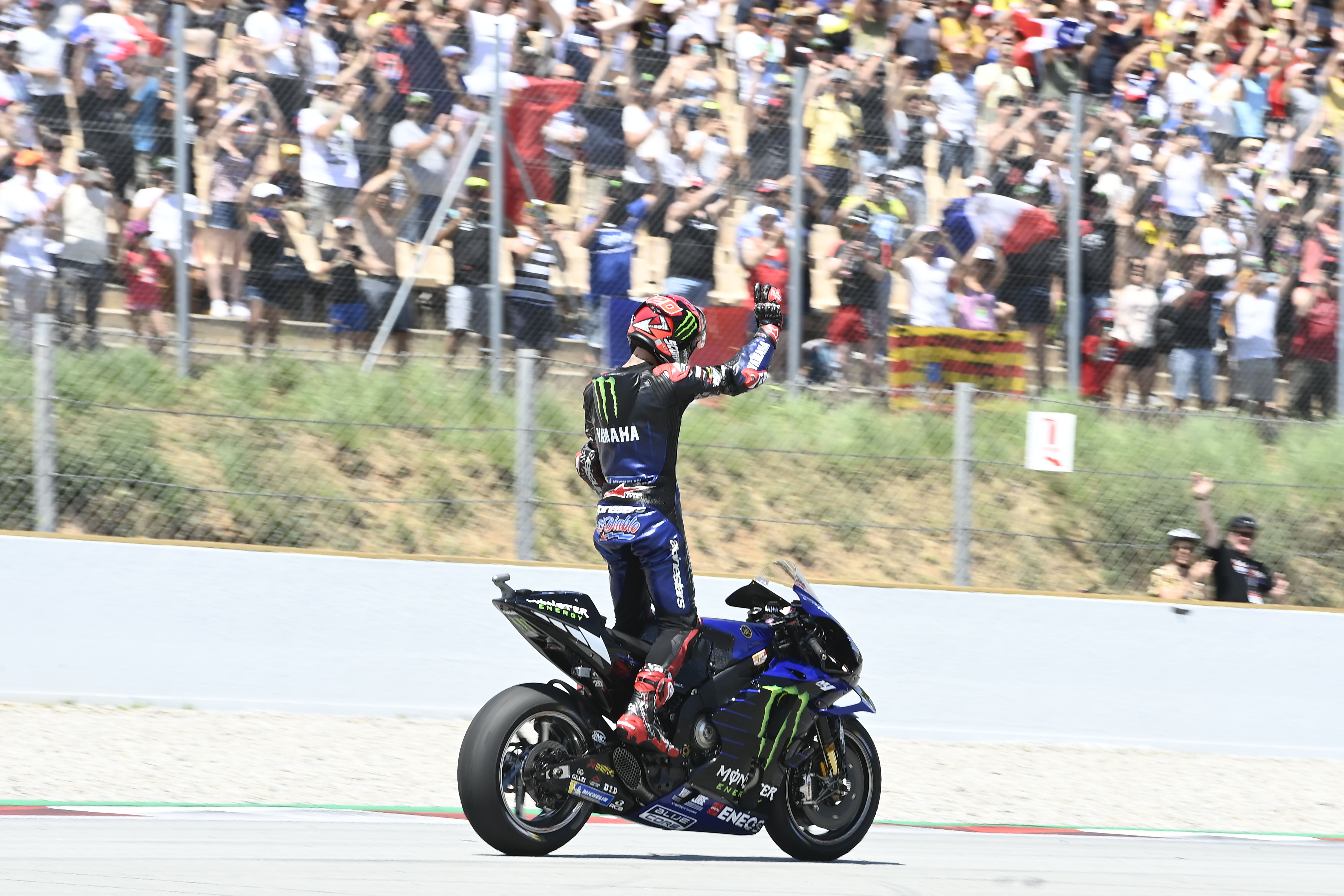 "The best way is to try to be more consistent, but of course I'm struggling because I feel on the limit all the time. But I feel super good on the bike and it's a really similar situation to last year.
"I'm riding at my best and I feel much better than last year – every time I'm on the bike I make a step forward."
And that's Bagnaia's biggest problem. With the points margin as it is now, Quartararo can afford to finish second to the Ducati in every single remaining race and still be champion. It's very clear who's now in control of this title race.