Ducati rider Francesco Bagnaia claimed a long-awaited first MotoGP victory at Aragon, defeating Marc Marquez in a phenomenal late battle.
Championship leader Fabio Quartararo faded to an eventual eighth place at what he'd described as his "worst track" on the schedule, but retains a 53-point lead heading into the final five rounds.
Starting from pole, Bagnaia was challenged into Turn 1 by team-mate Jack Miller, but the Aussie had to rein in his inside-line lunge to avoid a clash, and allowed Honda man Marquez to get through into second place.
Bagnaia and Marquez soon established a gap over Miller while running in tandem, with Bagnaia occasionally pulling out a few tenths over Marquez as they made their breakaway but always being reeled in.
As the race approached its halfway point, Miller ran badly wide at the Turns 16-17 long left-hander, permitting Joan Mir (Suzuki) and Aleix Espargaro (Aprilia) to come through, but with Bagnaia and Marquez already three seconds up the road and monopolising the fight for victory.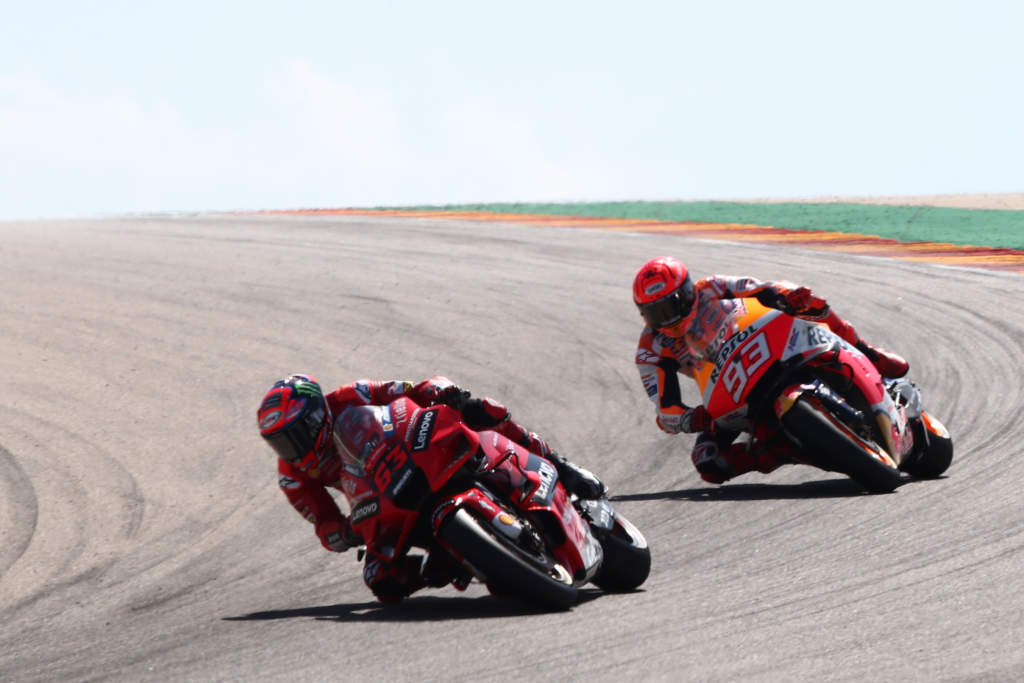 Marquez, content to follow Bagnaia for most of the race, predictably ramped up the pressure in the end, attempting to make a move stick at the sharp Turn 5 left-hander and then the Turn 15 left-hander with two laps to go – and both times being denied by Bagnaia.
The same scenario played out on the penultimate lap, and as Marquez then dived down the inside of Bagnaia at Turn 1 on the final tour, he again washed out wide and returned to second place.
Another attempt at Turn 5 was again unsuccessful, and as Marquez then attempted to lunge at Turn 12, another left-hander, he braked too late and ran out well wide, giving Bagnaia a clear run to victory by over half a second.
This is 𝐈𝐍𝐂𝐑𝐄𝐃𝐈𝐁𝐋𝐄 𝐑𝐀𝐂𝐈𝐍𝐆 ❤️

A battle for the ages between Pecco Bagnaia and Marc Márquez!

Enjoy the last three laps in full, because this sport is the best 🙌

Love you, MotoGP 👏#AragonGP pic.twitter.com/J16RBt9Zfa

— MotoGP on BT Sport (@btsportmotogp) September 12, 2021
Mir completed the top three four seconds adrift of the winner, with Espargaro briefly putting up a fight but soon having to settle for fourth, and Miller coming home in fifth.
Enea Bastianini (Avintia Ducati) recorded the best finish of his rookie season as he fought off KTM rider Brad Binder for sixth place.
A long and arduous race for championship leader Quartararo ended with him beating Jorge Martin (Pramac Ducati) to eighth by 0.040s.
Quartararo had dropped from third to seventh at the start, and was then gradually overtaken by the KTMs of Iker Lecuona and Binder, before spending much of his race trying to fight off Bastianini.
Though Bastianini ultimately got past despite being delayed by a duel with Takaaki Nakagami, Quartararo inherited a place through Tech3 rider Lecuona running badly wide at the 'reverse corkscrew' and then also reeled in an increasingly grip-less Martin, before fending him off in the final lap.
Suzuki rider Alex Rins, who won at Aragon last year, made progress from 20th to 12th early on, but was unable to do more – although he did beat out Pol Espargaro (Honda) for the spot.
Pramac Ducati man Johann Zarco was the only rider to deviate from the grid's overwhelming preference of hard front and soft rear tyre selections, instead going for the medium soft. It did not pay off, with Zarco recording comfortably his worst finish of the season in 17th.
He did, however, at least narrowly defeat Aprilia debutant Maverick Vinales, whose first race on the RS-GP finished 27.2s off the winner.
While the preceding Moto2 race had been a crashfest, MotoGP managed to keep attrition down, with only Alex Marquez (LCR Honda) – a standout at Aragon last year – and Petronas Yamaha stand-in Jake Dixon crashing out, both before lap three.
Race Results
| Pos | Name | Team | Bike | Laps | Laps Led | Total Time | Fastest Lap | Pitstops | Pts |
| --- | --- | --- | --- | --- | --- | --- | --- | --- | --- |
| 1 | Francesco Bagnaia | Ducati Lenovo Team | Ducati | 23 | 23 | 41m44.422s | 1m48.333s | 0 | 25 |
| 2 | Marc Marquez | Repsol Honda Team | Honda | 23 | 0 | +0.673s | 1m48.139s | 0 | 20 |
| 3 | Joan Mir | Team SUZUKI ECSTAR | Suzuki | 23 | 0 | +3.911s | 1m48.492s | 0 | 16 |
| 4 | Aleix Espargaró | Aprilia Racing Team Gresini | Aprilia | 23 | 0 | +9.269s | 1m48.44s | 0 | 13 |
| 5 | Jack Miller | Ducati Lenovo Team | Ducati | 23 | 0 | +11.928s | 1m48.349s | 0 | 11 |
| 6 | Enea Bastianini | Avintia Esponsorama Racing | Ducati | 23 | 0 | +13.757s | 1m48.827s | 0 | 10 |
| 7 | Brad Binder | Red Bull KTM Factory Racing | KTM | 23 | 0 | +14.064s | 1m48.753s | 0 | 9 |
| 8 | Fabio Quartararo | Monster Energy Yamaha MotoGP | Yamaha | 23 | 0 | +16.575s | 1m48.625s | 0 | 8 |
| 9 | Jorge Martin | Pramac Racing | Ducati | 23 | 0 | +16.615s | 1m48.515s | 0 | 7 |
| 10 | Takaaki Nakagami | LCR Honda IDEMITSU | Honda | 23 | 0 | +16.904s | 1m48.667s | 0 | 6 |
| 11 | Iker Lecuona | Tech3 KTM Factory Racing | KTM | 23 | 0 | +17.124s | 1m48.566s | 0 | 5 |
| 12 | Alex Rins | Team SUZUKI ECSTAR | Suzuki | 23 | 0 | +17.71s | 1m48.837s | 0 | 4 |
| 13 | Pol Espargaró | Repsol Honda Team | Honda | 23 | 0 | +19.68s | 1m49.136s | 0 | 3 |
| 14 | Miguel Oliveira | Red Bull KTM Factory Racing | KTM | 23 | 0 | +22.703s | 1m49.022s | 0 | 2 |
| 15 | Danilo Petrucci | Tech3 KTM Factory Racing | KTM | 23 | 0 | +25.723s | 1m49.098s | 0 | 1 |
| 16 | Cal Crutchlow | Monster Energy Yamaha MotoGP | Yamaha | 23 | 0 | +26.413s | 1m49.095s | 0 | 0 |
| 17 | Johann Zarco | Pramac Racing | Ducati | 23 | 0 | +26.62s | 1m49.072s | 0 | 0 |
| 18 | Maverick Viñales | Aprilia Racing Team Gresini | Aprilia | 23 | 0 | +27.128s | 1m49.215s | 0 | 0 |
| 19 | Valentino Rossi | Petronas Yamaha SRT | Yamaha | 23 | 0 | +32.517s | 1m49.587s | 0 | 0 |
| 20 | Luca Marini | SKY VR46 Avintia Team | Ducati | 23 | 0 | +39.073s | 1m49.57s | 0 | 0 |
| | Jake Dixon | Petronas Yamaha SRT | Yamaha | 1 | 0 | DNF | 0s | 0 | 0 |
| | Alex Marquez | LCR Honda Castrol | Honda | 0 | 0 | DNF | 0s | 0 | 0 |