With the news that Suzuki is preparing to withdraw from MotoGP at the end of the 2022 season now officially confirmed on the eve of this weekend's French Grand Prix, it has kicked the championship's rider market silly season into another gear, with rumour and speculation about the future of a number of key players circulating around the Le Mans paddock already.
That's because, with Suzuki's impending departure, the whole chess board has been rearranged as two key players – 2020 world champion Joan Mir and erswhile 2022 championship leader Alex Rins – come back into play at the same time as two squares are removed from the board.
It's a situation that Aprilia's race winner Aleix Espargaro says is likely to shake up the market, as his former team dissolves – and it may have hastened his desire to lock down a new deal with Aprilia even if he believes he's not directly affected by the news.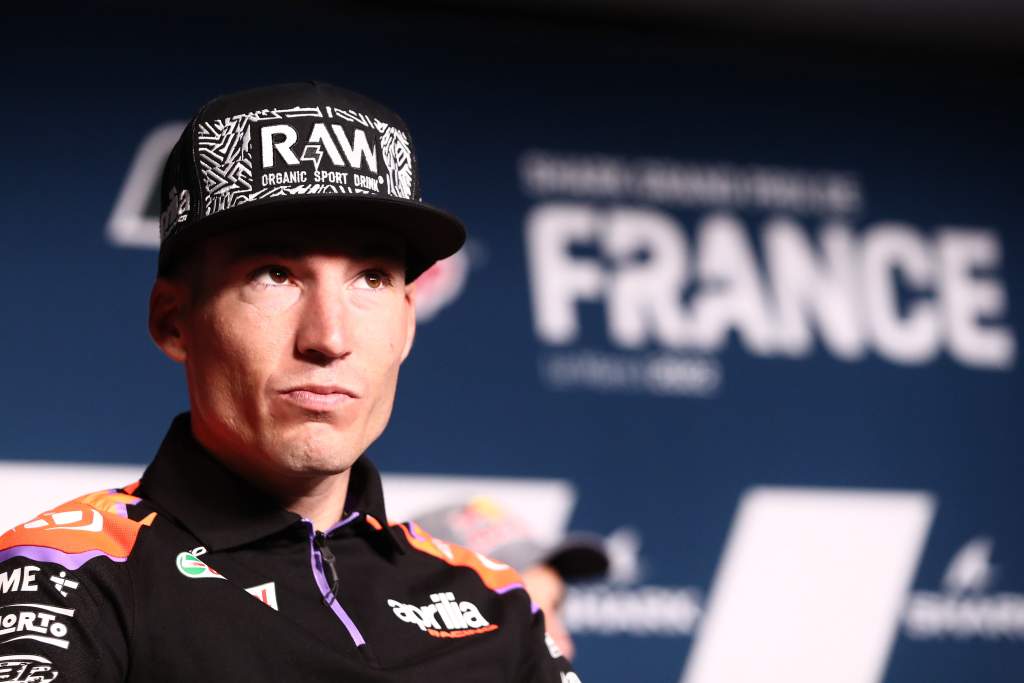 "Two less factory bikes and two more competitive riders on the market should change things," explained the Spaniard, "but I think my case is different. I would really like to think that it doesn't change anything for me, but only time will tell.
"It's very sad, and I went to see [Suzuki project leader Shinichi] Sahara-san, because it's thanks to the chance he gave me that I'm here today.
"Joan and Alex are very strong riders, and they will have bikes, no doubt about it. But there are more than 50 people for whom it will now be hard to find a good job similar to the one they have now and I'm very sorry for them."
But there are a number of riders who previously thought themselves safe in their seats or with comfortable back-up options to use either as leverage or as genuine options now also facing a somewhat changed situation – with perhaps chief among them being Maverick Vinales.
Adamant as recently as a few weeks ago that he had alternative options for his future (perhaps even with Suzuki), he's now very much changed his tune, pledging loyalty to the Italian marque in the face of rising speculation that both Mir and Rins might be interested in replacing him.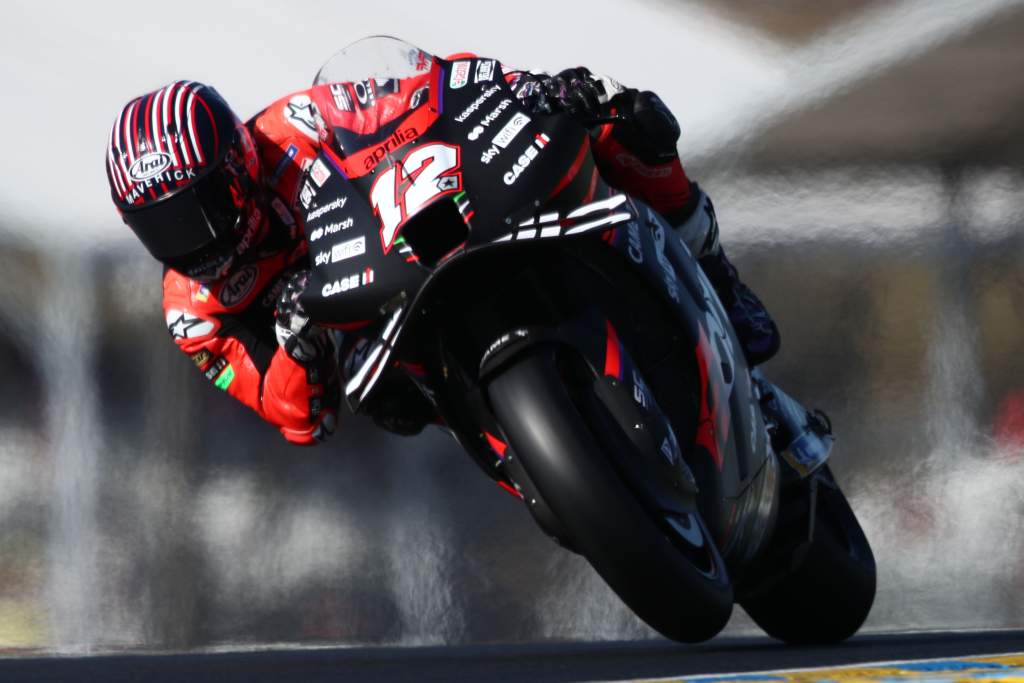 Still to find a breakthrough on the RS-GP that can allow him to match team-mate Espargaro's frontrunning performances, his comments hint that he's aware that his back might be up against the wall a little more than it was only a few days ago.
"It doesn't change anything," he insisted at Le Mans, "because we have a plan and we know we have especially a strong progression to where we are now.
"I feel very strong in the team, like I've found the correct atmosphere for me to grow up as a rider as well as a person, and for me it's time to keep improving and keep working.
"For me I feel we are very close – just one click. I'm very happy where I am, and I feel the team is working in a smart way. We're working very well together. I know sometimes it takes time to adapt, and I'm just enjoying pushing – but the good thing is that I want to push every day, I am motivated."
Another rider whose 2023 negotiating positions may have been impacted by the Suzuki news is KTM's Miguel Oliveira.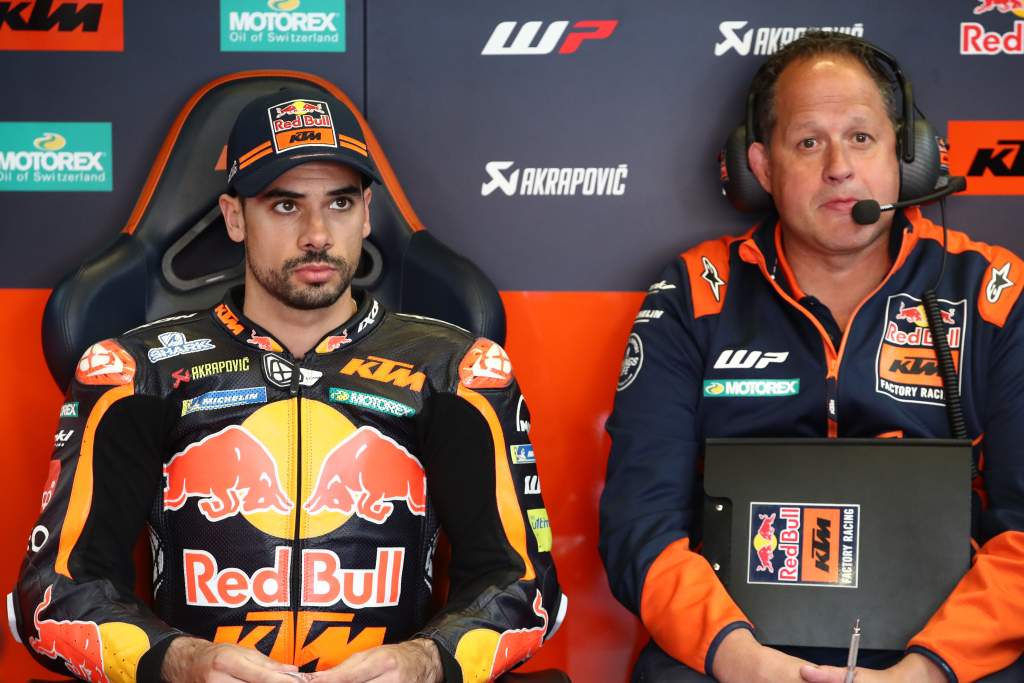 Believed to have been in talks with Suzuki as something of a backup option should his KTM extension not materialise, Oliveira expressed confidence he wouldn't be affected by its withdrawal – which is somewhat backed up by the fact that so far the two Suzuki free agents have not been meaningfully linked with the Austrian marque.
"No, not at all," he said when asked by The Race if he felt his prospects impacted by the news. "If anything, it affects more the Suzuki team and Suzuki riders, but not me.
"I don't have really any news. I hope by the end of the month or the beginning of next month that I can have an answer, but right now I'm just focusing on racing, showing the best, and that's it."
That leaves Yamaha alongside Honda (where incumbent Pol Espargaro has already been vocal about his own future) as perhaps the only teams who theoretically have a factory-spec bike available.
There have been some rumours linking both Mir and Rins to a factory seat at Yamaha should the underperforming Franco Morbidelli's existing deal for 2023 have some sort of escape clause given that he's finished in the top 10 only once in this year's six races – and Morbidelli acknowledged that it was up to him to raise his level so that such a prospect isn't even speculated upon.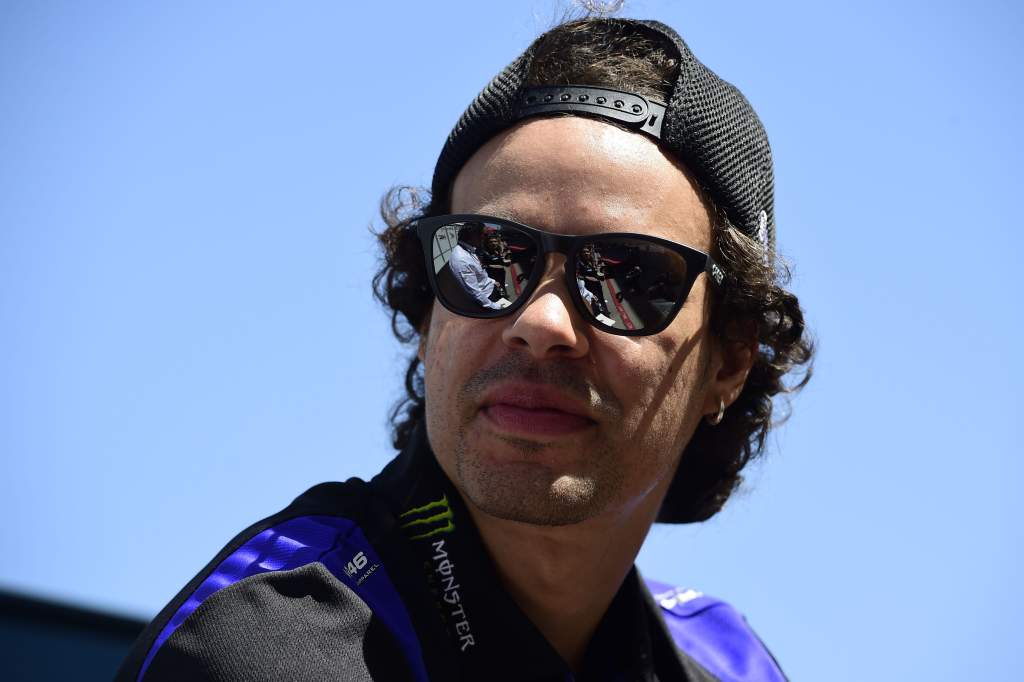 "I trust my team, and I trust their contract loyalty," he replied after considering his response. "They are all good people.
"And I trust that I will make good results to even delete any sort of maybe doubts [about my 2023 deal]."