IndyCar's 2022 season-opening St Petersburg race was one of those typical street events where yellow timing and divergent strategies totally scramble the order.
Yet the surprise polesitter kept his head through it all and still emerged victorious – while some expected favourites went in the opposite direction.
Here's our pick of the winners and losers from round one.
WINNERS
Alex Palou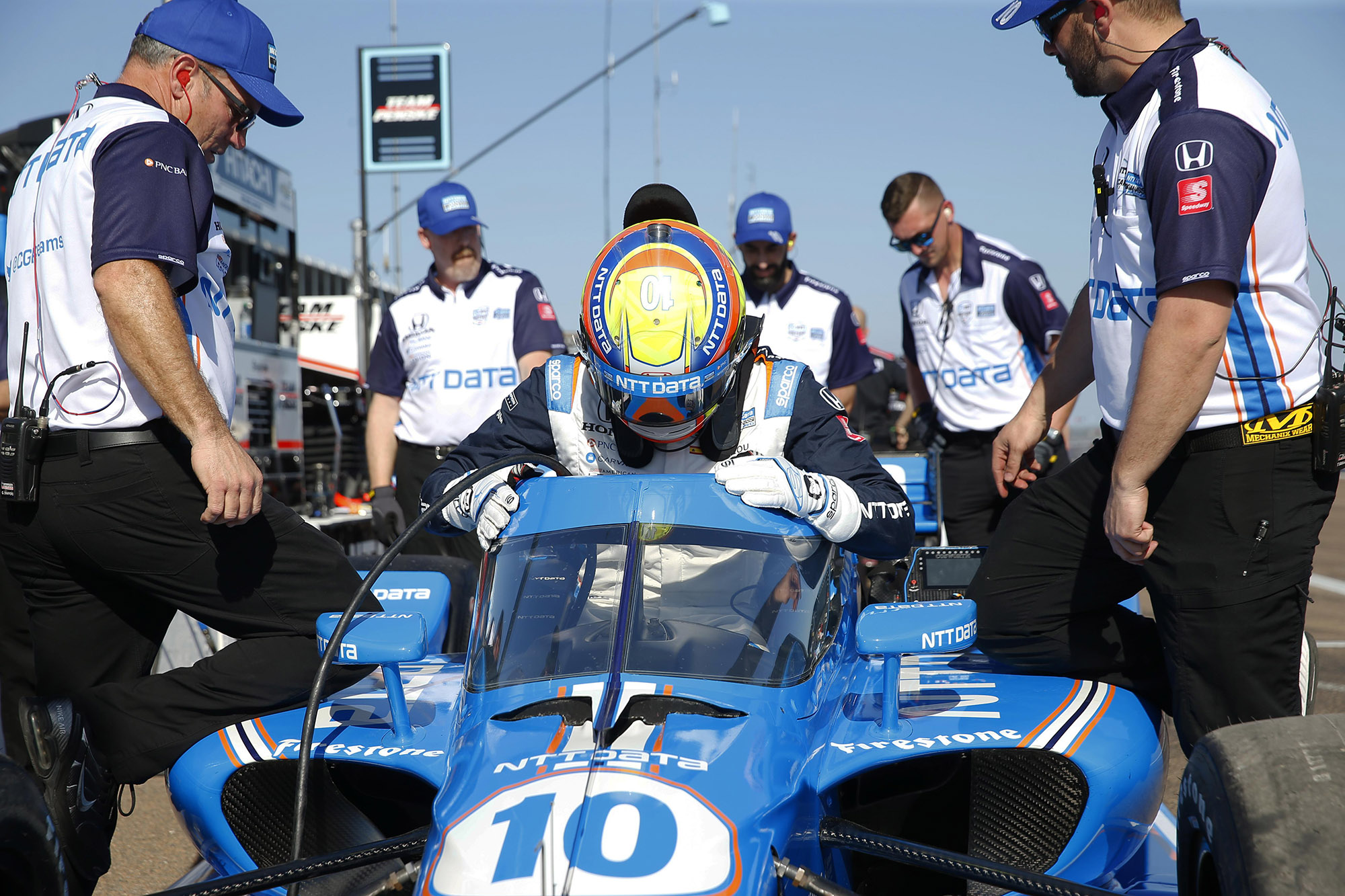 I don't think the media has seen much of the Ganassi team since Friday's first practice. The team spent a large proportion of the off-season on street course pace yet turned up with race cars way out of the window. They knuckled down behind the laptops.
Palou didn't help things by crashing hard at Turn 9 in second practice, causing damage which needed his own and Scott Dixon's crew members to join forces to put it back together in time for qualifying.
Turn 9 strikes again.

This time it's for defending champion @AlexPalou, with a hard hit in the tricky @GPSTPETE corner.#INDYCAR // #FirestoneGP pic.twitter.com/i3rMMqqo0P

— NTT INDYCAR SERIES (@IndyCar) February 26, 2022
The last time Palou did something like that was at the 2021 Indianapolis 500 and he turned that into a second place finish at the biggest race of the year.
He did the same this weekend with a team effort which included a vital second stop that boosted him to second among those on his strategy, and he narrowly missed jumping eventual winner Scott McLaughlin in the last stop too.
A very Dixon like weekend – have they swapped bodies at some time in the last 18 months? Mind you, Dixon's eighth place was also very fitting from a three stop strategy that worked for hardly anyone else. – Jack Benyon
Scott M
c

Laughlin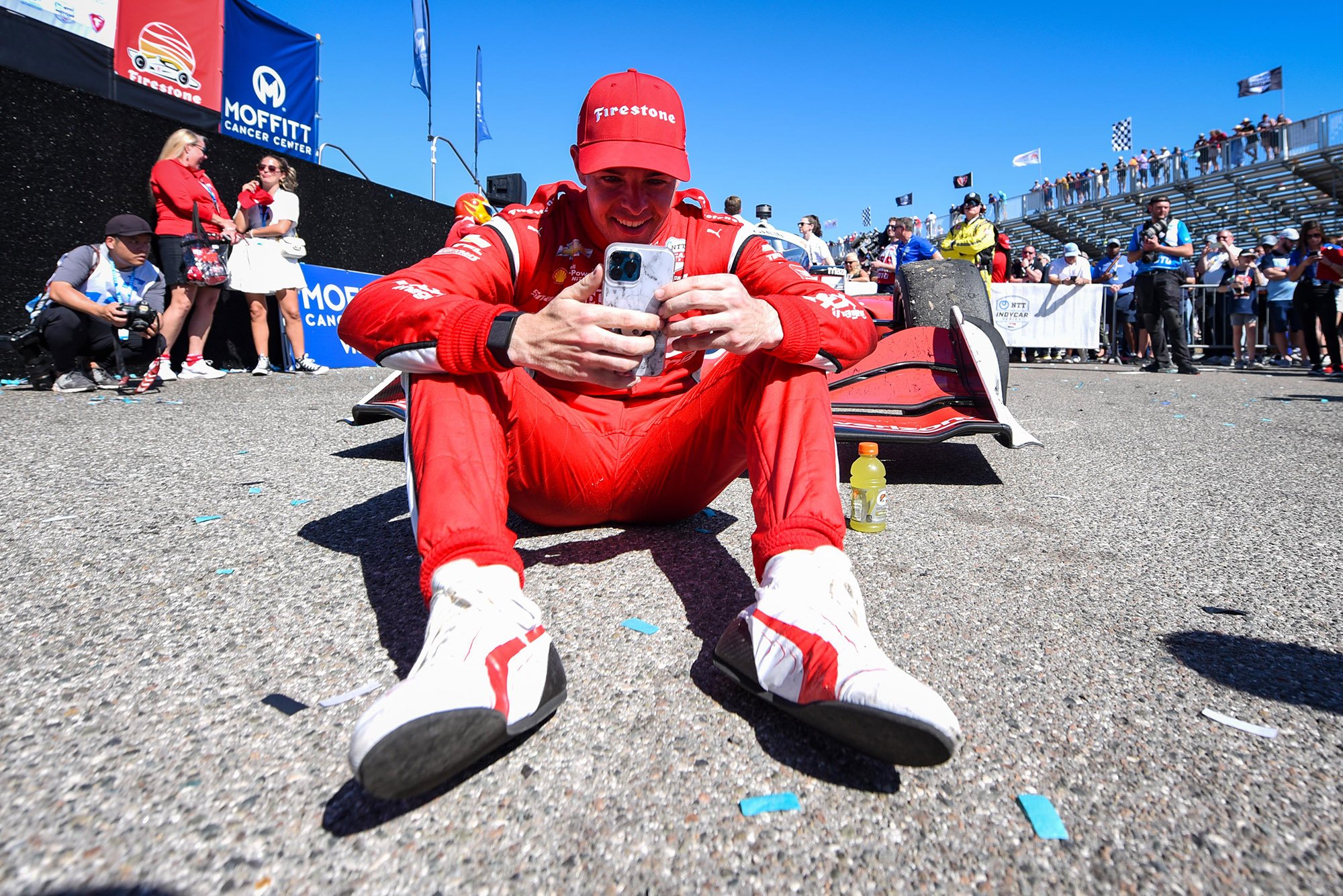 How about that for a drive?
It's not just the win that's so impressive here, it's the context in which he did it. At one point he was well back in the field and on one of three strategies of which the winner could have prevailed from any of them.
He hit his marks in the stops, stayed calm, and the unseen victory of this win might be McLaughlin's out-laps, especially the last one where he fought off the undercutting Palou.
Then he coped with backmarker drivers racing to stay on the lead lap. The first one (Jimmie Johnson) erased his one-second lead and the last one (Devlin DeFrancesco) was much quicker and more problematic to pass.
Still he remained calm.
Perhaps you may have expected that from a Supercars champion, winner, and constant pole threat, but this is the start of his second season of single-seater racing in one of the most competitive championships in the world. Today he marks himself out as a genuine title threat this year.
Losing Simon Pagenaud was a big contentious point for Penske but McLaughlin proves the remaining three-car line-up was plenty strong enough.
The only bad thing that happened all weekend was him falling out of his car in victory lane! – JB
Takuma Sato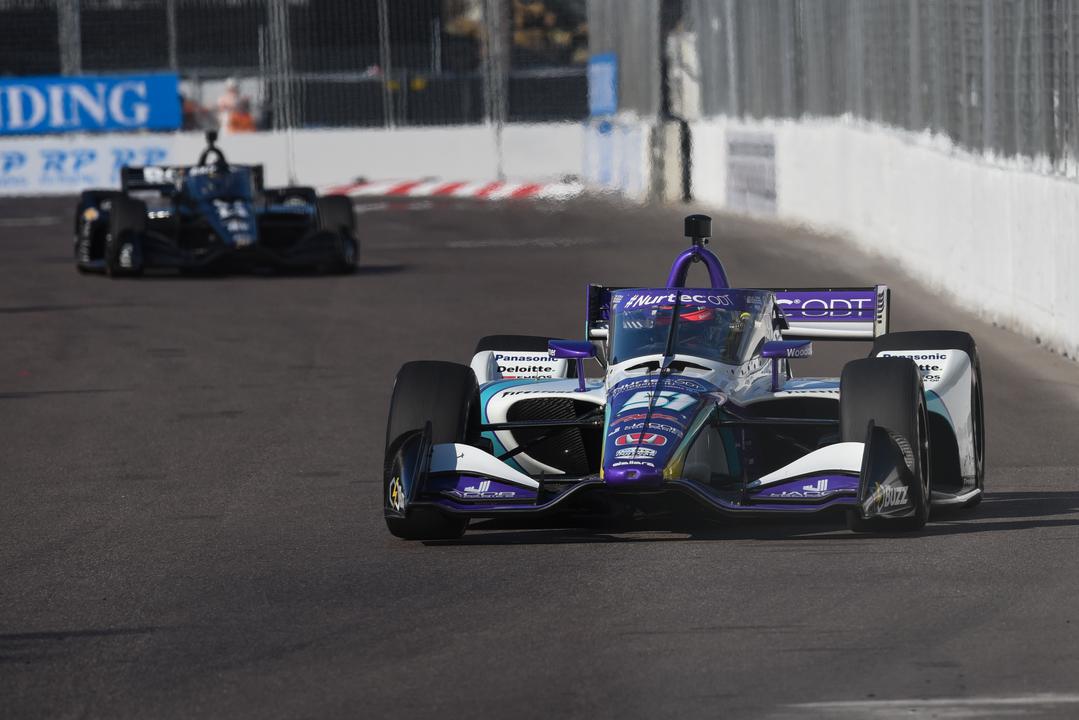 Though he's a double Indy 500 winner, Sato's form has fluctuated so unpredictably in recent years that he looked like a clear downgrade for Dale Coyne Racing when it picked him as Grosjean's replacement.
Qualifying 22nd (his Saturday not helped by Grosjean ploughing into him in morning practice) suggested this would be one of Sato's 'nowhere' weekends.
Massive hit for @RGrosjean, who got into the back of @TakumaSatoRacer. All drivers were able to drive back to the pits. #FirestoneGP // #INDYCAR // #DetroitGP pic.twitter.com/idIuPYziTq

— Detroit Grand Prix (@detroitgp) February 26, 2022
But a smooth race on the right strategy became a top 10 finish – three places better than Grosjean managed here last year, albeit with the caveat that Grosjean was making his IndyCar street course debut then and Sato's a man who's won Long Beach in an AJ Foyt car (still seems surreal to type that nine years on). – Matt Beer
Marcus Ericsson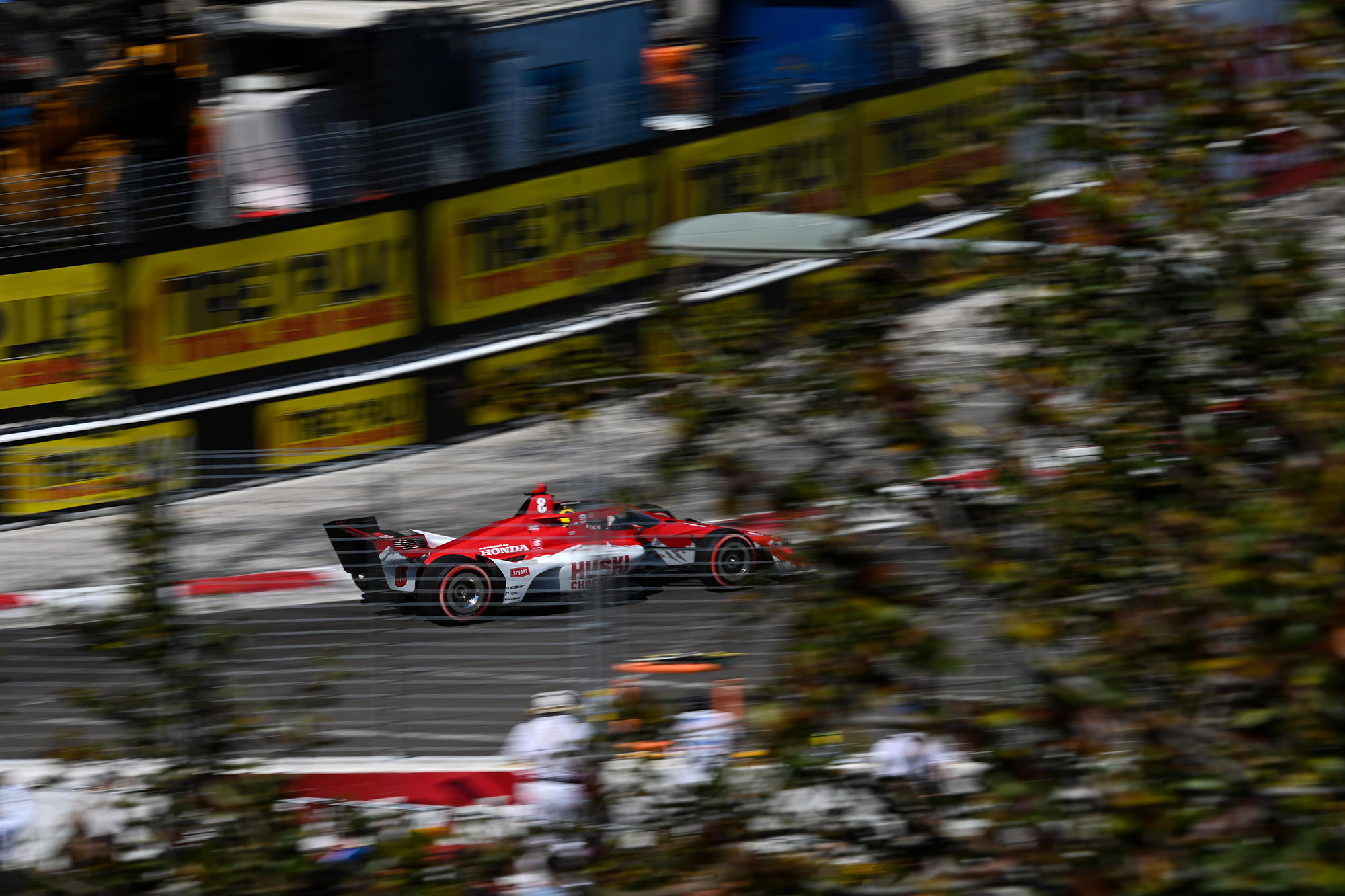 Ericsson had a Frankenstein weekend. He was easily the best of the Ganassi qualifiers in eighth – qualifying's an area he's constantly tried to improve in the last two years – and in the race his first stint looked like it would have put him right with McLaughlin for the win.
After 21 laps from the start on the softs, he set his fastest lap to that point while others slowed to a near stop with such horrendous degradation! A breathtaking stint.
However, while Palou's amazing #10 pit crew boosted him into a podium position at the second stop, Ganassi's didn't stop Ericsson from making an unsafe release firing into the side of Graham Rahal who in turn hit Grosjean.
SANDWICHED!

Check this out as Marcus Ericsson, Graham Rahal, and Romain Grosjean get real close to each other on pit road. #INDYCAR

📺 : @nbc and @peacockTV
💻 : https://t.co/GvChvJgmhK pic.twitter.com/VyfiBZ165M

— IndyCar on NBC (@IndyCaronNBC) February 27, 2022
He still managed to go from the back to ninth. It might be the most Ericsson thing ever to have such a spectacularly brilliant race from his side only to finish ninth.
Ericsson's a loser through circumstance, but his pace and qualifying performance mean there's a lot to be hopeful about this year. – JB
Colton Herta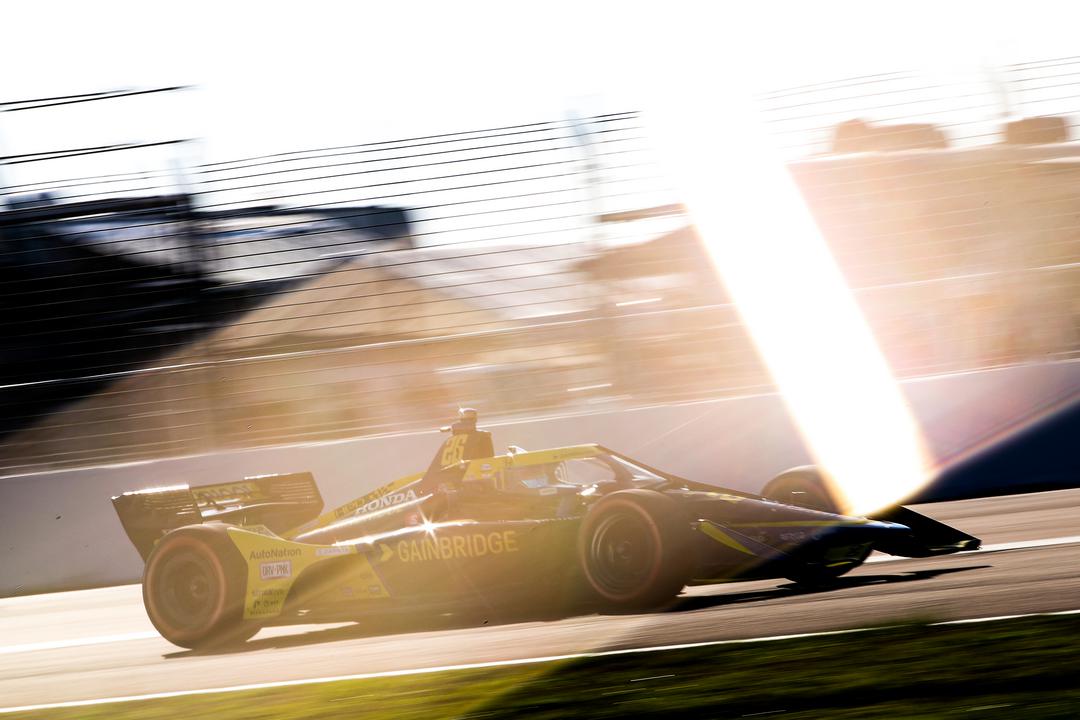 The Race editorial team argued this one over whether he should be class a winner or loser, but today Herta really impressed me.
With the car not full of fuel in the second stop because of a pitstop issue, he had to save for the last stint and kept a string of rapid and experienced drivers behind him despite them not having one hand tied behind their backs like him.
It feels like last year that fuel issue would have led to an error and a DNF or been an issue he would have struggled to process and overcome, but here Herta managed it like the champion we all expect him to be and salvaged fourth.
This is the first marker that Herta 2.0 is here and a genuine threat for bigger honours than just the odd crushing race win. – JB
LOSERS
Pato O'Ward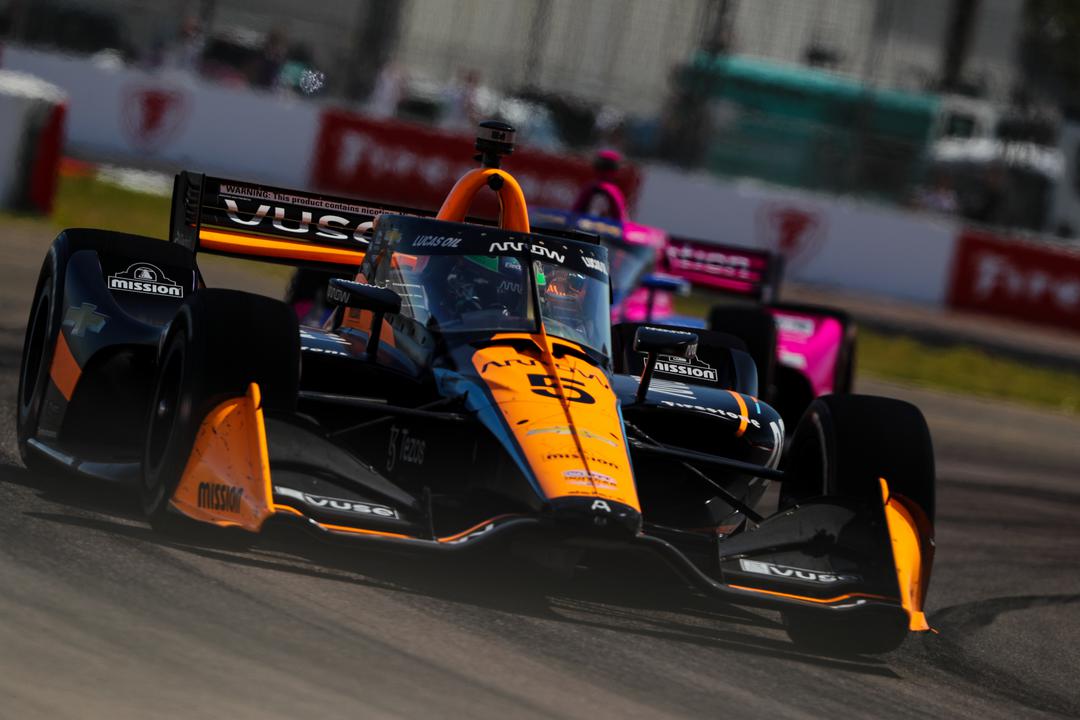 O'Ward was one of the pre-season title favourites and despite showing a tonne of pace throughout the St Petersburg weekend, things never really seemed to click for the Mexican.
In qualifying, he bent a tow-link when he whacked the wall at Turn 9 and started in a lowly 16th place.
His usual elbows out style gained him plenty of places in the race and he was right on the tail of fellow three-stopper Dixon before the duo made their second pitstops.
While Dixon emerged in relatively clean air, a slightly tardy pitstop a lap later for O'Ward dropped him behind a multi-driver train led by Johnson.
The gap between Dixon and O'Ward soon swelled and while Dixon was right on the back of the fight for a place in the top five, O'Ward spent the final few laps in an isolated 12th place.
It's not a disastrous start to his title campaign, but he's already lost ground to all of his 2021 title rivals bar Josef Newgarden. – Josh Suttill
Simon Pagenaud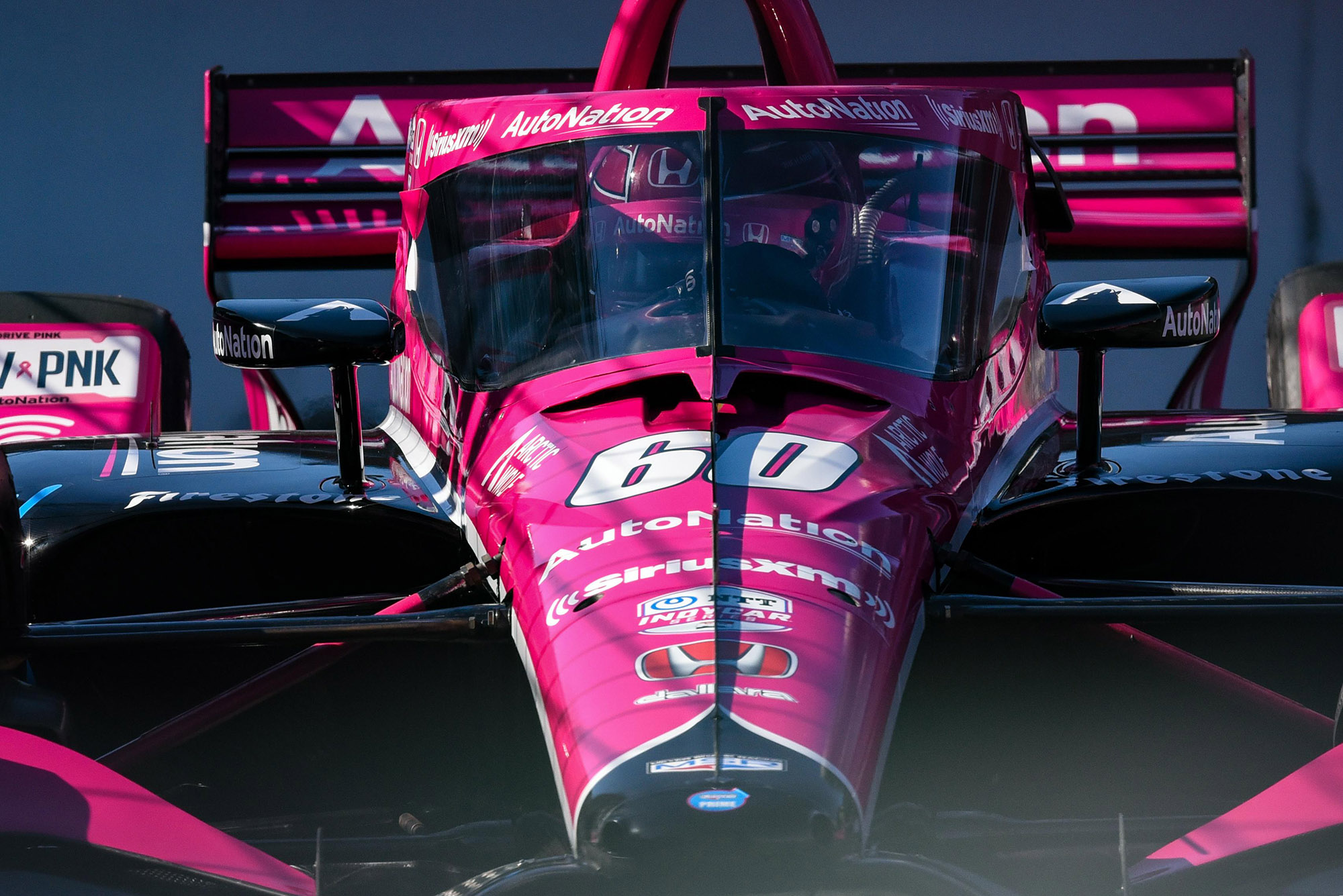 Right from the start of the weekend when he was throwing a tennis ball around in the grass for his dog Norman, Pagenaud has looked totally at home in his new surroundings at Meyer Shank Racing.
His switch from Penske has come with more than a few follow-up questions, but his demeanour combined with his pace this weekend points to this being a great move.
Pagenaud was up there in every session and even made the Fast Six – something he did only four times last year – before the race fell apart for him.
He was barged and banged by Pato O'Ward at the start through Turns 4, 5, 6 and 7 and his race only went downhill from there.
The three-stop strategy wasn't going to work and then towards the end of the race he got caught in the Johnson train of cars which lost the chance at a top 10, which Pagenaud still could have rescued had that not happened.
A loser for the result (15th having qualified sixth), but the early signs of this switch do still point to it being a great move for everyone. – JB
JOSEF NEWGARDEN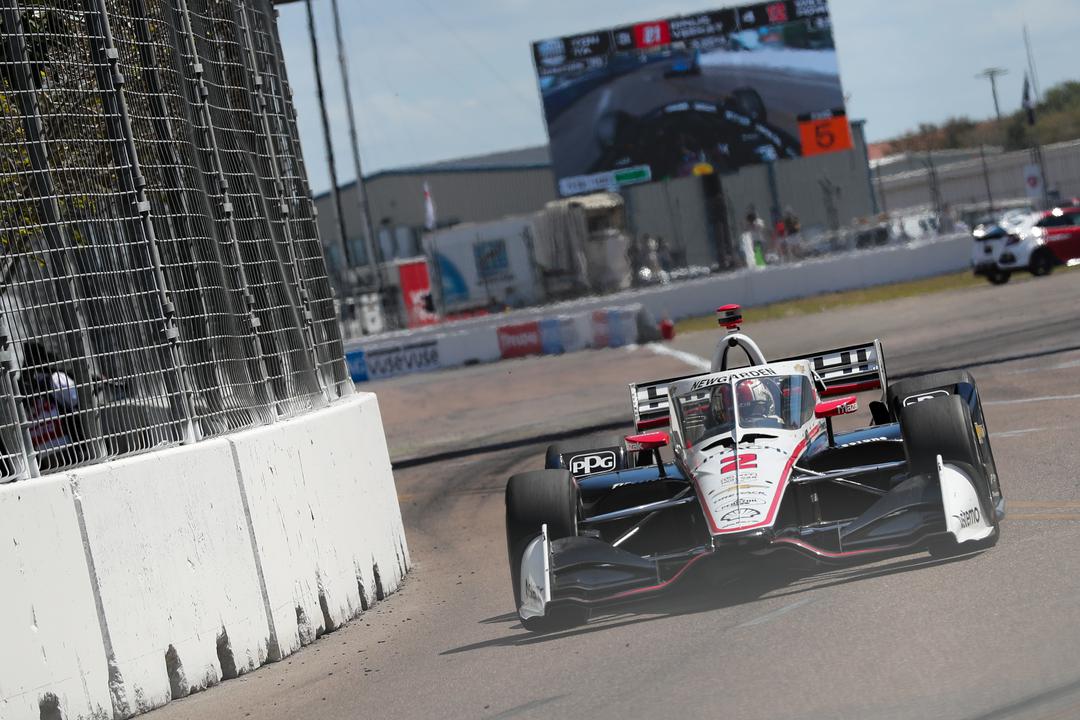 Well I got Penske's line-up back to front in my contribution to our pre-season teams ranked feature. The unproven leftfield experiment won, the faded superpower was on the podium and the best driver on the grid (all my takes) was a disastrous 16th.
Newgarden was firmly Penske's number three all weekend at a track where he's usually superb. He wouldn't reveal exactly what went wrong in qualifying, and then a very early switch to the unproductive three-stop strategy just compounded his problems in the race.
Penske's engineering shake-up could be a factor, but it propelled McLaughlin to the front. The flip in intra-team form at Penske was probably the surprise of the weekend. – MB
The two drivers who most need a big 2022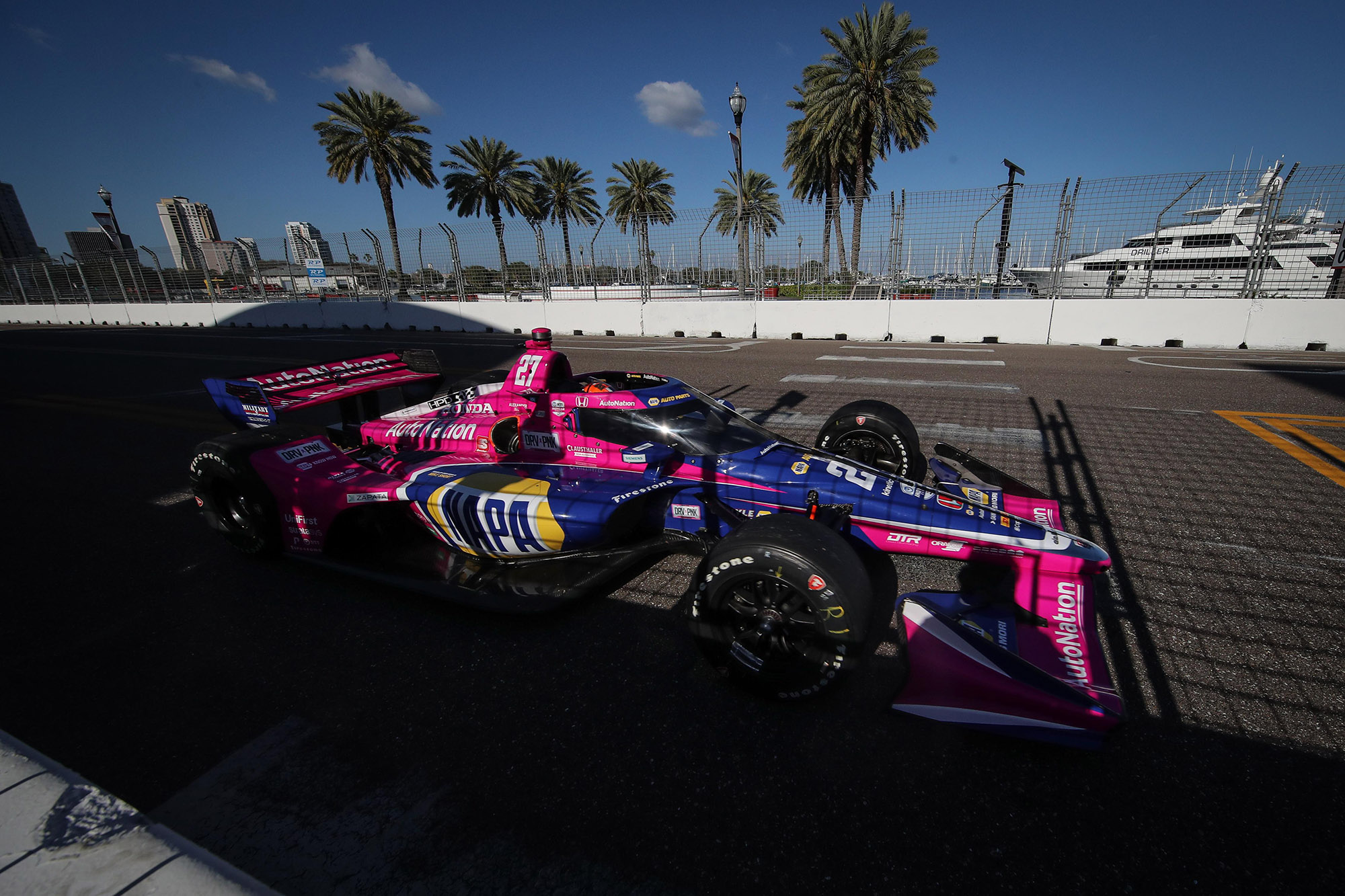 Two drivers who were hoping 2022 was going to be a different story to last year, ended up repeating an all-too-familiar 2021 sight.
Both Alexander Rossi and Felix Rosenqvist already began the day on the backfoot, having qualified in 13th and 21st places respectively.
That's what likely prompted Rossi's #27 Andretti entry to roll the dice by not pitting under the first caution – a gamble that scarcely looked like it would pay off.
This ultimately led to Rossi rejoining at the back of the field when he pitted a few laps after the restart and a less than electric recovery left him finishing 20th behind two 2022 rookies in Callum Ilott and Kyle Kirkwood.
Things weren't much better for Arrow McLaren SP's Rosenqvist who made an ill-fated early switch off the softer red tyres and endured the same fate as the likes of Pagenaud and Newgarden, finishing 17th.
A lacklustre beginning to what was supposed to be a new chapter for both will do little to relieve the off-season pressure and question marks that have hung over the duo for far too long. – JS
Jimmie Johnson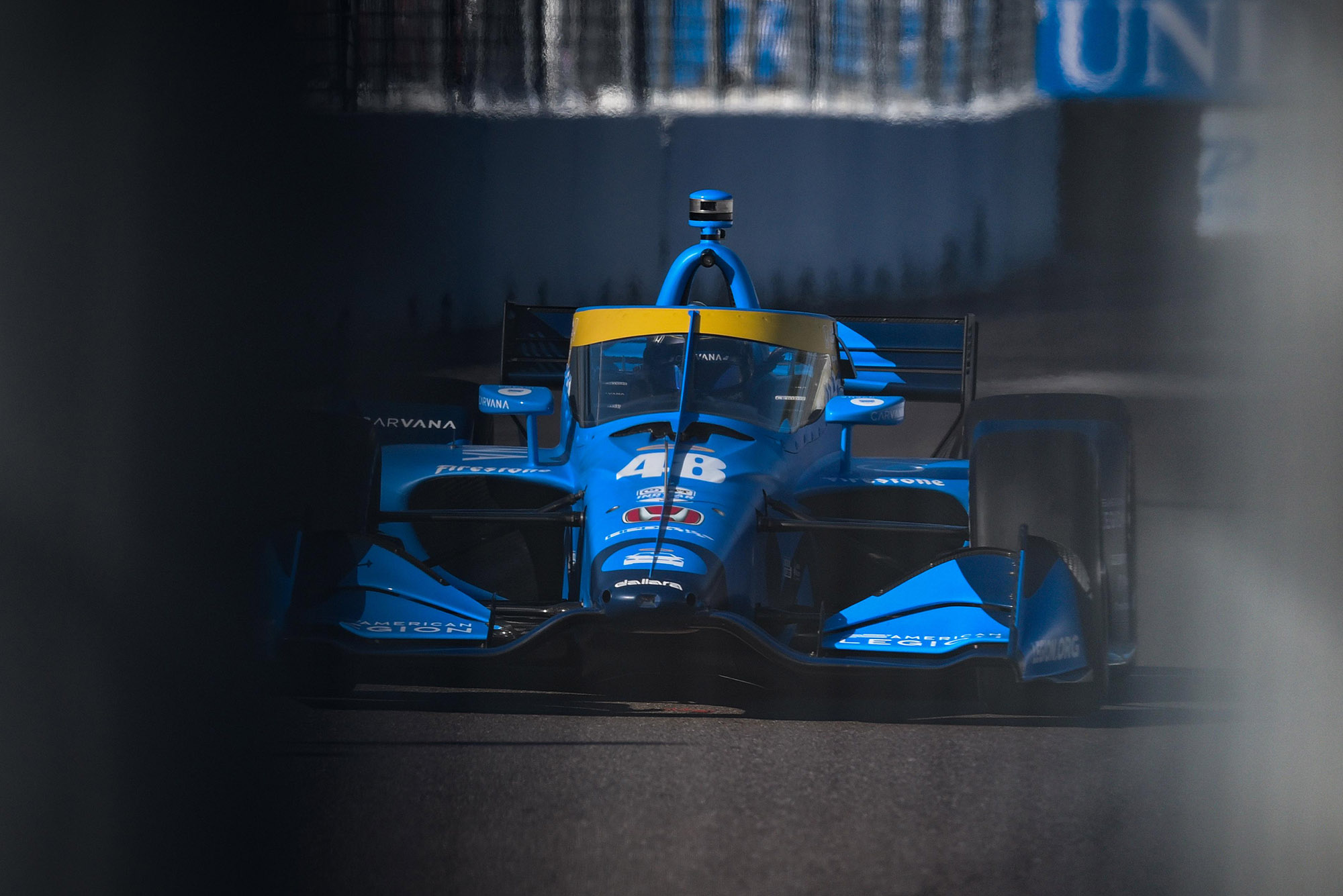 I'm writing this with a bit of reluctance, and also continued admiration for the bravery of Johnson's decision to take on IndyCar in his mid-40s with no single-seater experience. He's doing it because he wants to and he's not taking a drive off anybody else as Ganassi expanded for him.
The worry is that the progress just isn't there. You'd hope – and I definitely hope, because I'd love to see this storyline work – to see the gap closing in year two, but Johnson was 1.5s off the pace in qualifying just as he was a year ago. The spins in which he looks like he just can't get on top of what the car's going to do are still there. He finished a lapped 23rd.
Again, he's doing it because he wants to and to challenge himself. Success could be considered a bonus. I just wish there were more signs of things getting better by now. – MB